Are you planning to raise the roof line of your house? Or, are you craving dramatically high ceilings that bring a splendid touch to your place? Whatever the reason, raising the roof on a house comes with a lot of advantages and visually adds more space in your home.
There's something very chic about high ceilings. They can add dramatic and beautiful aesthetics to a room — making your home feel more open and airy. So, if you find yourself dreaming of an elevated ceiling height, we understand your enthusiasm.
If you live in one of those older homes with low, flat ceilings (that make you feel a tad claustrophobic sometimes) and want to change the roof architecture and design, we're here to help you. Just don't start researching roof-raising contractors yet; read on for some guidelines on how to raise the roof on a house.
This article will explore important key questions and their solutions that you need to take into consideration before raising the roof on a house. These pertain to proper planning, roof-raising costs, and return on investment aka ROI among others. So, let's begin with the first one.
1. Is raising the roof on a house possible?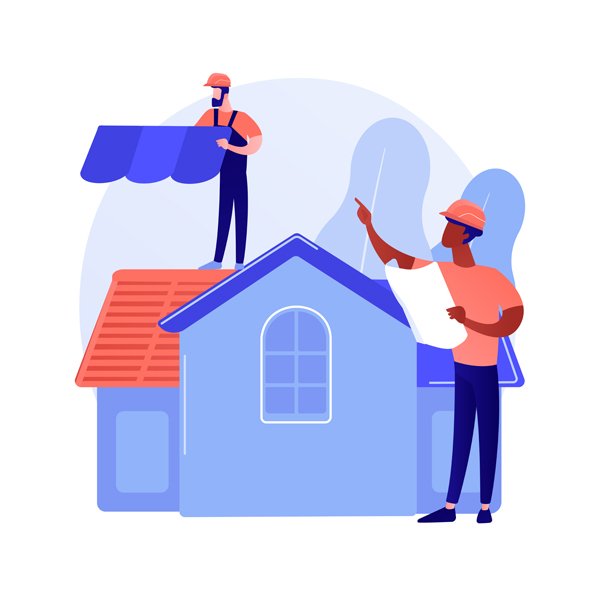 The first step in understanding how to raise a roof is to determine whether or not it's actually possible.
Typically roofs are structured in one of two ways: stick or truss. Your roof type will determine how easy raising your roof will be. A truss roof is easier to raise the two types. A stick roof can be raised in a way, but you'll have to tear it down and rebuild it.
On the other hand, if you're looking to build a vaulted ceiling in your home, a stick roof is better suited to make that happen.
If you're unclear about the roof structure of your home or live in a home with low ceilings, it's best to access your home's blueprints.
Also, it's a good idea to see if there are any beams hiding in your ceiling. You may have to get rid of these beams or planks. Moreover, if you have an attic, there's a greater probability that you can raise the ceiling in the room beneath it.

Your roof replacement is important. Get the best estimate with us.
2. Do you need a building permit for raising the roof on a house?
Yes! Modifying your roof-line will always require a building permit. Contact your local residential permit department to find out more about requesting a permit. A licensed roof contractor will help in getting you the permit.
Failure to obtain the right permit is an unwise decision. What if something goes wrong during or after the project? Moreover, not having proper permits will cause considerable problems for you down the road when the time comes to sell your home or when you do a roof replacement. ALWAYS get your permit before you start working on your roof!
3. What are the most important factors to consider before raising the roof on a house?
Apart from considering the type of roof framing and procuring the required building permit, there are many things that you need to factor in. These could make or break your dream of roof adding by making the project impossible or ghastly expensive.
These include the kind of installation of your current electrical wiring, whether or not your HVAC ductwork and plumbing are blocking the area, or if you have a chimney attached to the part of the roof you want to be raised. Think of all these before calling a contractor to estimate the cost of raising your roof.
Planning a renovation for your house? Try our free home remodel cost estimator; it's easy and convenient to use!
4. What kind of a roofing contractor should you hire?
The importance of hiring a qualified roofing contractor cannot be understated. Whoever you choose, your roofer should be licensed, insured, and prepared to obtain all the correct permits necessary before doing work on your home.
The more knowledgeable and experienced your contractor is, the more peace of mind you should have knowing your contractor has taken all the necessary steps to ensure your home can bear the increased load a raised roof can bring. You should also be able to relax knowing they are making sure the plans comply with municipal regulations regarding this significant endeavor.
Always work with a roofing expert. The project will entail stripping your ceiling to the studs, demolishing the old structure to create the vaulted ceilings, rebuilding it, or just adding load-bearing walls. The type of work will finally depend on your home's structure. Most importantly, a professional will keep you from getting injured and make sure your home is safe during the process.
5. How much does it cost to raise a roof?

The total average cost to raise your ceiling ranges from $15,000 to $20,000. Of course, it depends on a lot of factors such as the complexity of the project, your house's total square footage, your zip code, and the local labor and installation costs. Here are some roof project planning expenses that you'll have to factor in:
Consulting a structural engineer to plan for your home's roof raise and get the appropriate permits will cost you around

$1,200

.

Roofing removal of your old structure and reinforcement of the new higher ceilings with framing work will cost you around

$7,400

.

Electrical rewiring and plumbing restructuring will cost you approximately

$4,200

.
Plan your roof installation just right with our estimator tool.
6. How long will it take to raise your roof?
On average, a roof-raising project takes four to six weeks from start to finish. The actual time depends on your roof's square feet, or how ready your roof or attic space is for the elevation. Furthermore, if there are minimal issues with roof restructuring, HVAC modification, plumbing, and electrical wiring installation or removal — the job will have a quicker turnaround time.
7. Will raising the roof on your home add to your ROI?
Any investment you make in your home should be one that increases or at least solidifies your home's value. If raising the roof isn't going to make back the money you put into your home to get it done, you may want to reconsider doing it.
Despite the fact that changing your existing roof pitch doesn't return a lot of value for your buck, it does improve your curb appeal while making your house appear grander.
Conclusion
Raising a roof is a costly endeavor but it makes a dramatic difference in your home's living space. Before starting work on the project, it's best to talk to building officials in your area, consult structural engineers, and obtain at least three quotes before choosing your contractor.
Once you do your homework, your home will boast vaulted ceilings that will add to its appeal!
Read more: Top things to ask a roofing contractor
7 Questions You Must Ask Before Raising the Roof on a House
was last modified:
October 11th, 2022
by
Recommended