One of the first lines of defense your home has to protect it against the elements is the soffit and fascia. The soffit is the underside of your roof's overhang, specifically the space between your external walls and the edge of the roof. Along with fascia, soffits work to not only protect your roof from the elements but also to provide your home with ventilation and protect it against pests.
While you get soffit and fascia made of PVC, wood, and other materials, we're going to discuss the merits of installing aluminum soffit.
Why are soffits important?
Let us begin by understanding why soffits are important to every home.
They provide much-needed ventilation to attics. During the summer, this helps prevent the roof from overheating, and in turn, causing shingles to get damaged. In the winter, soffits help prevent ice dams as well as damage from snow and heavy rainfall. This also makes your home more energy-efficient.
Soffits add to your home's curb appeal. Without them, you would have exposed roof rafters visible. Soffits are available in a variety of paint finishes and materials to suit different materials as well as architectural styles.
It protects your roof from the vagaries of extreme weather conditions.
Why choose aluminum soffit?
While wood may be the most affordable material for soffits and fascia, aluminum is a better material to choose. Here are the reasons why.
Aluminum is water-resistant. This means that, unlike wood, you do not need to worry about wood rot, mold, or other forms of water damage.
Aluminum soffits come in a variety of colors and designs that go well with external materials like natural stone, brick, steel, or vinyl siding and stucco. This makes them a great fit for any home style. This also means you do not need to worry about painting or staining it.
Aluminum soffit and fascia are literally maintenance-free. All you will need to do is wash them periodically using your garden hose.
Vented aluminum soffits are great for providing much-needed ventilation for your attic. This also reduces the risk of ice dams forming and damaging your roofline while improving the air quality of your home.
The cost factor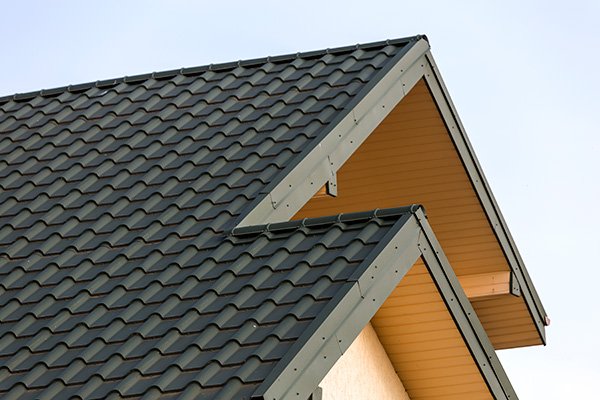 Both aluminum soffit and fascia cost between $3.95 and $7.20 per square foot. Soffits are sold as panels inboxes. The average box will have 200 one-foot pieces. Of course, these costs are only indicative. Actual costs will vary depending on where you live, the size and complexity of the project, the quality of materials you choose as well as the manufacturer.
Labor charges, if you're getting the installation done, are going to increase the cost of your home improvement project.
Ideally, get quotes from three or more manufacturers before you decide on what quality you are buying. Prices vary greatly from manufacturer to manufacturer.
Also, keep in mind that a little bit of leg work might get you a better deal. Visit as many hardware stores as you can and see if you can bargain with them for a better price than what you might see online. People have been known as much as 20% by doing this.
Planning is another great way to make sure you get the best prices on your project. Late fall and early winters are down seasons for contractors. This is when you're likely to get the most aggressive bargains on both materials and labor costs.
Make sure you factor in 7% to 15% above what your material and labor costs may indicate. This is to make sure that you cover small cuts, difficult patterns, and design customizations specific to the architecture of your home.
To consider
A word of caution, though. Soffit and fascia installation is skilled work, and unless you have worked on this kind of project before, we'd advise you to hire an experienced and licensed siding contractor to do the job for you.
The reason for this is because installed incorrectly, your soffit and fascia will not only be of little use in terms of protection, you will need to spend a lot more money undoing the damage.
However, if you do decide to use the DIY approach, make sure you follow the manufacturer's recommended installation requirements and process.
Read more: Signs of roof leak in attic
Essential home repairs: Aluminum soffit replacement
was last modified:
December 12th, 2022
by
Recommended