Basements tend to be dark and dingy places, considering the lack of windows. Basements that have egress windows have some access to sunlight and natural ventilation, but that's hardly enough to keep the space well lit. So you're planning to renovate your basement and turn it into an office space, gym, den, or extra living space, here are ten awesome basement lighting ideas that you consider.
1. Track lighting
If you're looking for flexibility and easy installation, then track lighting is the right choice for you. Track lighting is space-efficient, considering it takes up no wall space. Track lights can feature multiple lighting fixtures, which is what makes them so flexible. For example, you can have pendant lights from the tracks for ambient lighting as well as spotlights for accent lighting on the same track.
2. Recessed can lighting
Recessed can lighting are the ideal light fixtures if you're converting your basement into a game room with a pool table, a dining area, living room, or generally any space that has a suspended ceiling. They're great at minimizing glare and shadows while providing adequate task lighting. As a rule of thumb, remember to install all recessed lighting 5t to 8 feet apart for the most efficiency.
3. Ambient uplighting
Uplighting is becoming popular with modern lighting designers. It involves directing the light at the ceiling instead of the other way around. This creates a mellow, soothing ambiance, and can be achieved in multiple ways. One simple way to achieve this is to place LED lights behind a valance on a wall.
4. Pairing wall sconces and floor lamps
Basements tend to often have low ceilings. A simple way to make the ceiling look taller is to have wall sconces fitted on the back wall at a height. Adding floor lamps to the decor will make the room feel cozy and warm.
5. Decorative chandeliers and flush-mounted fixtures
If you're lucky enough to have a basement with a high ceiling, consider using decorative chandeliers above dining areas or bars to make space feel more intimate.
Another lighting option that complements high ceilings is flush-mounted ceiling lights, especially if the ceiling is ornamentally decorated.
6. Pendant lights
Pendant lighting is another room lighting option that offers you flexibility. Hanging over a table, they become task lights. Hang them above bars, and they become accent lights. They can also just as easily provide ambient lighting to your basement, especially if it has a high ceiling.
7. Surface mounted lights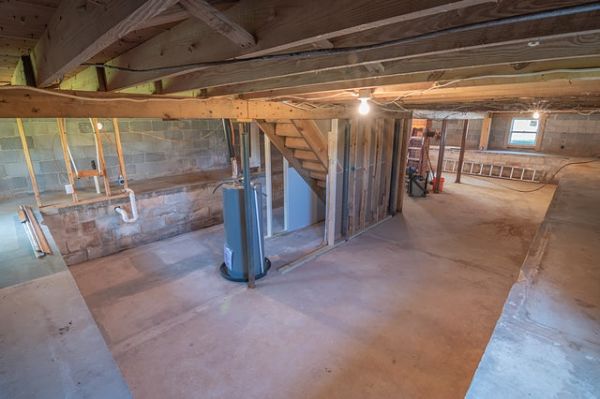 Surface-mounted lights are a favorite ceiling light choice among homeowners when it comes to basement lighting. They are space-efficient, easy to install, and often become the focal point of the room.
8. Daylight spectrum lights
Daylight spectrum lights imitate sunlight and are a great way for you to recreate the outdoors in your basement. These work great in brightly painted basements. A simple but effective design to incorporate these lights into your basement design would be to hide them behind a window frame with blinds on your basement wall. Make sure you paint the wall behind the window with white reflective paint and bask in the room's white light.
9. Fluorescent light fixtures
Fluorescent light fixtures hidden behind perforated panels will give your basement a wall of light. This lighting arrangement will work really well with energetic, modern interior designs.
10. Industrial style lighting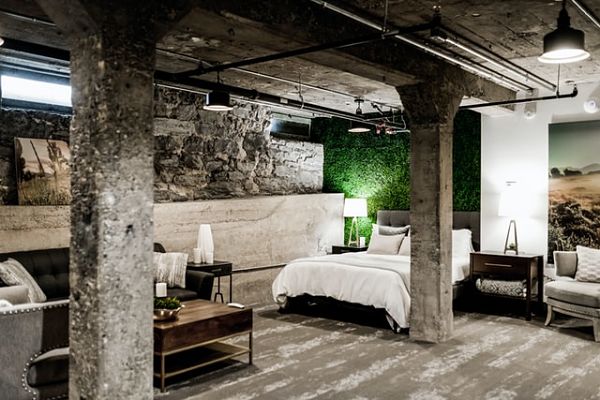 If you intend to leave your walls bare and with minimal treatment, giving your basement a rugged, industrial look, choose the right kind of lighting to complement it. Hanging lanterns and simple, circular pendant lights with metal frames are two examples of minimalist lighting fixtures that you could consider.
Read more: Light bulb is stuck in socket
Choose the right kind of bulbs
Now that you have an idea of what kind of lighting designs you can feature in your renovated basement, let's help you choose the right kind of bulbs.
For all your overhead lighting needs, we'd suggest you use either CFL bulbs or LED bulbs instead of the traditional incandescent bulbs.
Both CFL and LED bulbs produce more light while consuming less energy and producing less heat than incandescent bulbs. They're also a lot more energy-efficient.
Among the three, LED bulbs last longer than CFL bulbs or incandescent bulbs. If a regular bulb lasts you around 100 hours, then a CFL bulb will last you at least 1000 hours, and an LED one will outlast that by at least five times. So while CFL and LED bulbs may be more expensive than incandescent bulbs, they more than make up for it in longevity.
Read more: Install ceiling light without existing wiring
Different lights for different tasks
Most rooms require different lights for different tasks, and the same may apply to your basement. No one lighting type is the absolute best. You may need pendants as task lights, table lamps on your work table, floor lamps for warmth, and chandeliers for grandeur. So choose what works best with your renovated basement based on design and utility.
Read more: Indirect lighting ideas make your home inviting stylish
10 Awesome Basement Lighting Ideas
was last modified:
April 25th, 2023
by
Recommended