18 Cool beach home decor ideas to wow you
Who doesn't love a beach house? We're sure you do too. There's a certain charm in a coastal home that's appealing to the young and the old alike. And that's why we have 18 awesome beach home decor tips and tricks to blow your breath away.
These beach house decor ideas — right from the nautical accessories, cozy furnishings to fun pops of beach colors and sea-inspired collectibles — will make your home look as beachy as having your toes in the sand. Well, not literally!
The easy-going vibe of a beach-style home can make any stress or a long day's tiredness go away. And, the minute you step inside the light and airy living space through the front door — the world becomes different. The world becomes a happy place.
The best news is that these ideas can transform any house into a beach house — even when you're nowhere near the ocean. So, let's begin our quest for achieving the cool calm of coastal decor.
Beach home decor ideas
1. Ensure a view of the outdoors
Even if you don't live in one of those charming beach towns of the United States, you can get the beach house look with large floor-to-ceiling French sliding doors and windows. The idea is to let in a lot of sunshine, natural light, and breeze. Your living space will look even more dreamy with light tie-top sheer curtains and conversation-starting lamps.
2. Choose easy-going over formal beach home decor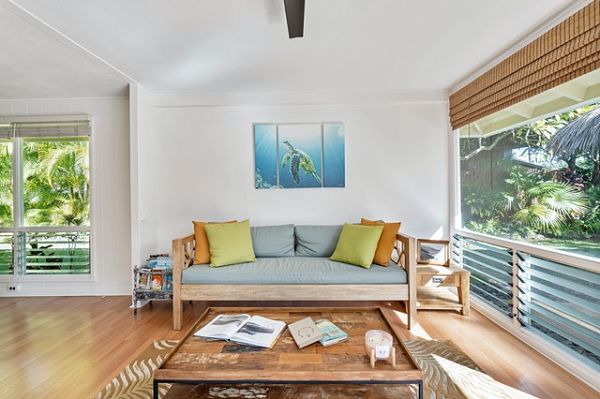 Imagine you're at the ocean — with the waves lapping at your feet. That's the kind of casual feel you want your home decor to have. So, instead of a formal living room with a crystal chandelier and heavy drapes, choose lightweight, natural fixtures that add to the cozy vibe of the area.
Think funky lantern-shaped wooden light fixtures, a rustic coffee table, and natural wicker chairs. Basically, you should be able to use the chairs and tables without a worry — whether to prop up your feet on or place drinks coaster-free.
3. Get a nautical feel
Embrace the feel of coastal living with interesting decoration items that remind you of ships, sailors, and the sea. For example, a blue-and-white striped jute rug or a bright yellow dhurrie rug. Add a comfortable seating arrangement, Roman shades in neutral tones, and some evergreen indoor plants — and your happy, green beach cottage is ready.
Read more: Decorate bedroom with blue carpet
4. Buy breezy furnishing
Make sure you have a furnishing that's made of durable and worry-free materials. For example, a sisal rug will handle high foot traffic effortlessly or a no-fuss window treatment will exude warmth. Or, a plush window seat with turquoise pillows, tucked away behind sea-blue sheer curtains, will make lounging an experience.
If you have a small space, you can make it feel roomier by installing the curtains as high as possible, instead of hanging them at window height. And, yes, opt for ocean-inspired linens that will add to your comfort.
5. Paint the walls with beach colors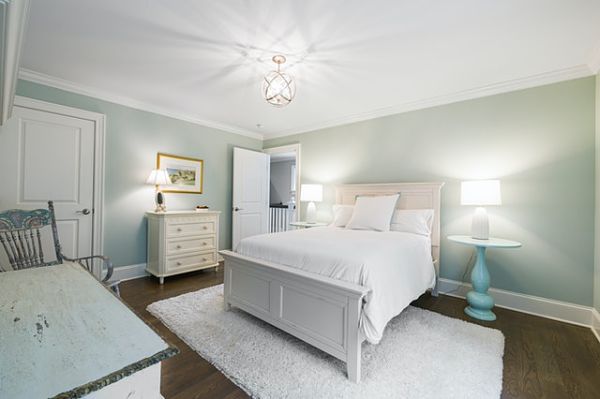 White paint, without a doubt, is great for a beachy vibe. However, if you don't want an all-white room — maybe because it looks a little too sterile — you can choose cool beach colors such as sea green, palm green, cool lime, weathered blue, ocean turquoise, or sunny coral.
You can then accessorize with seaworthy colors such as navy blue, regatta red, sunset gold, or seagrass green. Such hues will beautifully add a maritime style to a guest room or a master bedroom.
6. Use a tropical wallpaper
If you're feeling more adventurous than having just plain walls, you can go a step further with sea-inspired wallpapers. It's the perfect idea for a kid's bedroom. Your child will dream of the sea, sand, sconces, and the shore with a room like this. Plus, even if your house is landlocked, you will still get the relaxing feel of the ocean — thanks to the vibrant wallpaper.
7. Hang sea-worthy wall art
Displaying seascape paintings of ocean scenes will enliven your walls and visually take you closer to the waves. If you want to find an ocean-inspired piece of artwork worth its sea salt (pun intended!), maybe you should visit the local antique stores or auction houses.
You can also create a lovely gallery wall with pictures of your family at the beach. Every time you look at it, you'll imagine yourself nearer to the sea and feel soothing tranquility.
8. Add pops of aqua blue and turquoise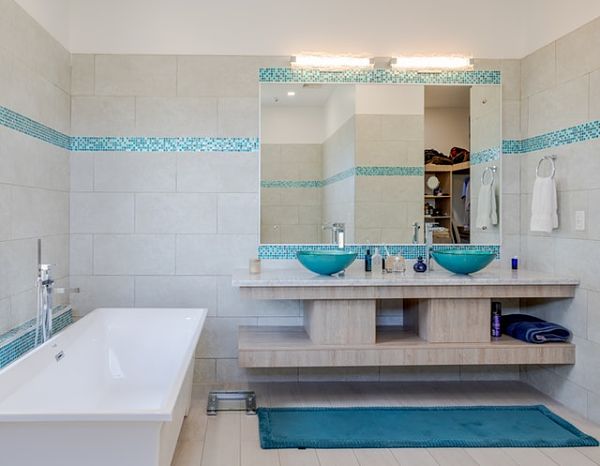 There's no limit to using this watery accent color in your coastal cottage. You can utilize the colors of the sea in unexpected places, including the open shelves, built-in bookcases, or wooden shutters. The soothing colors will bring the feel of the calm ocean waters inside your living space.
9. Invest in an outdoor kitchen
If you love the beach, you're going to love al fresco dining in your yard. The cool breeze, the open sky, and the munching! Go beyond the mundane freestanding grill in your backyard and construct a small outdoor kitchen for delicious meals under the sun and outdoor entertaining.
10. Utilize natural wood accents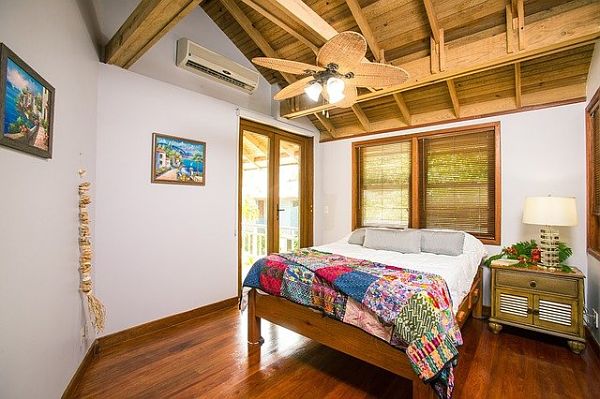 Nothing adds a more exotic touch to your seaside abode than having wooden accents around. Wooden pieces painted in bold white are perfect for beach houses. Even without the painting, the natural wood details create a visual interest that's unmatched. Think wooden barn doors, rustic ceiling beams, butcher block countertops, woven basket pendant lights, and vent hood trim.
11. Install wooden flooring
Painted wood floors — topped with durable polyurethane — can easily handle traffic of sand-covered feet. Such flooring is easy to clean and with proper care can last a lifetime. You can throw in some striped rugs to provide color and softness to the room decor.
12. Create a sunny breakfast nook
A breakfast booth is perfect for your casual meals as well as lazy day lounging. Just keep the breakfast nook as beachy as you can with an unfinished wood dining table, deliberately mismatched painted dining chairs, and a braided lightweight rug. Add a flower arrangement in a glass vase for the extra touch!
13. Design a beachy DIY headboard
If you're looking to decorate your beach house on a budget, a self-designed unique headboard will change the look of your room. Interestingly, you can turn a plain home-improvement store garden lattice into an innovative headboard. Just paint it in soothing hues such as white or mint-green. It will pair well with your crisp white bedsheets and pillows — giving you a fresh beach home feel.
14. Have a relaxing porch or outdoor patio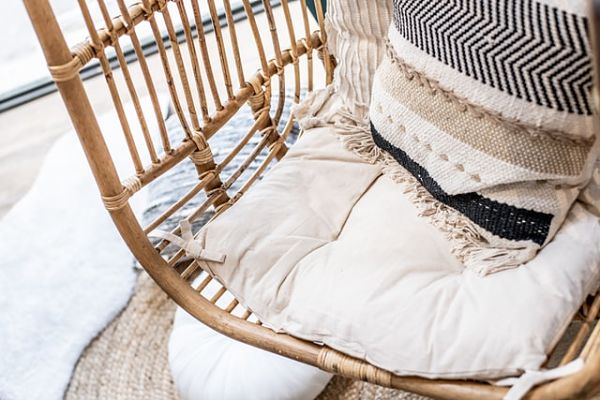 Transform your porch or patio into a cozy place with comfy wicker furniture in whites and natural hues. This casual outdoor seating will help you bring a playful, fun mood to your beach house. And, you can place a colorful rug to take the style quotient a notch up.
Read more: 10 DIY Decor ideas to make your front porch fun and inviting
15. Create a sailor's bathroom
You can add interesting fixtures in your master bath to mimic the charms of marine life. A wall mirror framed with seashells, woven laundry baskets, bamboo open shelves, a beachy shower curtain, or even a soaking tub in the shape of a ship!
16. Use water-friendly materials
Your beach house needs to be able to stand up to wet swimsuits, high humidity, and sandy feet. That's why it's important that you fill your seaside home with weather-resistant items. Bring in those rattan chairs, washable cushion covers, and loungers to provide you with swimsuit-friendly seating.
17. Think cool storage
Want to give your home a cozy, rustic beach cottage look? Replace boring cabinetry with wooden open shelving and wicker, bamboo, or woven baskets. You could use these to display your collections of vintage finds or keep colorful pottery.
The natural baskets will evoke memories of all those beach summer picnics you had while being extremely utilitarian. They are especially good for under-bed storage and bathroom storage.
18. Keep nautical knick-knacks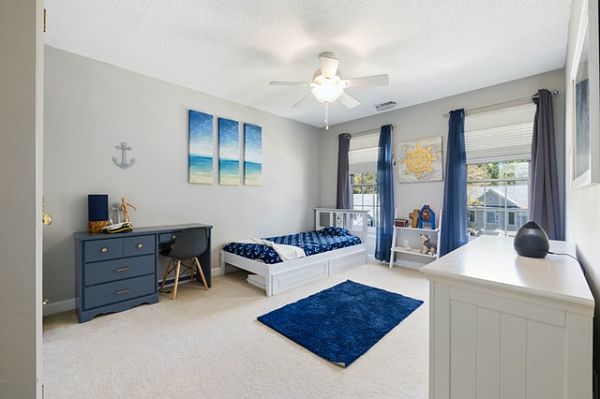 Whether you're going all out on your interior design or decorating your beach house on a budget, you can always accessorize with interesting, funky little knick-knacks. It could be a shell-encrusted photo frame, tiny models of ships, nautical flags, a rescue buoy on the wall, or a light fixture made of seashells. These items will give your space instant coastal charm while adding a unique and personal touch.
Last thoughts
There's nothing like a relaxing day at the beach to wash away all your worries. And, if you want to recreate that ambiance in your own house, who are we to disagree with? Our beach home decor ideas — with their charming coastal elements — will instantly make you feel relaxed, comfortable, and happy.
Just imagine, you'll be able to transport yourself to a seaside locale, with its easy, breezy vibe, anytime you want. All you have to do is look around your home and imagine the soft sand caressing your toes and the gentle waves lapping the shores.
18 Cool beach home decor ideas to wow you
was last modified:
October 12th, 2022
by
Recommended