Glulam Beam vs Solid Wood Beam: Choose the Best Wood for Your Project
If you're planning a building project, it can be a challenging task to decide which construction materials to use, especially when it comes to wood. For thousands of years, wood has been used in construction. Its accessibility and unique features allow you to build a variety of structures.
Being highly amenable and compliant, it can be carved into any shape and size to fit your construction needs. It's renewable and biodegradable with the lowest carbon footprint, making it an environment-friendly building material as compared to brick, steel or plastic which require fossil fuel for production.
However, choosing the best one for the purpose can be a difficult decision to make. Choosing wood for a building project is one of the most important steps in construction. If you've got a good design on paper, you'll be able to make a good start but if you don't find the right wood, your plan wouldn't be able to proceed as you want it to.
The two kinds of wood that are commonly considered by the customers are Glulam beam and timber or solid beams. Both kinds have different characteristics and purposes. To make the right choice for your building project, you must know what each of them is.
To help you make an informed decision, we've gathered the details about both the types and have accumulated their benefits in the building projects. Let's have a look at them and see what timber cladding and Glulam beams have to offer.
Glulam Beams
Also known as glued laminated timber, Glulam is an engineered wood product that entails a number of dimensional lumber layers bonded together with structural adhesives. These adhesives are moisture-resistant and durable and keep the layers tightly attached together for decades.
Glulam offers larger wood for building projects. It joins together smaller pieces of lumber, taken from younger trees of second and third growth forests. This makes Glulam more sustainable than any other wood building material. Also, it is faster to restock as compared to timber that's extracted from older and bigger trees.
Being an engineered wood, Glulam beams can be assembled according to specific requirements and be predictable as compared to other building materials. In other engineered wood options, you'll find plywood, oriented strand board and laminated veneer lumber. A Glulam beam appears different than either of these options as it looks more like larger lumber stacked together.
Use of Glulam Beams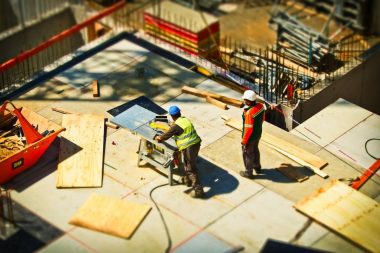 You can find Glulam or glue-laminated timber in various standard widths and lengths that can be adjusted according to the design needs and specifications. For building projects that have large curves and arches, Glulam beams are preferred building material.
Vaulted roofs, domes, and bridges require this wood for its customizable length and width. It's deemed stronger than steel and has more stiffness as compared to dimensional lumber. The Glulam beams can be connected together using bolts and steel plates.
The main constructional forms of Glulam include:
Straight Beams
Columns
Tied rafters
Trusses
Arches
Bridge supports
Curved Beams
The columns of glue-laminated beams can be in round, square and other complex sections. Straight glulam beams include lintels, purlins, ridge beams, and floor beams.
Remember not to confuse Glulam with cross-laminated timber. Both are different forms of building material. Cross-laminated timber is engineered differently. The layers of timber are glued together with the grain alternating at 90 degrees for each layer. Wood is stacked cross-wise and glued with structural adhesives. Glulam is aligned in one dimension.
Solid Beams
Solid beams have a long history of use in the construction industry. They are used for timber framing that is highly common in construction projects. People prefer timber framing for its warm and classic look.
While solid beams have a more appealing look and ideal for decor purposes, they have the possibility to crack and check.
Therefore, before you make the decision of using a solid beam for your building project, make sure you know the status of the wood you're using. Cracks and check are considered to add more character to the timber framing and increase the rustic quality of the frame.
According to professionals, cracks and checks in the beams don't affect the strength and structural integrity of the frame.
Read more: Laminate vs hardwood flooring
Use of Solid Beams in Building Projects
Timber frames made of solid beams are suitable to use when you need the structural shell urgently or the ground conditions are rather poor.
Solid beams are also used for timber cladding that is swiftly becoming a popular choice among homeowners. Timber cladding or timber weatherboarding is an attractive and economical way to finish the exteriors of new and old buildings.
Timber frame made of solid beams is strong, durable and tolerant towards various weather conditions. Also, it makes a great addition to the look of your house or building.
Which One to Choose?
As mentioned, both the building materials have different properties that make them beneficial in the construction project. So, the matter of your choice comes down to the cost and design of the project you have. If you are looking for something that allows you more space without any frames, and there are long arches in your design, Glulam beams are the best option to go for. However, if you intend to add more character to your home by giving it a more rustic look, solid beams should be preferred.
You can also go for a combination of both. You can build a timber frame structure that has both solid beams and Glulam beams or cross-laminated timber in the building structure. In areas where the wood isn't visible, you can go for Glulam. For the rest, you can use timber.
For the exterior, timber cladding is the best option to pursue. Both the building materials are durable and strong to offer better structural integrity.
So, when choosing wood for building projects, you can make the decision based on your building design and construction purpose.
Read more: Weathertex External Cladding: Beautify & Protect Your Home's Exterior
Glulam Beam vs Solid Wood Beam: Choose the Best Wood for Your Project
was last modified:
November 2nd, 2022
by
Recommended