Beautiful teen room designs created by an expert architect
Deciding on teen room designs can be a challenge. More often than not, parents and children want different things. Well, our expert architect realizes this and has come up with the most practical and stunning teen room designs that are sure to keep both generations happy.
Our architect believes that a room should resonate with its inhabitant; it should be a reflection of their evolving tastes and personality. That's why it's important to let your teenager(s) have some control over their room's design and decor.
The idea is to create a room that reflects your child's inherent style while also keeping the rest of the house cohesive. And yes, don't forget storage. Good storage is important to keep the living space tidy and clean.
Our architect has given a few versatile bedroom designs where your teen can hang out with friends, lounge around, pursue their hobbies and interests, get their homework done, of course, sleep.
You can use the design for both a teenage girl's bedroom and a teenage boy's bedroom. These layouts are high on functionality, comfort, and style.
The perfect teen room design
The ideal teen bedroom should be productive, playful, stylish, and of course, have some familiar remnants of their childhood. And by the way, teens love different textures. Be sure to add a woven wall hanging, a knit blanket or rug, a macramé plant holder, and throw pillows here and there.
If the room size is small, you can accommodate built-in furniture which makes maximum use of the space – vertically as well as horizontally.
Another idea is to have multifunctional furniture. For instance, the beds can be used as sofas or benches and ottomans can have built-in storage. You can also accommodate a sliding extra bed, folding beds, reclining beds for storage, or bunk beds.
You need to be creative with bright wall colors or wallpaper, personalized drawings, wall art, poster design, fun neon signs, a canopy bed, funky pendant lights, a chalkboard accent wall, or eclectic design elements. Your teen's room should possess a character and identity.
In addition, it's important to make this space well-lit and well-ventilated – with natural light as well as good artificial lighting.
Below are a few room layouts for teens between the ages of 13 and 18. All of them have the same spatial dimension of 12.14ft x 11.81ft, with an area of ​​148.86ft². The height is 9.19ft.
However, the architect has utilized different strategies of functionality for each design.
The first room layout will be viewed in more detail regarding its interior design and decoration.
Teen room design # 1
Single Room (1 bed with built-in furniture)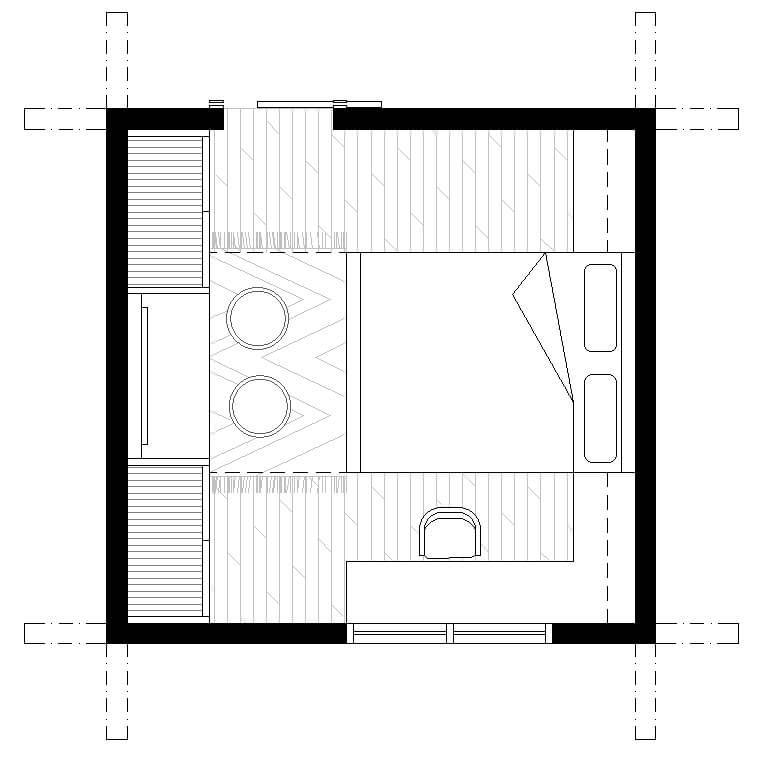 The floor plan
The entry to the room is through a sliding door measuring 2.95ft. It divides the floor plan into two sectors: the storage and entertainment area on the left and an area for resting and studying on the right. This type of room can be located on any floor of the house.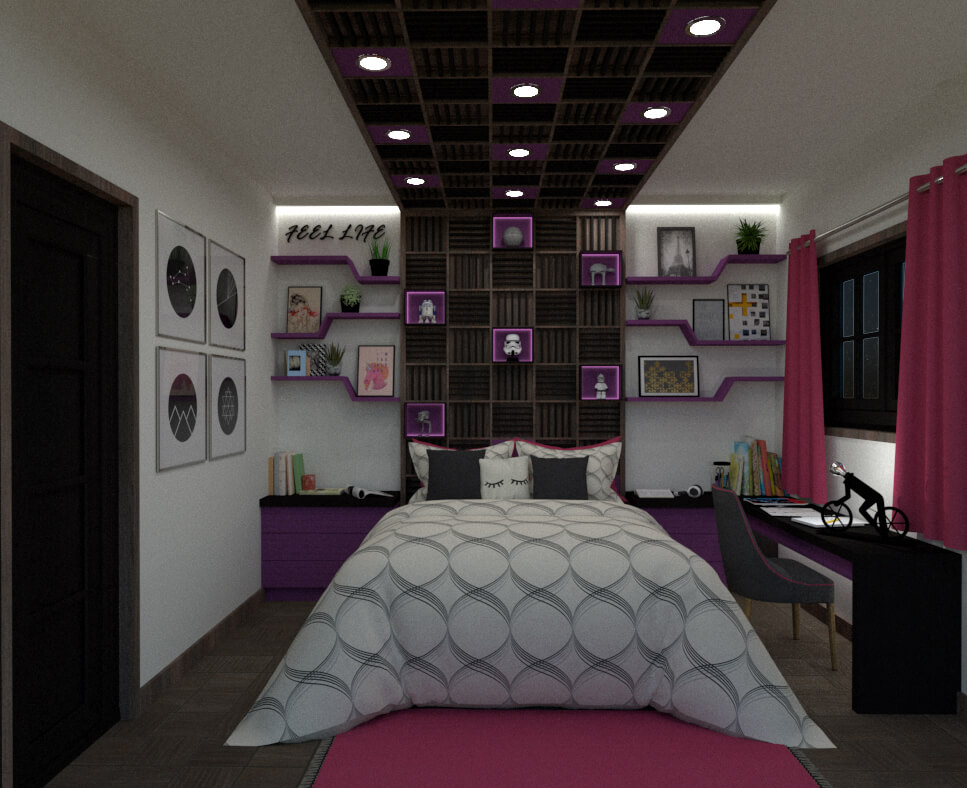 The focal point of the room is the design element that extends as the bed's headboard and unites the floor, ceiling, and wall. It also houses beautiful recessed lighting on the ceiling. Its dimensions are 9.84ft x 15.25ft x 0.33ft deep.
The bed measures 6.56ft x 5.25ft, the carpet is 3.28ft x 5.25ft, and the closet is 11.81ft x 1.97ft.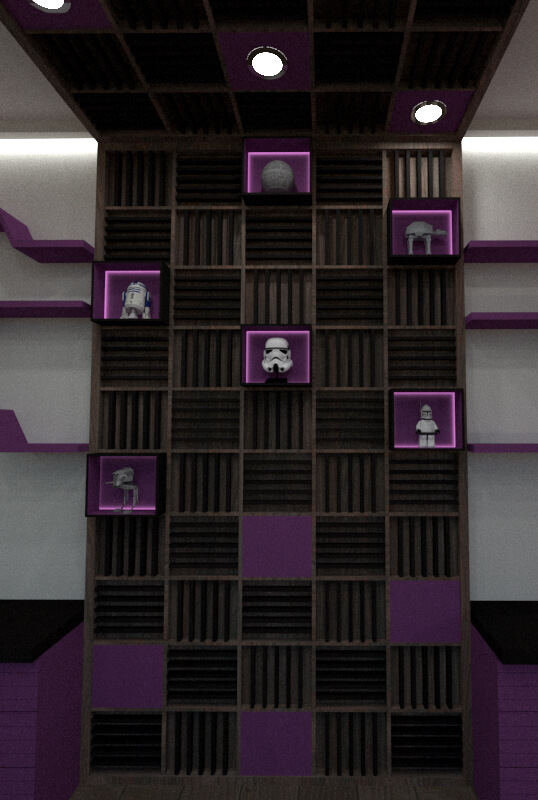 The central wall structure has a set of alternating full and empty spaces. You can utilize the shelf space to keep collectible pieces which can be from movies, literature, comics, and/or any interest adapted to the user's preference. The recessed lights help to highlight these beautiful decor items.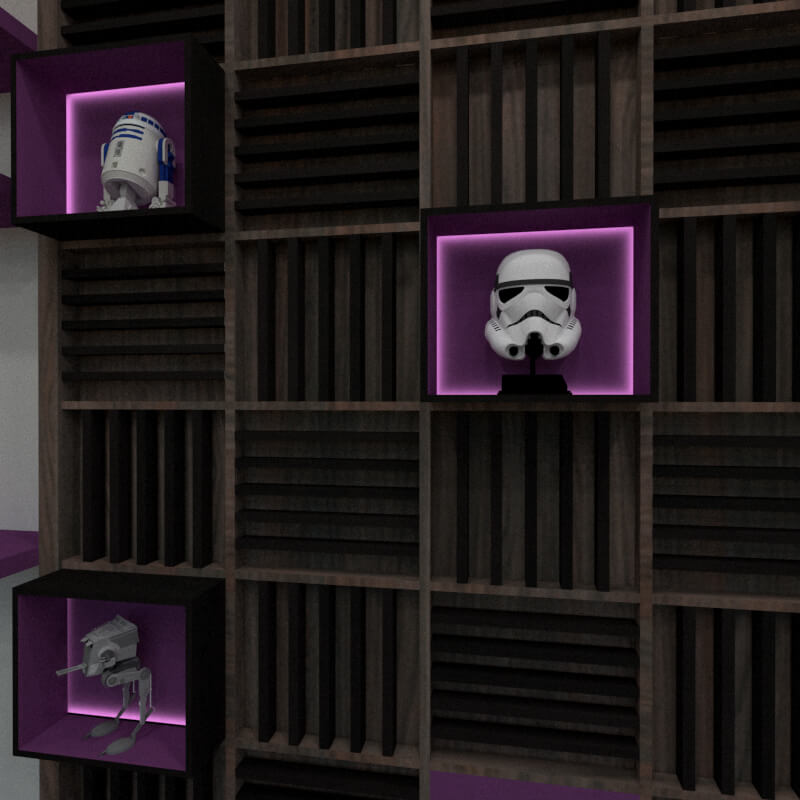 The interior decor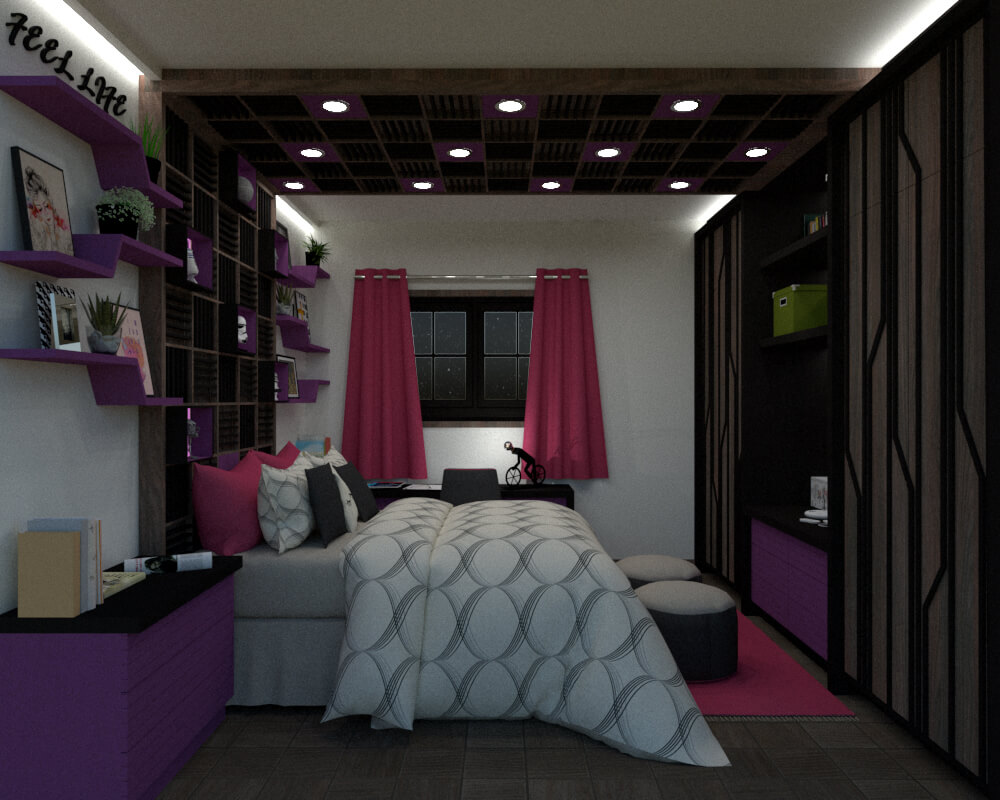 The style of the room is minimalist, with an interesting color palette. Purple and fuchsia have been used for the furniture and accessories. The walls and the ceiling have been kept white. And, there are two tones of wood – medium and dark wood. The architect has used black and silver for metals, frames, and fittings.
The teen room idea is to create ​​a futuristic space, which in turn provides dynamism to the room.
The room lighting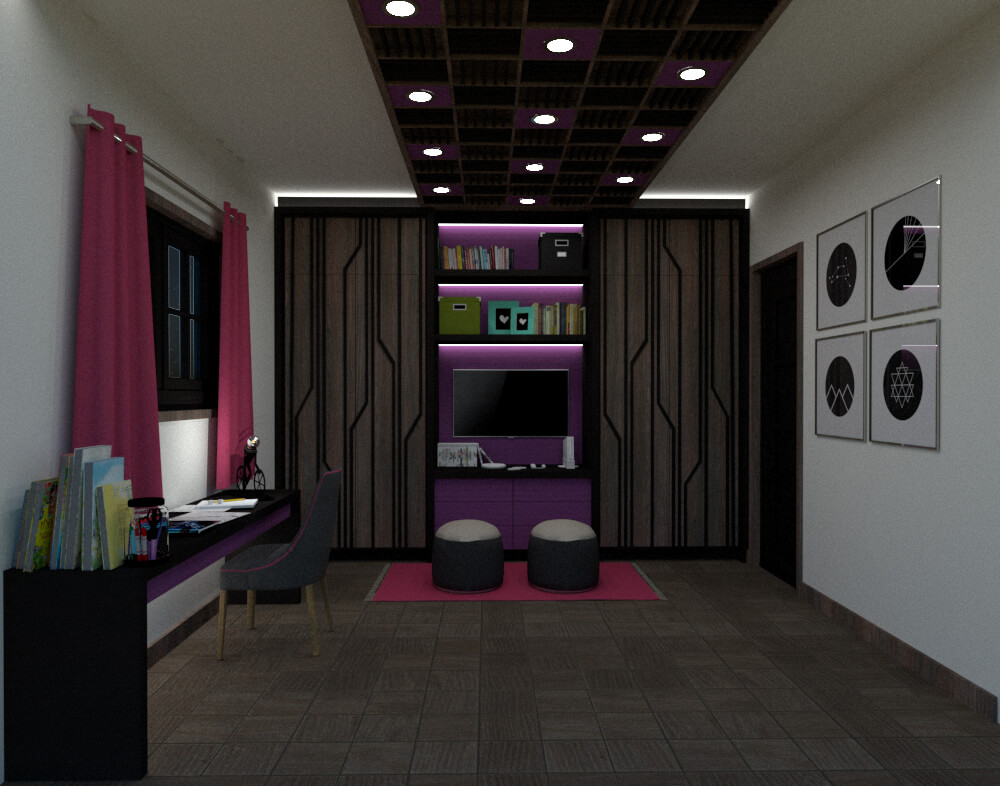 There's sufficient ambient lighting through LED lights distributed evenly on the ceiling. Additionally, there are linear LED lights on the shelves, the upper part of the closet, and on the back wall where the bed frame is located. The intimate lighting system helps to set the mood of the room. A window measuring 5.25ft wide x 3.61ft high allows natural lighting.
The materials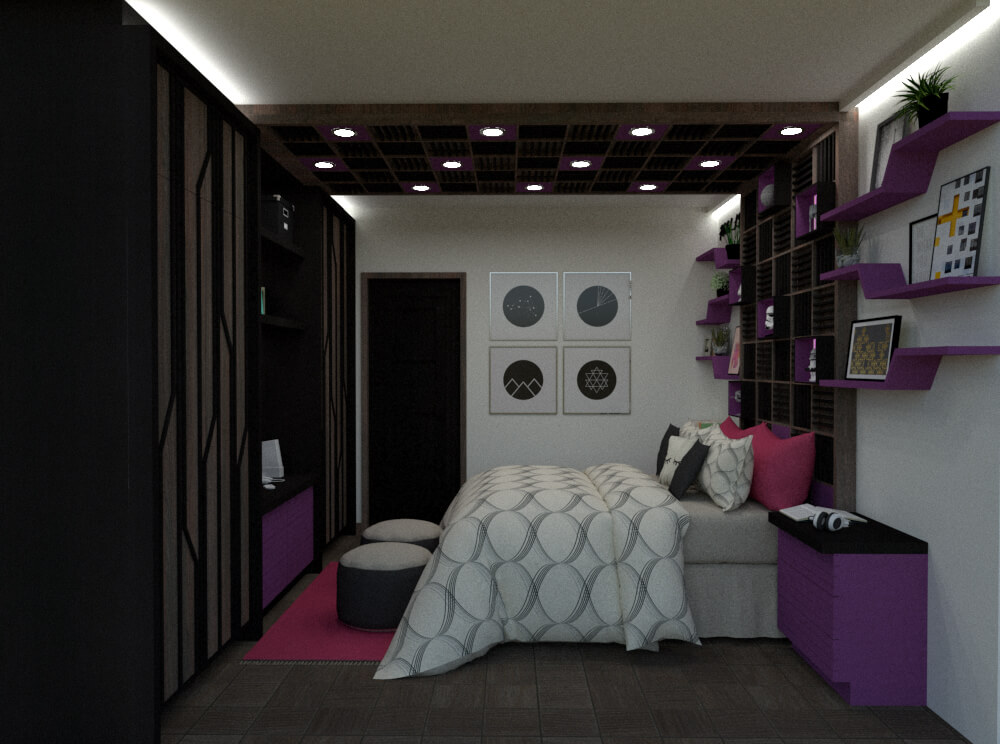 The floor is ceramic with a rustic wood textured look in a medium tone. It has grids measuring 0.82ft x 0.82ft. The architect recommends hanging wall paintings in black and white with silver frames. You can opt for a futuristic theme.
The room furnishing has many textures. We especially like the white and gray bed coverlet, against the strong tones of wood and the purple and fuchsia of the cushions and pieces of furniture.
There are two gray and black puffs (1.48ft diameter x 1.48ft height) and a fuchsia rug measuring 5.25ft x 3.28ft. It's complemented by fuchsia curtains.
The storage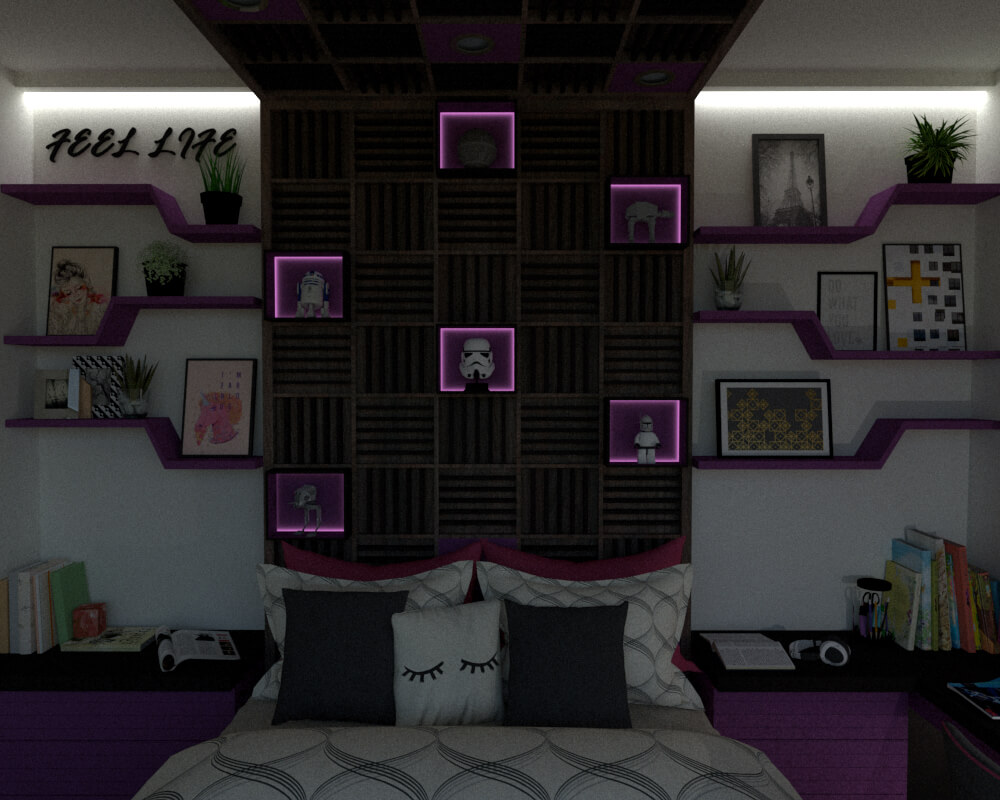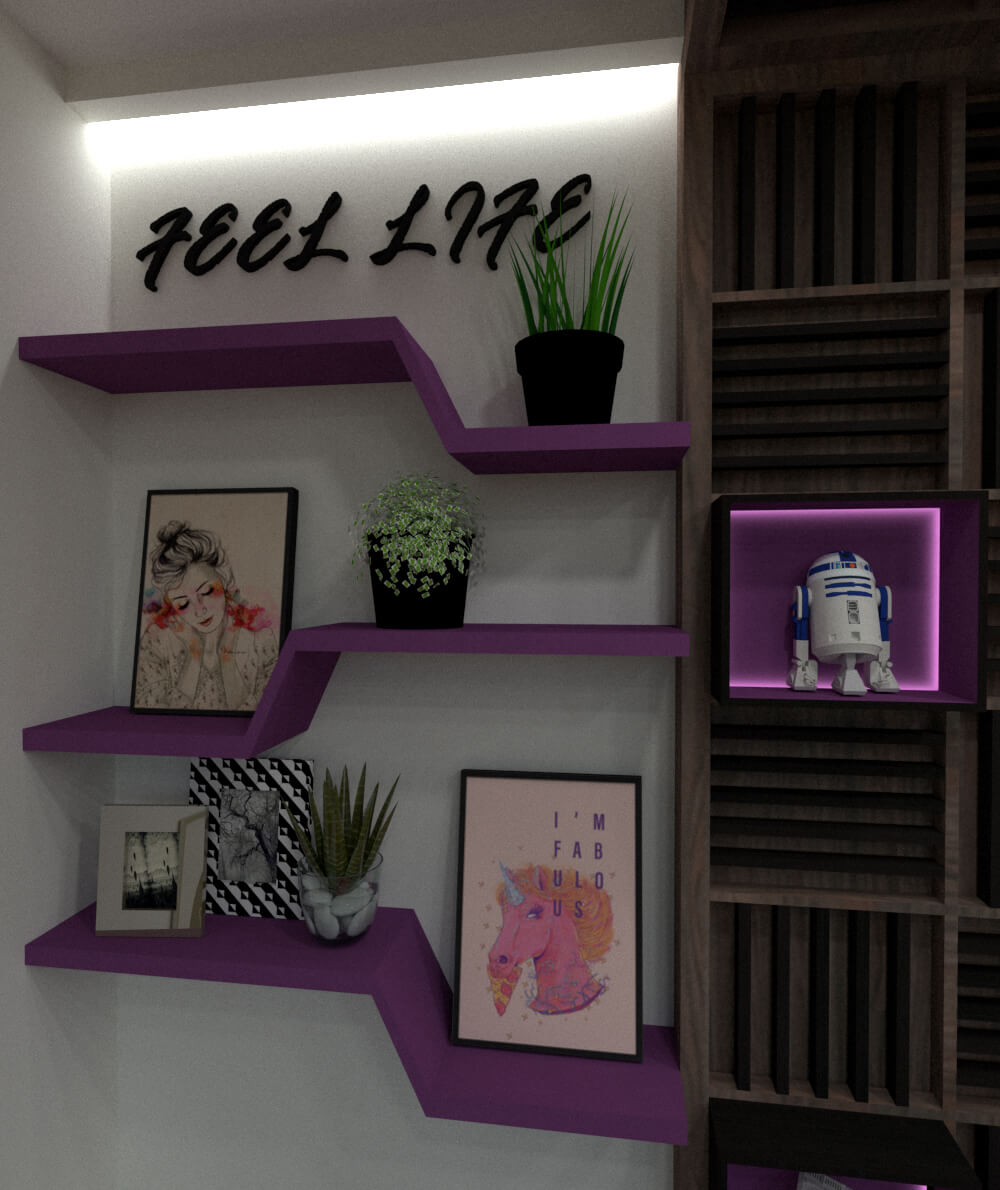 The shelves on each side of the structure are used to complement the decoration. You can use the space to keep small paintings, picture frames, and indoor plants.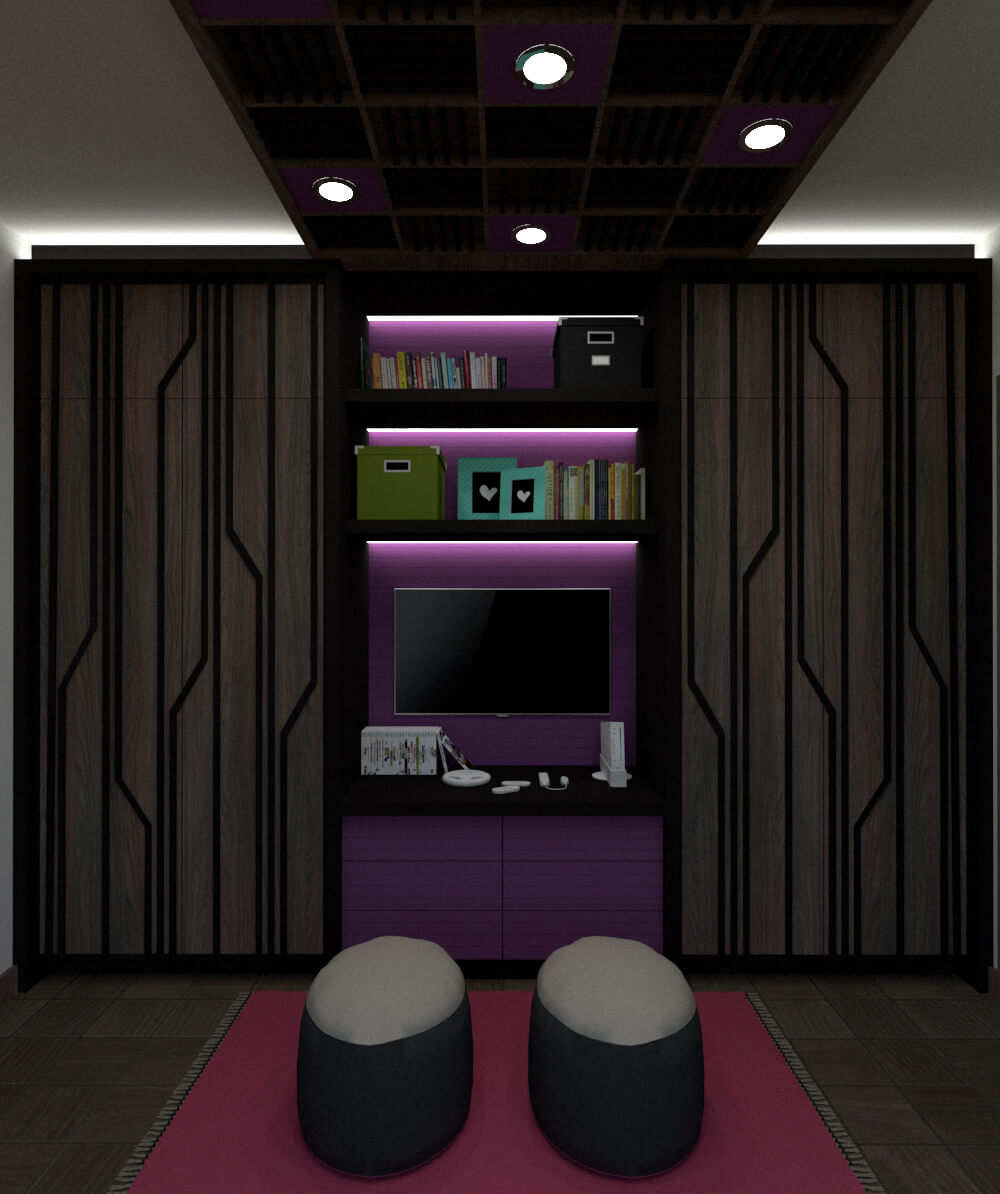 The closet measures 11.81ft x 5.25ft). They are next to a central module with open shelves on the upper side and a free space to accommodate a 40-inch flat-screen TV as well as any other multimedia device or video games of your teen's choice. Below, there's a countertop and a base with 3-tier double drawers of 0.59ft each.
The study area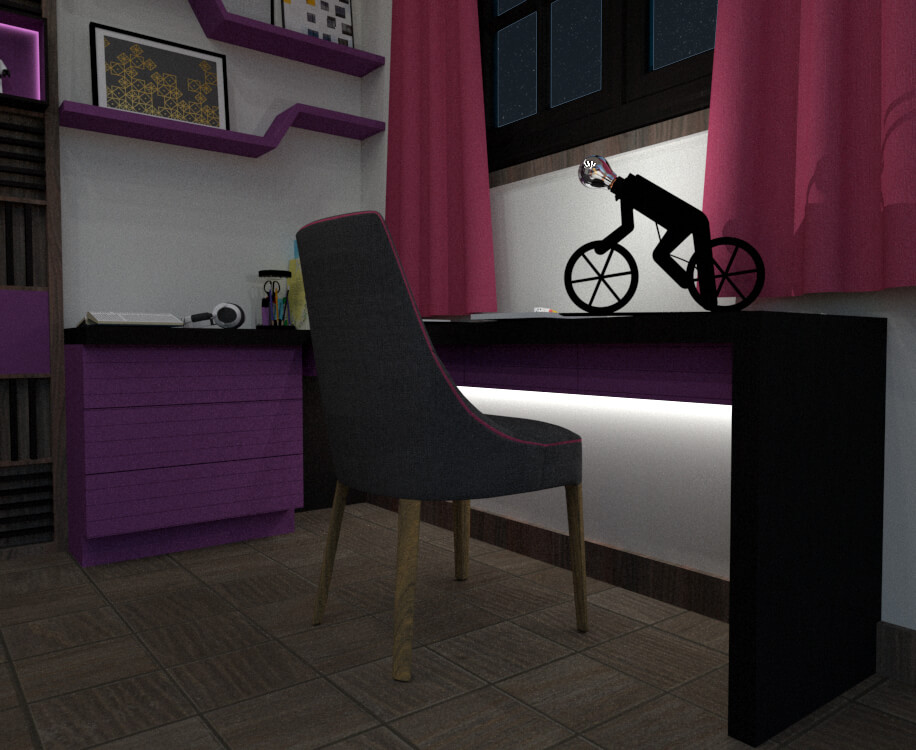 There's a study desk that's 6.89ft x 1.48ft x 2.30ft high and a side cabinet with three drawers that doubles as a nightstand. It's 2.14ft x 1.48ft. The desk forms an "L", with the nightstand on the right side of the bed.
The 1.64ft x 1.51ft desk chair has wooden legs and is upholstered in gray with a little bit of fuchsia. The other nightstand is of similar measurements but is wider. It can also serve as a book shelve or a mini-library. Do notice the interesting 1.38ft x 0.4ft black lamp in the shape of a cyclist.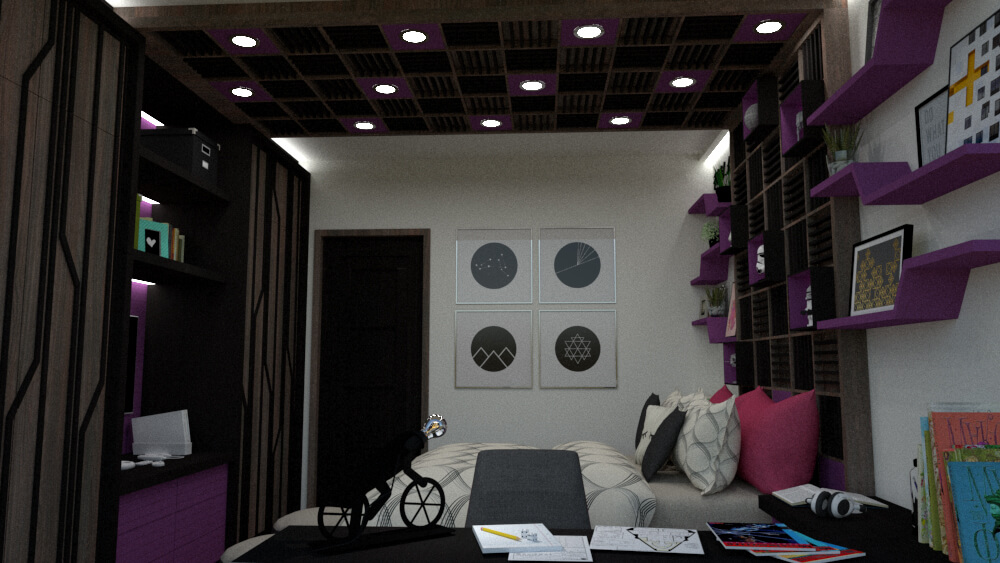 Teen room design # 2
Single room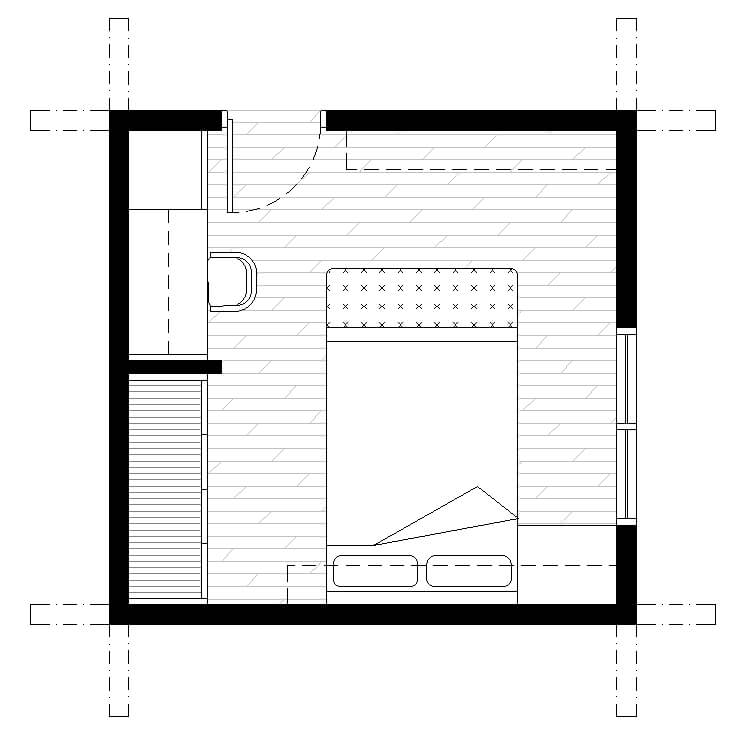 The kids' room is accessed through a 2.95ft hinged door. A built-in desk measuring 1.97ft x 2.46ft rests on the left side with closed storage that's 1.97ft x 1.97ft. Above the desk, there's top storage with the dimensions of 3.77ft x 0.98ft. And, on that same wall, there's a closet measuring 1.97ft x 5.74ft.
The bed rests in front of the entrance door. It comes with a 2.46ft x 1.97ft bedside table on the right side. The architect recommends complementing the main wall to the bed headboard. A 4.76ft x 1.48ft ottoman sits at the foot of the bed. The room has a circulation space of 2.46ft.
The wall, next to the entrance, is large enough to accommodate a flat-screen TV and 6.73ft x 0.98ft shelves for knick-knacks. The 4.92ft window on the right side allows ample natural lighting.
Teen room design # 3
Ideal for siblings – with two single beds or one additional sliding bed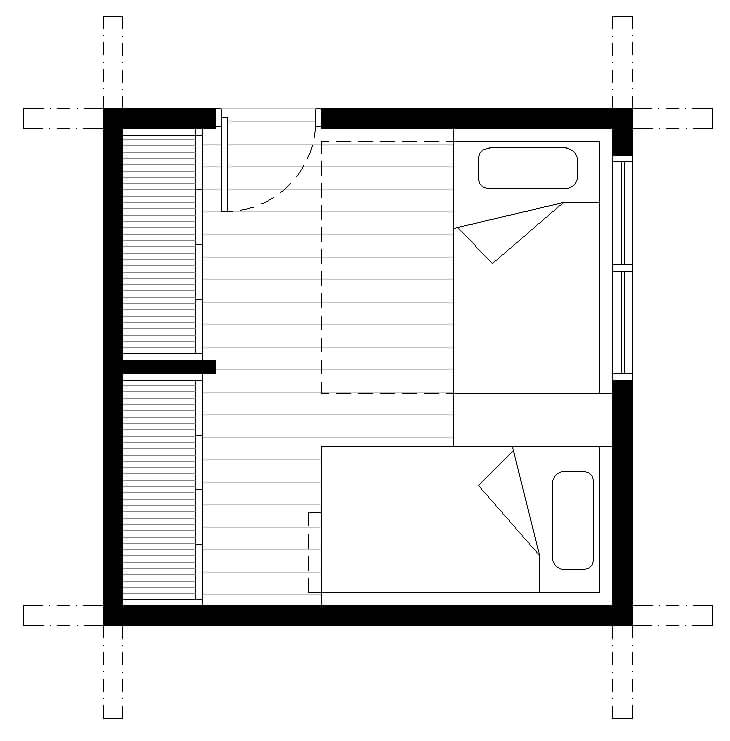 This room is entered through a hinged door of 2.95ft. There are two closets on the left side with dimensions of 1.97ft x 5.74ft. They leave a circulation space of 2.95ft.
The 3.94ft x 6.56ft beds are located in an "L" shape. The headboard too is in an "L" shape. The architect recommends 3.94ft x 1.31ft storage for the room. You can add in an extra bed that slides to the left of the room. A 4.92ft side window lets in natural lighting.
Teen room design # 4
Ideal for siblings – with two single beds or double bunk beds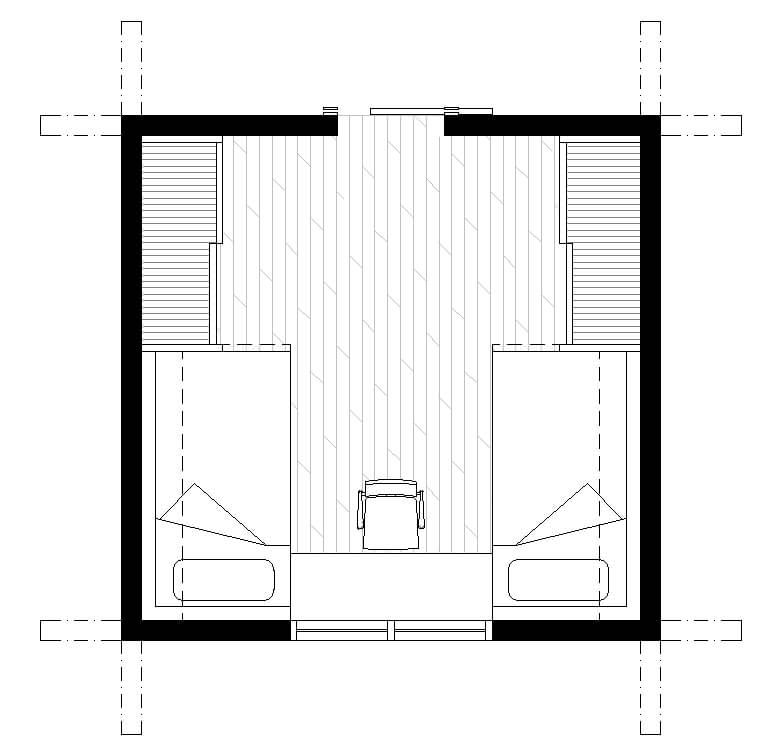 The location of the sliding door is in the center. On the opposite side, a 4.92ft window visually divides the room into two parts – each part a mirror image of the other. There's a wonderful symmetry that adds to the room's charm.
There's a double closet on each side of the sidewalls, with a measurement of 1.97ft x 5.25ft. You can place two beds or bunk beds of about 3.61ft x 6.73ft.
A 4.92ft x 1.64ft desk, between the two beds so that all the children can use it simultaneously. Also, use shelves of 6.56ft x 0.98ft to keep decorative accessories.
Last thoughts
Adolescence is a special transitional stage. It's a period of discovery – of inner strength, personality, tastes, and relationships. A teen bedroom goes beyond being a place to just sleep. It's a space where your teenagers can express themselves freely, pursue their passions, study, and have get-togethers with friends.
Therefore, it's very important that the room design reflects their personality and energy. We hope you find these simple, practical, and versatile teen bedroom ideas inspiring.
Beautiful teen room designs created by an expert architect
was last modified:
January 17th, 2023
by
Recommended