How Room Paint Colors Can Affect Your Mood
If staring at the deep blue ocean calms you or catching a glimpse of a flashing red light puts all your senses on alert, you are not alone. For centuries, colors have been associated with different feelings. From road signs to marketing and even religious symbolism, our brain is wired to associate different shades to specific emotions.
These days, many of us are spending more time than ever in our homes, thanks to COVID-19. Our homes have become our protective bubbles, and many are committed to making their abode as comfortable as possible. Painting your walls is a great way to make use of the newfound free time on your hand. It is a relatively cheap and easy DIY project that could improve your quality of life and even your property's resale value if you are planning on selling your house in the future.
Besides a new look, did you know that a fresh coat of paint could also affect your mood? Here is our guide to choosing the best paint color for the inside and outside of your home.
Different types of room colors
Blue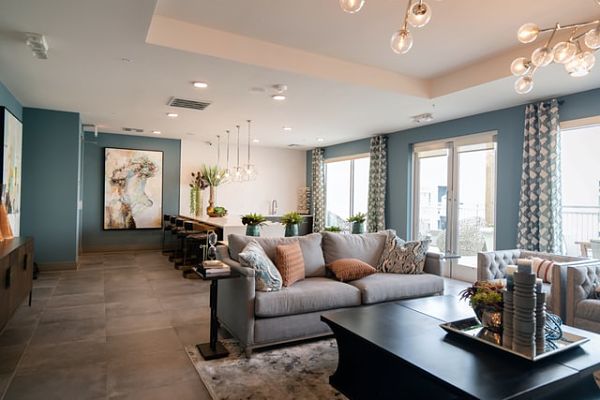 Blue is a widely popular choice to paint your home and one that may even add value to your home. Besides its broad appeal, it also has a well-recognized calming effect, promoting relaxation, creativity, and concentration. It is even known to help lower blood pressure.
Therefore, blue is an excellent option for lounging rooms such as bedrooms and living rooms. It will also give a spa feel to your bathroom. If you do not want to commit to painting an entire room, you can also add in small touches of blue throughout your house by painting the front door, for example.
There is a caveat: Cool blue tones can make rooms that receive little natural light feel gloomy.
Red
Bold and stimulating, painting your walls red is the way to make a statement. This bright color is said to raise your energy level by increasing your blood pressure and heart rate. It is a shade best reserved for areas of your home where you want to encourage interactions and exchange, such as your living room or dining room. It could also be an excellent choice for a home office.
On the downside, red can also be perceived as aggressive. Instead of painting the whole room red, you may want to choose an accent wall or add this vivid color in touches throughout the room.
Green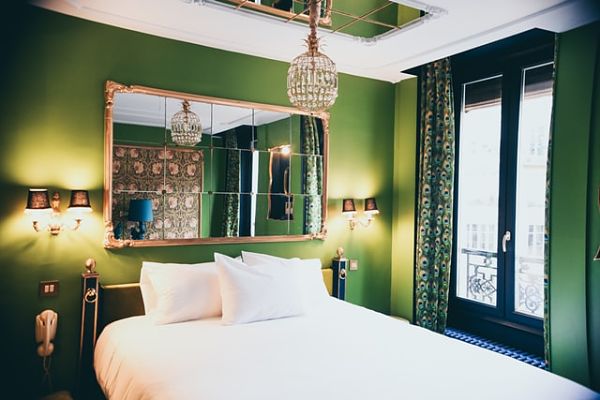 Green is the color of water and vegetation. Therefore, it is closely associated with nature. It has the reputation of having a calming and healing effect on all your senses. If you want to invite the great outdoors in your home, green is an excellent option. Green is said to increase fertility and repeal stress, making this refreshing shade a great choice for bedrooms. It is also rumored to help spark creativity — just what you need in a craft room or home office.
Not ready to paint an entire room green? You can bring in the same feel by incorporating houseplants and greenery into your home.
Yellow
Like the bright sunshine, yellow is associated with happiness, optimism, and warmth. What a great feeling to bring into your home! A cheerful touch of yellow will be a welcome addition to your kitchen — a nice complement to that first cup of coffee in the morning — or a playroom. If some rooms in your home suffer from a lack of natural light, you can compensate by painting your walls (or ceiling) a warm, creamy light yellow to imitate a natural glow. It is also an excellent choice for the outside of your home, especially in moodier climates.
Like other warm tones such as orange or red, yellow can also be perceived as aggressive and overstimulating in large amounts. When painting your home, it is best to gravitate toward more muted buttery yellows to avoid this.
Brown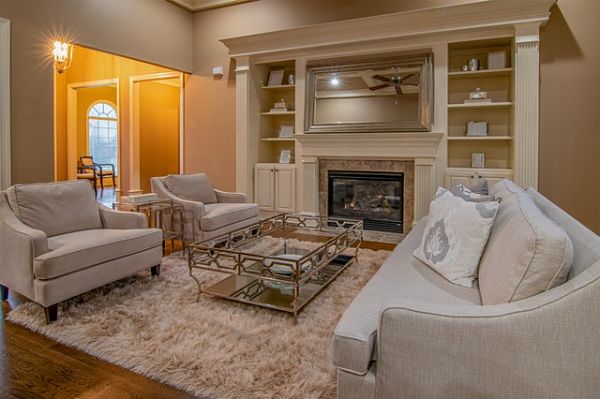 Beige, greige, and brown walls will bring warmth to any room while remaining neutral enough not to outshine your home décor. They will make your space appear cozier and more comfortable, making it an excellent choice for living rooms, family rooms, bedrooms, or even your home office. These earthy tones evoke a feeling of security and comfort.
Browns typically are a better fit for more traditional styles of homes, where owners aren't looking to make a bold statement.
Grey
Grey walls are an increasingly popular choice among home decorators. Elegant and soothing, this moody shade is the perfect neutral to make other accent colors pop. It is a versatile color that adapts easily to modern and traditional styles, giving a sophisticated and serene feel to any room. It easily changes the atmosphere depending on its darkness or undertones.
No matter where you bring it, you cannot go wrong with grey!
White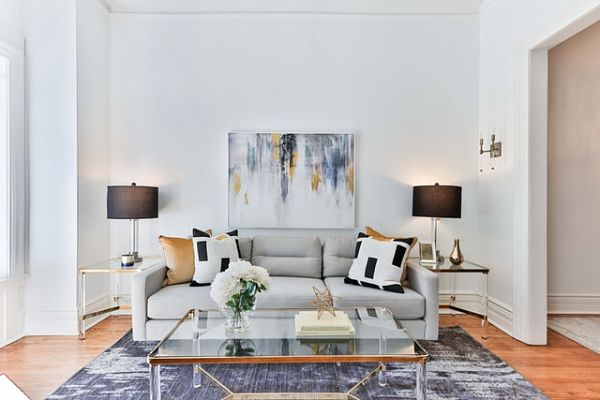 It does not get more neutral than white. It is a safe choice and a common go-to when painting your house to sell. Not only is white the best color to capture any natural light, but it will also make any room appear bigger and cleaner.
By playing it safe, however, uniformly white walls can also feel cold and aseptic. You can compensate by adding a touch of your favorite colors or an accent wall in a bolder shade.
What do you need to know before painting your home?
Painting a room is a great way to change the mood in your house with relatively little effort. Keep in mind that the color you pick may look different on your walls than what you see on the improvement store's samples. Do not hesitate to bring home several potential choices and check how they look on-site in different lighting throughout the day before committing to painting the entire room. You may also decide to opt for an accent wall instead.
Refreshing your house with a coat of paint is also an excellent way to get your home ready to sell without breaking the bank — and it will likely help your house sell quickly, too. Choose neutral colors that will appeal to the broadest range of potential buyers, such as blue, beige, grey, and white. This way, house hunters can picture their belongings even if their decorating style is different from yours.
Although being stuck at home may be daunting, it is a great time to tackle house projects you have been putting off for years — especially painting. As the pandemic continues, you will continue spending a lot of time at home. Why not make sure the paint puts you in the best mood possible?
Read more: Secrets unlocked: Best type of paint for bathrooms
How Room Paint Colors Can Affect Your Mood
was last modified:
July 29th, 2022
by
Recommended