Painting is an important part of the bathroom renovation process. And as with everything else related to renovations, choosing the right paints for your bathroom will make a world of difference.
But do you need special paints for the bathroom, or will regular paints do? Are there any colors of finishes that actually make a difference? Let's unlock the secrets about the best type of paint for bathrooms.
Choosing the right color
Neutral shades like whites, grays, pastels, and cream are the preferred colors for bathrooms. There is a reason for this. These paint colors complement your reflection in the mirror, are calming, as well as easy on the eyes. Because they're neutral, they do not cast light in a way that alters your complexion in your bathroom mirror.
Vibrant colors like blues and greens may interact differently with the natural or artificial light in your bathroom and cast an unnatural sheen on your skin, making skin blemishes and dark circles more pronounced.
Choosing ample protection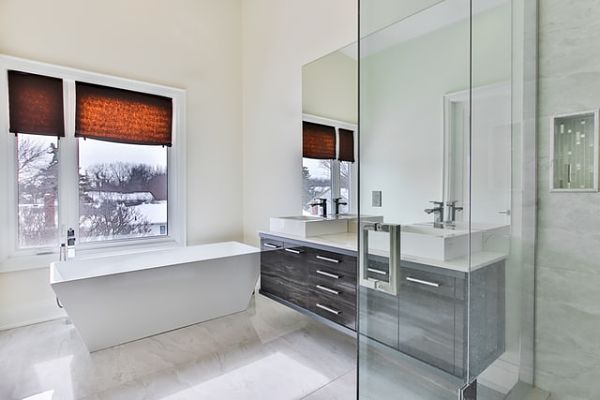 The type of paint you choose for your bathroom wall ought to offer mold and mildew resistance, considering your bathroom is constantly exposed to moisture. Mold and mildew infestations are a result of exposure to moisture over an extended period of time and can lead to health hazards.
You can protect yourself against these hazards by buying the many paints with antimicrobial additives available in the market, made by companies such as Benjamin Moore and Zinsser. These paints, once applied, will not only kill existing mold and mildew, they will also prevent future infestations.
An effective alternative to mold-resistant paints is to choose a paint finish that is easily maintainable. For example, a high gloss or semi-gloss finish is easier to clean in case of mold than eggshell or flat paints. Both these finishes are great at repelling moisture and are easy to wipe. Flat finishes, on the other hand, absorb moisture and are difficult to clean.
If you are not a fan of glossy paint sheens, you could choose a satin finish instead.
Another problem with exposure to moisture over an extended period of time is that paint starts to peel, especially in areas like showers, which tend to have inadequate ventilation. This causes steam to get trapped in the area. An effective way to deal with this is to add a coat of moisture-resistant primer to the shower walls and ceiling before you paint it with your mildew and mold-resistant paint.
Painting the bathroom ceiling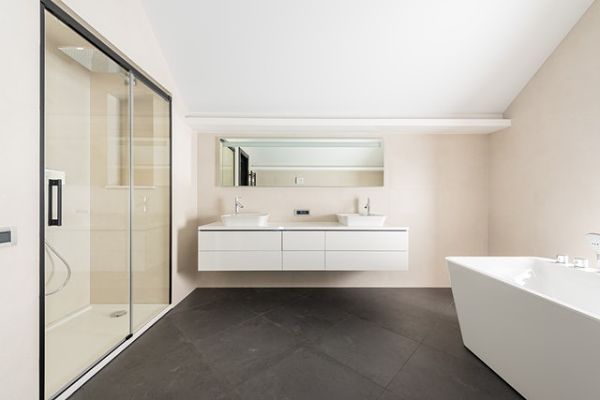 Bathroom ceilings tend to attract more mildew and mold than any other part of the bathroom, considering that a lot of moisture in the form of steam travels upwards and that ceilings are generally more difficult to access and wipe down.
As with showers, begin by applying a coat of moisture-resistant primer. As for the best kind of paint to choose, we recommend high-quality semi-gloss interior paint with antimicrobial additives for extra protection.
Choose acrylic paint instead of oil-based paint. A lot of brands offer specific bathroom paints with additives like mildewcide.
Read more: How to remove paint from wood floor
Home Renovation Cost Estimator
Sorry, we currently don't have that project at our disposal.
---
You can take a look at our most popular ones:
Water Heater Installation
Exterior Door Replacement
Install Recessed Lighting
Exterior Door Installation
Interior Door Installation
Interior Door Replacement
Prepping the bathroom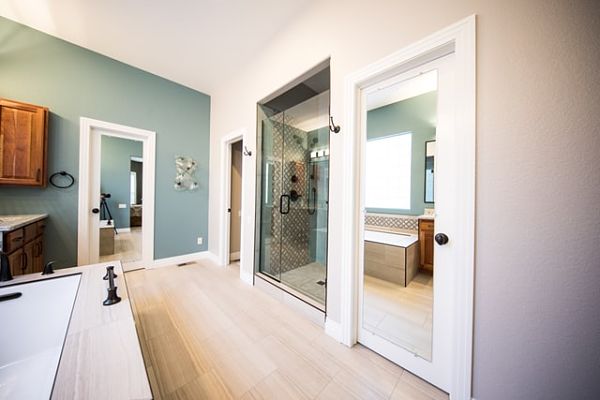 Be sure to prep your bathroom before you begin painting. Begin by wiping down your walls. Be sure to remove any traces of existing mildew and mold before you add a fresh coat of paint. This can be done using a simple homemade solution of three parts water to one part bleach.
Remember to use painter's tape to block off room corners, floorboards, doorways, and other areas you do not want to paint.
Protect your toilet, bathtub, countertops, and cabinets using either plastic sheets or drop cloth.
Read more: Great 3/4 bathroom floor plan ideas by an architect
Begin painting from the corners and then work your way across the walls. Once you are done, make sure your bathroom has sufficient ventilation so the fresh paint can dry well. It would also be best to wait a couple of days before you take a hot shower in your freshly painted bathroom.
Following these simple steps will ensure your bathroom looks freshly painted for a long time to come.
Hire professional contractors to work on your bathroom remodeling project by clicking here.
Read more: 12 Steps to remodel a bathroom in a successful way
Secrets unlocked: Best type of paint for bathrooms
was last modified:
December 15th, 2022
by
Recommended