Thinking about a master bathroom remodel, or building a new one? Before you undertake your bath project, you need to consider a few things. Which type of bathroom do you want? What elements would you want in your master bathroom? Do you want a small bathroom or a large one? Another important consideration is understanding the bathroom sizes and dimensions. For instance, you need to arrive at the right master shower dimensions.
The correct measurements are critical to planning your bathroom project. You need sufficient space for fixtures such as a shower, a standard shower door, a sink, a bathroom vanity, and a toilet. All this while providing optimal user comfort. A wrongly installed bathroom, with less clearance, can be a safety hazard – leading to injury or slippage.
If you decide to install a standard-size shower, make sure it takes care of all your bathroom needs. Fortunately, there are many shower sizes to choose from. A shower can be more than just a bathroom fitment that sprays water. You can opt for a multi-shower head enclosure or a simple overhead shower.
Interestingly, you tend to subconsciously focus on the dimensions of the shower when you're showering. Each time an accidental elbow bump occurs, it serves as a reminder of the shower's limited space. Conversely, those who derive immense pleasure from indulging in lengthy showers likely do so because they enjoy the ample room available to them and access to smart shower installations.
Below, we'll give you a rundown of some common bathroom sizes, including master shower dimensions, to help you create your ideal bathroom.
What is the standard size for a bathroom?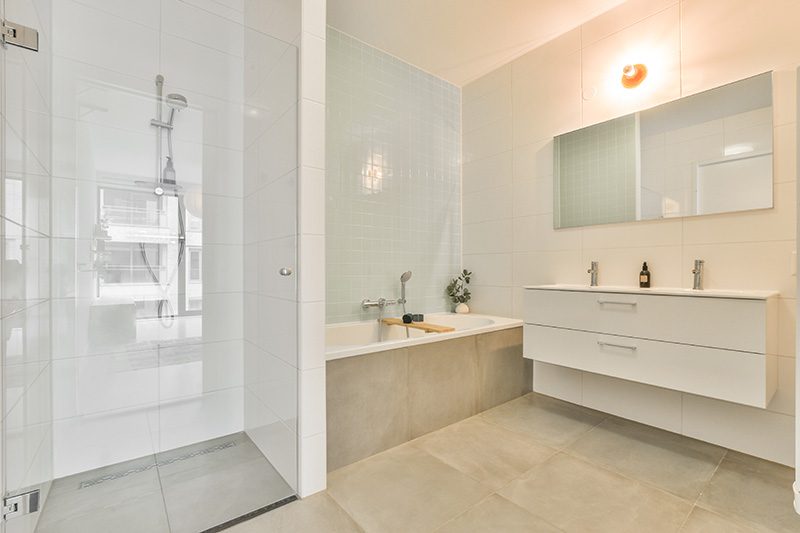 Typical master shower dimensions in an apartment, condo, or small house range from 36 to 40 square feet. This is enough space for a shower area, bathtub, sink, and toilet. This size accommodates both ¾ baths and full baths. In larger homes, bathroom sizes can vary from 40 to 100 square feet, depending on the property's size and the bathroom layout.
What are some common bathroom layouts and their sizes?
There are various bathroom size layouts. Typically, the minimum area needed is 15 square feet, sufficient for accommodating a bathroom sink and a toilet. If you intend to install a shower, you'll require at least 30-36 square feet of space. For a complete bathroom setup that includes both a shower and a bathtub, a minimum of 40 square feet is necessary.
You can see some bathroom layouts with their sizes below:
Small bathrooms
3×5 (15 square ft)
3×6 (18 square ft)
4×4 (16 square ft)
4×6 (24 square ft)
6×6 (36 square ft)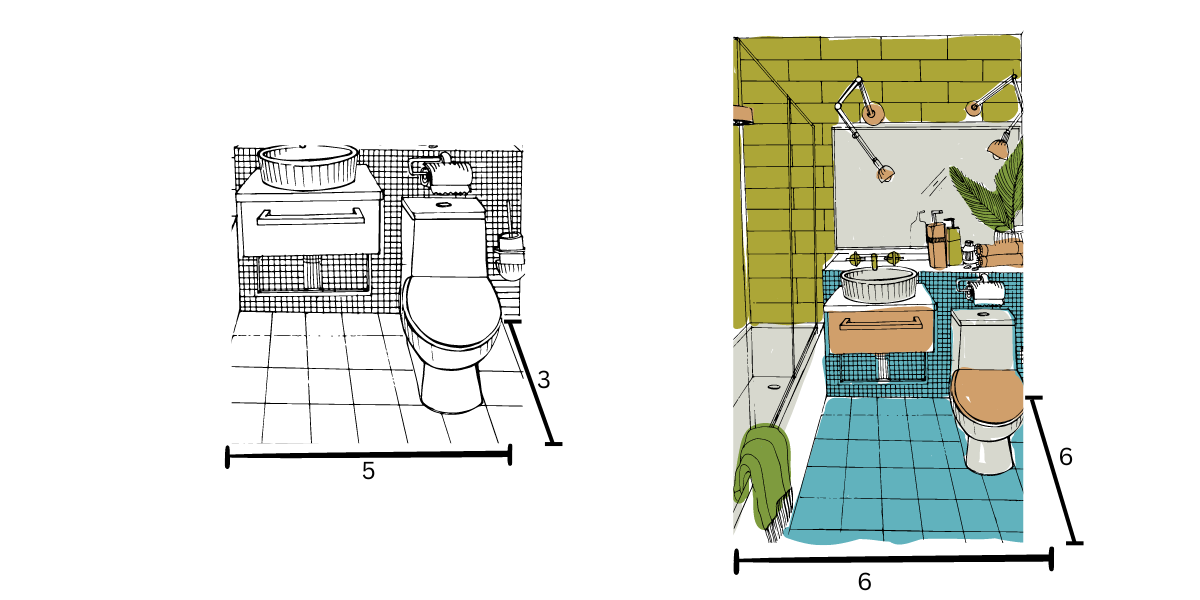 Medium bathrooms
7×7 (49 square ft)
9×6 (54 square ft)
6×10 (60 square ft)
9×7 (63 square ft)
8×8 (64 square ft)
6×12 (72 square ft)
9×8 (72 square ft)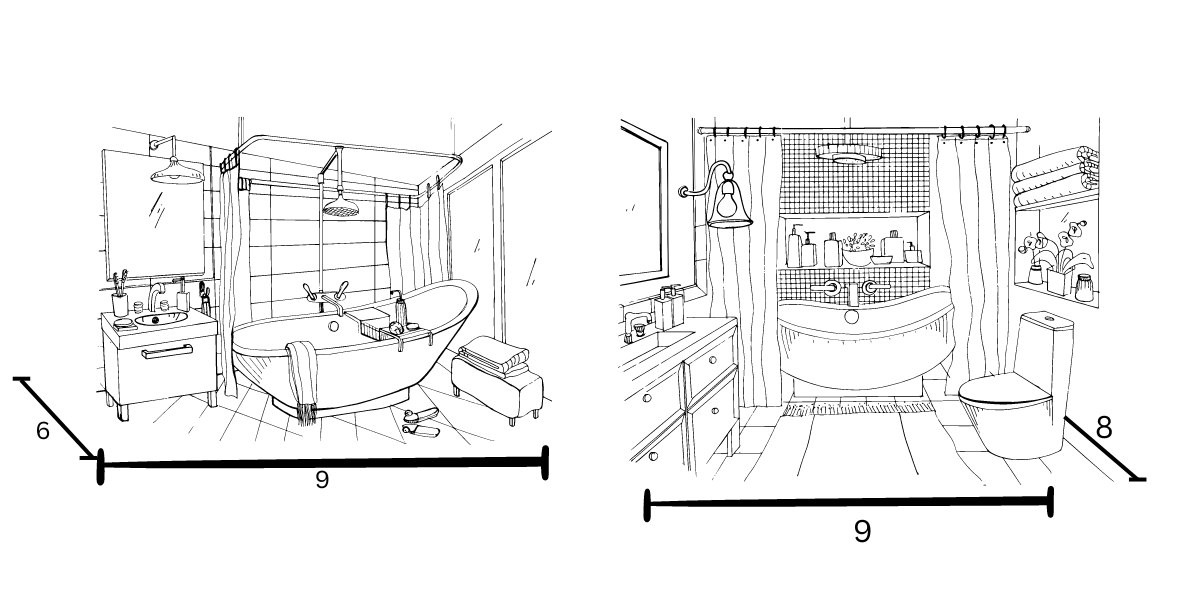 Large bathrooms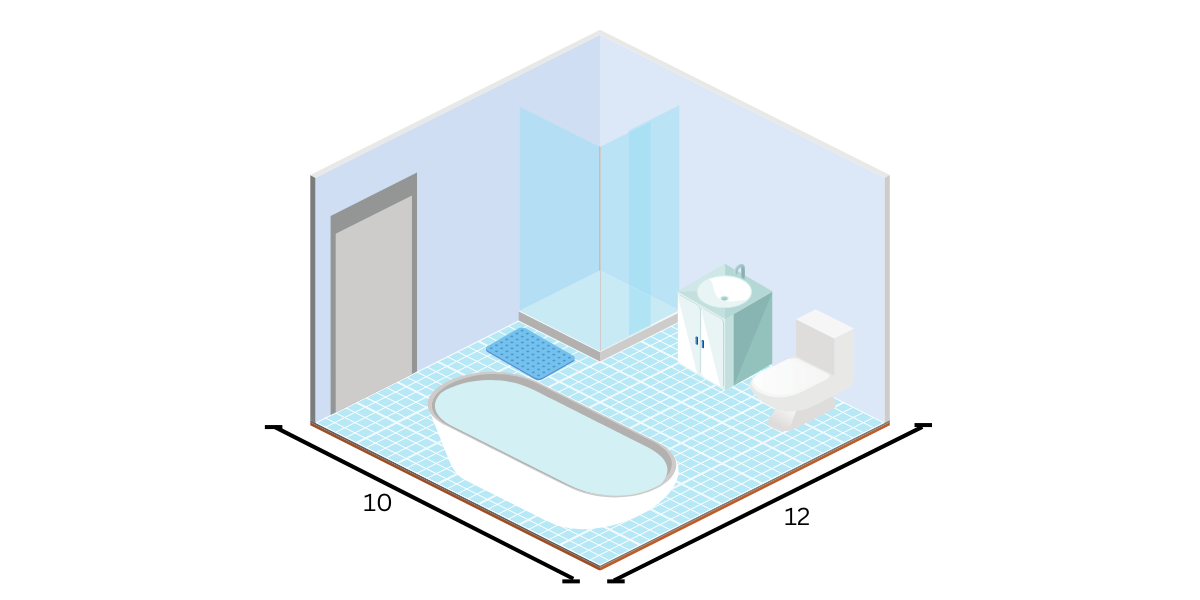 What are the average master bathroom dimensions?
Generally, a master bathroom is a larger full bathroom that is connected to the master bedroom. A small master bathroom usually measures 5×8 or 40 square feet, while the average size ranges from 40 to 100 square feet. On the other hand, a large master bathroom can be as spacious as 110 to 200 square feet or even more. It's important to have ideal master shower dimensions for the perfect bathing experience.
What are the ideal full bathroom sizes?
A full bathroom is one that features a shower, a sink, a bathtub (a drop-in tub, freestanding tub, alcove tub, or corner tub), and a toilet. It is usually around 36-40 square feet. The smallest master shower dimension is 5×8, the average size is 6×10, while the largest bathroom dimension can be 10×12 or more.
What is the average size of a bathroom with a shower or a ¾ bath?
A ¾ bathroom is typically defined as a bathroom equipped with a sink, a shower (standard shower size), and a toilet. The dimensions of the shower can vary, but the smallest bathroom that can accommodate these fixtures usually ranges from 26 to 30 square feet. The most common dimensions for such a layout are either 9 feet by 3 feet or 8 feet by 4 feet. Medium-sized bathrooms typically measure around 50 square feet, while larger ones extend beyond 60 square feet.
What is the average size for a bathroom with a walk-in shower?
A bathroom equipped with a walk-in shower bears many similarities in size to a bathroom featuring a conventional shower, with one key distinction. The former requires greater length to accommodate a larger shower space, unlike other bathroom designs that only need to accommodate a standard box-shaped shower.
In the case of a compact bathroom incorporating a walk-in shower, the minimum size typically begins at about 36 square feet, with the average being 8×4 feet. However, to adequately accommodate the walk-in shower, the length of the bathroom should be at least 4 yards. Beyond this point, the dimensions of the bathroom remain consistent with those of a shower-equipped bathroom. Medium-sized bathrooms usually span around 50 square feet, while larger sizes extend to 60 square feet and more.
What is the average size for a powder room or half bathroom?
Having a half bathroom or a powder room (a bathroom without a shower) is more common in smaller apartments. Such a layout features just a sink and a toilet. Generally, a powder room ranges between 15 square feet to 26 square feet. So, a small one is 15 square feet, a medium half bath is 18-20 square feet, and a large one is 26 square feet.
What should be the bathroom dimensions for the differently-abled?
Such special bathrooms should be at least 3×5 or 15 square feet. What matters is that the room should have a diameter of 5 inches, providing ample space for a wheelchair to move without any obstructions. The entrance to a bathroom for the differently-abled should be at least 32-36 inches or 2.5 feet wide. And, the height of the sink should not exceed 36 inches. Also, there should be no more than a 2-inch gap between the sink and the bathroom countertop. Additionally, the toilet should be positioned between 17-19 inches above the floor, while the handle should not be higher than 44 inches from the ground. It is also necessary to include safety bars and other supports for an accessible bathroom.
FAQs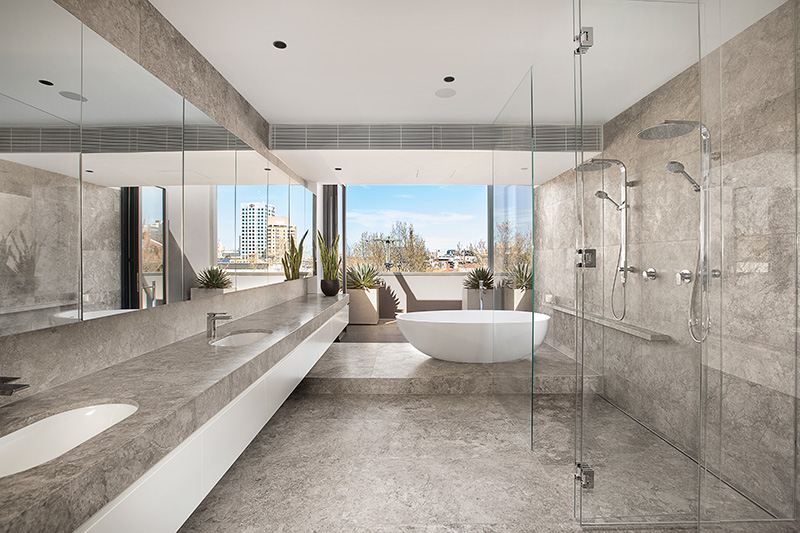 What is the average master bedroom dimension with an ensuite bathroom and a walk-in closet?
The ideal bedroom size that accommodates a bathroom and a walk-in closet should be 80-100 square feet.
Which type of glass is ideal for a bathroom?
If you're looking for a glass door that's durable, safe, and cost-effective, you should consider a 3/8″ or 10mm glass. In case you want an opulent bathroom, you may even consider a 12mm or 1/2″ glass. However, do keep in mind that it will be a heavy glass door and will need additional support. Also, such a glass type will add substantially to the total cost of your bathroom renovation.
Is a bathroom that's 5×8 too small?
This size is the minimum dimension requirement for a comfortable full bathroom, which includes a bathtub, shower, toilet, and sink. Although it's a decent size for a bathroom, a bigger bathroom size is always preferred.
What should be the dimensions of the countertop and the sink?
Round sink bowls typically have a diameter of approximately 16 to 20 inches, while rectangular sinks are typically 19 to 24 inches wide and 16 to 23 inches long. Standard vanity sizes can range from 18 to 72 inches in width, with the most common options being 24, 30, 36, and 48 inches. The depth or length of vanities is typically 20 inches, although this can vary depending on the size and bathroom style.
What are the average dimensions for a WC toilet?
Standard toilet measurements typically range from 28 to 30 inches in length or depth, and 20 inches in width, with a height between 27 and 32 inches. It is necessary to have a minimum of 15 inches of space from the center of the toilet to the adjacent wall, and at least 24 inches of unobstructed space in front of the toilet.
What are the ideal master shower dimensions with a shower enclosure?
The ideal size for a shower enclosure is 36×36 inches, although a walk-in shower can be constructed at a size of 32×32 inches. But, the shower unit may not be as comfortable. Make sure you factor in space for your chosen shower door sizes – around 22-36 inches of clearance space.
What is the size of a standard bathtub?
The average size of a bathtub is around 60 inches long and 30 inches wide, with a height of 14 to 16 inches. Soaking tubs, on the other hand, are larger, measuring approximately 30 to 40 inches wide and 60 to 72 inches long. It is important to ensure that the width of the bathtub remains clear at 30 inches along its entire length. If you have enough space, it is recommended to have a width of 44 inches for even more available space.
Tips to get your master shower dimensions on point
was last modified:
May 26th, 2023
by
Recommended