A common home renovation project that a lot of homeowners plan for is adding a powder room or half bathroom to their home. While half bathrooms do add to the value of your home, half as much as a full-sized bathroom would, the main reason people choose to add one of these is for matters of privacy, especially while entertaining guests. After all, no one wants their guests to see their dirty laundry or prescription medication. This short read will introduce you to the considerations and cost of adding a half bathroom to your home.
What Is a half bathroom?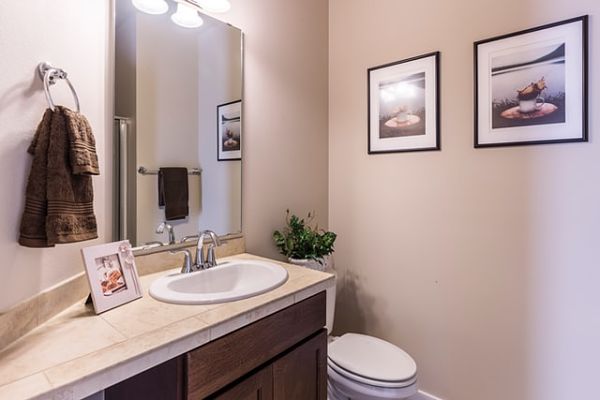 A half bathroom is a small bathroom with only a mirror, a sink, and a toilet. It will not feature a shower stall or a bathtub like a full bath would. Some might feature an under-sink cabinet or other storage solutions for towels, soap, and toilet paper.
Half bathrooms are a great choice for when you want a guest bathroom so your privacy in your master bathroom isn't encroached upon, or if you do not have a common bathroom on a particular floor of your home.
Instantly estimate the cost of your remodel...
...or take your time to personalize dozens of choices to transform your house into your dream home.
Read more: Powder room floor plans by an architect
Cost and considerations
The cost to add a half bathroom can vary from $5,000 all the way to $20,000. Let's take a quick look at the factors that affect the cost of adding a bathroom are.
1. Size and space
Most half baths measure between three to four feet wide and between six to eight square feet long. The larger the square footage of the bathroom, the more you will end up spending.
It will also cost you a lot less if you renovate an existing space to build your half bathroom as opposed to adding more square footage to your home. Either way, it adds to the value of your home, so don't worry about the return on investment.
2. Plumbing
Obviously, your new bathroom will need plumbing. If you can use some existing plumbing and sewer lines, you can look at saving a nice chunk of change. Plumbing a new bathroom can cost you upwards of $10,000. The ideal place to locate your half bathroom would be alongside an existing bathroom.
If you live in an older home built on a pier or over a basement, it is fairly easy to place new plumbing lines underneath the main floor. However, it is more expensive to connect plumbing to your new toilet if you live in a home with slab foundations. This is because of the jackhammering and slab patching that will be required to connect the plumbing lines to the fixtures.
3. Drywall and tiles
Drywall for your new half bathroom will put you down around $1,000. And then you have your flooring choices to make. For example, if you choose ceramic tiles, expect to pay around $2 per square foot. Porcelain tiles will cost you between $6 and $9 while linoleum flooring will put you down between $5 and $7 a square foot.
4. Amenities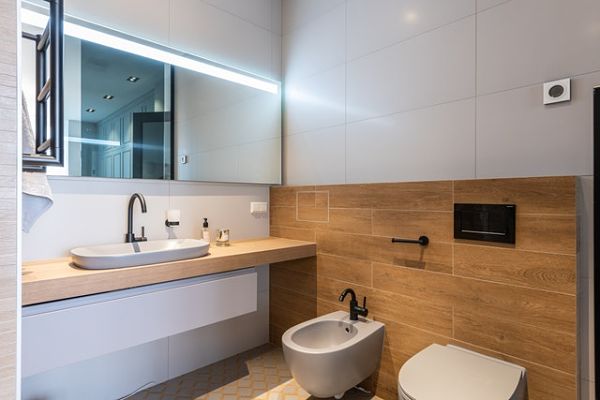 The kind of amenities you add to your half bathroom will also add to your costs. Everything from the quality of the sink and toilet that you choose, to whether add cabinets and storage or not will affect your final costs.
The average cost of a sink and faucets is between $300 and $500. Getting your toilet installed will cost you between $250 to $450, while the toilet system itself may cost as much as $900. Your mirror could cost you as little as $50, or a whole lot more depending on design and size.
If you're getting a storage cabinet, expect to spend between $350 and $450 per linear foot.
Read more: How to transform your guest bedroom
5. Ventilation
Current codes require that every window should either have an exhaust vent or an operable window. An exhaust fan will cost you between $250 to $500.
6. Electricals
It is now mandatory that all new bathrooms have electrical outlets installed on a GFI circuit. This ensures extra protection against the wet conditions prevalent in bathrooms. Electricals could cost you between $500 to $2,500 while lighting fixtures will cost you upwards of $150.
7. Visual privacy and soundproofing
Going to use the facilities is a private thing, so it is no surprise that most people prefer being discreet while going into and coming out of bathrooms. Keep that in mind while deciding where to place your new half bathroom.
Try and ensure the bathroom door is not in the direct line of sight of living spaces. If that cannot be avoided, try and shield it from direct sight by using a room divider or a strategically placed screen.
Another diversion tactic is to face the seating in the opposite direction of the toilet door.
Your new half bathroom will need a certain amount of sound insulation, especially if it is close to a living or dining area. You can do this by adding soundproofing materials to shared walls. Another option is to wrap vents, pipes, and drains with a sound absorptive material before closing the walls.
8. Labor
Hiring a professional contractor to help you add a bathroom to your home is always the smartest thing to do. There are multiple aspects that need to be taken care of, and unless you're a licensed plumber or electrician, you will not be able to do everything by yourself.
Expect to spend between $1,500 and $5,500 on contractor fees.
However, as with all home improvement projects, always get multiple vendor quotes before closing on a contractor to handle the job for you.
Read more: Guest bathroom ideas by architect
Click here to hire professional contractors to help with your bathroom addition.
Considerations and cost of adding a half bathroom
was last modified:
July 24th, 2023
by
Recommended