Living room addition ideas and costs
It is a natural progression to outgrow a living space after a period of time. If you find yourself wishing for a larger living room or family room to enable you to better entertain your guests or spend more quality time with your family, it doesn't mean you need to find a bigger house. However, it may mean that it's time for a home remodeling plan. This short read about living room addition ideas and costs will allow you to explore the most efficient ways for you to add some much-needed square footage to your home.
Add a new room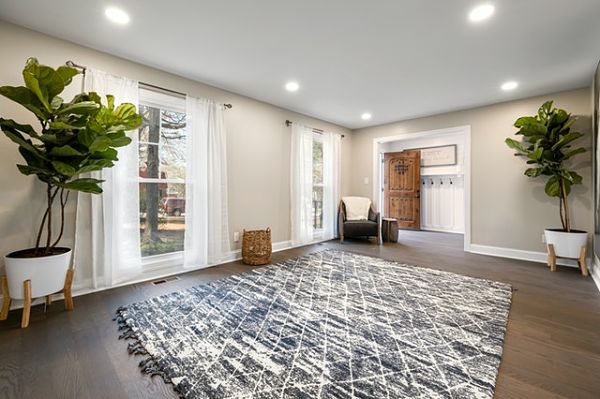 One of the easiest ways to get more space is to add a new living room to your home. This is a major home improvement we're talking about and will include building a new structure and integrating it with your existing home. With average costs hovering between $80 and $200 per square foot, the average national cost to add a room is $42,058. This means your family room addition is not going to be cheap. But it will add to the value of your home, so it is a worthwhile investment.
Here's how you ought to go about planning your home addition.
Check your property lines to see where it makes sense to add the new room.
Arrive at a workable budget. Make sure you include the cost of hiring an architect and a contractor to bring your vision to fruition. An architect will be able to help you seamlessly blend your new room into the existing structure of your home, ensuring aspects like trim, roofing, and siding are cohesive with the existing design.
Make sure you are clear about the scope of work and materials to be used before you begin work.
There are two viable options for you to choose from when you want to add a room to your home: building up or building out. Building up is a great option if you do not want to increase the footprint of your home. However, this involves adding a room to the first or second floor of your home and isn't viable for adding a new living room. This makes building out the best option for home builders looking at adding a new living room, even though building up may be more cost-effective.
Instantly estimate the cost of your remodel...
...or take your time to personalize dozens of choices to transform your house into your dream home.
Bump out
A bump-out, or small room addition, is a less expensive option than adding a new room to your home. This involves extending your existing living room outward by around 5 to 15 feet.
Thanks to bump-outs being small extensions, there's less cost on every front: electricals, construction materials, HVAC, etc. Bump-outs will also not change the outward appearance of your home substantially.
If your living room is placed in a manner that allows extra space for expansion, then a bump out is a great option for you to consider. Depending on how much you're "bumping out", you could end up spending between $17,000 and $30,000.
Read more: Small living room floor plan
Add a sunroom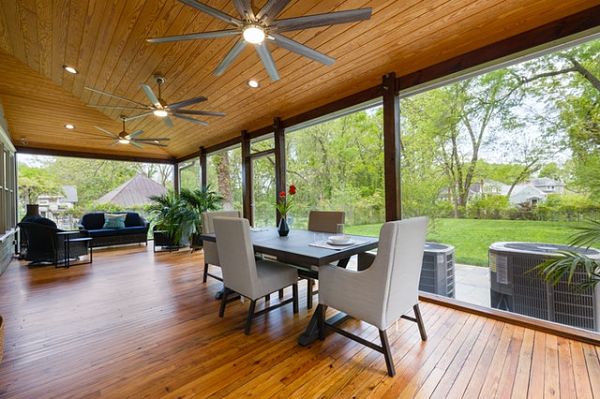 Sunroom additions add value both financially and aesthetically to any home, considering how they allow you not only to extend the square footage of your living room but will also give you the additional comfort of enjoying the outdoors all year round without actually leaving your home. While a lot of people may believe that sunrooms are suited only for warmer places, four seasons sunrooms are not uncommon.
In fact, homeowners can choose from a variety of prefabricated sunrooms with thermal-resistant glass, built to handle the elements. However, keep in mind that the right kind of sunroom flooring is as important, and that onus is on you.
Expect to spend at least $11,000 for a sunroom of around 150 square feet.
Fireplace magic
Interior design experts agree that building your living room addition with the fireplace as a focal point of the room is a great way to increase the aesthetic appeal of the room, and your home. Nothing says family quite like gathering around the hearth and soaking in the warmth with loved ones on a cold winter day. And your fireplace mantle can become the center point of your living room decor.
The price to install a gas fireplace in your living room average between $2,650 and $5,800.
Design pro tips
High or vaulted ceilings are great additions to any home and help to make smaller spaces look more airy and spacious. So if your home has a high ceiling, keep that template intact while building an addition. However, building a vaulted ceiling into the existing structure of your home is impractical.
Decide on the design elements and home decor of your living room addition based on the primary function you have in mind for space and your lifestyle. The room could be your entertainment center, but also double up as a dining room or where you display your prized collectibles.
Windows and doors are an important part of your living room design. Not only will they let in natural light and act as cross ventilators, but they also add to the visual appeal of your home. Make sure you choose designs that complement the rest of your home.
It is equally important to choose energy-efficient doors and windows. Choose ones that have a low U-factor and a high R-factor. Windows with low-E glazing on them help retain heat in the winters while blocking heat in the summer. For increased insulation, choose windows with inert gases inside them.
Living room addition ideas and costs
was last modified:
October 22nd, 2021
by
Recommended