An architect's vision for a small living room floor plan
When it comes to designing a small living room floor plan, it's a challenge for an architect or interior designer. The layout needs to accommodate good storage, furniture, surface space, and furnishing — all the while giving the space a calm and spacious feel.
Our in-house architect uses their experience to do all that and more. The small living room floor plans given below feel open and airy, and still has ample space for a smart furniture arrangement.
Keep in mind that a carefully planned living room design, although small, can be both attractive and user-friendly. So, let's explore a perfect small living room layout plan (and its minor variations) for you. We bet the layout ideas are going to increase the enjoyment of your home manifold.
The house floor plan
The house layout consists of an entrance hall, a living room, a dining room area, and a half bathroom. There's a kitchen on the main floor and two adjoining rooms on the floor above.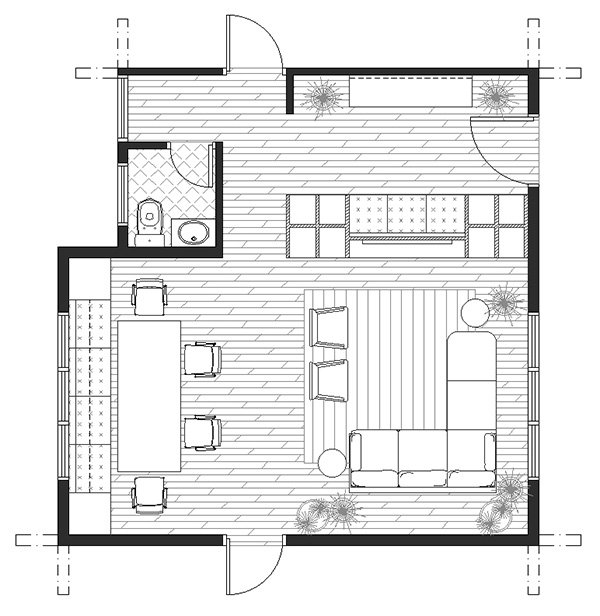 The lounge or the living room area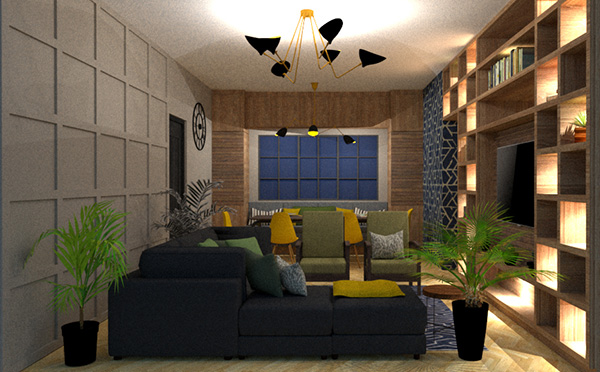 The living room here can be extensively used for social interactions, recreational purposes, and entertainment. And, it also combines a dining area to accommodate six to eight people. Moreover, space is practically designed in such a way that you can include a study or a home office too. We'll talk about the design variations you can make.
Basically, such a setup is more of a family room than a formal living room setting.
You can place comfortable furniture such as a couch and some large armchairs to create a good seating area. Depending on the size of the room and its use, you can bring in open shelves for storage, home decor items, electronic devices such as a television and an audio system, and some low light indoor plants to make the living space more welcoming and pleasant.
Read more: Christmas lights on small house
Small living room: The views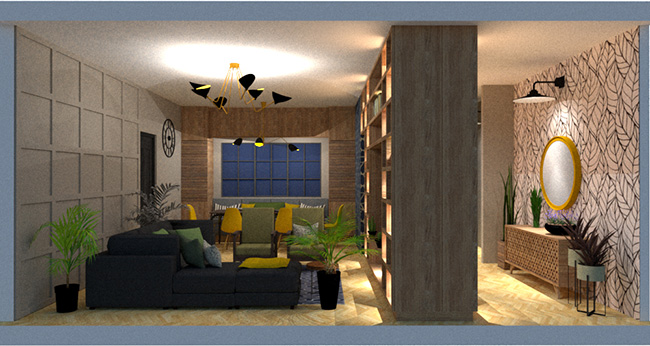 Side view, from the entrance toward the dining room and bathroom.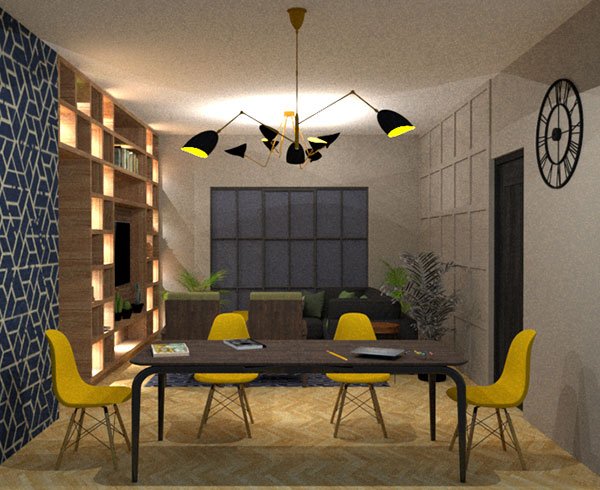 Side view from the dining room to the living room.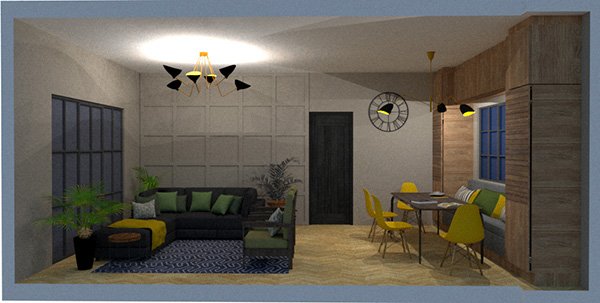 Longitudinal section view, facing the dining room.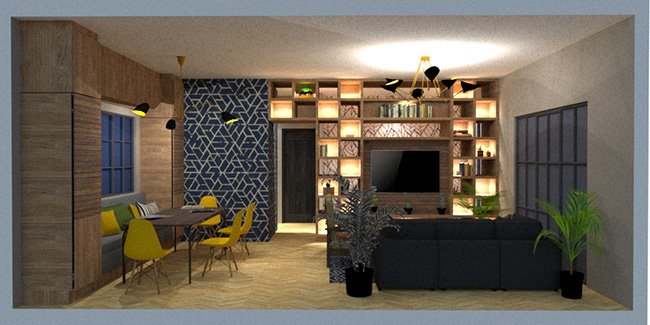 Longitudinal section view towards the dining room with the lobby in the background.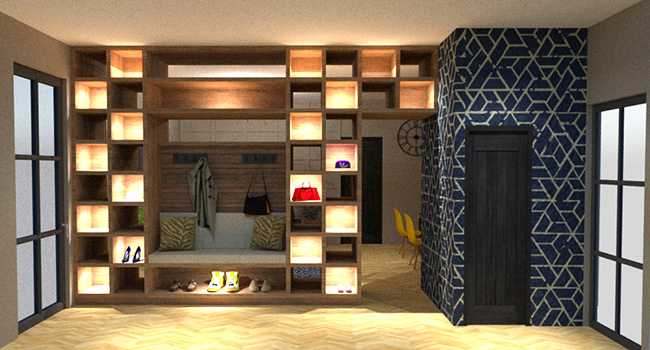 The Dining and lobby area: Variation 1
Dining area dimensions: 21.49 feet x 12.94 feet
Foyer and bathroom dimensions: 18.70 feet x 8.53 feet, Height: 10.17 feet
Total area: 438.70 square feet
Minimum circulation: 1.97 feet
Maximum circulation: 2.95 feet
Seating capacity: 15 to 17 people

The dining room area functions as a family room and is separate from the hall through a modular wooden cabinet — offering both open and closed storage spaces. Plus, you can keep your shoes, hats, caps, coats, books, family photos, etc. The structure is easily the focal point of the small living room floor plan.
As you can see, the architect highlights each design and layout with beautiful contrasts, colors, and aesthetics.
The storage unit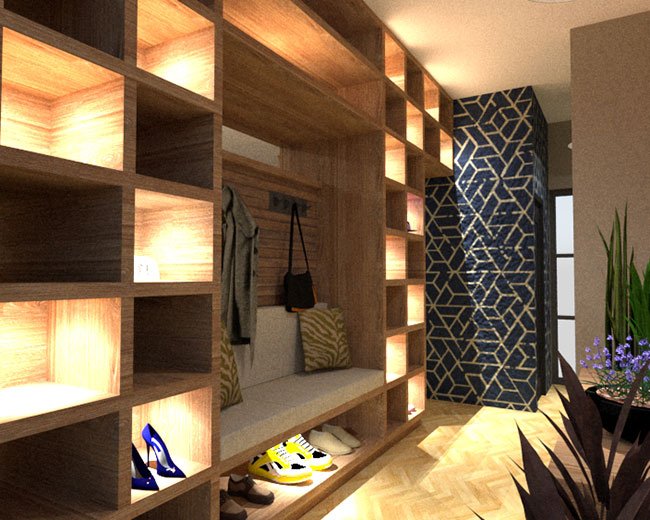 The wooden storage has open and closed spaces which are illuminated with smart indirect lighting. It looks simply lovely and highlights the decor items on one side and utilitarian objects on the other. The architect suggests using a three-seater sofa for some extra seating to change shoes.
The foyer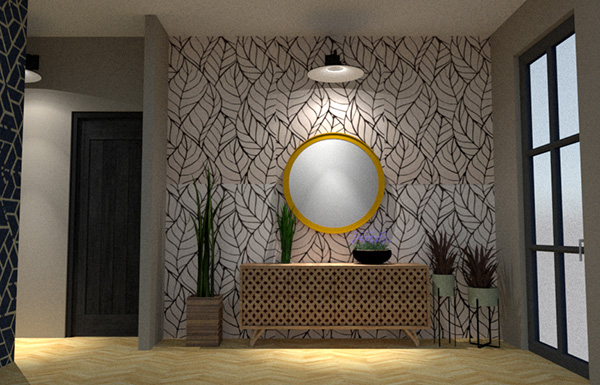 The foyer features a console table or a chest of drawers against a wall that's covered in beautiful wallpaper. Well-placed potted plants complement the leaf wallpaper. A round mirror in gold completes the look.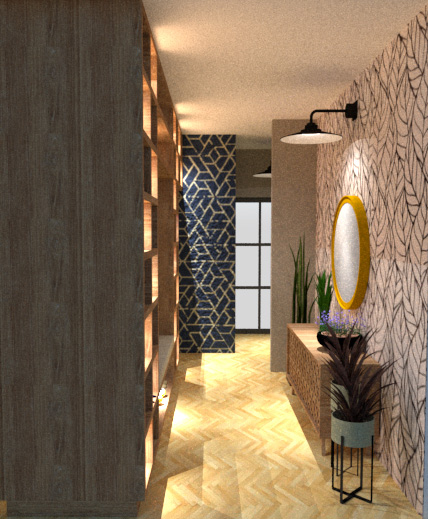 You'll notice that a combination of different building materials gives the space a simple, modern character.
The color scheme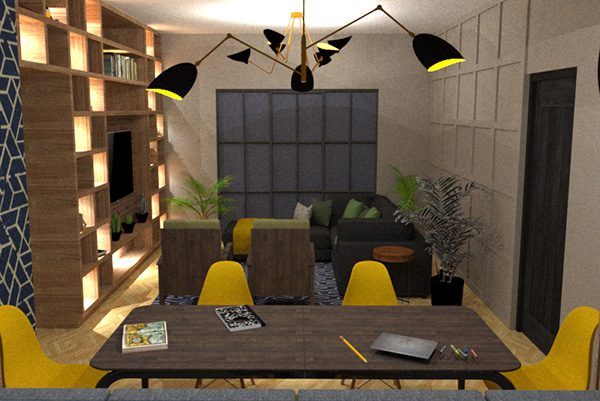 In the living room area, the architect recommends medium gray for the walls, white ceiling, and light tone wood flooring with a chevron pattern. Additionally, there's an L-shaped dark-colored sofa with contrasting cushions, a blue area rug, and accent chairs. The bright yellow dining room chairs and the unique black and gold industrial lamp are the perfect fixtures. And, the indoor plants offer beautiful shades of green, further accentuating the décor. For the area leading to the half bathroom, the architect recommends a strong blue color to highlight its presence.
The overall effect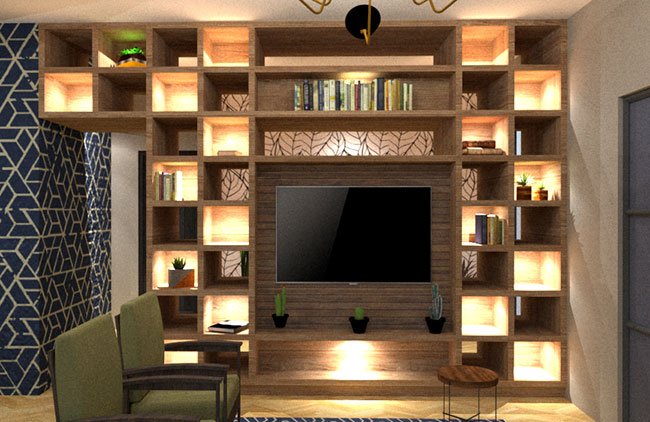 The area can accommodate a 60-inch TV along with the double-sided storage unit that smartly divides the area into two parts. It measures 11.81 feet x 10.17 feet, with a depth of 2.95 feet, in total.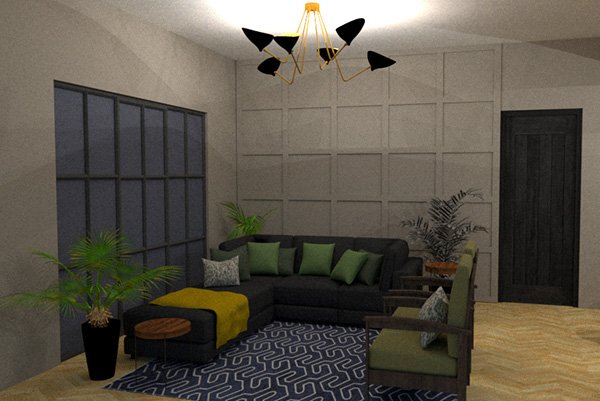 Interestingly, there's no center table in the living room. The idea is to let the children of the house play. There are round wooden side tables to keep serving glasses and knick-knacks.
Design variation 2: Living room with home office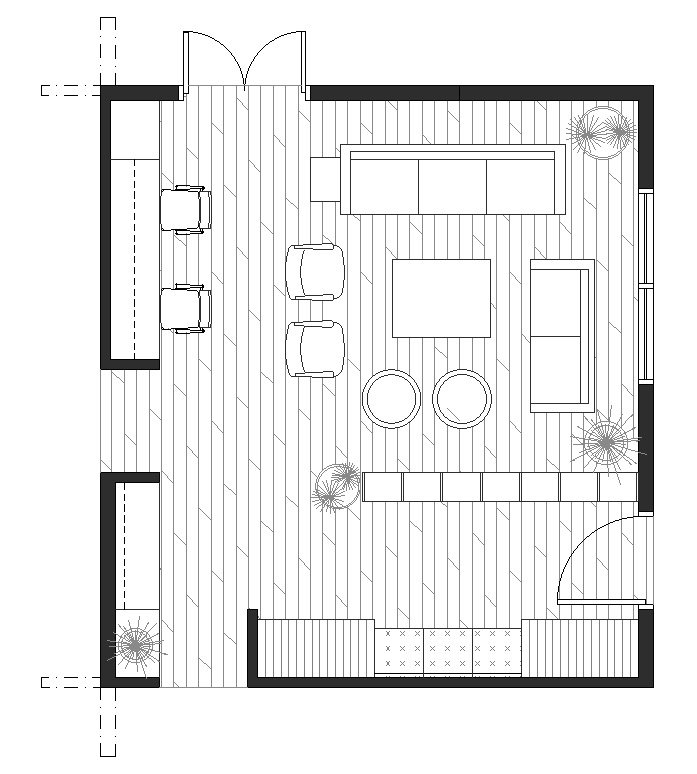 The second proposal that our architect suggests consists of a room with a home office with access to a terrace or a patio through glazed French doors. That along with a 6.56 feet wide window provides natural lighting and good ventilation. The living room is accessed from a hall and connects with the rooms on the upper story and the kitchen on the main floor of the house.
Dimensions: 17.72 feet x 19.36 feet
Total area: 342.94 square feet
Minimum circulation: 1.48 feet
Maximum circulation: 3.94 feet
Seating capacity: 11 people
Upon entering, the area has a built-in cabinet on the left side, with a closet (for coats, hats, caps, shoes, gloves, etc.). The storage unit has a three-seat sofa. It separates the lounge area while providing ample space for storage and decoration.
The foyer features a smaller storage unit, a mirror, and plants. You can use colorful wallpapers or vinyl and a striking chandelier to give the area a distinct character.
The living room area has two sofas, two armchairs, two puffs, a built-in home office unit, and storage that's 8.69 feet long and 1.64 feet wide.
Wood floors give the space a more elegant appearance. The architect recommends medium or light tones to brighten up the living room.
Design variation 3: Living room, lobby, storage, home office & dining room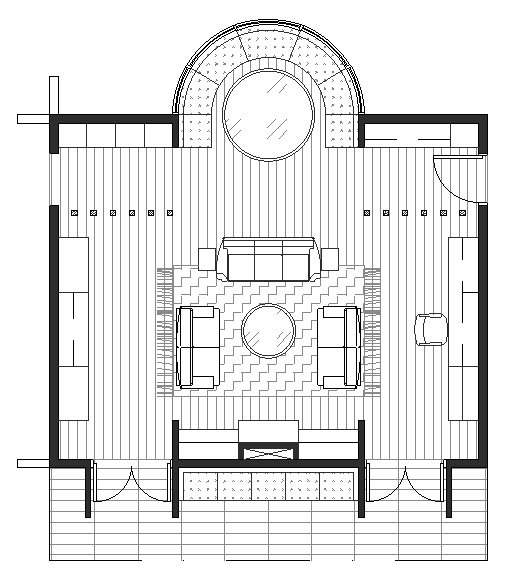 This small living room floor plan features a good storage solution, a dining room, a home office, a fireplace, and an entertainment area.
Dimensions: 25.26 feet x 20.18 feet
Total area: 509.67 square feet
Minimum circulation: 1.97 feet
Maximum circulation: 3.94 feet
There's a marked U-shaped circulation in this floor plan. The architect has visually and aesthetically separated the room into six areas. The first area is the lobby, with a closet measuring 6.89 feet x 1.64 feet.
The second area is a curved dining room — giving a panoramic view of the entire space. It has a round dining table with a seating capacity of 8 to 12 people.
On the left side, there's a 6.89 feet x 1.64 feet bar and coffee area. Then, there are vertical wooden elements that help to visually divide the space more.
To the left of the living room, we find storage in the form of floor-to-ceiling cabinets measuring 10.99 feet x 1.80 feet. On the right side, there's a home office with the same dimensions.
In the center of the area, there's a sixth zone for resting and meeting people. It has a 3-seater sofa and two 2-seaters in front of a round coffee table. And, there's a beautiful living room fireplace with built-in shelves to add interest and complete the picture.
The architect keeps natural ventilation and living room lighting to a maximum through windows and two French doors that lead to the terrace or patio.
Last thoughts
Creating a small living room layout can be challenging, especially if it's a long, narrow living room. Fortunately, if you have an experienced architect by your side, the task is easily accomplished. These expert tips will help turn a small space into a dreamy living room — making it look and feel bigger. The area can be the most functional and inviting space for you and your family.
An architect's vision for a small living room floor plan
was last modified:
January 26th, 2023
by
Recommended