Great ideas for your transitional dining room
Your dining area is a special space for you and your family. It's where you enjoy a meal, drinks, and an informal conversation together. Sometimes, it's also the space where you work from home. Today, homeowners no longer want a traditional, formal-looking dining area. Instead, they want to create a transitional dining room — a beautiful mix of formal, casual, modern, and contemporary décor.
In this article, we will list some great ideas to make your transitional dining room design dreams come true.
What is a transitional dining room?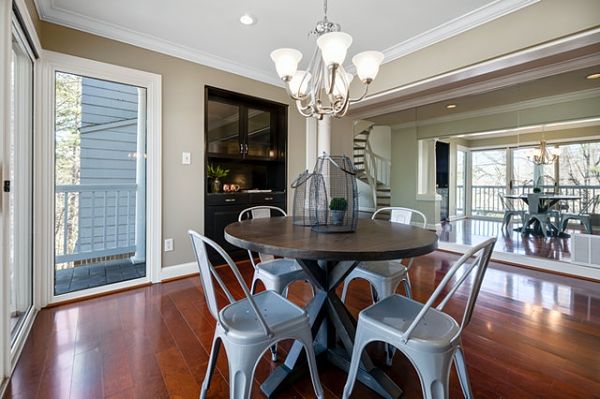 A transitional dining room is based on the traditional design style but it has tendencies leaning toward the more contemporary styles. So basically, a transitional décor is a good mix of the classic dining room and newer, more popular finishes, colors, and materials.
Transitional décor combines two types of décor styles: contemporary and modern. Therefore, the design is not too formal and yet not too ornate. That way, your dining room never looks overstated. The color tones too are soft and neutral. And, the décor uses clean lines, with gentle curves and rounded contours.
Read more: 10 Stunning ideas for your kitchen dining room combo
Tips for a classy transitional interior design style
Want to create a transitional style for your dining room that's classy and sophisticated? Here's how you can make your dining area a beautiful expression of two modes of décor themes.
1. Mix and match dining room furniture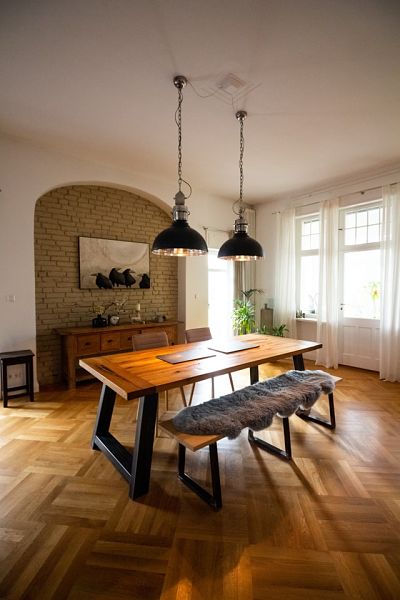 When it comes to buying transitional furniture, think modern meets traditional. Choose an eclectic mix. That is to say, it's ok to place a set of mismatched chairs with your dining table.
Read more: Dining room furniture arrangement ideas and tips
Home Renovation Cost Estimator
Sorry, we currently don't have that project at our disposal.
---
You can take a look at our most popular ones:
Water Heater Installation
Exterior Door Replacement
Install Recessed Lighting
Exterior Door Installation
Interior Door Installation
Interior Door Replacement
2. Stick to soothing color palettes
The color palette for a transitional dining room typically uses smooth and creamy tones. The best colors are creams, light browns, muted blues, greens, and grays. Keep all the wood furniture pieces in dark shades of wood as opposed to light oaks.
For wooden dining room flooring, you can opt for dark cherry wood, mahogany, or any dark-colored wood floor shade. Don't go overboard with pops of colors. Instead, place a single colorful flower arrangement on your dining table or use splashes of colors in the dining chair cushions. It will help break up the understated tones in the room.
3. Get the right transitional dining table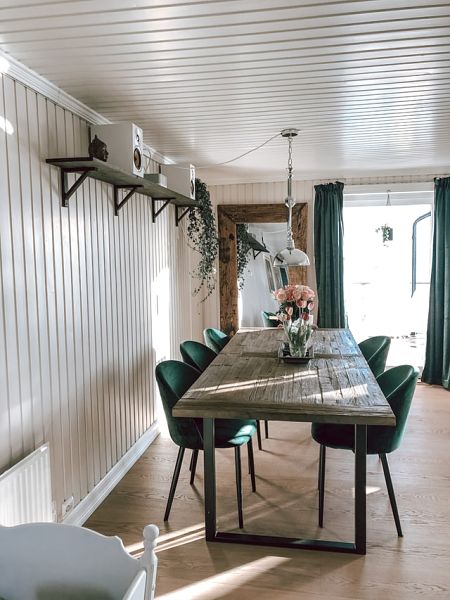 A gorgeous dining table is without a doubt the heart of your transitional dining room. Invest in something that's high quality and timeless. A classic wooden table with contemporary chairs works seamlessly.
Want to know the right table size for your transitional dining room? You can choose a 36-inch round table to seat four people or a 36- inch x 72-inch table for eight people. Also, decide if you want a table with a pedestal or trestle base.
Make sure you leave a minimum of three feet between your furniture pieces such as sideboards and chests.
4. Select the right height for the dining chairs
A transitional dining room is a perfect place to try out new, interesting trends. You can try rattan chairs, upholstered chairs, or even comfortable benches to pair with the dining table.
For the right dining chair size, make sure the backs of the chairs are higher than the top of the table by at least two inches. The taller the chairs, the better.
Your transitional chairs should be typically 18 inches from the floor to the seat. If you want your chairs to fit under the table comfortably, be sure to leave seven inches between the chair arm and the apron of the table.
5. Invest in a functional sideboard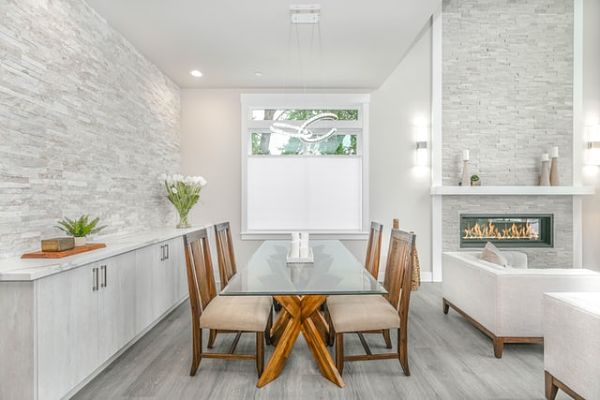 Adding a buffet table or a sideboard is a great way to enliven the space. Plus, the table helps to maximize a small dining table. You can keep your extra food items and wine bottles while leaving room on the dining table for place settings.
Read more: The best time to order a new dining room set
6. Choose a beautiful transitional chandelier
The best feature of a transitional chandelier is that it can be easily paired with any type of décor. Typically, it has the sleekness of a modern style and the ornate details of a traditional light fixture. There's no way you'll see any fussy details or harsh industrial designs.
When it comes to chandelier materials, transitional chandeliers can have elements of metal, glass, and wood. In metal finishes, bronze is one of the most popular choices. Then come brass, chrome, nickel, and copper. Also, gold, matte black, and silver can lend a stylish charm.
To figure out the right size of your transitional chandelier, add the length and width of the room in feet. This sum can be the ideal width of your chandelier in inches.
Read more: 9 stunning dining room chandeliers for you
Last words
The days of a formal living room or a dining area with a grand dining room table and matching chair ensemble are on their way out. Today, homeowners are looking to personalize the space with their own eclectic taste. They are willing to experiment with the combination of modern and traditional dining room ideas. That's why, a transitional dining area is stylish, sophisticated, and functional. It's anything but boring!
Read more: Decor ideas for dining room by front door
Great ideas for your transitional dining room
was last modified:
July 26th, 2021
by
Recommended