Home entertainment: Man cave ideas
"Work hard, play hard" is a good way to live life. After a hard day's work, there's nothing more rejuvenating than having a space all to yourself where you can sip on your favorite beverage and unwind doing whatever it is you like doing best.
Some of us like watching sports, while some of us like nothing better than playing video games. Others like listening to or making music, while still others prefer to relax with a book. That being said, it isn't always possible to indulge in these passions within the confines of your family room, especially if yours is a home with kids and pets.
Enter the man cave, that one place in the house a man can truly call his own. Let's take you through our recommendations for man caves, including must-haves, budget DIY ideas, and some popular design ideas customized to mirror lifestyle choices.
Where should I build my man cave?
You could convert multiple parts of your home into your man cave, depending on how large a space you're looking at building. Convertible spaces include basements, home offices, attics, and garages. For example, let's take you through the process of converting your garage into a man cave.
Converting a garage into a man cave
Here is how you can convert your garage into a great man cave.
Address the flooring
Most garages have basic concrete floors, which aren't really ideal for a man cave. However, you can choose from multiple flooring options depending on your budget, ranging from stone epoxy flooring to plush carpets.
Choose a flooring that is easy to maintain, slip-resistant, great-looking, and durable.
Work on your walls
We're sure unfinished drywall isn't the look you want your man cave to sport. Finish off the walls with texture before adding a fresh coat of paint or two.
What color should you paint your man cave? While some interior designers say you ought to choose "masculine and neutral colors", we'd suggest you choose a color that goes best with the theme of your man cave. That could vary from the colors of your favorite sports team to shades of blue and green for a more somber appearance.
Read more: Using video walls in your home
Light it up
Most garages have basic lighting, often just a bulb. That will simply not do for your man cave. Depending on the mood you want to set and the purpose, it is a great idea to choose multiple lighting solutions. Choose from canned lighting, LED strips along the ceiling, track lighting, focus lighting for sports memorabilia and even maybe some floor and table lamps.
For example, if you plan to have a poker table or a pool table in your man cave, you will need hanging lights focused on the center of the table.
Plan for storage
You will need storage space for various things in your man cave, ranging from tools to games and barware. Build custom storage closets that best utilize the amount of space you have at your disposal. Keep in mind that your man cave is going to be your wine cellar, gaming zone, movie library, and more.
Accessorize
The last thing you need to do to convert your garage into your man cave is to accessorize. If you're wondering what every man cave must-have, we've made a list of man cave essentials for you.
Man cave essentials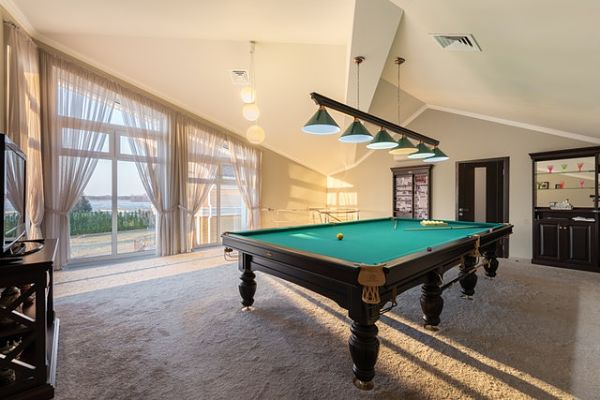 Entertainment
A lot of guys use their man cave as an entertainment and media room. Depending on whether you're interested in watching games or gaming itself, a large flat-screen TV or a high-end gaming system with a large monitor is in order.
Next up, you need a sound system that compliments your viewing experience. Additional goodies include DVD players, vinyl players, audio amplifiers, and other AV paraphernalia.
Seating
Every man cave needs man seating. We're not talking about flimsy plastic chairs. We're talking about full-sized recliners with drink holders and individual footrests that can double into beds. After all, you don't want your buddies to think you were skimping on the good stuff.
Smart solutions
Modern man caves need modern solutions. You ought to be able to control everything in your man cave, from the lighting to the entertainment, from the comfort of your recliner. The solution is a smart home hub to control your smart lights, smart TV and other gadgets.
Games
Games tables are an essential part of every man cave. While smaller man caves can have a poker table, larger ones can have a pool table or even a ping pong table.
Some man caves take things to a whole other level, featuring arcade games, foosball tables, and more.
Beverages and cigars
In an ideal world, your friends and you should not have to leave the cave in the middle of a game. Depending on your budget, you could invest in a full-fledged man cave bar, replete with bar stools, to stock and serve drinks.
If you cannot afford a full bar, at least a mini refrigerator to keep your beers cool is a must-have. A minibar with drinks and Cuban cigars could be excellent for you to relax. Your friends and guests will definitely appreciate this corner. You can have different types of beverages for every taste and occasion but real aficionados prefer cognac, whiskey, rum, and bourbon with cigars. As for cigars, they do also vary from mild to strong. For example, mild smokers can have El Rey Del Mundo or Montecristo No. 4 which has a mixed aroma of sweet spice and wood with coffee. As for stronger smokers, there are H. Upmann, Cohiba, or Bolivar cigars.
Read more: Best counter depth refrigerators
Display shelves
Whether you want to display your collection of trophies or your passion for firearms, display shelves are an essential part of every man cave. Make sure your display shelves are always locked and out of the reach of children, though. Safety always ought to come first.
Plan a hidden entry
One of the purposes of a man cave is privacy. And what better way to achieve that purpose than by hiding the entry door to your man cave behind a bookshelf, a wall panel, or a mirror. After all, the Batcave had a hidden entrance as well.
This works especially well in cases where the entrance to the man cave is inside the home, such as attic or basement man caves.
By now, some of you are probably convinced that creating a man cave is an expensive proposition and not something everyone can afford to have. Well, worry not. We've also got some awesome DIY man-cave ideas that you can use to decorate your man cave for cheap.
Budget man cave ideas
The key to decorating a man cave on a budget is to repurpose and reuse whatever you can. Here are some great ideas.
Furniture hacks
There are plenty of options you could choose from to make furniture for your man cave. For example, you could make tables using cinder blocks. Old tires could be fitted with cushions for seating. A handle from an old foosball table could make a great coat rack. The key is to get creative with whatever you can find.
Lighting hacks
You could take an old skateboard, repaint it and add bulbs where the wheels were. You could also attach three or four old number plates together to make metal bulb holders that could dangle from the roof.
Bar hacks
Cut and repurpose old six-packs into coasters for your man cave. An old mini fridge can be repurposed into a kegerator and old beer bottles can be converted into glassware. You could wall mount bottle openers right next to the kegerator.
Decoration hacks
Fill a jar with old billiard balls and place it on the table. You could take the guts out of tennis rackets and convert them into mirrors. Old tree stumps are great for side tables.
Know where to shop
From memorabilia to furniture, you can often find a lot of great deals at thrift shops, yard sales, and flea markets. And while you may not be able to buy everything at once, accumulating and decorating your man cave over a period of time will only allow you to savor those memories more.
Choosing the right theme
A man cave ought to be an extension of your personality. So the theme you choose ought to reflect that.
For example, sports enthusiasts would be well advised to replicate their favorite sports bar, replete with jerseys of their favorite players on display on the walls and maybe even trophy replicas. The hunting enthusiast might want to mount their guns and trophies on the wall, while the audiophile would be more interested in displaying the latest audio gear and their record collection. Some create elaborate game rooms, while others recreate the magic of the movies with home theaters.
Irrespective of various man cave designs, the concept ought to resonate with the end goals privacy and entertainment.
Home entertainment: Man cave ideas
was last modified:
April 3rd, 2023
by
Recommended