Your garage is probably the most utilized part of your home. Besides being a shelter for your cars, it's often used as a storage space, a workshop for your DIY projects and auto repair, a home gym, and a cool hangout zone for your friends. It deserves to be much more than an unfinished space in the house. You need some of the best garage paint ideas to give this area a great makeover: inside and out!
With smart garage paint ideas, you can make the necessary upgrades to your garage's interior as well as exterior. Your garage will really stand out — enhancing the overall look of your home. Remember that a beautiful home boosts your curb appeal. And, also the resale value of your house.
This is a fact that most builders and homeowners fail to realize. Most garages continue to have unfinished walls with drywall, tape, and mud. While the builders want to avoid spending money on a paint job, the buyers are just not bothered. A big mistake! Not only do paint walls look better, but they're also easier to clean and make your garage look brighter.
Here are some garage paint ideas and guidelines that you should consider when upgrading your garage. Whether you follow them yourself or rely on the expertise of a garage makeover professional — these ideas will help you achieve the kind of head-turning garage you desire.
Pick the right garage wall paint color ideas
A fresh coat of paint can do wonders for your garage's walls and ceiling. Choosing the right garage wall paint not only improves the space's aesthetic value but also lets your garage lighting illuminate the area more effectively.
Some of the good colors to paint a garage include light colors such as gray, beige, or tan. If you want to make your garage feel more relaxing, you can try soothing hues such as blue and green.
Avoid white. Although a white garage wall and ceiling will reflect light better, it collects dirt and grime more easily.
The best paint for your garage walls and ceilings is interior latex paint. It has quick drying and minimal odor. Moreover, it's water-based paint and can be thinned as required.
The best way to find your interior painting cost calculator, try our estimator tool!
We recommend eggshell, satin-sheen, and semi-gloss paint for painting your garage interiors. They make the dirt less evident and the walls easier to clean.
When it comes to exterior garage paint ideas, choose paints that are thicker, tougher, and mildew-resistant.
Get the right garage floor color
Painting your garage floors is another worthwhile home upgrade. The attractive floor surface will add to your garage's appeal. Moreover, a painted floor will also protect the space from accumulating gunk, grease, and oil stains. Otherwise, over time, these work their way into the porous concrete floor.
A good floor makes cleanup much easier. Try a high-quality floor coating for long-term flooring or a durable floor paint such as masonry, epoxy, or latex paint — depending on your garage design, décor, and foot traffic.
Another flooring option is to use PVC floor tiles in varied colors and designs. The non-adhesive interlocking tiles are easy to install and can beautifully complement your other garage paint ideas and additions.
Best paint ideas for your garage doors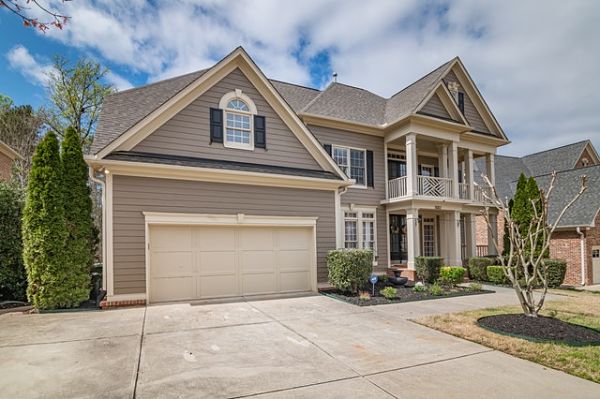 Whether you're adding new garage doors or painting over your existing garage doors, you need to choose the right colors. Interestingly, your garage doors can account for as much as one-third of your home's front facade and curb appeal.
When it comes to the color schemes for a garage door, remember to pick a garage door color that doesn't take attention away from your house or the front door. It's best to avoid colors that are too bright or loud.
Ideally, you should choose a color that complements your home's exterior features such as siding, bricks, roofs, shutters, and windows.
Read more: Can you paint a brick house?
Opt for appealing garage cabinet colors
Another important part of your garage makeover is your garage cabinets. Although their basic function is storage, the cabinets can make your garage's interiors more beautiful.
There are numerous options available on the market regarding cabinet door colors, trim colors, drawer colors, door pulls and the color of the cabinet countertop. The idea is to give your garage cabinetry a personality by adding bold and bright colors.
You can provide your garage a cohesive look by selecting a uniform color scheme. And, yes, you can even choose colors that complement your vehicle!
Your interior paint is important. Get the best estimate with us.
Ensure that garage paint ideas complement the remodeling
Your garage wall color ideas depend on the type of garage remodeling you're going for. Whether it's a simple garage door replacement, a new garage floor, or a complete garage renovation — it's a good idea to choose paint colors that complement the new additions visually.
Add pops of color in a way that the entire space looks inviting. And here's a color tip: You can use the most dominant color in your speckled flooring as a wall color to help tie the look together.
You'll also need to think of how your new garage color will complement your home's exterior wall colors.
Last words
With good garage paint ideas, you can transform a dull and drab garage and bring it back to life. Don't let your garage end up unfinished — just like a forgotten basement.
Your home garage (and even basements for that matter) is the unsung hero — a room to take care of all your storage needs. A well-maintained and organized garage can make your life a lot easier. And, your car happier!
Read more: Home siding maintenance tips for different siding types
Best Interior and Exterior Garage Paint Ideas to Inspire You
was last modified:
April 25th, 2023
by
Recommended