The cost to build a garage on average is about $49 per square foot. That translates to approximately $7,500 to $14,500 for a 1-car garage, $19,600 to $28,500 for a 2-car garage, and $28,500 to $42,800 for a 3-car garage.
The total garage building costs depend on the structure's style, size, materials, features, finishing, your zip code, and if the garage is attached or detached.
Interestingly, most homeowners can expect to see about an 80% return on investment aka ROI on home value with a well-installed garage.
Cost To Build an Attached or Detached One, Two or Three Car Garage
An attached garage vis-a-vis a detached one is more common and affordable. Since it's built off of an existing structure, you can utilize some of the existing walls or power outlets, and hence cut down on the total garage built cost. Also, it's less expensive if the driveway is already in place.
Moreover, an attached garage provides an entryway into your home — a boon for bad weather days!
In the case of a detached garage, the construction costs go up as you're building from scratch.
Instantly estimate the cost of your remodel...
...or take your time to personalize dozens of choices to transform your house into your dream home.
Attached garage cost
The average cost for an attached garage is $7,500 to $12,500 (one-car), $14,200 (two-car), and $42,800 (4-car garage).
Detached garage cost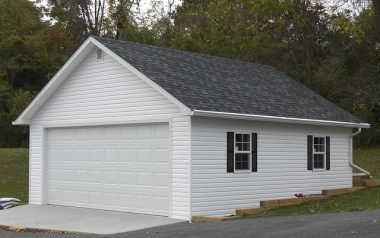 The average cost for a detached garage is between $19,600 and $28,200 — with most homeowners spending about 14,300. Of course, the total garage installation price range will depend on the garage size, and if you want to add an apartment or living space above it. The new structure will then require new plumbing, HVAC, and electrical work among other things.
Key factors that affect the cost to build a garage
The cost to build a garage depends on a lot of parameters. Here's a look at the most relevant ones:
Garage size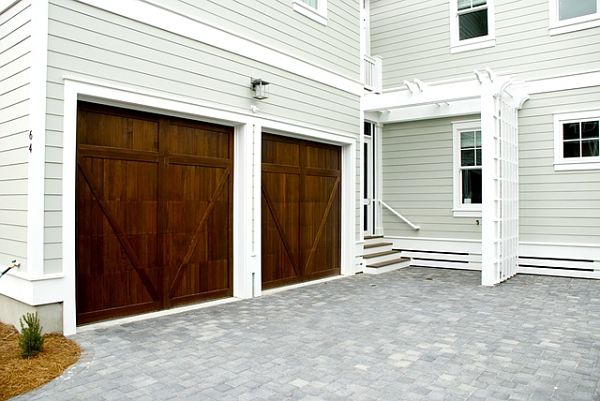 Size matters. The more square footage of your garage, the more will be the materials and labor costs that go into the renovation project. Needless to say, the more cars you need to store, the bigger will be your garage — substantially increasing your remodeling budget.
Want a free estimate for your garage installation? Try our garage remodel cost estimator; it's easy and convenient to use!
Keep in mind that the width of a single car garage is 10', 12', or 14' while the width of a two-car garage is 20', 24', or 28'.
You may also require some extra storage space or floor space (around 4') for bicycles, tools, boxes, and smaller equipment. For storing workbench, work area, freezers, fridges — you will need around 8' and a whopping 32' for storing mowers, 4-wheelers, or an RV.
Here are some common garage sizes in feet:
| Garage size in feet | Cost |
| --- | --- |
| 12' x 24' | $14,200 |
| 14' x 28' | $19,300 |
| 20' x 20' | $19,700 |
| 24' x 24' | $28,300 |
| 36' x 24' | $42,400 |
Take a look at these 9 Smart Garage Design Ideas For New-Age Homeowners
Type of garage materials
The materials you choose for building your garage has a huge impact on garage construction costs. Whether you're upgrading the flooring, adding a window or designer doors, constructing better roofing, or adding a separate entrance — these can add to your average cost.
Let's take a look at some of the important parts of the garage and the popular material choices.
| Garage wall materials | Cost per square foot | Feature |
| --- | --- | --- |
| Drywall | $1.80 | Affordable feature with insulation properties |
| Galvanized steel | $7.98 | Sturdy and long-lasting |
| Metal panels | $1.90 | Used in high-end garages. Can be screwed right into the frame |
| Plastic or fiberglass panels | $1.87 | Low-maintenance wall material. Good against mold, mildew, moisture, or pests |
| Concrete block | $14.75 | Easy maintenance and high durability |
You have two choices when it comes to framing materials. These are:
| Framing material | Cost | Features |
| --- | --- | --- |
| Timber or wood frame | $9.70 | Timber frame is lightweight, eco-friendliness, low cost, insulation properties, with quick installation |
| Concrete block | $13 – $16 | Concrete Masonry Unit (CMU) is airtight, energy efficient, and not susceptible to termites or mold. |
Garage ceiling and roofing materials
You can expect to pay about $3.60 per square foot for an asphalt shingle roof. Keep in mind that for the construction of the garage roof, you will need to place a support framework on top of the frame for the rest of your structure.
If you want a simple roof, you can use roof trusses on each end of this support structure — joined by a support or ridge beam. Installed trusses and supports cost approximately $4.90 per square foot. Once the rafters are in place, you can secure sheets of plywood followed by underlayment. Finally, the shingles can be added.
When it comes to finishing out the garage ceiling, you can choose between cork, wood (veneer), drywall, gypsum, plastic tile, or Styrofoam tiles. The total cost will accordingly range from $1.80 to $10 per square foot.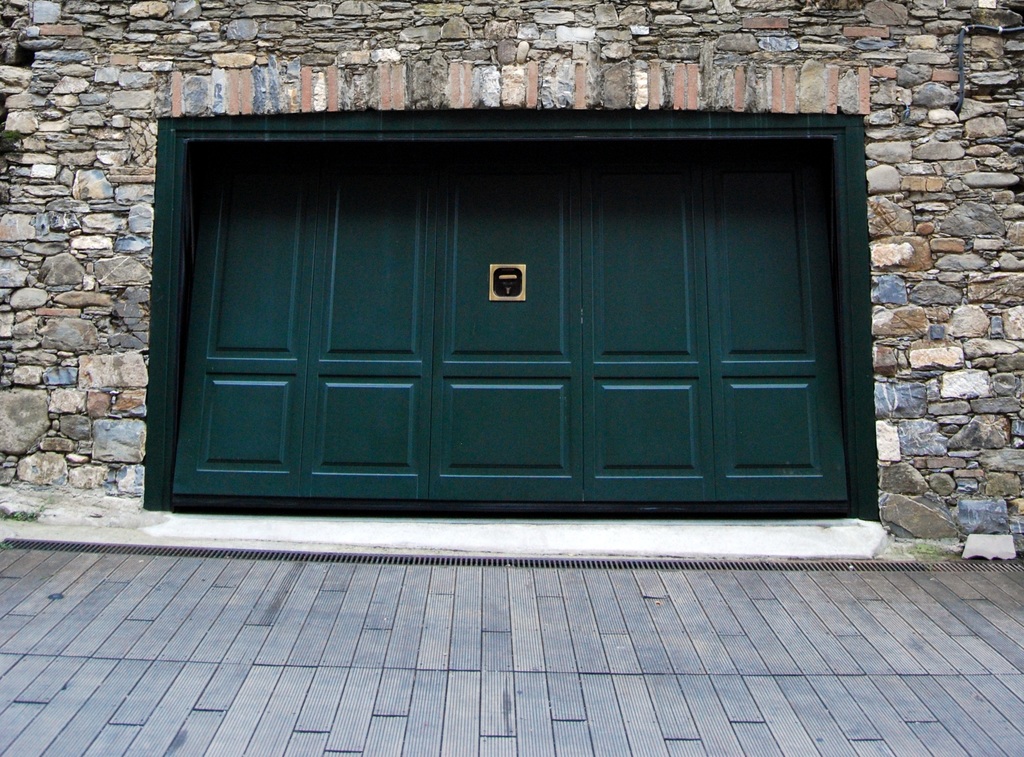 The average cost of installing a garage door ranges between $500 and $800. Choosing the right garage door is a significant investment other than building the structure. It can effortlessly enhance your curb appeal too. You can select from the following range of options. Just make sure it complements the vision you have for your garage.
| Garage door | Average cost |
| --- | --- |
| Steel | $258 to $3,170 |
| Wood | $500 to $1,200 |
| Wood composite | $800 to $2,000 |
| Aluminum | $510 to $1,500 |
| Fiberglass | $870 to $1,500 |
| Vinyl | $850 to $2,000 |

Read more: Garage Door Buying Guide
Here are some of your options for finishing out the exterior of your garage:
| Siding material | Cost per square foot |
| --- | --- |
| Vinyl siding | $0.70 to $3 |
| Brick siding | $11 to $15 |
| Aluminum siding | $4 to $7 |
| Wood siding | $3 to $10 |
| Engineered wood siding | $3 to $8 |
| Fiber cement siding | $6 to $10 |
| Stone siding | $11 to $15 (real stone: $18) |
Adding garage windows
The average cost to add windows to a garage is about $100 to $600 per window. Of course, you can choose not to have one in your garage. However, if you plan to spend time here, it's a good idea to keep it ventilated with a lot of natural light.
Most detached garages have at least one window for this reason. Windows for your garage are typically available in steel, composite, vinyl, or wood frames. You can choose the style you want. For instance, single-, double-, or triple-pane windows. You may also opt for UV protection film on the glass or exterior additions such as shutters.
Installing gutters on garage
The average cost to install aluminum gutters is between $4 and $8 per linear foot while vinyl gutters will cost you $3 to $6 per linear foot.
A rain gutter system is absolutely essential. It helps to direct the flow of water down the corners of the garage in pipes and away from your house's foundation. You don't want the pooling water to affect the quality of your home's foundation. Such a situation can even result in wood rot of the siding and soffits.
Cost to insulate garage
Garage insulation is important, especially if you plan to spend considerable time here. The average insulation costs range from $270 to $870 depending on the insulation type. Moreover, most insulation companies add a minimum call-out fee of $350 to $400.
Garage permit cost
Almost all garage-related projects require local permits and building inspections. It's best to hire a professional to help you with the home improvement project. They will also guide you about the local rules and fees that affect you. Usually, permits cost around $200.
Garage lighting
You'll need electricity in your garage — either to move the garage door or operate power tools. Plus, for your ambient lighting. For all of these, electrical and lighting work can add about $1,000 to $2,500 to your garage installation cost.
You will require a minimum 100-amp sub-panel and 10 to 12 outlets in the garage. Adding bulb fixtures or cost-effective LED workshop lights will be an additional expense. It's best to use energy-efficient bulbs or sensor-operated lighting. Keep in mind that hiring an electrician costs $65 to $85 per hour. On average, an electrician will spend 3 to 4 hours on such a garage project.
Garage door opener installation cost
The cost to install a garage door opener on average is between $130 and $199. The unit price is around $120 to $290 — bringing the total cost to install garage door opener between $250 and $490. Of course, the exact prices vary depending on the brand, model, power, type of garage door, and your location.
Additional costs
In terms of features for the garage, here are some common additions and their associated costs:
Creating a garage workshop:

If you're thinking of adding a counter space or a garage workbench, you'll have to hire a carpenter. The average price for labor is

$75 per hour

. A simple task can be completed in 5 to 8 hours while an elaborate work will take twice as long.

Temperature control:

An all-in-one heating and cooling unit will cost you between

$700 and $1,500

— depending on the size of the space.

Running water:

For regular water supply to your garage, you will need the services of a plumber. Connecting a faucet and hand basin and/or a shower will cost you about

$1,100 to $3,000.
Fridge and freezer:

Adding a freezer or a refrigerator for drinks and snacks will set you back by

$300 to $2,500

.

Cabinets or storage space:

You may choose to buy low-end cabinets for as low as

$55

from your local hardware store or a cabinet system kit designed especially for garages.
Conclusion
The cost to build a garage depends on the details. The size of the garage, the type of materials used, the features you want, the availability of items in your area, local labor costs, etc determine the final cost. And like we mentioned before, the expense of adding a garage doesn't just offer the convenience of storing and protecting your vehicles, it also increases your property value.
Read more: How Much Will Your Renovation Cost Without Having to Call a Contractor?
Read more: Garage bathroom ideas and costs
How Much Does It Cost to Build a Garage In Your Zip Code?
was last modified:
November 11th, 2022
by
Recommended