Living Room Windows and Designs That Are in Style
As anyone enters your home, the first room they usually see is the living room. That's also because the formal room is typically located in the front section of your house and is the hub for entertaining. And, this is why picking the best living room windows is imperative.
The right living room windows can easily create a welcoming entrance to your home while dressing up all the living room windows in style. So, if you want to make a great first impression on your guests, you know where to look. Here! This article will explore some of the most stylish types of living room windows.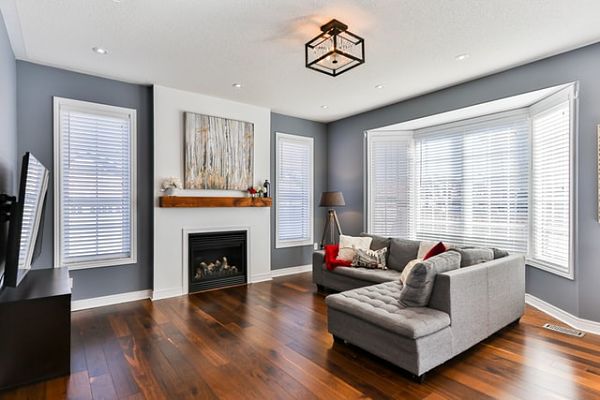 The first step before looking for the best living room windows is to know the limitations of the space. Some windows as well as window treatments require more space than others. Some will suit your living room decor and design while others will not. Also, you need to know what kind of air ventilation or the amount of natural light your living room receives — that can determine the types of window or replacement windows that are perfect for your living room.
For example, if you live in an area with extreme climate fluctuations, you can choose innovative, energy-efficient wood, fiberglass, or vinyl windows. They will help keep your living or family room more comfortable — in both the summer as well as winter months.
Read more: Choosing Energy-Efficient Windows: 7 Vital Questions to Ask
If you choose well, you can make your living room appear brighter and larger. The idea is to create a wall of light and custom looks for your home.
What window treatments are in style?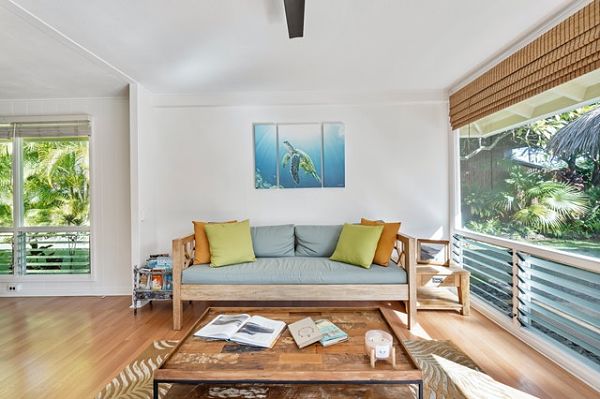 There are many different types of windows and window treatments available on the market. Your choice will depend upon the style of your living room. Whether it's the stylish Roman shades, the wooden shutters, the vintage valances, or the ever utilitarian roller shades — each style adds its own unique touch.
Windows are really flexible in the way they beautifully let in the sunlight and add aesthetic value to any living space. For instance, if you want to dress up a window without using curtains, there are ways too. You could opt for stained glass windows, vintage style shutters, privacy screens, or frosted glass windows.
Home Renovation Cost Estimator
Sorry, we currently don't have that project at our disposal.
---
You can take a look at our most popular ones:
Water Heater Installation
Exterior Door Replacement
Install Recessed Lighting
Exterior Door Installation
Interior Door Installation
Interior Door Replacement
Read more: A complete guide on window tinting cost and benefits
What is the best window treatment for the living room?
Here are some of the best living room window ideas for you. Hopefully, the list will make the window selection process easier for you. Or, will come in handy if you're planning your living room window replacement.
Picture windows
These are large windows that are inoperable. Since they are fixed and typically huge (sometimes floor to ceiling), they let in the most light into your home. Also, giving you the best view of the outside world. You can always choose to have window grids as part of the design. But, know that it could change the look of the otherwise single pane window into multiple panes. Since picture windows do not open, they do not contribute to the air ventilation in the living room.
Double-hung windows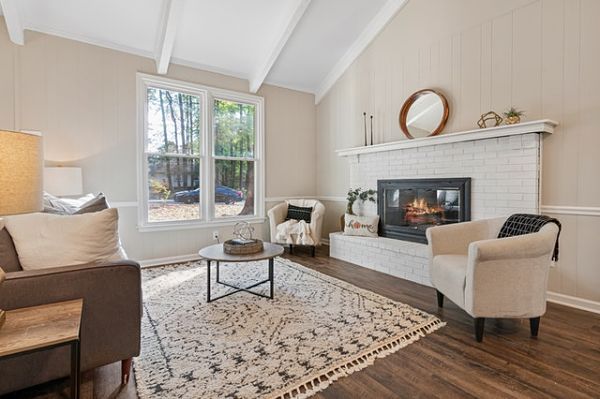 Without a doubt, double-hung windows are one of the most popular styles of windows. The window design is such that they have two operable sashes. Simply put, both window panes open. This provides you good control over the air ventilation and also makes the windows easy to clean.
Slider windows
Imagine a double-hung window, but placed on its side. That's exactly how these sliding windows are designed. And, they can open from either the left or the right side. With slider windows, you can choose a variety of customization — grids or no grids, different window sizes, and colors.
Casement windows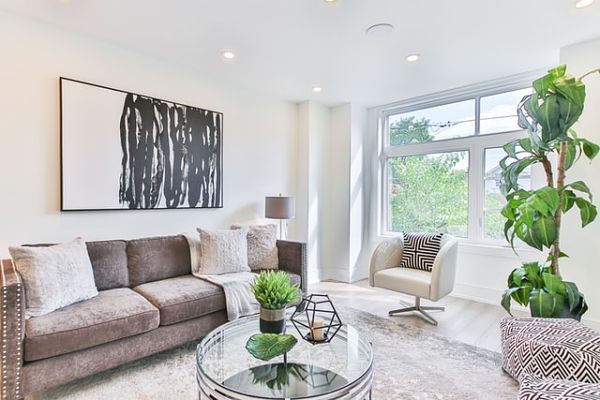 While these types of windows are generally found in bedrooms and kitchens, they can easily add a beautiful touch to your living room design too. In these windows, there's a hand crank that opens them outwards on a hinge. If you don't want to disturb the window treatments, choose handles that are flush to the windows.
Read more: French casement windows
Bay windows
If you're lucky to have bay windows in your living room, you can add a lot of grandeur to the space. In addition, such types of windows add curb appeal too as they protrude from the exterior of your home.
Bay windows are typically a combination of three windows, with an inoperable picture window in the middle. The other two sides can be either double-hung or casement windows. Interestingly, you get a small window seat where the three windows combine. You can use the seat to, well, sit or display knick-knacks and liven up the living room!
Bow windows
These bow windows are similar to bay windows but they are typically a combination of four or more windows — inoperable as well as operable. Needless to say, these windows are large and need sufficient wall space to fit one.
Architectural windows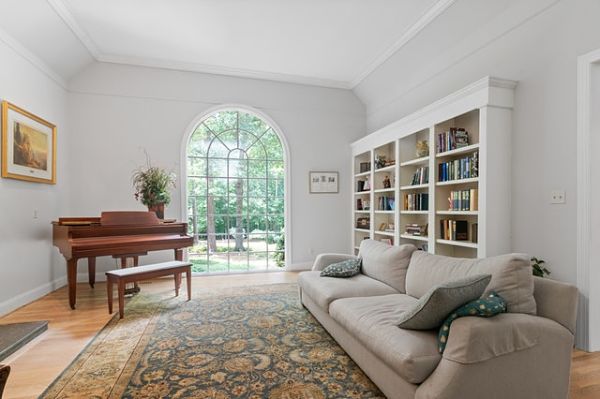 If you want to add visual drama to your living room, installing architectural windows is the best way to go about it. You can customize the window size or shape you want. From triangles, semi-circles to hexagons — they could be designed into any shape. Such unique windows are typically used in conjunction with other types of windows and glass panes.
Some great additions for your living room windows
Just concentrating on the type of window you want for your living room is not enough, you need to add certain touches that will give your living room a personality and improve the functionality of the window. Some of these window additions include:
Window curtains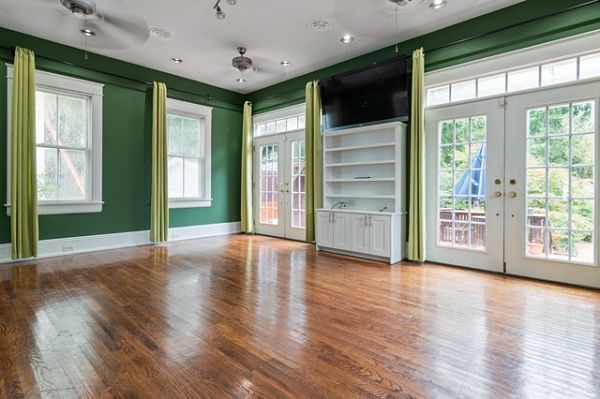 Window curtains and drapes are a great way to add visual depth and character to a window, and your home decor. With curtains, you can control the amount of sunlight you want to allow to enter your living room while adding a good amount of privacy.
Interested in window curtains, read our article on how to pick curtains that are perfect for your home.
Window tinting
The fear of excessive ultraviolet rays or UV rays damaging your health, your floors, and your furniture is a good-enough reason why home dwellers choose tinted or stained windows. While such windows absorb ultraviolet rays, they also inhibit people from seeing into your home easily — without much affecting your ability to see outside.
Window hardware
Your living room windows don't have to be just functional, they can be stylish too. And window hardware such as handles and locks contribute beautifully to the look of the windows. Moreover, when it comes to window locks, it's important to replace your old locks and add additional ones for your safety.
Read more: How to build a window sill
Last words
Due to the location of your living room, everyone is going to see the windows here. That's why your living room windows should look good, be efficient, let in lots of natural light, and be operable to allow for maximum air ventilation.
Additionally, always remember that your windows will be a focal point — one of the first things people (or potential buyers) will see when they view your home from the street. So, choose the best living room windows and make all first impressions count!
Read more: Cost to paint a living room: Factors, procedures and more
Living Room Windows and Designs That Are in Style
was last modified:
October 8th, 2021
by
Recommended