Living Room Decor Ideas To Spruce Up Your Space
To most contemporary households, the perfect living room is not just a reflection of their personalities, habits or community standing. It is a statement about uniqueness and individuality. Subsequently, in retrospect, decorating a large living room can be quite a challenge. When it comes to decor, depending on its size, every room has its own pros and cons. One of the most important challenges while implementing living room decor ideas, is making it feel comfortable and cozy at the same time. Here are a few tips to help create a cozy atmosphere in a large living room.
Read more: Don't Make These Five Common Living Room Design Mistakes
How to decorate a living room?
When you start decorating your living room, start by taking note of your current layout. Consider the wall paint colors, check the existing furniture and think of ways to accessorize it, and scour through photos on the web and magazines. Research on recent trends, styles of window treatments, and types of area rugs. Additionally, you can also check out our below list on some of the simplest yet savviest living room decoration ideas which shall lend a fresh look to your old space.
1. Create a focal point with indoor plants
Placing tall indoor plants at a certain corner in your living room can create a beautiful and laid-back nature-inspired look. You can get a little more creative and carve out a focal point with natural plants. Set them against a similarly shaded accent wall to lend more depth. Accentuate it with a single sofa or a small coffee table to complete the set-up. If space permits, install a tall mirror on the adjacent wall. Not only will it create the illusion of more volume but it shall also reflect elements from your outdoors — by bringing in a bit of nature inside as well.
2. Design a gallery wall
If you are an art lover, a gallery wall can go a long way in helping you showcase your prized collection — all in one group. Creating this arrangement is quite simple. You can mix and match small and large pieces to add color, pattern, or personality to your room. Moreover, they require less effort as compared to installing wallpaper and even demand less upkeep. Once you allow your creativity to flow, you will notice an endless list of options and opportunities.
3. Install a framed wallpaper
Are you a fan of wallpapers but you don't wish to cover up the whole room? A wonderful living room idea is to go for a framed wallpaper instead. You can get them in multiple styles — such as vintage pieces, floral patterns, or glow-in-the-dark panels. Especially, when your living room walls come in a neutral palette, like in the image above, you can make a statement with art and subtle pops of color. And a small framed wallpaper perfectly serves this purpose. Set a seating arrangement in front of it and brighten it up with large table or floor lamps.
4. Mix and match pillow covers
Accentuate an otherwise neutral palette, such as cream or white walls, with highlights of bold color through your throw pillows. Check out the arrangement above. Bright patterns and pops of colors on the multiple pillow covers draw attention to the central area of this room. Inexpensive and easy, it can bring in a huge difference to your decor. The homeowner has gone a step ahead and complemented the set-up with floral arrangements in vases, framed wall arts, and designer table lamps and hanging pendants.
Remember that when you layer patterns over patterns, always keep the backdrop understated. You can go for any style — spots, stripes, ikat prints, or color blocks — anything that unites your interiors in a harmonious palette.
5. Get creative with lighting arrangements
The centerpiece of this living room's interior design is the unique, hanging pendant lights. They not only enhance the dimming effect but also add personality to the entire decor. The designer has complemented it with added recessed lighting so that the room does not seem too dark and gets enough illumination when required. Additional candle lights below complete the entire set-up.
Read more: 20 Living Room Lighting Ideas That Are Stylish And Beautiful
6. Divide and conquer
When you don't limit yourself to the four walls, you have the opportunity to create different areas without losing the spacious feel of the room. As we mentioned before, by placing furniture freely in a room, you can use a couch as a room divider. Or if you dare, think outside of the box. Instead of going for a couch or bookcase as a room divider, why not divide the room with a row of potted plants or a unique divider curtain?
TIP: Use our Real-Time Living Room Remodel Cost Estimator and Find Out in Minutes How Much Your Living Room Makeover Will Cost.
7. Add an area rug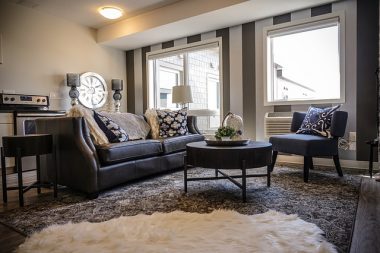 After you have divided and conquered, add an area rug and some armchairs so you can make the couch really stand out on its own. Look at the idea above. An all-fur are rug enhances the cozy appeal of the room. A great tip for this setting is to put the front legs on the rug to create unity, an 'island' if you will. This also works craftily in the dining area. Make sure the dining room table and chairs all fit on the rug.
8. Create interest with window treatments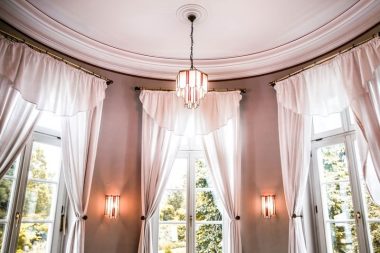 Installing window treatments can make or break your living room decor. You can either go for a formal look with tailored curtains and elegant trims or opt for a traditional appeal with extravagant valance. Other ideas include hanging thick fabrics like velvet or silk, eco-friendly drapes, or grand fabrics with matching holdbacks. In the above layout, the designer has gone for solid, light pink curtains to match the palette of the ceiling above.
Read more: 20 Window Treatment Ideas for Living Room That Are Inspiring
9. Install an exposed brick wall
Exposed brick walls are one of our favorite living room decor ideas. They can add a variety of looks to your interiors — ranging from a Mediterranean appeal to rustic, Scandinavian-inspired, or industrial vibes. In the layout above, exposed red bricks, coupled with white couches and windows, lend a warm aura to the space. A white ceiling, wood-shaded flooring and a staircase, offer the final, finishing touches.
Instead of owning the decor of a living room, small and opulent furniture, in many instances gets engulfed in a large room. What works well in any large room is a statement piece. A spacious couch or a large dining room table on a big rug can make a huge difference. Even big accessories, like a large painting, can keep the room from looking cluttered.
Do you have more ideas? Please share with us in the comments section below.
Read more: Autumn Decor Tips
Living Room Decor Ideas To Spruce Up Your Space
was last modified:
May 1st, 2022
by
Recommended