What about wallpaper? This type of material and decoration has been common since the Middle Ages, since the 16th century. Popularized in France, it is still in use, with modifications and new technologies to enhance its usefulness. Now you can put wallpaper in a bathroom, you just need the right paper material.
Can you wallpaper a bathroom?
Bathroom wallpaper works good, especially in small bathrooms, where you want to give it a new vibe or change the decor. It is easy to install and with proper care can be maintained.
Can you have wallpaper in a bathroom?
Although it may be a bit counterintuitive to have wallpaper to decorate your bathroom, you can. This is a recurring concern because, with temperature fluctuations, the paper will peel or bubble and flake.
The current wallpapers, unlike the past, are glued with synthetic adhesives, this type of material can be waterproof, solving the problem of humidity and changes in relative humidity. Today's synthetic adhesives are also pressure sensitive. This means that the paper is fixed by pressing and removed by peeling.
Is wallpaper in the bathroom a good idea?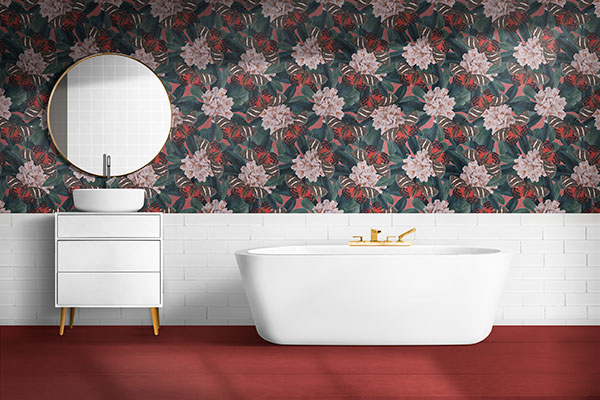 Moisture is the number one enemy of wallpaper. In addition to moisture, splashing water, heat, and mildew (all these factors alone or in combination) are not favorable for wallpaper.
The best wall covering for bathrooms will always be paint or ceramic tile. If it is painted, it should be eggshell latex, satin or semi-gloss. And if it is with ceramic, such as glazed tiles or synthetic materials.
However, wallpaper can be used with the correct treatment and controlling humidity and temperature, so you can decorate your bathroom with the motif of your choice.
We also made a list of the pros and cons of put wallpaper in a bathroom.
Pros
Variety of designs and motifs
Covers small imperfections
Easy to install
Cons
Possibility of flaking and mildew
Extra wall preparation before and after installation
Difficult touch-ups and repairs
Can be difficult to remove
Will the wallpaper fall off in the bathroom?
Wallpaper can peel, due to a host of problems that are natural to a bathroom. To mention just a few of them:
General bathroom humidity
To control the humidity in the bathroom you can follow the following recommendations:
Install an exhaust fan and in parallel, an infrared heater built into the ceiling.
Connect the fan and light switch together so that it turns on automatically and immediately when someone uses the bathroom.
Use a dehumidifier
For splashing water near the shower/bathtub
Install a wall stop next to the shower or bathtub
Coat the stop with paint or ceramic tile
Do not paper the space between the ceiling and the edge of the tiles or paint
For backsplashes above the sink
Install a backsplash behind the sink
Check pressures and faucets that do not generate splashing.
Do not take a bath with boiling hot water, the water steam is even the enemy of the paint. Lower the bath temperature
Open the bathroom door so that the extractor fan can suck in the air
How do I waterproof my bathroom wallpaper?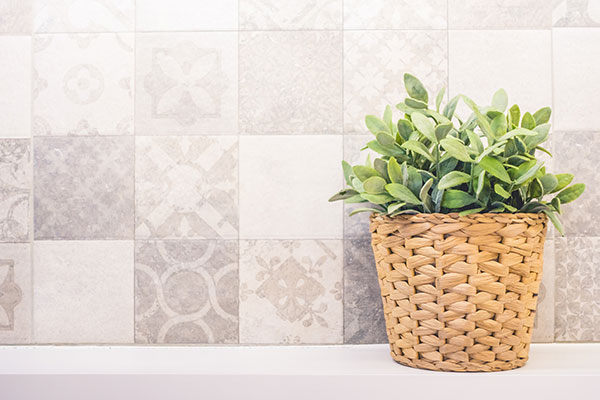 Installing wallpaper is very easy.
Installing the wallpaper
You will need to wait for the wallpaper and glue or adhesive to dry completely. Wait 24 to 48 hours for the wallpaper to set completely before taking any further action. Do not use the kitchen or bathroom to avoid damaging the wallpaper before protecting it.
Varnish application
Once the wallpaper is dry. Apply a decorative varnish, a similar varnish for wood furniture or hardwood floors. This will protect the paper from water damage and prevent and diminish mildew stains.
Use a fine brush to apply the varnish so as not to discolor the paper. Apply as many coats as necessary to create a seal on the paper. Let dry between coats as indicated by the varnish.
There are several types of varnishes, it is recommended to use a satin varnish as it will protect the paper better, and then apply a matte varnish on top of it. You will have a subtle shine with a protective barrier.
Be sure to use a mildew-resistant varnish. Standing water can get through the paper and cause the pulp to weaken, lifting over time. The breathability of the paper is a factor that makes it susceptible to water.
The bathroom is designed on the same principles so the wallpaper should not encounter water directly and there should always be good ventilation.
Varnishing your wallpaper is the best option so that you can look at it for years to come.
Protect wallpaper edges and seams
Use clear silicone caulk to fill between the wallpaper and baseboards. Fix all curling or lifting seams with seam sealant.
What kind of wallpaper is suitable for the bathroom?
We already talked about varnishing the paper, to make it water-resistant, but this is not the only option. There are waterproof and water-resistant wallpapers for your bathroom: vinyl wallpaper.
Waterproof wallpaper has a vinyl coating to deflect moisture. Whatever type of wallpaper you choose; this coating will resist the bathroom effectively.
Under no circumstances, install uncoated or unprotected wallpaper in a bathroom. It will only last for hours. If possible, look for wallpaper with vinyl panels or a decorator, as is done and recommended by decorators.
Can you put wallpaper in a bathroom?
was last modified:
May 5th, 2023
by
Recommended