Best Decor Ideas, Rules, and Tips for Blue Interior Design
Your home's color scheme is an important part of its design and decor. And, if you're a fan of a simple yet sophisticated style of home, you can plan on blue interior design.
There's a reason why blue is always high on most people's list of favorite colors. Stylish, friendly and welcoming, blue appeals to all ages and genders. It's easy to decorate with and pleasing to the eye. It's as if the cool color is asking you to calm down and slow your pace.
Here, we'll delve deeper into the effects a blue interior design has on us as well as some rules and tips on how to use this hue.
Psychological effects of a blue interior design
How does the color blue make you feel? Well, there's something really serene about blue color. Perhaps because it's the color of the sky as well as the sea. Think of it this way, blue skies indicate calm weather, meaning easier lives.
According to popular thoughts on color therapy, blue is the color of the mind. It's soothing, calming and is believed to evoke clarity, pureness, and increased intuition.
A blue room will undoubtedly calm you during your most stressful days. Interestingly, in Tibetan Buddhism, blue is the color of wisdom.
When it comes to blue interior design in your home, each shade of blue has a significance. While strong, dark blues stimulate clear thought, lighter shades of blue calm the mind, and aid concentration.
Home Renovation Cost Estimator
Sorry, we currently don't have that project at our disposal.
---
You can take a look at our most popular ones:
Water Heater Installation
Exterior Door Replacement
Install Recessed Lighting
Exterior Door Installation
Interior Door Installation
Interior Door Replacement
Aesthetic effects of a blue interior design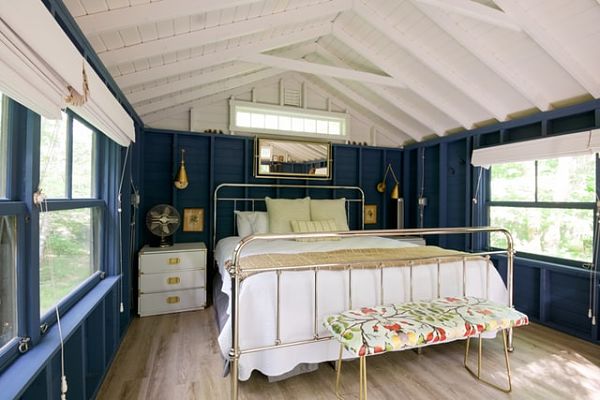 Aesthetically, a deep navy wall color adds a touch of drama and a soft powder blue gives your home decor a subtle vibe — giving the impression of a delicate space that needs to be cherished.
Whichever shade of blue you choose for your home will depend on your decorating style. Blue helps you create a varied ambiance — ranging from the nautical to the regal. Although it's a cool color, blue doesn't give you the chills. Rather, it's welcoming and peaceful.
If you wish to use a rich blue color in your home interiors, you need to be careful. Since blue tones love the sun and natural light, it's a good idea to use the color in rooms where windows face south, southeast, or southwest. Avoid using blue interiors in north-facing shady rooms which are not illuminated by direct sunlight. The color can make the space look cold and gloomy.
Physiological response to blue color
Keep in mind that the brighter and stronger the color, the more attractive and yet fatiguing it can be on the human eye. More light is reflected into the eye, causing more stimulation. Paler shades are more relaxing. Staring too long at a particular bright color, such as red, can overstimulate the rods and cones, or sensory cells, of the eye.
A complementary color in a lesser intensity can alleviate this fatigue. And, helps keep your anxiety, heart rate or blood pressure in check. This is why medical scrubs are light-hued – to offset the intensity of blood-red and hospital white.
Some great ways to incorporate blue color interiors
Mix and match blue with a light hue for a stunning color palette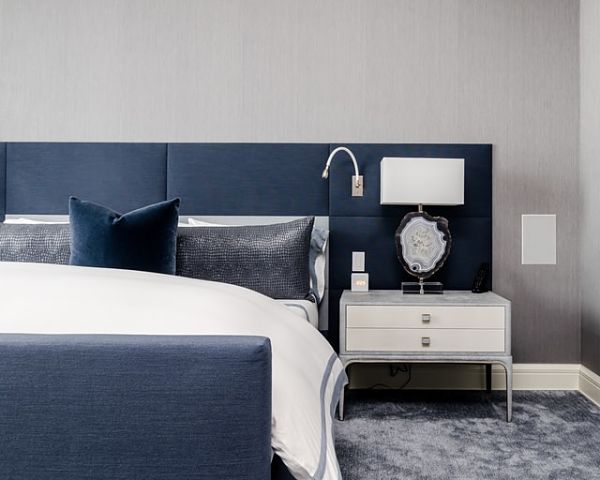 Throw in lots of blue accessories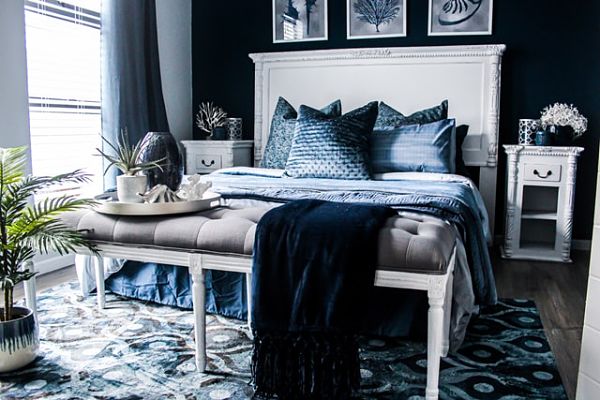 Get blue wall art to accentuate the color scheme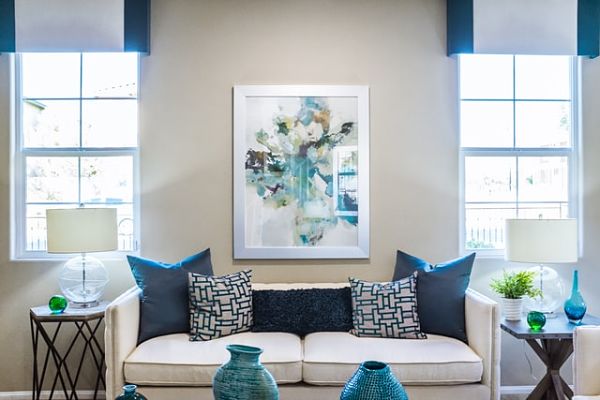 Create a blue accent wall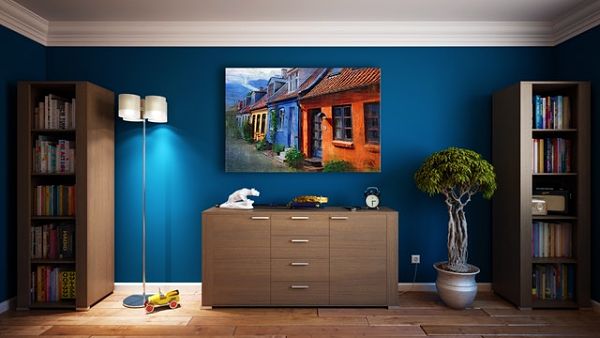 Use blue with white wall moldings
Last words
A blue interior design can provide you the same warmth as an embrace or a deep breath. The color with so much depth draws us toward itself. From blue living rooms, dining rooms, bedroom designs to powder rooms, bathrooms and kitchens — the color is one of the most popular choices for interior design.
You can use different shades of blue to create different moods. Blue can easily become a cool or warm color depending on the shade used. Whether you want to have a home decorated as understated or bold, it's completely your choice.
Best Decor Ideas, Rules, and Tips for Blue Interior Design
was last modified:
May 30th, 2022
by
Recommended