The best bathroom ceiling material for your home depends on a lot of factors, including the cost and durability of the material. So, if you're wondering, "What should I put on my shower ceiling?" during your bathroom renovation, you've reached the right place.
Despite the fact that a bathroom ceiling should be at a minimum height of 80 inches according to bathroom guidelines from the National Kitchen and Bath Association, it's still prone to frequent water splashes.
Moreover, it witnesses a lot of moisture and heat. Therefore, your choice of the right bathroom ceiling material is important. You must endeavor to choose a material that's resistant to these elements.
Since there are a number of bathroom ceiling materials available on the market, the selection can be a bit overwhelming. We've curated a list of some of the best bathroom ceiling materials for your home improvement. So here we go!
Best bathroom ceiling material options for shower & more
1. Drywall and green board
You can go for regular drywall in ceilings above the non-shower or tub areas of your bathroom. However, for the space where the shower is located, it is recommended to pick moisture-resistant drywall or green board.
Greenboard, as the name suggests, comes with a face paper — usually green in color — which offers extra protection from water damage.
Although you may spend a few additional dollars for this type of bathroom ceiling material than you pay for the conventional drywall, its installation and finishing costs are almost similar.
Ready for your bathroom remodel project? Try our free remodel cost estimator tool to see how much it would cost!
When using drywall, one of the biggest issues in bathrooms is the damage caused by rising water vapor that condenses as water droplets on the surface. Therefore, it's a good idea to cover it with a layer of paint.
So, which paint can you use for a bathroom ceiling? It's a good idea to select waterproof paints in order to waterproof your bathroom ceiling. As far as paint finish goes, we would recommend semi-gloss or satin paint. Semi-gloss paint is a shiny variant that ensures maximum moisture resistance.
However, since it offers a bit of a glare, some imperfections on the ceiling may be visible. If this is the case, you can go for the satin variety.
Looking for further inspiration about bathroom design? Take a look at these Small Bathroom Layout Ideas From An Architect!
2. Cement board
Cement board is the perfect bathroom ceiling material for the wet segments which you wish to cover with ceiling tiles.
When you install cement boards as a backer material, it won't get damaged by moisture. As an additional step, you can cover the framing behind the board with a moisture barrier, such as plastic sheeting.
3. Tiles
Another popular option among homeowners while choosing a bathroom ceiling material is tiling. Tiles come at an affordable cost, appear aesthetic, and are easy to install. You can also choose from a wide variety of tiles such as ceramic, porcelain, granite, or marble.
Tiles provide great water-resisting properties, but they are not waterproof. Water vapor can seep via tile cracks and caulk breaches — causing moisture to reach the backing substrate.
Tips on How to Remove and Prevent Mold in the Bathroom? You got them!
Want to make your tile ceiling waterproof? Ensure that all joints are properly sealed with waterproof materials. This will keep your bathroom ceiling well protected and without seepage. Remember to install a strong, water-resistant base behind the tiled surface. Some options include polyethylene membranes such as KERDI — which prevent moisture from entering your ceiling through the cracks between tiles and stones.
Another alternative is to trowel thin-set mortar or plaster over the tiles when setting them. You can also go for a green board as a base beneath your tiles. A tile backer is really important to ensure that your lower ceiling is not subjected to sagging, mold growth, and other water-related damages.
Read more: Ceiling cracks when to worry
4. Acrylic
A fiber material made from resin, acrylic is another preferred bathroom ceiling material among homeowners. Available in a wide range of shades and designs, acrylic comes in different sizes and thicknesses too.
You can choose acrylic sheets in transparent, patterned, or solid colors according to your bathroom design and support them with L-shaped aluminum strips. Hanging LED lights or panel lights from your transparent ceiling really gives a striking look to the entire area.
Since acrylic sheets are light, you can remove them during maintenance work for fixing lights or a geyser.
How to Hire the Best Bathroom Remodeling Contractors? We can help you!
5. Aluminum composite panels (ACP)
ACP comprises a thermoplastic polyethylene core. Two aluminum sheets hold this polyethylene core in between – thereby, forming a very lightweight, flat, smooth, rigid, and strong sheet.
You can find ACP sheets in plain, metallic, and marble textures. It is also available in a gamut of size variants. ACP is a very good choice if your bathroom is prone to dampness.
6. Gypsum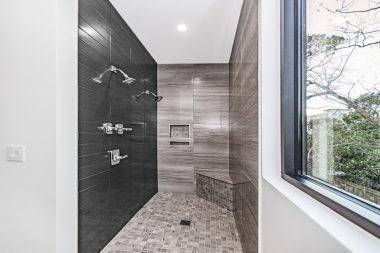 Gypsum — a readymade sheet made up of POP (Plaster Of Paris) — also comes in many sizes. This inexpensive bathroom ceiling material is perfect for bathrooms in homes located in hotter regions.
The water-resistant gypsum board is a good choice for your shower ceiling as it effectively keeps away any moisture, mold, and mildew.
Read more: Gypsum ceilings
7. Glass
Glass is quite a sophisticated option for bathroom ceilings when you wish to lend an aqua touch to your showering space. Moreover, it is ideal for low-height bathrooms and spaces with no or fewer windows. You can decorate it with some nature-inspired prints and you are all set!
Further info on bathroom design? Take a look at these 10 Bathroom Colors That Will Soothe Your Senses!
Read more: Ceiling collapse reasons
Best molding materials for your bathroom ceiling
While we're talking about bathroom ceiling materials, we cannot ignore the moldings. Solid wood molding works fine for the non-shower and tub areas in your bathroom.
However, you can think about alternative materials that offer maximum moisture resistance to the entire area. Plastic or PVC moldings — which appear similar to ordinary wood molding — can be cut, installed, and painted using the same techniques as that for wooden variants.
Avoid using medium-density fiberboard (MDF) molding or similar composite materials for your bathroom ceiling.
They do look good but if exposed (due to a tiny crack or damage), it will absorb moisture pretty fast. This can cause swelling and deterioration.
Read more: How to texture a ceiling
Last words
Whichever bathroom ceiling ideas and materials you use, always remember that moisture- and mold-resistant ceilings can also stop any unpleasant odor or the growth of stain-causing bacteria on the surface.
Also, keep your space well ventilated. Good ventilation is the key to ensure that your ceiling lasts long. If your bathroom layout doesn't have adequate ventilation options, install a good-quality vent fan — according to the size of the room. This will ensure controlled humidity levels and protect your ceiling in the long run.
Read more: Buying Bathroom Medicine Cabinets?
7 Best Bathroom Ceiling Materials to Choose From 
was last modified:
March 17th, 2023
by
Recommended