Best neighborhoods in Houston for young families
Many American families wouldn't mind the idea of living in Houston, Texas. And, there are good reasons. Houston is actually a great city to live in — thanks to its affordable housing, excellent school districts, good food, and family-friendly vibes. In this blog, we'll explore some of the best neighborhoods in Houston that are ideal for raising a family, safely.
The culturally diverse metropolis has everything a family would want in a living area — good amenities, lovely places to visit, excellent sports facilities, well-known museums, scientific and medical innovation, fantastic restaurants and nightlife, and most importantly a great landscape full of sunshine.
Covering over 600 square miles, the Space City (thanks to NASA and the Johnson Space Center) houses over seven million residents. It's the fourth most populated city in the whole of the United States.
Houston is a quirky mix of modern amenities and cowboy chic — with a good sprinkling of Southern charm.
We understand that a geographical shift can be challenging. And, like any other new place, if you've decided to live in Houston, TX, you'll have to make sure that you find the best neighborhoods in Houston to settle in with your family.
Your dream home should be close to good schools, have minimum commute time, and fit within your home buying budget.
We've done some research and curated a list of the best neighborhoods in Houston that are safe, relatively affordable, and nice to live in.
West University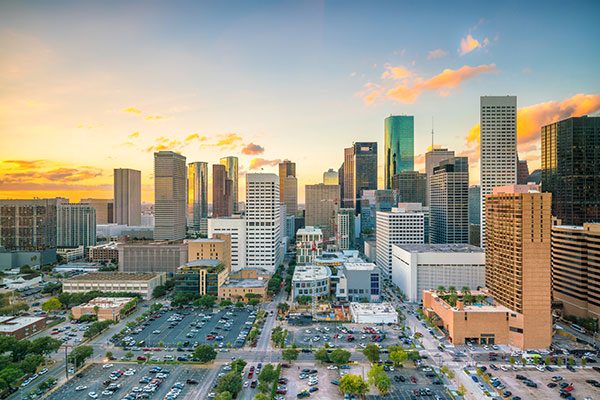 Average home price: $2.2 million
Formally known as West University Place, West U is a lovely neighborhood for young families — giving them a good mix of small-town feel and modern amenities. You can find some of the top-rated schools here. Most importantly, the crime rate is one of the lowest in the U.S.
If you've envisioned yourself lounging in a huge backyard while your children swing from an oak tree, this safe Houston neighborhood will be your dream locality.
Read more: Geographic community or neighborhood: Are there differences?
Memorial
Average home price: $497,000
Memorial is slightly away from the main city, but still offers metropolitan amenities within arm's reach. Located between the Energy Corridor (on the west side) and Downtown Houston (on the east), this area is ideal for those who prefer a private, quiet life.
It's also zoned to top-quality school districts, and has open green spaces and good shopping centers — including the popular Memorial City Mall.
Spring Branch
Median home price: $462,000
Spring branch covers a huge area. So, you can buy a significantly larger plot of land to build a house on. Just imagine, there'll be plenty of space for your children and pets to run around. And, you can enjoy your mid-century ranch-style home to the fullest.
Once a German community in the past, today the residential area comprises a diverse population. It's not too far from the city but is away enough to give you the peace and quiet you crave.
The Heights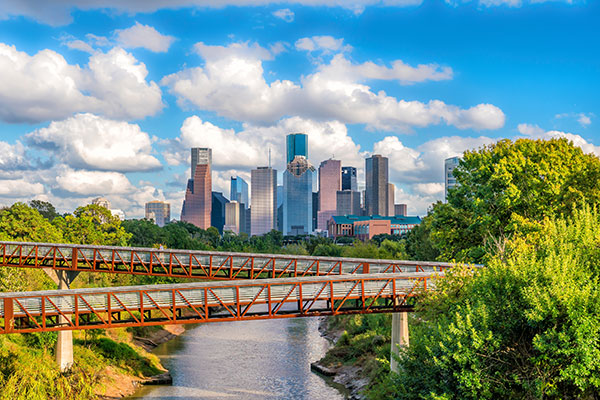 Median home value: $813,899
The neighborhood is a historic landmark in Houston. In fact, if you're planning to build a house in this locality, you'll have to follow strict house design guidelines. You can only opt for home designs such as Craftsman, Queen Anne, Folk National, and Folk Victorian. The purpose is to maintain the aesthetic consistency of the area.
The charming bungalows along beautiful streets should remind everyone of the bygone era. The Heights provides its residents an easy escape from the hustle and bustle of city life. This walkable neighborhood is perfect for people who love a slow-paced, luxurious life.
Museum District
Average home value: $1.2 million
Museum District lies in the heart of Houston city. And, as its name suggests, is the cultural and artistic epicenter. It's a great place for those who love arts, culture, and entertainment. You can visit parks, golf courses, outdoor theaters, the famous Museum of Fine Arts, Houston, the Children's Museum of Houston, and the Houston Zoo with your kids.
This place scores really well in terms of walkability, safety, and its central location. Almost everything you'll need to lead a comfortable life is within arm's reach.
Katy
Average home value: $343,306
Katy has some of the best schools in the Houston area — thanks to the famous Katy Independent School District. Additionally, there are several big companies and shops within miles of each other. Chances are, you'll not have to travel too much — even for your work.
Katy offers master-planned communities and subdivisions. Basically, this Houston suburb has a lovely small-town vibe and is quite walkable.
Moreover, there are great opportunities for family-friendly activities, shopping, and entertainment. Your kids will love the green spaces, parks, and outdoor amenities.
River Oaks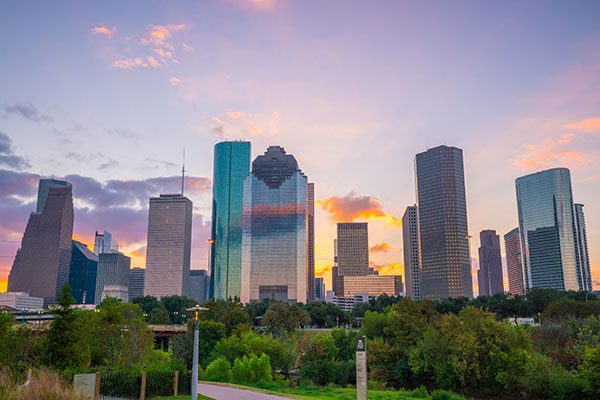 Average home value: $2.2 million
River Oaks is considered a great place to invest in real estate. The historic mansions, the oak-filled landscape, and the beautiful streets add an undeniable charm to this prestigious neighborhood.
You can find good shopping centers, entertainment hubs, fantastic restaurants, and theaters. The evergreen River Oaks is a delightful place to live with your family.
Montrose
Median home value: $600,000
Montrose is for those who are artsy, creative, and eclectic. Let's just say, those who're full of spirit. With great vintage shopping areas, museums, cool restaurants and bars, live music venues, and art galleries — there's something for everyone.
You can find mansions that look straight out of the 1920s along with eclectic townhomes, condos, and traditional single-family homes. No wonder home prices vary depending on the type of housing it is. The elementary, as well as high schools, have an overall good rating.
Read more: Things to look in new neighborhood
Last thoughts
Finding the perfect location for your home can be challenging. But, if you know exactly what you're looking for, your search for the best neighborhood in Houston can be simplified to a large extent.
Your parameters could include good public schools nearby, an easy commute to your workplace, the perfect home design for your family members, the house's value, safety, friendly neighbors, and most importantly a positive neighborhood vibe.
We hope these neighborhoods will help narrow down your search for your ideal home in Houston.
Read more: Home warranty companies in Texas
Best neighborhoods in Houston for young families
was last modified:
February 27th, 2023
by
Recommended