Best neighborhoods in Phoenix for young families
Planning a move to Phoenix, Arizona? Phoenix is actually a popular city for relocation. In fact, according to the 2019 U.S. Census Bureau data, the place attracted more new residents than any other city in the entire United States. Some of the reasons why this is so are because of the great job opportunities, more affordable cost of living than say, New York, Los Angeles, or San Francisco, and fantastic weather with sunny days. Most importantly, you can find some of the best neighborhoods in Phoenix for families.
Whether you're looking for good schools for your children, a cultural melting pot, entertainment hubs, affordable housing, or a safe environment — Phoenix has something for everyone.
No matter if you're a young professional, a family with small children, an outdoor enthusiast, or a retiree — this vibrant city is a great spot to consider for living a comfortable life.
So, if you're planning your big move, and want to research the best neighborhoods in Phoenix in terms of the job market, attractions, amenities, public transportation, good housing, and the overall vibe — we've done the legwork for you. In this blog, we'll explore the safest and the best neighborhoods in Phoenix.
Read more: Neighborhood etiquette: How to be a good neighbor?
Arcadia/Biltmore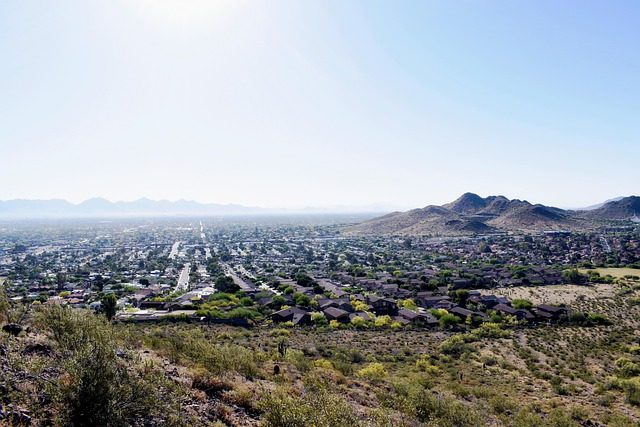 Average home value Arcadia: $550,000
Average home value Biltmore: $485,000
Median monthly rent: $880
Crime rate: 12% lower than the national average
There are some really good reasons why Arcadia/Biltmore is one of the most desirable neighborhoods in Phoenix. The most important one being its convenient location. This Phoenix neighborhood has proximity to Downtown Phoenix, Phoenix Sky Harbor International Airport, Downtown Scottsdale, and Camelback Mountain. Also, it's within walking distance of most attractions such as the Phoenix Zoo, great restaurants, boutiques, and shopping areas.
The homes are spacious and the area has a cozy residential feel. The house prices are on the high side though. There are some top-rated public schools and the Scottsdale Unified School District nearby.
Read more: Best neighborhoods in the Bronx
Ahwatukee
Average home value: $273,545
Average monthly rent: $1,055
Crime rate: 43% lower than the national average
This area, located along the South Mountain Park, is great for those who love outdoor recreation activities. You can enjoy horseback rides, hiking, and camping adventures with your kids.
It's undoubtedly one of the safest, most family-friendly neighborhoods in Phoenix. Moreover, the place is known for high graduation rates and low crime rates. You'll find some of the best schools in Arizona here with unique learning experiences and top-tier test scores.
Ahwatukee offers fantastic restaurants, shopping areas, and outdoor recreation spots. And, as the famous annual Festival of Lights along with the weekly farmers market.
Generally, you can find affordable stucco houses based on Southwestern architecture — mostly with red-tile roofs.
Read more: Best neighborhoods in Chattanooga
Coronado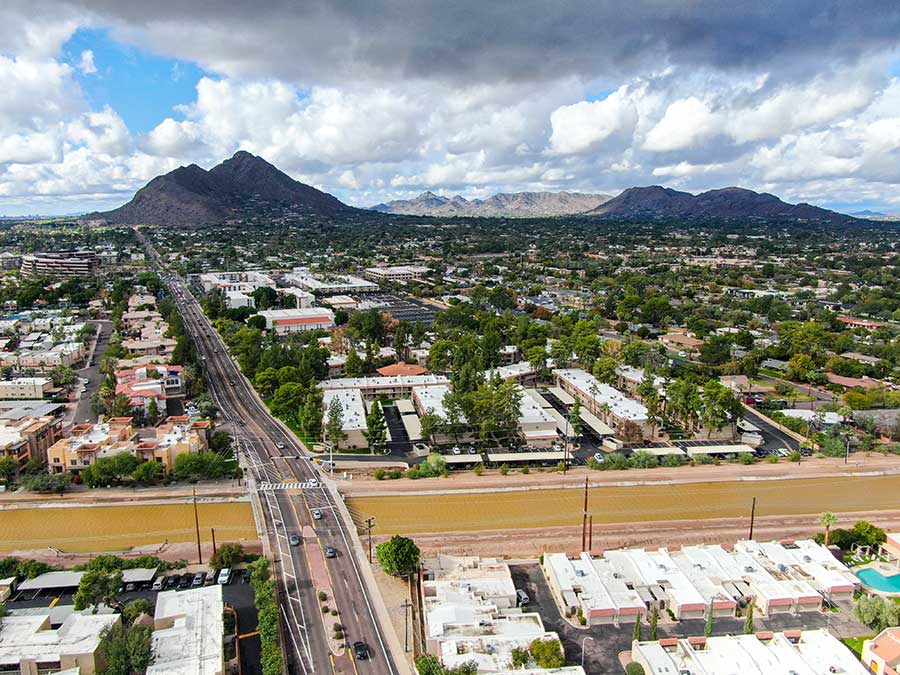 Average home value: $147,559
Average monthly rent: $836
Crime rate: 43% higher than the national average
If you're looking for affordable housing within the city, this Phoenix neighborhood is ideal for first-time homebuyers. There are great schools with 25% higher test scores than the Phoenix average.
Coronado is a good mix of historic neighborhood charm and downtown amenities.
You can find a wide range of housing options such as California bungalows, Spanish Colonial Revival styles, and ranch-style homes. Apart from these, you can find good affordable apartments that are available for rent or for ownership.
This neighborhood offers quaint restaurants, quick interstate access, art galleries, and small businesses. And yes, the Arizona Science Center, Roosevelt Row Arts District, and Coronado Park are good places to explore with kids. And if they are sports fans, they'll have a field day at Chase Field for an Arizona Diamondbacks game.
Gilbert
Average home value: $231,100
Average monthly rent: $1,263
Crime rate: 51% lower than the national average
This southeast suburb is without a doubt safe, affordable, and perfect for raising a family. The cost of living is low, the crime rate is lower, and there are high-performing public schools.
Moreover, the healthcare industry is expanding considerably in this Phoenix metro.
If you're an outdoor enthusiast, you'll love it here with the option of bike rides, a good game of golf at the Kokopelli Golf Course, a picnic at the Freestone Park, or a short drive to the Lost Dutchman State Park.
The place has a tight-knit community with some good local theaters, monthly bird walks, and bazaars. You can also learn about the different cultures at the Gilbert Global Village Festival.
Paradise Valley
Average home value: $1.6 million
Average monthly rent: $2,001
Crime rate: 44% lower than the national average
There's a reason this place is called what it's called — it's actually a paradise with gorgeous views of the Camelback Mountain and the Mummy Mountain, enormous estates, sprawling homes, beautiful streets, and golf resorts. This upscale neighborhood has a small-town feel and yet offers good amenities. Of course, it also comes with a high price tag. You'll also get to visit amazing museums, shops, spas, and restaurants here.
Read more: Tips to find your neighborhood
Scottsdale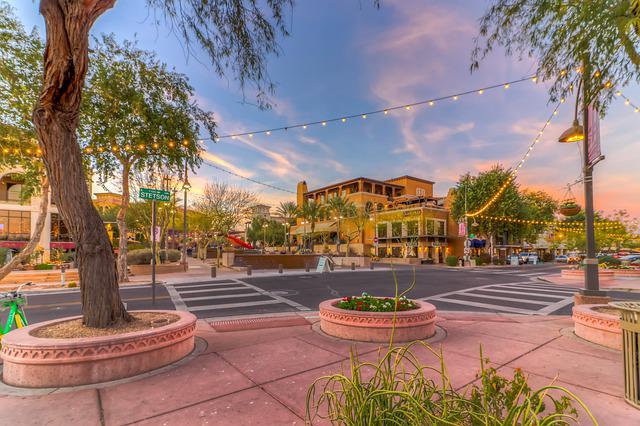 Average home value: $376,700
Average monthly rent: $1,132
Crime rate: 14% lower than the national average
Scottsdale is one of Phoenix's most beautiful suburbs with old cattle ranches and cowboy saloons, golf courses, bike trails, and community parks. And, on any given day, you can visit the Scottsdale Fashion Square for some retail shopping. You can find highly-rated schools in this Central Phoenix area.
Scottsdale offers great housing options — from modest single-family homes to spacious or giant mansions. But the good news is that housing is still affordable in this up-and-coming area. A great place for families, Scottsdale has everything from interesting parks, botanical gardens, and art museums to restaurants, cafes, and ice cream parlors.
Read more: HELOC rates in California
Last thoughts
We understand that moving to a new city can be challenging. Especially when you have to look for the best places to live in Phoenix. There are lots of factors to consider — including the house style you want, neighborhood safety, proximity to your workplace, quality of schools, location, the scope for outdoor activities, and the amenities you desire.
This guide will help you with some of the best neighborhoods in Phoenix — and keep you from being overwhelmed. Armed with this knowledge, you can navigate the real estate market, and find your perfect home.
Read more: Moving to Arizona
Best neighborhoods in Phoenix for young families
was last modified:
October 15th, 2022
by
Recommended