Best Budget-Friendly Remodeling Hacks
With COVID-19 and social distancing heavy on everyone's mind, now is a better time than ever to take the time to redecorate. The options and avenues for interior design are endless. From Pinterest boards to HGTV renovation shows, inspiration for how to make your home unique comes at us a mile a minute, and though all of the ideas look great, what we want is not always what our budgets will allow. 
When moving into a new space, we tend to think about all the different tasks we need to complete to even get into our new home that by the time we pull up in the moving truck, we're too worn out to even think about making our homes feel like home.
You've made sure you're covered by insurance companies like Homesite for all the possible life interruptions, but what about all of the days you'll spend in that space living?
It is retail's greatest myth that you have to spend big to have everything you want in a nice space. When I bought my first home a few years ago, the black countertops and dark cherry wood that ate up my kitchen sunlight made my skin crawl. With an extra $50, in my pocket I found that with a little bit of creative spark and some extra time I could completely change my dark, depressive, outdated kitchen.
What space do you avoid in your home?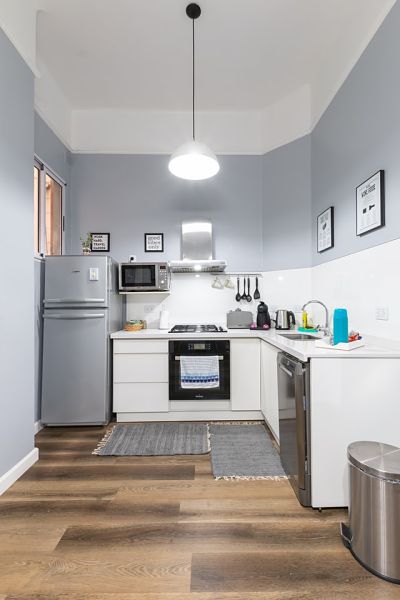 The first thing to identify when looking to change your home is what space do you either avoid or is the most hassle to use. Every inch of your home you pay for and therefore should enjoy. Interior design beginner rule one is to finish one room at a time, and pointing out the spaces you could be enjoying least is the first step to knowing where to start.
For me, that space was the awful kitchen. Since I lived in a small condo, changing the kitchen would make a large impact very quickly on the feel of quality space in my home. If you cook as much as I do, changing a few details of your kitchen could be the changes you need to refresh your space during these stay at home orders.
I mentioned that the cherry wood of my cabinets made my space darker than it needed to be, so with my friend's electric hand sander, I got to sanding away that dark finish. Don't worry if you're looking to buy your own while staying on budget. For an electric sander, you're looking at investing around $30-$60 for a quality brand. If you're looking to do other projects, it will be a small investment that lasts you many projects to come.
To finish my cabinets off, I used a little more than half of a can of paint which cost only $12, and there is enough left over to save for touch-ups or even another project.
As for the countertops…we all want that luxe, marble look, and I am no different. My secret was the old fashion easy liners. This does take some measuring, but with 2 rolls that go for $7, I covered my entire kitchen plus my built-in desk space.
After measuring and cutting, which could be a fun learning project to do with kids, you just peel the sticker and can use a ruler or your credit card (something with a rigid, straight edge) to ensure a bubbleless stick.
Read more: 5 Types of Protection Films for a Clean and Safe Jobsite
Finish the Unfinished Projects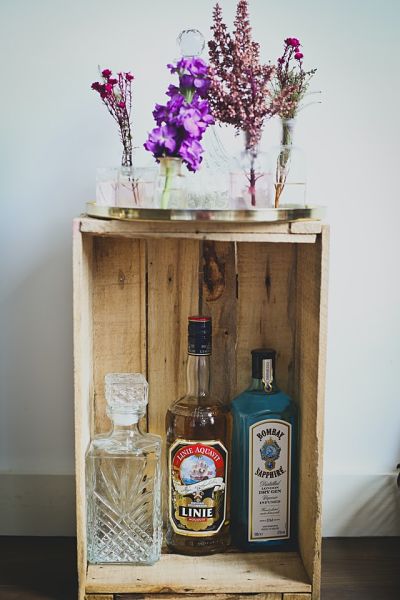 Remember that exciting project you started but got too busy to finish? Yeah, we all have those.
Even with the stressful atmosphere that COVID-19 has created, finishing home projects can be therapeutic at this time, and finding things to repurpose can add the extra punch to your overall design.
Crates are a great way to add a rustic touch to your space. They can be built up, torn down, painted, and anything in between which makes them a perfect, inexpensive way to spice up a space. My personal favorite is to make crate coffee tables and shelves.
Crates are easy ways to add storage to any room, and since they are made of wood, they are easy to customize. If you don't have them already, you can find crates by stopping in at a thrift store or going to your nearest home improvement store where single crates are about $10 to $20.
Another way to take this design tip even further is to use a pretty shoebox or perfume box in place of a crate. Your local retail and coffee shops may have past promotional boxes they're waiting for someone to throw away, and if you ask, most stores will give away for free.
If they aren't already decorated, using any kind of paints or prints will give your space a nice pop no matter what kind of box you decide to use in it. Of course, your total cost will vary depending on the size and amount you need, but crates are the perfect solution for a cheap, decorative way to solve a lack of storage problems.
Read more: A Guide to Upcycling: Furnish Your Home for Free!
Paint: Lipstick for Your Wall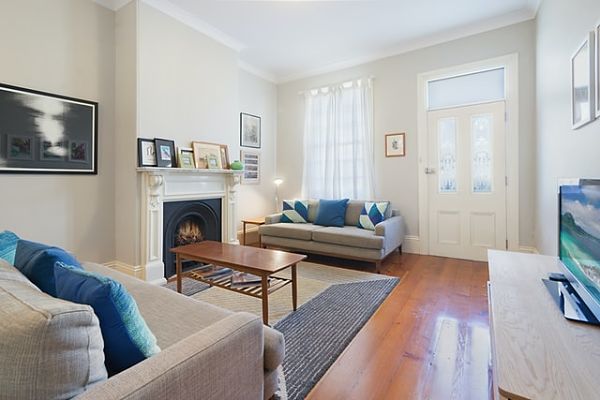 A new coat of paint does what lipstick does for your new outfit. It just brings everything together. If you've been feeling lackluster in your home, changing the paint, wallpaper, or adding a pattern could be just what your home needs to feel vibrant again. New colors are inspiring and spark new ideas.
Painting is a great way to remodel because, with some brushes and painter's tape, you have a remodeling activity that fits the whole family. To save on tarp costs, you can use old bedsheets to keep things from getting too messy. With the extra time most of us have right now, it could actually be exciting to watch new paint dry.
Bringing some outside to the indoors is always beneficial from both a design and wellness perspective, and a few plants will make any wall color pop. No matter what your aesthetic, a little color and some green plants will be the extra touches that make your space feel well-planned and complete.
Check these tips for Choosing the Right Wall Art for Your Interior Space
Get Back to Where You Once Belonged
Singing The Beatles just comes naturally when you're happy. Spending so much time at home can be a great experience or a dreadful one. Making sure your space is truly tailored to you is one way to ensure that your home is a place where you feel energized and inspired.
Moving things around keeps your mind going, and in unprecedented times, staying active by doing projects is a healthy outlet that will continue being beneficial once life returns to normal.
Stay safe. stay strong. Stay creative.
Read more: DIY Smart Home installations Any Beginner Can Do
Best Budget-Friendly Remodeling Hacks
was last modified:
August 27th, 2021
by
Recommended