How to Choose the Right Home Curtains and Blinds?
Decorating a home isn't easy, the intricacies that go along with creating the perfect space are lost to many. When putting the finishing touches on a neatly-organized room, a key component will be the windows. When they are concerned, we really have two choices: curtains and blinds. Both offer a unique aesthetic and functionality and it is important to realize what we're looking for before we go out and start buying. Luckily, there aren't many factors that directly influence our choices so there's no danger of getting overwhelmed.
Choosing Curtains
Curtain Color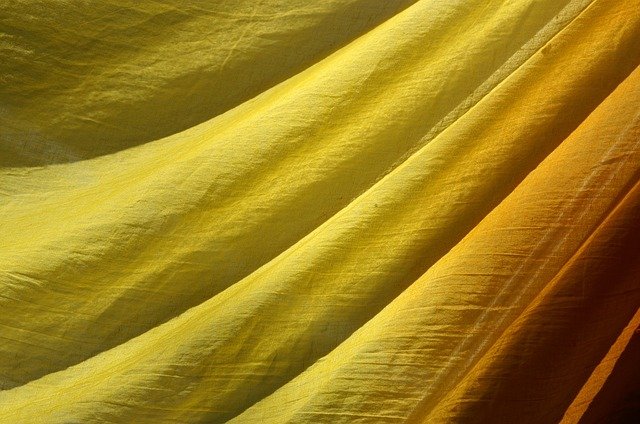 The first thing to consider when buying curtains is, of course, the color. Depending on the room we've decided to put together, the color of the curtains can either fit right in or stick out like a sore thumb.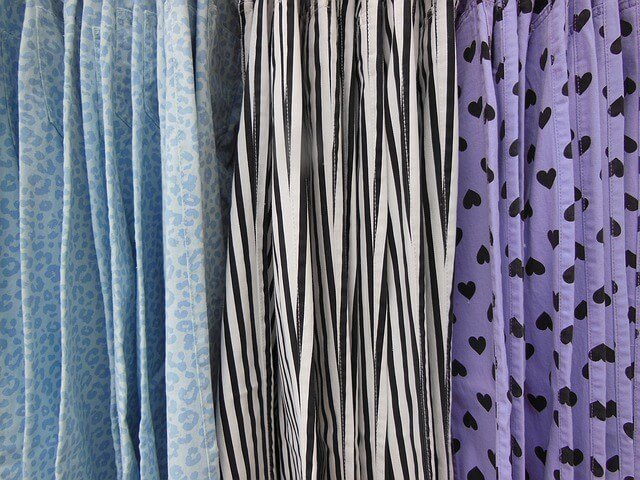 The color will also influence the amount of sunlight they will absorb, making some colors a better option for summer. If opting for something not in a single color, then the possibilities are endless but a good rule of thumb is to pick out something interesting but not too distracting.
Read more Room paint colors affect mood
Curtain Fabric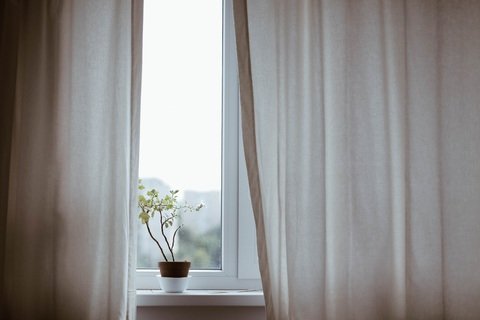 Next, we have the fabric. There are many professionals out there that advocate the use of this or that fabric but it really does come down to a matter of personal taste. The material will influence the feel and texture of the curtains as well as the transparency.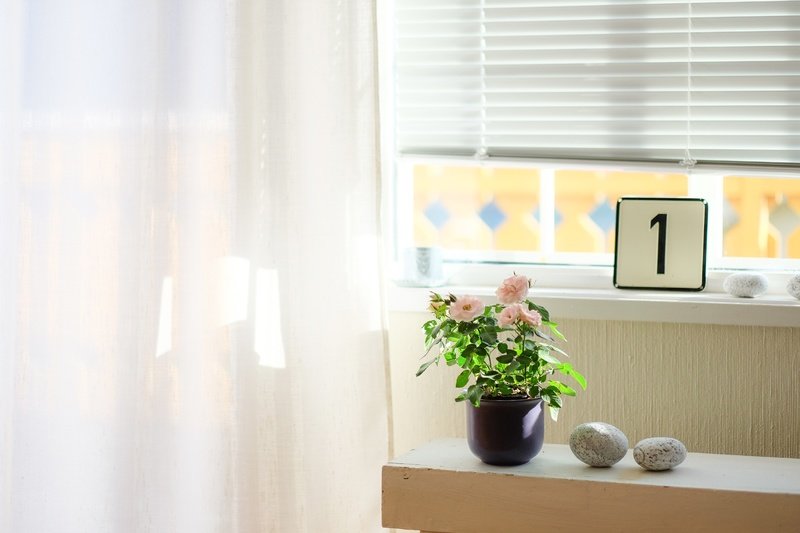 A lighter material will be semi-transparent, letting sunlight pass through while keeping guests and yourself included from squinting during high noon. Another thing different materials bring to the table is cleaning options, some can only be dry-cleaned, so watch out.
Read more: Incorporate right textile's interior design
Curtain Length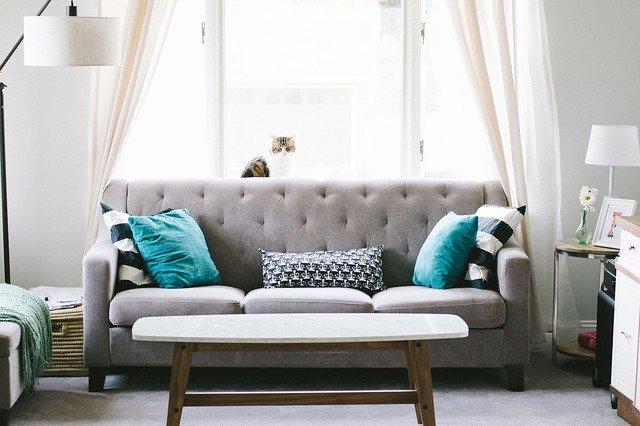 Photo by Nathan Fertig on unsplash
The length of your curtains is usually fixed at a certain height, however, not all homes are built the same way. Some designers opt for longer curtains suspended much higher than the actual window frame, achieving a sort of dramatic feel. Others swear by a set distance above the window frame and curtains whose length matches the window's height to a tee. Whatever your needs may be, always remember that any curtain can be altered and tweaked to fit into your design – just make sure you take it to a professional and avoid any mishaps that could happen by doing it yourself.
Choosing Blinds: Purpose, Style
Blinds give off a more sleek and modern feel to a window's composition. Depending on the surface they're expected to cover, there are different options to consider. If dealing with a tall window or something like a door, it is worth looking into vertical blinds, all other cases will make do with regular horizontal ones. When trying to figure out the purpose, try looking up the folks at Independent Blinds & Awnings. Their site has one of the most comprehensive catalogs of blind types and their strengths.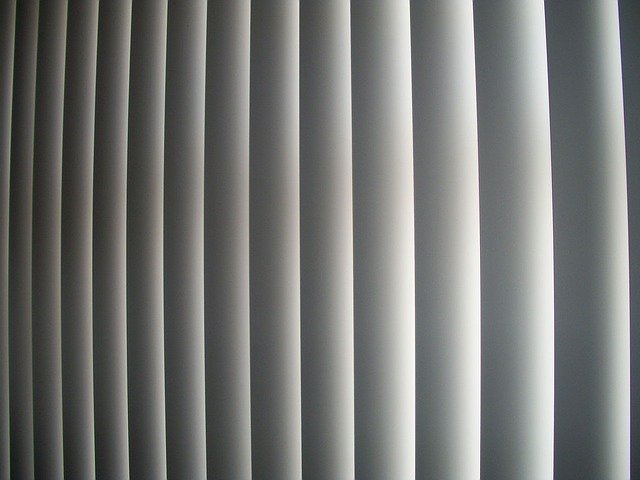 Now that you've got a good idea of what's on the table, it all comes down to style. Whether they end up being Venetian, Roman or even roller blinds, they will all come with their own strengths and weaknesses.
Rollers offer an unobtrusive approach and only have two states but offer greater sun protection and are the cheapest of the bunch.
Roman blinds are a more decorative solution, getting you the closest you can get to curtains.
Finally, we have the crowd favorite, the Venetians. These offer a laid-back feel to handling sunlight and the tilt controls help scale the privacy factor but are very finicky with so many pulleys.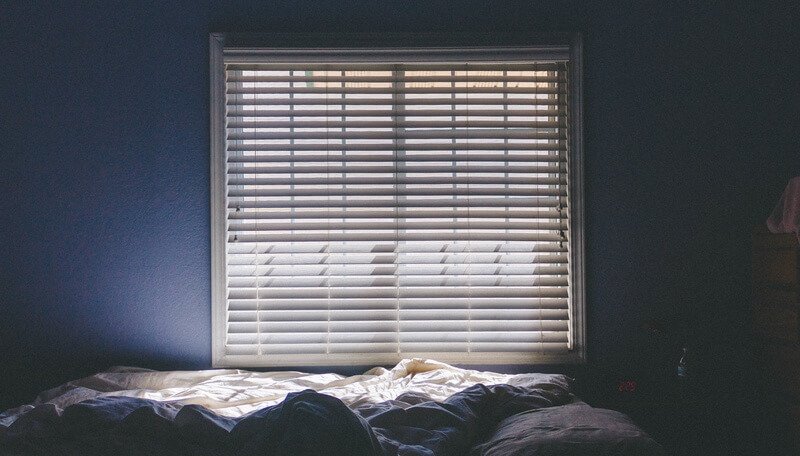 Photo by James Marcom on unsplash
Happy shopping
Now that the details are out of the way, there's only one thing left to do – shop. Whichever option you prefer and whatever you financial state may be, there is an option out there, you'll just have to look for it. With curtains bringing sophistication and blinds bringing modernism to the table, and each of them having several subtypes of their own, we have the unique opportunity of playing around with these options and seeing which one suits us, and the room, better. With the final touches in place and our preferred window accessory set in place, we can finally sit back and enjoy the fruits of our labor.
READ MORE: Expert Tips on Home Textiles to Make Your Space Stand Out
How to Choose the Right Home Curtains and Blinds?
was last modified:
August 12th, 2021
by
Recommended