What are French doors?
French doors are usually a pair of doors with glass panes spanning most of their length. They are a very popular choice of door for the instant drama they add to your rooms, and one of the primary reasons for this is that the cost to install French doors is extremely reasonable.
How much would it cost to install French doors?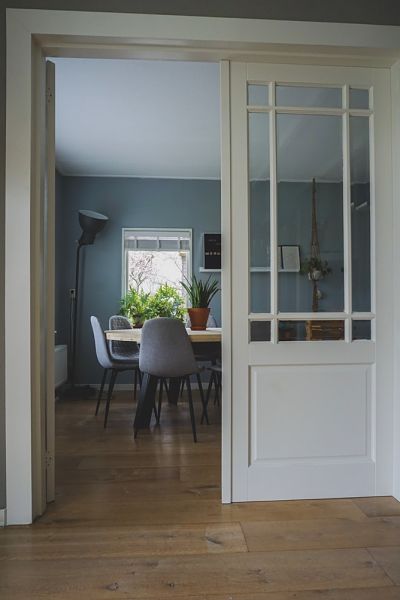 Photo by Sven Brandsma on Unsplash CC0
The cost of French doors includes two elements – the cost of materials and the cost of labor.
The cost of materials is the bigger concern when you calculate the cost to install French doors. If you are considering French doors for the interiors – for closets and internal doors – the cost will be lower, because the frame does not need to be treated any differently. The cost to install French doors for your interiors will not go past $300 to $500 at most.
Get the best estimate for your interior door replacement with our estimator tool.
The cost to install French doors made of any other material besides usual wood or metal is also typically higher. Some people want French doors made of fiberglass for additional strength and durability. Fiberglass is inherently a costly material, and to shape into the frame for a French door will involve significant labor charges. Installing it is another place where you can expect to pay more. But if you are looking for stronger, sturdier French doors that also offer more security, these are an excellent choice, even if the upfront payment is higher. Bear in mind that this is a one-time payment only, so if you decide to get French doors like this, the doors will payout in the long run.

The best way to know how much interior doors installation will cost. Try our estimator tool!
Do you want to know how much it would cost to install an interior door? Take a look at our full guide.
Have you considered fiberglass doors for your exterior?
Getting an all-wooden French door will also be costlier. The cost to install French doors, if they are all wooden, can be up to $1500 for interior doors alone. For the exterior, expect to pay up to $3000 or more, depending on the wood and weight of the door.
Thinking about exterior door installation? Find the best cost for your installation.
Steel French doors may offer you greater security, but bear in mind that the cost to install steel French doors will be higher because it is heavier to work with and install, but largely because steel will need additional treatment to prevent rusting and wearing. Paint prep is very important, and equally important is the treating and curing of paint to prevent flaking at a later stage.
Aluminum French doors will provide benefits similar to steel but the cost to install aluminum French doors will be a lot lower than steel. But these will also require priming and preparing to withstand harsh weather and rusting. However, since aluminum has insulating capabilities, these are a wonderful option if you live in colder climates. If you are choosing aluminum, the cost of French doors can be around $2000 per door, or more, if you are also choosing double-layered glass for additional insulation.
Glass, metal, wood. Do you want further information on all the different types of doors?
French doors for the patio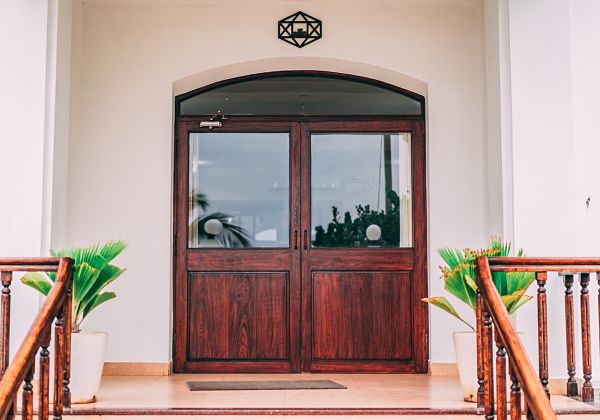 Photo by Ashwini Chaudhary on Unsplash CC0
However, installing French patio doors is a different matter altogether. When you do that, you will need to use wood that is specially treated to withstand harsh weather. That treatment alone will cost you a fair bit and in addition, you will need stronger, if not shatterproof glass. This means that the cost to install hinged patio doors will be significantly higher.
Extra cost for customization
The cost of French doors will also increase if you are looking to make any customization instead of going with traditional styling. Expect anything above $3000 to $5000 for exterior French doors, but this amount will be much higher if you are looking for custom cladding or even molding for your French doors. Decorative elements will also keep adding to your cost, so the more additions you make, the higher you will pay.
Find out how much your exterior door replacement will cost with our estimator tool.
Labor charges
Another very important factor that adds to the cost of French doors is labor charges. Again, the cost of your materials will define your labor costs. Typically, labor charges can be as low as $50, if you are going for the simplest materials. This is because a French door made with simple materials will be easier to work with and lighter to handle. But keep in mind that the labor charges will be for each door, so the cost to install French doors, in the simplest, lightest form, will be close to $100.
Extra labor charge for customized doors
The cost to install French doors, if you have made any customization, will be much higher. A higher quality of wood or metal in the frame, and for shatterproof or stronger glass, will become heavier and tougher to work with. This will automatically increase the cost of French doors and the labor charges can shoot up to $1000 per door.
Cost of Victorian-style doors
If yours is a Victorian French door styling, there will be additional molding and customization, as well as a much heavier wood frame. This means that the glass will also be thicker, and if you are looking for insulation, then you will probably need a double-layered glass pane. Materials for such doors are typically more expensive and the cost to install French doors of this type can shoot up anywhere between $5000 to $10,000.

Plan your interior door installation properly with our estimator tool.
Installation charges
As we mentioned, you have to factor in the cost of installation in the cost of French doors. The installation charges start from $400 per unit. However, in some cases, you have the option of doing it yourself. Some French doors come with easy, clear assembly instructions, and if you choose to DIY the installation, you can significantly reduce the cost of French doors. But please only do it if you are 100% sure you can handle it, or you risk not installing it properly or even damaging the door.
Why should you get French doors?
Like we said, French doors add drama to your outdoor living. Your room flows into the patio or balcony with just a dividing pair of doors, and it's almost like you can bring the outdoors in. Keep them open, and the fluidity increases, making your room look bigger and more spacious.
Find out how much your interior doors replacement will cost with our estimator tool.
In addition, since French doors are largely made of glass, the amount of natural light they let into your home is unparalleled by any other kind of door, or even a window. This means that your home aesthetics get an instant upgrade with this energy-efficient door, and you also immediately up the cost of reselling your home. So, what are you waiting for? Now that you know the cost of French doors, get one today!
Read more: A Guide to Easy and Cozy Balcony Decoration Ideas
How Much Do French Doors Cost To Install? A Comprehensive Cost Guide
was last modified:
October 14th, 2022
by
Recommended