Popular Types of Doors for Your Home
A beautiful door, especially an exterior one, doesn't just add style and functionality to your house, it also enhances the curb appeal. Therefore the right types of doors, whether entry doors, interior doors, or basement doors, can make all the difference.
We've broken down 18 most popular types of doors into two categories — material and style — for your convenience. We hope this comprehensive list helps you pick the perfect door for every threshold in your house.
Types Of Doors Based On Material
1. Wooden Door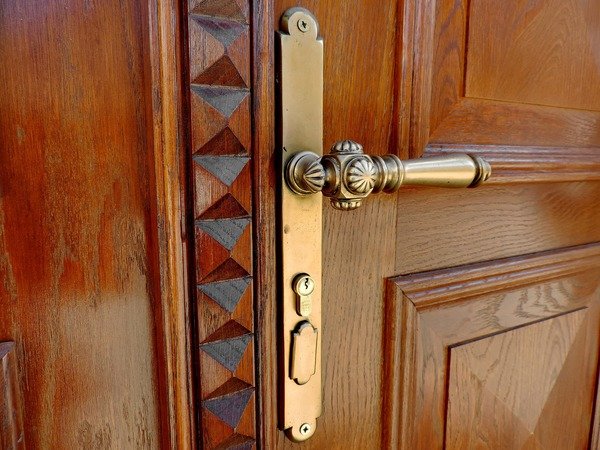 Wood is the most widely used material for doors. And, for good reason. It imparts a solidity that suits every type of home style — with any kind of design or color scheme.
What's more, it allows for customization and looks quite luxurious. So, whether you have a Victorian, Colonial, or Craftsman style of house, a wood door will make it look even more charming.
The best part about a wooden door is that it provides soundproofing, insulation, and security. Also, it's easy to install and clean.
Do you want to know how much it would cost to install an interior door? Take a look at our full guide.
2. Aluminum-glazed Door
Homeowners who need long-lasting doors that are economical too, opt for these aluminum doors with glass panels. They are light-weight yet strong and durable.
These door frames have the added advantage of resisting extreme environmental conditions. They are not affected by termites or require very little maintenance.
Doors that are made completely out of aluminum or use the metal only for its frames — can be side hung or sliding and are suitable for both exterior as well as interior spaces.
3. Stainless Steel Door
Strong, low-maintenance, and affordable — steel is the perfect choice for an exterior door. Such a door typically features an insulating foam core covered by a durable layer of steel.
It is perhaps one of the strongest doors as compared to others. You can install a solid steel door or a hollow one — either way, it will offer you maximum security and efficiency.
If you're on a tight budget, you may opt for a mild steel sheet or a corrugated steel door instead of a solid steel door.
4. Glass Door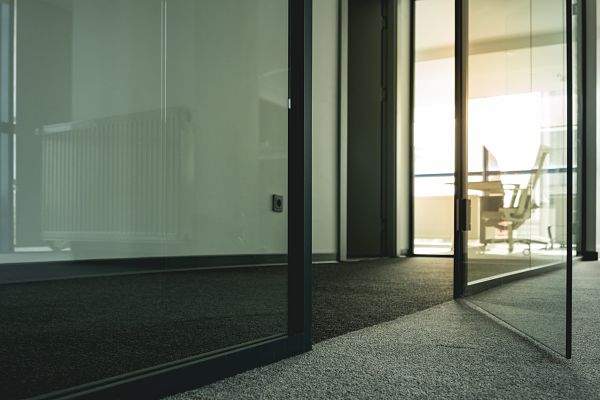 Generally, glass is used mostly for paneling. However, a complete glass door can be a great choice for specific locations. For instance, the backdoor of a house can be made of glass in order to provide an unobstructed view of the backyard or garden.
Front doors made of glass — especially cut glass panels set into wooden frames — are equally lovely but need special care in terms of privacy and durability.
One huge downside is that they can easily break and may not be a secure option. Also, such doors tend to be costly and require regular maintenance.
5. Fiberglass Door
Fiberglass is a kind of glass that is bonded with resin, drawn into a fibrous form, and then woven into cloth. Such a door type is strong, light, and yet has high tensile strength.
In fact, fiberglass is one of the most hardened materials with relatively low maintenance costs vis-a-vis wood and steel.
Fiberglass doors are expected to be stable as they do not warp, bow or twist. They are foam filled and offer good insulation properties.
A fiberglass door is perfect as an exterior or front door. It suits most houses and is one of the most common door choices. This door is durable, strong, and can be molded into a variety of styles and shapes.
6. PVC Door
Poly Vinyl Chloride or PVC is basically a plastic material that's increasingly becoming very popular.
They are light in weight, easy to use, and are available in a variety of designs and colors. These beautiful doors do not corrode and hence, do not require much maintenance.
What's more, they are termite-proof, durable, anti-corrosive, and moisture resistant. They are also easy to fabricate and install.
However, they are NOT scratch proof. Also, they are unable to resist harsh weather conditions.
7. Bamboo-Jute Composite Door
If you're someone who believes in owning a sustainable home, a bamboo composite door or a jute-coir composite board door can be a good wood substitute. These natural resources are usually impregnated with phenolic resins to make them sturdy and strong. The biodegradable, eco-friendly doors are water-resistant, corrosion-resistant, termite resistant, and most importantly cost-effective.
Types Of Doors Based On Style
1. French Door
If you are looking for statement-making doors that spell elegance, French doors should be your ideal choice. That they look beautiful, is an understatement.
These doors usually come in pairs — held on the hinges set up on each side of the opening. The sides feature a frame around wood panels. When both doors are open, they provide an unblocked view.
These highly decorative doors are great for a formal living room.
Want further information on French doors? From costs to installation, you can see our full guide.
2. Pocket Door
Pocket doors are one of the most cleverly designed doors. They disappear into the wall when open — thanks to rollers suspended from an overhead track. Therefore, they are ideal for areas with limited space for standard swing doors.
Typically, they have a hollow core and are constructed of lightweight materials to facilitate easy handling. More and more homeowners today are opting for such space-saving, visually appealing fixtures. They can be both single or double doors.
3. Barn Door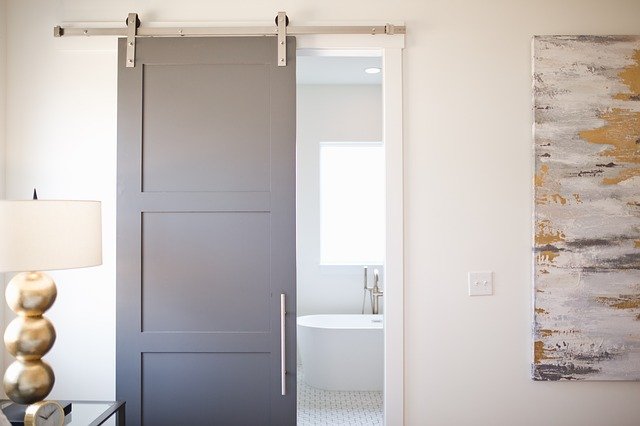 There's a reason barn doors have left farmhouse-style homes and reached modern houses. They are practical and give a neat look to a space. For a typical farmyard, country decor — homeowners are opting for reclaimed or rough-hewn wood finish.
A barn door is generally designed to be a sliding one — moving completely out of the way through a single wall-mounted track. Such doors add a stunning element to a room — and can be rustic, industrial, or modern.
4. Panel Door
A panel door is the most classic style of all doors. Usually, it has three or four horizontal rails and three vertical stiles. Thinner panels may fill the spaces between them.
More often than not, there is a decorative molding surrounding each panel. The result is a beautifully textured door that can be both traditional as well as modern. Such a door is most common inside a house. And, is made of materials such as plywood, blockboard, veneer, or wood.
5. Flush-style Door
If you are looking for the smoothest of doors — and perhaps the least expensive one — a flush door is a safe bet. Generally, plywood, veneer (birch or oak), or Medium Density Fiberboard is fixed over a light-weight timber or steel frame. Its hollow core is often filled with a cardboard core material. You can even have a flush door with a solid core, if you so desire.
In simple words, flush doors are one-sided hinged solid doors with absolutely no decoration. Most commonly used as interior doors, they can be painted, stained, or even covered with wallpaper.
These durable, simplistic doors look good in contemporary houses but may look out of place in a traditional one.
6. Patio Door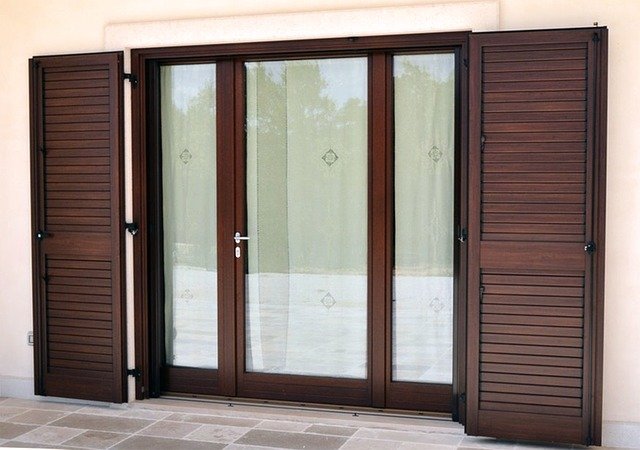 Patio doors are typically made of large panes of glass encased in wood, vinyl, or metal door frames. They may feature a hinged or sliding construction. Patio doors allow for an easy, attractive transition between indoor and outdoor environments.
If you have a beautiful yard and love to have an unobstructed view, such a door is the ideal choice.
As opposed to French doors, they take up no floor space when open. However, they only open half as wide as the doorway.
Read more: Cased opening
7. Bypass/Sliding Door
These moving doors operate much like sliding patio doors but are much lighter in weight. Usually, they move on top and bottom track and hence DO NOT protrude into your space. If you're going for a clean-lined, minimalist look, such a door is a good choice.
They are perfect for a bedroom or closets. Since they do not swing open, they are quite useful for smaller spaces. However, just a part of the opening is accessible at a time.
8. Bifold Door
Bifold doors are a set of doors that are hinged together in such a way that they fold into each other. Generally, the doors are installed on a track that hangs from the top of the head of the opening. Again, a space-saving fixture.
9. Dutch Door
You can easily recognize a Dutch door thanks to its unique design. It's divided horizontally and has different panels for the top and bottom. And, you can open each part separately! Such a door is a good choice for a kitchen. Even when you have a Dutch front door, it is bound to look chic and extraordinary.
10. Louvered Door
A Louvered door is a great choice when you desire privacy as well as natural ventilation. It has tiny louvers made of materials such as glass, timber, or plywood. Interestingly, this door could be fully louvered or partly — with either fixed or movable louvers. They are best suited for toilets of residential and public buildings.
11. Battened and Ledged Doors
Battened and ledged doors are the simplest types of doors consisting of vertical wooden battens. These battens are as high as the entire door with a thickness of about 35 mm. Typically, they have a tongue and groove joint. The pattern also usually has three horizontal ledges (at the top, bottom, and the middle).
Such types of doors are more common in houses that have a tight budget. They are usually installed in toilets, baths, WC etc. You can even get them braced and framed for better performance.
Read more: Screen door installation
Popular Types of Doors for Your Home
was last modified:
September 7th, 2022
by
Recommended