What to know about screen door installation
The winter months are drawing to an end, and a lot of us are looking forward to the spring and summer months. These months are the best time of the year to enjoy the great outdoors. Wouldn't it be wonderful if you could just leave the front door wide open all day long and let the cool breeze waft through the house?
As good as that sounds, the cool breeze would also bring with it bugs, leaves, and other debris. There is, however, an affordable home improvement that allows you to enjoy the fresh air while keeping the miscreants out: installing a screen door.
In this short read, we're going to take a look at everything you need to know about screen door installation, from the types of screen doors to their costs and the installation process.
Are they the same as storm doors?
A common misconception is that storm doors and screen doors are the same. However, they are functionally very different. While storm doors are primarily designed to protect you from the elements, screen doors are meant to let the outside air in.
This is why storm doors have rugged frames made of aluminum, vinyl, or steel and feature toughened glass panels. Sliding storm doors may also feature a sliding screen, so you can let the elements in when you want to.
Screen doors, on the other hand, are rather flimsily built. Their purpose is not to offer protection against inclement weather. This also means installing them is fairly easy to install, so you can do it yourself over the weekend.
Know your screen doors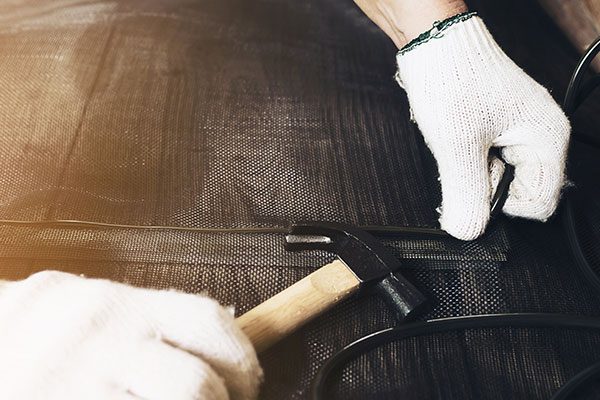 There are three popular types of screen doors you could choose from. Let's take a look at what they are.
Traditional screen door
The traditional screen door design is the most commonly found variant. This type fits into the outer portion of the exterior door jamb. It is designed to open outwards.
You could choose from plain, nondescript designs for the door frame or opt for an ornate door frame to complement your front door design.
Wood is the most commonly used material of choice. Although you could choose from vinyl and aluminum door frames as well.
While you can get an unfinished pine door for as little as $30, aluminum or vinyl doors are a little more expensive, costing around $50. An ornate custom design may put you down around $200.
Retractable screen doors
Retractable screen doors are based on the same principle as pull-down window blinds. The screens are stored in spring-loaded casings. They are positioned either at the top of the door frame or at the side of it.
All you need to do is pull it down or across the door to let some bug-free fresh air into your home. Retractable front doors come with the added advantage of not compromising your home's curb appeal since they are pretty much invisible when they're not in use.
You could get a really cheap model for as little as $30, but these models come without sidetracks, which means you have gaps through which bugs could get in.
At the other end of the price spectrum, for around $550, you get motorized, remote-controlled screen doors with secure tracks. You even have double-door models for French doors.
Slider screen doors
These are designed specifically for sliding patio doors, where the screen door sits in an aluminum frame installed on the exterior track of the sliding door.
While the most common size available sells for around $40, one size does not fit all, in this case. A custom size may cost as much as $100, depending on the manufacturer.
Installation process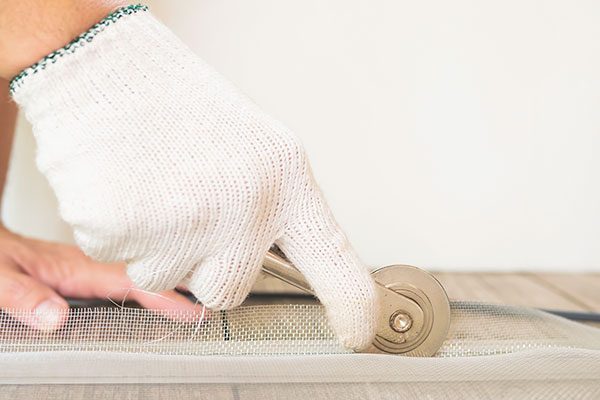 Traditional door
Measure your door and buy a screen door of the same size.
The materials you will need are a drill, measuring tape, and a pencil to mark the positions to drill pilot holes.
Drill holes and install the upper and lower hinges at the same level as the door hinges. This ought to be approximately around 8 inches from the top and bottom.
Your screen door opener or door handle should also be installed at around the same height as the door knob.
It is important to use shims to center the screen door in the jamb. Remember that a gap of ⅛ inch is maintained on the top of the door and at the sides, while the bottom has a gap of at least ⅜ inch.
Since these doors are universal, you can attach the hinges on either side of the door, as per your preference.
Most doors come with a spring to hold the door closed when you don't want it open all the way. This door closer is installed on hooks around midway, typically behind a push bar.
Read more: How to lubricate door hinges
Retractable screen doors
Tools remain the same, except for the addition of masonry screws and a concrete bit if you need to attach a bottom track to the porch.
Instructions to install differ depending on the manufacturer and the model. Some high-end models need professionals to install the door.
Read more: How to fix a hole in a door
Slider screen doors
Place the door in position on the exterior track and lift it up to hook it onto the roller on the track runner.
Pro tips:
While most manufacturers paint wood screen doors before shipping it, some may come with the bottom and top edges unpainted. Paint these with matching exterior paint to prevent weathering.
You will need to install a door sweep if the bottom of the door has a large gap. Otherwise, dirt and bugs have an all-access pass to your home.
Read more: Loose door knobs
What to know about screen door installation
was last modified:
May 13th, 2023
by
Recommended