Paving materials are broadly divided into two categories — composite and quarried. The former (which is processed when soft and then fire dried) comprises paving options such as bricks and concrete. The latter includes quarried stone materials which are first dug out and then molded into desired shapes by splitting, cutting, or crushing. Selecting the correct alternative among the different types of paving materials may seem to be an exciting task.
However, with so many options available, you might get confused. Each type comes with its own advantages and disadvantages. Understanding the major attributes of every category will help you in picking the perfect option, which matches your requirements and budget.
An Overview of the Different Types of Paving Materials
| Paving Material Type | USP (Unique Selling Point) |
| --- | --- |
| Slate | Unique texture and color |
| Gravel | Budget-friendly |
| Granite | Tough and weather-resistant |
| Limestone | Distinct, velvety finish |
| Sandstone | Easily available and easy to work with |
| Cast-in-place concrete | Cheapest paving material |
| Pre-cast concrete | Huge variety of colors and textures |
| Brick | Suitable for all climate types |
| | |
Quarried Stones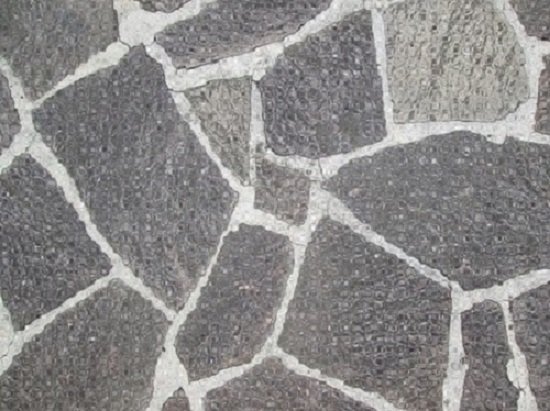 Stones fall under the quarried type and they are one of the common and most popular paving materials. Available in various colors, shapes, and sizes, natural stones offer a vast price range and are durable and versatile. You have the luxury to choose a stone variant as per your style specifications — ranging from irregularly shaped flagstones to precisely cut geometric blocks. Again, stones can be classified into various types, which are as follows:
Slate
Slate is available in a myriad of textures and unique, subtle colors. Quite attractive and often used as a flagstone, slate is easy to be shaped into flat, customized slabs. Do note. This factor also limits its usage as an outdoor material. Heavy traffic and harsh weather conditions can often cause slate to chip and flake.
Pro tip: Always use slate as a paving material in sheltered areas or regions with a mild climate.
Granite
If your primary requirement is durability and strength, then nothing can beat granite. Perfect for formal outdoor spaces, granite comes in cubes, brick-shaped pieces, or uniform-sized flagstones. It offers the largest range of options, among natural stones, in terms of colors. However, since granite is so hard, it is difficult to quarry and install — making it a costly option.
Pro tip: When price is a concern, use colorful granite sets as accents over your pavers. This will bring in its elegant looks and shall minimize your costs.
Gravel
When budget is a concern, gravel is usually a go-to option for home owners. It is easy to install, comes in striking texture variations, and is a wonderful choice if you want an informal look in your landscape. The cons of gravel include it being susceptible to undergrowth. It is also a bit unstable to tread on.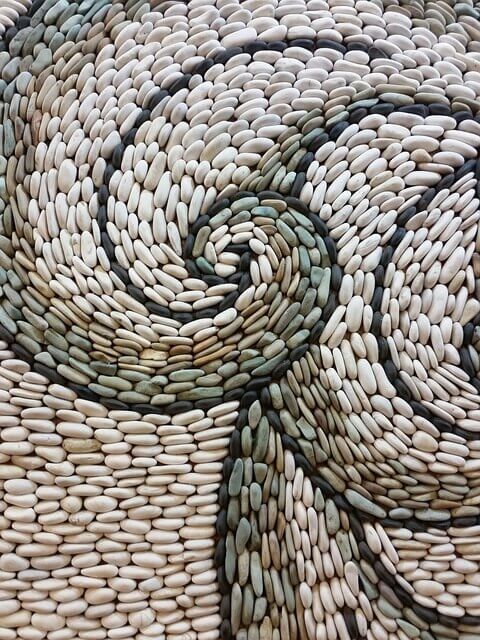 Pro tip: If you wish to buy gravel, always look for this label — "1/4 inch minus". Anything with dimensions bigger than this will shift and cause instability to increase.
Limestone
The fine-textured limestone offers a distinct, soft look and is evenly colored. It sports a limited range in terms of shades. But it is pretty easy to mold and cut into various shapes and sizes. The composition of limestone makes it vulnerable to acid rain. Continuous exposure can cause pitting and result in your pavement wearing out with time.
Pro tip: Opt for limestone if you want a distinct, velvety finish. Also, check for acid rain frequency. So, if you don't live in an area with a serious acid-rain problem, then you can use it without any worry.
Sandstone
Sandstone is a versatile paving material, mainly because it can blend in with almost any kind of landscape. It is also available in an infinite range of color options. Additionally, it is easy to work with, is less expensive, and offers the same level of durability like granite. This category of quarried stone is easily available everywhere and you can get almost any quantity of stones, as required, in any locality.
Pro tip: When budget, durability, and availability are concerns, go for the all-rounder paving material, i.e sandstone.
Composites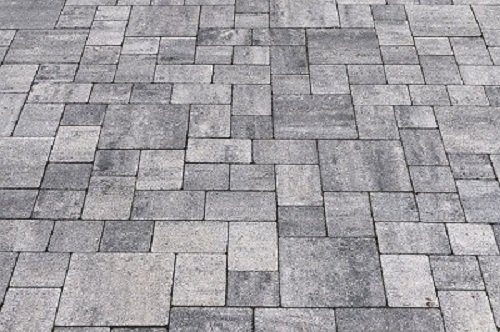 Composite are more versatile and flexible when compared to quarried stones. You can easily mold them into different dimensions and even find them in several price ranges. Just like quarried materials, composites are available in a gamut of colors, textures, and styles. Below are the three types of popular composite pavers.
Cast-in-Place Concrete
Affordable and the standard go-to option for maximum home owners, concrete is quite easy to install and maintain. Now, if you think that cast-in concrete is plain because it is a conventional choice, then you are not entirely correct. Nowadays, you can get it in various patterns, textures and colors, to liven up your outdoors.
Precast Concrete
Modular and available in many shapes, sizes, and shades, precast concrete pavers are perfect if you want the unique look of stone but don't wish to spend several dollars. You can also get modular permeable systems, which will soak in water instead of creating runoff — thereby, making it suitable for driveways, walkways, and patios.
Brick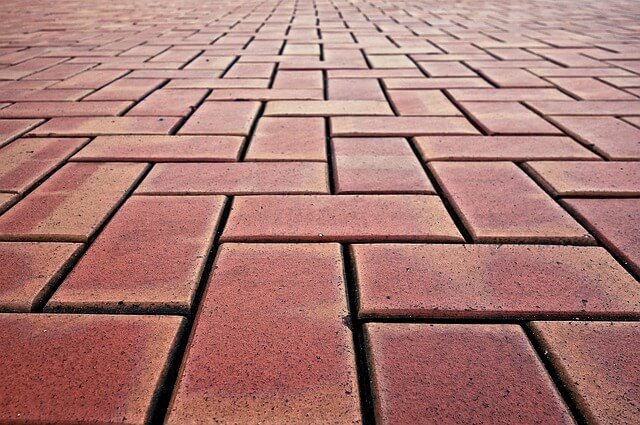 Classic brick blocks, with their reddish tones, shall lend warmth to any outdoor space. A combination of several uniformly sized bricks brings in a fun tone and suits almost all types of hardscapes. You can use them in wood decks and also in combination with other paving materials.
Conclusion
So there! Outlined above are the different types of paving materials from which you can choose one that matches your surrounding landscape. It should blend in with your fence, garden walls, plants, and any other outdoor elements that you are using. Whatever you do, spend some time and do the required research before arriving at a decision. Because, once you install your paving, it shall stay in your garden or lawn for several years — affecting the long-term appearance of your exteriors.
Read more: Cost to install laminate flooring: A complete guide
Different Types of Paving Materials: A Beginner's Guide
was last modified:
October 14th, 2022
by
Recommended