Laminate flooring is a boon for homeowners looking for a stylish look for their floors. And that too within a budget. What's more, it is easy to install laminate flooring and maintain it. It even holds up well in high traffic areas.
The best part is, it can imitate hardwood, tile, and even stone floors – for a fraction of the price of these materials. Laminate flooring gives a high-end look without the high-end price.
Before we begin looking into the installation cost of laminate flooring, let us first answer a basic question for the uninitiated.
What is laminate flooring?
Laminate flooring is a multi-layered synthetic floor that is fused together through a lamination process –and hence the name. It easily simulates the look of wood, stone, or tile with a photographic layer under a clear protective layer.
Such flooring is easy to install, costs less, and lasts up to 30 years. Furthermore, the durable flooring option has the ability to withstand exposure to debris and water.
In case you want to know more about laminate flooring and its safety concerns, you can always do your research and be better informed before its installation.
How Much Does It Cost to Install Laminate Flooring?
The average cost to install laminate flooring is $2,8oo. This cost does NOT include the cost of removal of old flooring, re-installation of molding or baseboards, furniture removal, and delivery as well as installation fees.
Most homeowners spend anywhere between $1,500-$5,000 for full laminate installation.
The reason for this huge difference in price is because of a lot of factors. The number of square feet you plan to cover, the selection of laminate, the brand of the laminate, the complexity of the job, the condition of your subfloor, removal of old flooring, additional materials needed, and so on.
When it comes to square foot cost, a homeowner can typically expect to pay $2.00 – $3.00 per square foot for the installation, $1.50 per square foot for materials, and upward of $0.30 per square foot for the underlayment. Whether hiring professional floor installers or doing it yourself, it's best to get a cost estimate for your home improvement.
This article will help you understand all about laminate flooring costs and how the above factors affect them.
Instantly estimate the cost of your remodel...
...or take your time to personalize dozens of choices to transform your house into your dream home.
Factors affecting the laminate flooring cost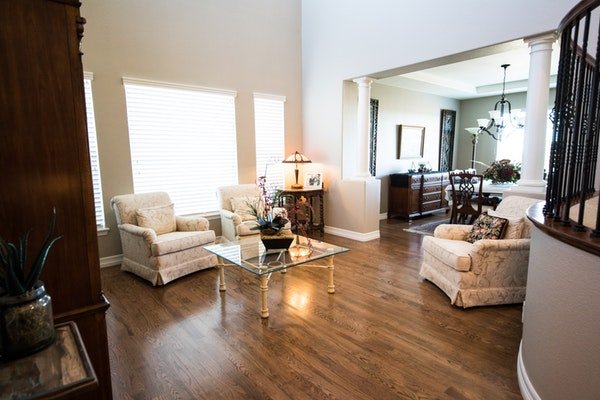 Total area to be covered
Generally, the smaller the square footage, the lower is the price. However, this is not true in the case of lamination. The installation cost tends to be on the higher side for smaller areas. The reason is that there is a lot of trimming involved — making the process more time-consuming.
This is especially true if you have a set of stairs or landing in the area. You require extra flooring materials to work around such areas.
Quality of laminate floor
Scratch-resistant: $0.68 – $2.59 per square foot

Noise-resistant: $1.39 – $2.59

Water-resistant: $1.69 – $2.79

Radiant/underfloor warming approved: $0.68 – $2.79

Installable over cork underlayment: $0.68 – $2.84

Flooring requiring no waxing or polishing: $0.99 – $3.33

Attached underlayment: $1.88 – $2.79
Read more: Laminate vs hardwood flooring.
Underlayment cost
Homeowners can expect to pay $2.95 to $4.60 per sq. ft. for a basic underlayment installation. Buying flooring with pre-applied underlayment will save you money in labor, but it is more expensive. There are always other options to install it separately.
For instance, if your laminate doesn't have a built-in underlayment, you can purchase a separate foam padding that will provide cushioning, absorb sounds, and even out the subfloor. Such padding will cost you $30.00 per roll.
A separate moisture barrier, or an underlayment with a built-in moisture barrier, will cost you $35.00 per roll. If you live in a moisture-prone area, we highly recommend this step.
Flooring thickness
Laminate flooring comes in varying levels of thickness. A laminate ranges between 8mm to 12mm in thickness. Needless to say, the thicker the laminate, the more resistant it is to bending caused by an uneven subfloor or impact.
There are other benefits such as better sound absorption and easier installation. The average cost for an 8mm laminate is $1.79 per sq.ft., 10mm is $1.99 per sq.ft., and 12 mm is $2.29 per sq.ft.
If you opt for high-quality laminate, it will cost you between $3 and $5 per square foot. It has an overall thickness of around 1/2-inch.
Textures and finishes
Laminate flooring comes in a variety of different textures. For instance, when it comes to wood laminate flooring, you can choose from the following options:
Embossed: This overall style texture ranges from

$1.79–$2.99 per sq. ft.

Embossed in the register (EIR): This natural-looking flooring adds depth and texture to the alignment of the floor. The price ranges from

$1.89–$3.99 per sq. ft.

Handscraped: This pressed floor resembles a hardwood floor and costs between

$2.99 and $5.99 per sq. ft.
You can also choose different finishes for your laminate floor. When it comes to cost, there is not much of a significant difference. Below are some of the most popular laminate finishes:
Gloss: Makes the floor more eye-catching and stand out. Suitable for event or club locations.

Matt: A no-shine flooring that is perfect for professional businesses.

Wood: Such a floor is designed to give an aesthetic touch.
Installation labor cost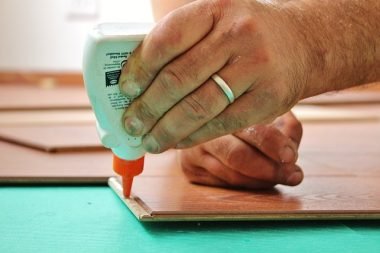 One of the most important factors that affect the total flooring cost is labor. The average cost of labor when it comes to installing laminate flooring is $1.72 per square foot. If you have a 330 square foot living room, for instance, you can expect your labor costs to be about $570. Basically, labor costs make up anywhere from 20% to 50% of your final cost.
A qualified contractor will install laminate flooring and charge either per hour or per project. Before the actual installation begins, there is flooring removal or carpet replacement to take care of. Let's see how much the labor cost varies in both cases:
Flooring removal
Although laminate flooring can be installed over an existing floor and save you some time and hassle, it's best to hire a carpenter to remove your subfloor and lay a new one before the installation. There is no issue of uneven flooring with professional help.
A carpenter will charge you around $70 per hour, on average. The approximate cost of removing a 200 sq. ft. floor is $400 to $550.
Carpet replacement
A carpet does not make for an acceptable subfloor. Removing your existing carpeting is a must. If the installation doesn't entail any repair work on the concrete below, a carpet removal will cost you $0.50 to $1 per square foot.
A carpenter will need to repair any damage to the concrete floor if the carpet is glued to it. He will then level and prep the subfloor with sandpaper or through patching. Ideally, it must be flat or level within 3/16" from one end of a 10' room to the other.
Abrasion class rating (AC rating)
Another cost factor for laminate flooring is the AC rating — denoting a laminate's resistance to wear and its suitable location. These ratings are on a scale of 1 to 5. The higher the rating, the higher is the durability and cost.
Read more: Top Wood Flooring Types for That Perfect Interior
Moldings and trims
Molding and trims add the finishing touches to your laminate flooring. You can choose from the following options:
Quarter round molding: It fills the space between the floor and the wall.

Approximate cost: $0.99-$3.00 per sq.ft.

Threshold molding: It finishes the space between the floor and the carpet.

Approximate cost: $3.25-$7.00 per sq.ft.

T-Molding: It finishes the space between the floor and 2 pieces of laminate.

Approximate cost: $3.49-$6.00 per sq.ft.

Flush stair nose: It finishes step downs, stairs, and landings.

Approximate cost: $4.50-$6.50 per sq.ft.

Step nose: It's used for spaces where the laminate floor meets a step or landing.

Approximate cost: $5.00-$10.00 per sq.ft.
Additional considerations and costs
Darker laminate colors are considered premium colors and will increase the total cost. The lighter, less popular, colors are often cheaper.

If you want to install a radiant floor, the average cost in a standard-sized home is anywhere from

$6000-$14,000

depending upon the time it takes for the work to be completed.

Time of the year affects your installation costs. Do not plan your laminate floor installation for fall as it is a very busy time for contractors and carpenters. Aim for the late winter months and try to find the best deals.

Before you hire professionals for the installation, you can remove and replace the old subfloor or carpet yourself to lower your

home renovation costs

.

Make sure to buy 5%-15% more flooring and underlayment than needed.
Get at least three estimates for the installation for a clear idea of the total home improvement costs.
Maintaining a laminate floor is easy. It does not require any waxing and can be mopped with a damp mop or swept. However, do not install it in high-humidity areas such as bathrooms or laundry rooms.
With proper care, chances are that your laminate floor will serve you more than 30 years!
Read more: How to estimate a remodeling job
Conclusion
If you are looking for a cost-effective way to improve the look of your home, a laminate floor is your answer. More often than not, a high-quality laminate will resemble wood, tile, or stone — at a much cheaper cost. And, your friends and family won't even notice the difference.
When it comes to installing laminate flooring, we hope this article helps you get better clarity regarding the costs. Just remember to factor in the various expenditures associated with your laminate flooring, including, type of laminate, additional materials, and labor costs. With careful planning, your final cost won't be a surprise, or should we say, a shock to you!
Read more: Winter wood floor trends know
Laminate Flooring Installation Cost Per Square Foot
was last modified:
May 26th, 2022
by
Recommended