Smart renovations: How to estimate a remodeling job
Home improvement projects can be a stressful time for any homeowner. And no aspect of any home remodeling project can give a homeowner the heebie-jeebies like budgeting can. Set too low a budget, and you will end up either overshooting the budget entirely or using substandard materials.
Not setting a ceiling limit on how much you're willing to spend will see you burning holes in your pockets. The smart thing to do is to estimate the cost of your project before you begin. Here's a short read to introduce you to how to estimate a remodeling job.
Factors to consider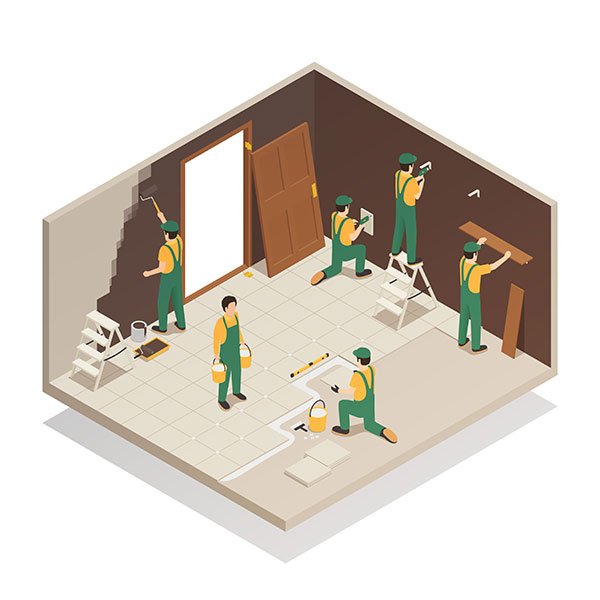 While estimating the cost of a project, you will need to factor in expenses ranging from materials to your contractor's profit margin. Here's a look at the factors you will need to consider.
Check previous estimates
Check how much similar remodeling jobs in the recent past have cost other homeowners in your neighborhood. This should give you an idea of a ballpark figure to work with.
Instantly estimate the cost of your remodel...
...or take your time to personalize dozens of choices to transform your house into your dream home.
Add materials cost
Next, make a list of all the materials your home remodeling project will need, and figure out how much that will cost you. While there are online apps designed to help you arrive at the cost of materials for the project, the best way is the old-fashioned way: go visit a couple of hardware stores that contractors purchase their materials from and get a quote. Who knows, you may even get a sizable discount.
Factor in labor costs
Once you know how much your materials are going to cost you, the next step is to factor in the cost of labor. While you may be paying your contractor a fixed hourly rate, your contractor will have to break that down into insurance, vehicles, workers' compensation, benefits, bonuses, and more.
You will also need to factor in the number of man-hours the job will take. Minor remodeling work, such as repairing a leaky faucet or changing a couple of switches will take only around an hour. Replacing windows or doors and repairing drywall will take two to four hours. More complicated renovations like renovating a bathroom or master bedroom may go on for a few hours.
Consider overhead costs
While you may think you've covered all bases, you're forgetting a major factor: the overhead expenses incurred by your contractor, or his profit margin. Remember, your contractor is also running a business, and his profit margin needs to cover a variety of costs including monthly living costs, health and liability insurance, tools, advertising, and a lot of other costs.
Using Kukun's Home Renovation Cost Estimator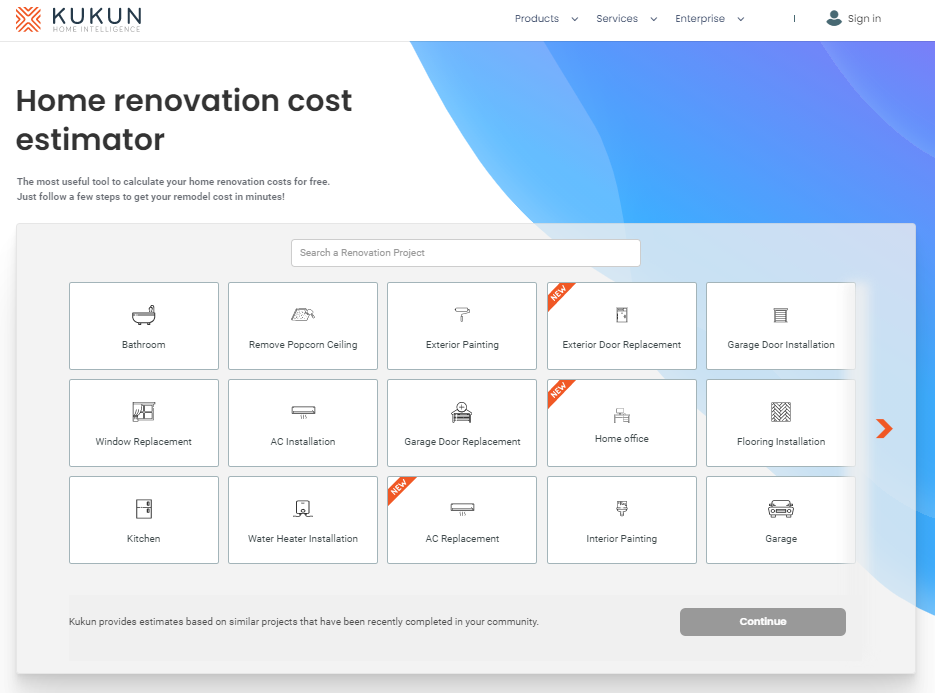 There is a simpler way of estimating a remodeling job. Simply get on to the Kukun website and use the drop-down menu under the Tools heading to choose Remodel Cost Estimator.
The Kukun Remodel Cost Estimator gives you accurate estimates depending on the type of remodeling you have in mind. Whether you want an in-law suite, remodel your kitchen, master bedroom, bathrooms, remove your popcorn ceiling, replace garage doors, install new exterior doors or windows, remodel your great room or simply paint the interiors of your home, we've got it covered.
A popular request nowadays with the advent of online gaming and esports is with people looking at remodeling or adding gaming rooms to their homes. Choose whether you want to add a game room, remodel an existing game room or expand your existing game room. You will get a detailed estimate based on the size of the room, the scope of work, the kind of materials and finish you choose as well as your location.
Estimating your renovation project accurately is often the difference between saving and losing money. Use our home renovation cost estimator to ensure you don't spend any more than you should while renovating your home.
Read more: Cost of building your own home
Smart renovations: How to estimate a remodeling job
was last modified:
November 30th, 2021
by
Recommended