Are you planning on updating your dining room lighting? Getting the perfect dining room light fixture — that goes well with your interior design — should be the top-most priority on your renovation list.
The good news is that there are innumerable options to choose from. From sleek pendant lights and dramatic crystal chandeliers to elegant wall sconces — the light fixtures and lighting ideas you choose will add a touch of sophistication.
Therefore, it's important to choose fixtures that provide the correct amount of light while complementing your dining room decor.
We have listed out eight clever lighting ideas to help you get started in choosing the perfect dining room lighting. So, here goes.
1. Eye-catching Dining Room Chandeliers
Chandeliers beautifully create an instant focal point in a room. Today, they are no longer reserved just for traditional dining rooms. They can be contemporary, sleek, or even minimalist.
Having said that, you can still opt for ornate ones featuring multiple dangling crystals. This kind of soft, cascading light accentuates rich wood furnishings perfectly.
If a more minimalist or contemporary design is your style, you can consider a wrought-iron dining room chandelier with candelabra to add a touch of timeless elegance.
Need brighter lights in the dining room? You may even opt for an LED light chandelier thanks to technology!
Keep the hanging height for these light fixtures between 30 to 35 inches above the dining table for optimum lighting.
2. Unique Wall Sconces
You can choose different-looking wall sconces for unique lighting. These are mounted directly on walls to provide both ambient and accent lighting.
If you have a large dining space, try to incorporate a wall sconce in each wall corner. This way, you will ensure optimal light. You can even pair these light fixtures with dining ceiling lights.
Need romantic dining room lights? Wall sconces, with dimming features, work well to create intimate settings. Especially, when paired with candles as accent lighting.
3. Dreamy Pendant Lights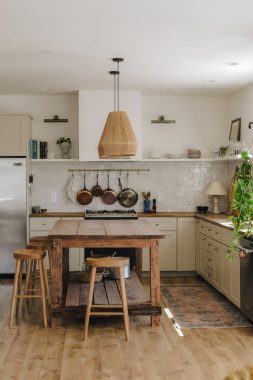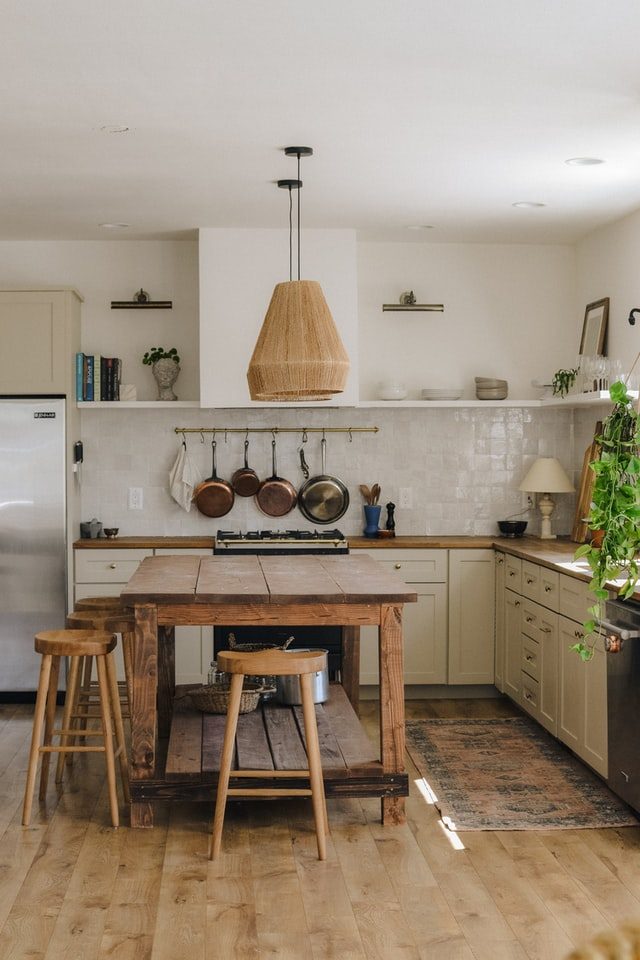 If you are looking for a versatile dining room lighting option, go for pendant lights. They adapt to practically any space.
The best part is, they are available in a variety of styles. What's more, these lights are easy to install. Typically, pendant lights hang from a single chain and emit ambient light throughout your dining area.
You can create a beautiful dining space with the perfect amount of contrast and style. For instance, you can combine pendant lights with colored drum shades with modern furnishings in black or white.
For a more traditional look, choose a chandelier pendant or triple-globe pendant. It will softly illuminate your dining table. Similar to chandeliers, the ideal height for pendant lights should be 30 to 35 inches above the dining table.
4. Glorious Skylight Over The Dining Table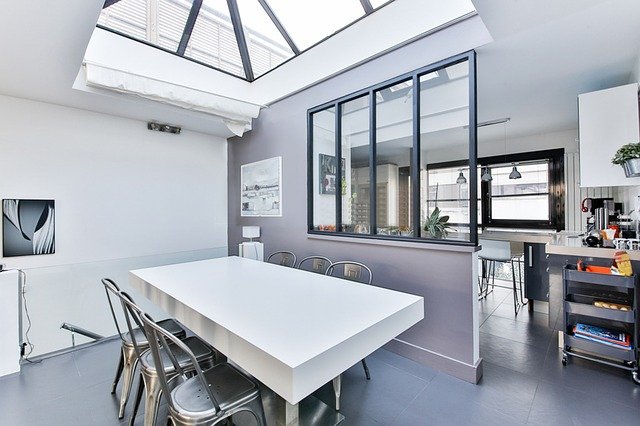 Nothing beats letting in natural light through a skylight over the dining table. It makes the room bright, airy, and might we add, glamorous. Opt for a  fixed skylight made primarily of glass or plastic. It will wash the room with sunlight during the day and you can gaze at the stars while enjoying your dinner at night.
5. Modern Track Lighting
Track lighting offers soft to bright overhead light. It's more suited for modern, contemporary, and industrial-style houses.
These track lighting fixtures are easy to install. They can be either flush to the ceiling or made to dangle from sturdy chains. Generally, you will find that these are constructed with metal — holding pendant lights, spotlights, spheres, or mini-lanterns.
The feature that we love about track lights is that you can easily adjust each individual light to your liking. Also, use it to throw focus on your artwork or family pictures.
When installing such modern dining room lighting above your table, consider a set of two tracks for each side of the ceiling to ensure balanced light. You will end up creating the perfect ambiance in your dining space.
6. Flush Mount Lighting
Flush-mount light fixtures protrude from the ceiling surface, but not much. They are designed in such a way that they allow light to filter out through glass or diffuser pieces.
If you have a smaller dining space, these lights are ideal for you. And, who says you cannot go all out in a limited area? Let your flush mount lighting feature the same beautiful crystals of traditional chandeliers. Just keep the design compact.
You may even opt for three-light flush-mount fixtures with circular glass shades to add soft lights to the room. These will illuminate your dining room without being overpowering.
7. Semi-Flush Mount Bowls and Lanterns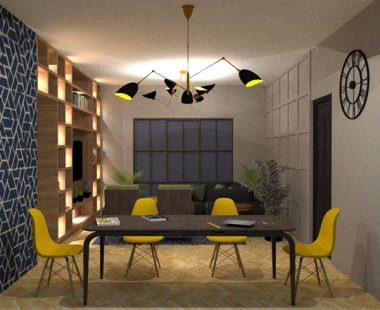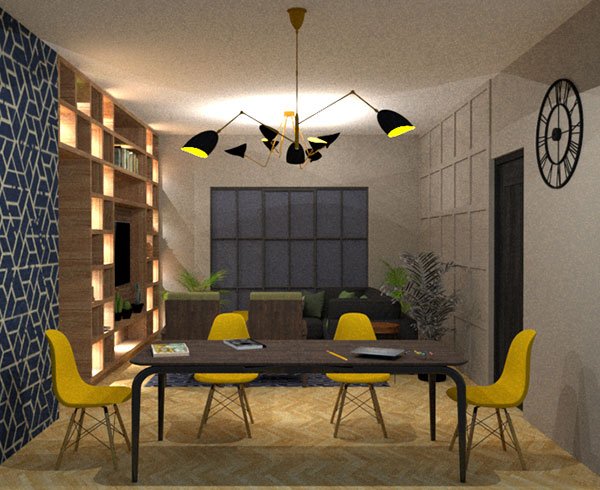 As the name suggests, a semi-flush-mount lighting fixture typically features a single bowl, shade or lantern. It hangs down from the ceiling slightly, allowing light to reflect off the ceiling surface.
Here too, the choices are many. You can go for Tiffany-style bowls to glass lanterns with candelabra lighting. Or, opt for Nelson bubble lamps that look modern and chic. Whichever you choose, they are bound to be extremely versatile, going well with a wide variety of dining room design schemes.
8. DIY Pulley Dining Room Lights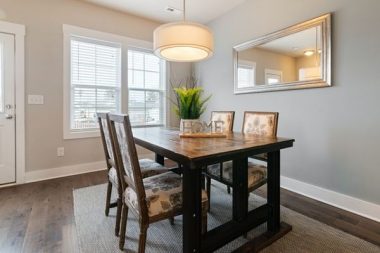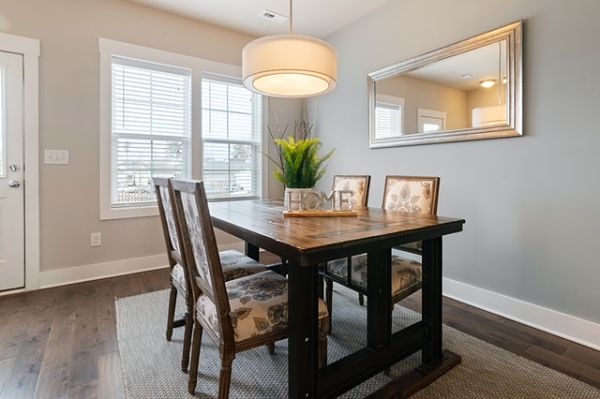 Want to create a bright and open ambiance, but within a tight budget? Opt for DIY lighting ideas. We love the cleverly installed barn pulley pendant lights. They take up less visual space and yet are effective in making the dining table the focal point of this small dining space. These, combined with wrought iron chairs, give the room an industrial feel.
Now that we have listed out some lighting ideas for your dining space, it's time for some lighting tricks and tips for making this area even more beautiful and bright.
10 Tips For The Perfect Dining Room Lighting:
The main function of the dining room lighting is to illuminate the table, usually from a source located above it. As a general rule the light should be clear, without disturbing the diner or producing shadows.
The dining room light should be at least 12 inches smaller than the table from all directions.
When choosing a pendant lamp for dining room lighting, make sure the light is not placed very low. It should hang about 30 inches above the surface of the table.
It's important to determine the required wattage according to the room size. Multiply the width by the length of the room (in feet). Then, multiply that number by 40. The result will be the collective lumen output that you should aim for.
The light must not radiate a lot of  heat or be too bright; as it is annoying to the eye
Pick a light fixture that complements the dining room table. Generally, round fixtures such as chandeliers go well with round tables. Whereas, linear fixtures such as track lighting look good over a rectangular table.
To create a more flexible and decorative setting, combine general light with side lighting. Try a wall lamp, a floor lamp, or a lamp on a side table.
Use lights with a dimmer switch to create different ambiances.
For more functional dining room or kitchen lighting, use layers of light with recessed lights and additional wall sconces.
Illuminate a long or extended table with two aligned dining room lamps. Keeping them at each end of the table creates an interesting ambiance in the room.
Last Thoughts
Picking out the perfect dining room lighting plan (or for that matter, outdoor lighting) need not be complicated. You just need to use light fixtures that go well with your dining space and complement its decor.
A dining room can be cozy and welcoming, and your choice in lighting will set that tone. Make the lights a focal point of this area and create a lively space.
Read more: 20 Stylish Living Room Lighting Ideas
8 Popular Dining Room Lighting Ideas
was last modified:
April 20th, 2022
by
Recommended