Door caulking and its role in your home's energy-efficiency
Having an energy-efficient house is every homeowner's dream. It doesn't just translate to lower energy bills but also to a more comfortable living. That's why window and door caulking should be high on everyone's priority.
The fact is, any gaps in your house will allow in air and water – leading to leaks and water damage. This can wreak havoc on your home, and its very foundation. That's why, it's extremely crucial that you use an effective sealant to close all the gaps around your house windows, doors, showers, and sinks. The ultimate goal is to make your living space a more pleasant place to be in.
What is door caulking?
Caulking around the door frames is done through a sealant. The flexible material is applied with a caulking gun to effectively fill all the gaps, cracks, joints, nail holes, and similar imperfections on the door. The idea is to prevent any moisture or air from penetrating the surface and causing deterioration inside the house.
The thick, viscous solution is designed to seal the seams in your windows, doors, siding, gutters, and roofing tiles so that your home remains waterproof and energy-efficient. You can caulk both interior as well as exterior doors.
Exterior caulk is an easy-to-use, inexpensive way to fix cracks around the exterior of your home. However, it's not a good idea to use caulking for gaps larger than ¼-inch in width. An alternative way to seal the movable components of your house such as doors and operable windows is weatherstripping.
Read more: A guide to weatherstripping your house
Should you caulk around doors?
Caulking helps to seal the gaps between your door frame and the wall. Therefore, you need to regularly inspect the caulking around every interior and exterior door on your property – including the garage doors, front door, back doors, and patio doors.
Caulking also helps in making a room soundproof. Keep in mind that moldings typically cover the openings between the wall and the frames of the doors. However, these moldings are not adequate enough to block out any air leaks or sound transmission. That's why caulking around the molding can help a great deal in soundproofing a room.
Additionally, caulking can also help prevent water damage inside and outside your home. Make sure you apply caulking around the sink faucets, ceiling fixtures, water pipes, drains, showers, bathtubs, and other plumbing fixtures as well.
How much caulking to buy?
You'll probably need a half-cartridge per window or door, and four cartridges for an average-size home's foundation sill. However, for small caulking work, you can buy caulking compounds available in aerosol cans, squeeze tubes, and ropes.
Keep in mind that there are several types of caulking compounds available. You can find them in a variety of strengths, characteristics, and prices.
How do you caulk a door?
It's critical to smooth and shape the sealant joints around your external doors in order to keep them safe and airtight. Here's how to go about the process of door caulking:
Remove the old sealant and backer rod, if any, by using pliers.
Use a box cutter knife or an electric knife to remove stubborn caulk residue.
Clean the surface with the help of a solvent and a rug. And, here's a tip: Cleaning up a solvent-based caulk requires a solvent, but water-based caulk can be cleaned with just water.
Insert a backer rod if the gaps between the door frames and walls are wide.
Apply a quality sealant with a caulking gun.
Smooth the caulking joints with a wood stick to make the joints airtight.
When should you apply caulk?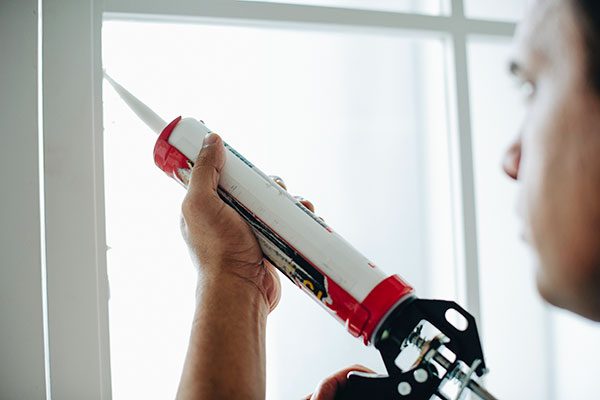 Caulk should be applied during dry weather when the temperature outside is over 45°F. Keep in mind that low humidity is required during caulk application to avoid cracks from swelling due to moisture. A warmer temperature is also required for the caulk to effectively adhere to the surfaces and set properly.
Door caulking cost
Sealants and caulking typically cost between $5 and $18 per linear foot. To know exactly how much caulking you'll need, you'll have to measure the length of your door or the wall with a tape measure. Next, count the number of joints you need to seal. Now, multiply these two figures to get the linear feet of sealant required for the caulking project.
Last thoughts
If you're experiencing cold drafts or notice moisture coming through your doors, it's probably time to replace your door caulking. A damaged caulk will make your house less energy-efficient and uncomfortable to live in. Now, that's something no homeowner wants. Therefore, replacing the old sealants should be considered an important task in your home maintenance schedule – both for yourself as well as for the well-being of your property.
Door caulking and its role in your home's energy-efficiency
was last modified:
October 14th, 2022
by
Recommended