The Renovation Black Hole: How To Prevent A Renovation Disaster
So you think you're signing up for an Adventure in Wonderland… Beware my friend, without the proper tools you could end up free falling into the dreaded renovation black hole. Or worse, a pissed-off queen can chop your head. Luckily, we have a few tricks up our sleeve to help you prevent a renovation disaster.
The Struggle Is Real.
Take the warning seriously, this is not Alice's dream and you never completely recover from a renovation nightmare. The fear lingers on.
According to a Houzz survey, home renovations make 12% of couples consider divorce or separation. Therapists say that on a scale of 1 – 10 a remodel rates 6 in terms of stress in a relationship.
We're not drama queens. The struggle is real. So start by taking your renovation seriously and taking advantage of all the possible tools that will help you have a successful home renovation.
In This Case, The Joy Is In The Destination, Not The Journey.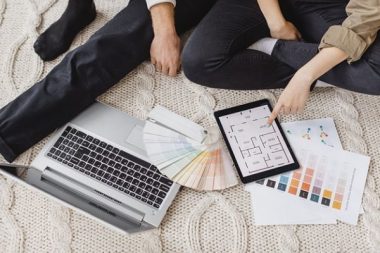 And the joy basically depends on how prepared you are. When the remodel bug bites you and you're high with renovation stamina, you want to get started right away. DON'T. You have to research first in order to have a successful home renovation.
You will be expected to make a huge amount of decisions in a very short period of time. If you're undecided, your project will come to a standstill until you've made up your mind. And when time is money, everyone will be pressuring you to make speedy choices you may later regret. (When the contractor's out the door, you will most certainly blame your significant other for poor decisions. You will BOTH have to live with them. Literally. So you DO have to think it through.)
Step 1:

Get an estimate of your remodel

. If you have a clear and accurate idea of your home renovation cost, you can budget accordingly and prepare your finances to keep up with the project. You can even think about

getting loans to help you with the costs

.

Step 2: Now that you know what you can afford, create a Pinterest board with your significant other. Do this BEFORE you speak to any professional. Contractors don't like to have their time wasted. (And you might be surprised to find that your better half might be design challenged or that your soul mate is not your dynamic design duo). It's better to know this before you have deadlines due.
Once you have a clear destination, you can start your journey. Never before. Start with the end in mind. This is the first secret to prevent a renovation disaster.
Read more: Essential checklist homeowners after home renovation process
Pick Your Dream Team
Teams prepare to win. Conscious strategies and hard work are necessary to score. After you've prepared for your home renovation, you might be able to point out your strong points and weaknesses. And you also know the strengths and weaknesses of your better half. Awesome, you're a great coach.
Except, that's not your whole team. Your contractor is going to be the captain. If you want to prevent a renovation disaster, you want to pick the right guy to lead your team to the score line. But, how do you pick? You don't know who they are, or if they're going to perform according to your game strategy.
There is a way to choose your best player: By watching their previous games. Or in this case, their previous works. You don't want to read biassed sports critics and commentaries. (Which in this case, are online reviews.) You want to see their score card. And by this we mean their actual references and permits. This is the only way you can pick the right captain for your team.
After all, as much as we love having tea with the Mad-Hatter, no one wants to solve riddles while the house is falling apart. We want The White Rabbit who is focused on the goal.
Time Is Money
There is no "I" in team, but there is in time, and time equals money. When money is involved, people get weird. (Remember Jerry Maguire?) If you don't want to end up blaring show me the money to your contractor, you have to stay on top of your schedule.
Like the White Rabbit: watch in hand. No time to waste.
Establish a clear schedule of tasks with your contractor.

Go through the tasks, and determine which ones are dependables. In english: determine which tasks have to be completed first in order to move on to the next.

Establish a clear schedule of purchases.

Consider weather set-backs.

Use a tool to schedule deadlines so you can remain on top of your project and prevent renovation disaster.
Drink Me: Magic Potions To Renovation Bliss
Renovations have been dreaded for a long time. But, we have magic potions to help you prevent a renovation disaster.
We have created a

free estimate calculator

to help you determine your budget.

We've partnered with industry leaders to offer you the

most accessible loans

to make your dream come true.

We've created an easy to use software that enables you to compare and understand

different contractor's quotes

. No more guessing what's included in a quote or if the price is right. It's all in same format so you know what your contractors are talking about.

We have gathered data and created

fact sheets of professionals

near you, to help you compare and hire the right one for your job.

We've considered your busy agendas, and we provide you with reminders of purchase and task deadlines so you can stay on top of your project.
There are no excuses. You can drink them and be merry or you can go down the renovation black hole.
The Renovation Black Hole: How To Prevent A Renovation Disaster
was last modified:
May 1st, 2022
by
Recommended