Wondering, what kind of fire extinguisher for kitchen should you be looking for? This guide will help you choose the best kitchen fire extinguisher through certain relevant parameters.
Having a fire extinguisher is absolutely necessary to keep your home and your loved ones safe. According to the National Fire Protection Association (NFPA), there's one death every three hours in the United States due to a house fire. That's 3,000 deaths per year. Every homeowner needs to arm themselves with the right equipment to contain a house fire and prevent it from spreading out of control before the firefighters arrive.
Types of kitchen fire extinguishers
When it comes to fire extinguishers for the kitchen, you can use either a dry powder fire extinguisher (with a blue colored label) or a CO2 fire extinguisher (with a black label).
Both fire extinguisher types can be used on electrical appliances as well. So, if your toaster catches fire, you can use either of them.
The only downside with the dry one is that it leaves behind a powder residue that can get into the crevices of the kitchen and the appliances – causing damage to the kitchen appliances if the level of the home fire is high. Besides, the soot makes kitchen cleaning difficult after the fire is contained.
The CO2 one is an alternative fire extinguisher that's safe to use on both gas and electric fires. Moreover, it doesn't leave a mess in the kitchen.
Another choice in extinguishers is whether to use a standard one (disposable with plastic valves) or a rechargeable one. A rechargeable extinguisher comes with metal valves and costs more. However, it's easy to refill if the pressure gauge indicates depleted contents. It tends to be less expensive than buying new disposable ones in the long run.
Choosing the fire extinguisher size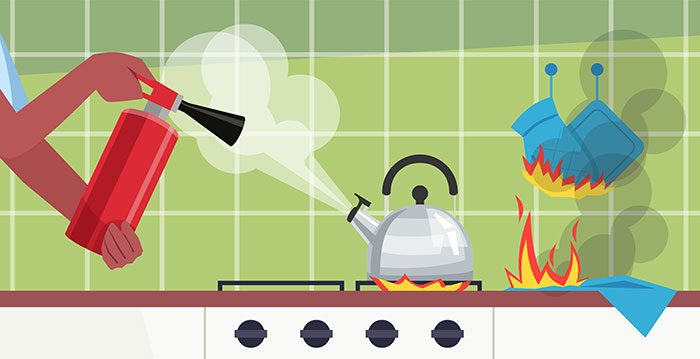 While in most cases, bigger extinguishers are better, they can be too heavy to maneuver. Keep in mind that the more the weight, the more the number of chemicals inside. Instead of opting for a very heavy fire extinguisher, it's a safer bet to have easy-to-move-around ones on every floor as recommended by the National Fire Protection Association.
Here are the different types of extinguishers based on weight.
10-pound extinguisher: Best for home garages or home workshops where a fire may spread unnoticed. The best extinguisher model is the rechargeable one with a long hose for ease of use.
5-pound extinguisher: Ideal for a kitchen or a laundry room. The best extinguisher model is a rechargeable extinguisher with a hose.
2-pound extinguisher: Ideal for a car. The best extinguisher model is a disposable one with mounting hardware.
Stove-top extinguisher: Best for range hoods over the stove (not to be over deep fryers). The best extinguisher model is a magnetic pressurized can of sodium bicarbonate (baking soda) that's designed to pop open from the heat of flames.
What kind of fire extinguisher for kitchen is best in terms of rating
All household extinguishers are labeled A, B, or C on the label. These letters reflect the types of fires the extinguishers are effective against. Many are A:B:C. This means they can fight all three types of fires. These are sometimes marketed as "dry chemicals" or multi-purpose fire extinguishers.
There are other classifications of extinguishers too. Take a look at the following fire extinguisher ratings.
A: For ordinary combustibles such as cloth, wood, paper, cardboard, and plastics.
B: Effective against flammable liquids such as kerosene, grease fire, gasoline, and oil.
C: Helps contains fire in the case of electrical appliances and tools.
D: Effective against flammable metals (this is used mostly in factories).
K: Effective against vegetable oils, animal oils, or fats in cooking appliances (works best in commercial kitchens with a commercial hood ventilation system).
If you see the fine print on the label, the letters (except class C) are preceded by numbers — indicating the extinguisher's relative effectiveness against each type of fire, regardless of its weight, size, or the extinguishing agent used. The higher the number, the greater the effectiveness of the extinguisher. You need to understand that it's very important to get the right fire extinguisher for your home.
Where should I put my kitchen fire extinguisher?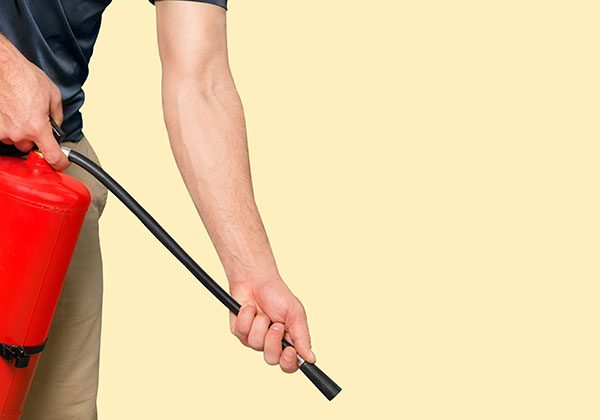 The ideal location for a fire extinguisher is near an exit or an easy-to-grab spot that's easily accessible for every family member. In the case of a kitchen, the home fire extinguisher can be mounted – just like a smoke detector.
You should keep it just outside the kitchen so that the safety tool is easily reachable in case of a fire. Never store the fire extinguisher near a stove or under the kitchen sink.
Also, you must have a fire plan in place which includes getting out of the house in a hurry and calling 911 or the fire department.
How often should one replace the kitchen fire extinguisher?
Most residential fire extinguishers last for about 10 years. You can see the date stamped on the bottom to confirm. Also, keep checking the pressure gauge as part of your routine home maintenance.
Make sure the arrow is in the green zone and not red otherwise it won't be as effective in case of a fire.
The best fire extinguishers for the kitchen
It's critical to get a kitchen fire extinguisher with an ETL or UL rating, just as it is with smoke alarms. Fortunately, most major home safety brands, such as Amerex, Kidde, and First Alert, have ETL or UL certification.
Furthermore, it's desirable to buy an extinguisher with an easy-to-read pressure gauge and a warranty.
Last thoughts
The right fire extinguisher can help prevent a small fire from spreading out of control. It's the best way to protect your home and family from a fire. That's why selecting the best fire extinguishers and smoke alarms for your home should be a priority. Besides, you also need to understand your state's fire safety laws.
Read more: How to protect your home from fires?
What kind of fire extinguisher for kitchen is best
was last modified:
March 28th, 2023
by
Recommended