If you live in an area that experiences heavy rains and snowfall during the winters, you're probably aware of ice dams and the damage they can cause to your home's roofing as well as gutters and downspouts.
A common solution suggested by many experts is investing in gutter warmers, or heated cables to melt the ice and snow, redirecting the meltwater down the gutters into the downspouts and away from your home. However, other experts swear these heated cables are not at all effective in preventing ice dams.
We're going to walk you through what ice dams are, what gutter warmers are, and the arguments made against them.
Understanding ice-dams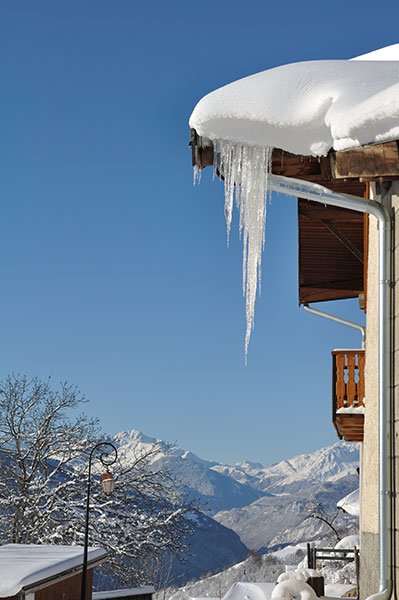 During the winters, snow is bound to accumulate on your rooftop. This snow melts during the day due to the thermal heat of the sun as well as heat loss from your home. This meltwater settles in your roof overhangs and gutters. As the temperature drops again, this water refreezes, causing ice dams and icicles.
Left untreated, these ice dams can cause serious damage to your home. Modern gutter systems have been known to pull around the house. Soffit and fascia damage is also likely to happen. If water enters the home, expect damage to hardwood floors, furniture, and mold growth.
Icicles have been known to break off and injure people standing below them.
Read more: Aluminum soffit replacement
The argument for gutter heaters
Those who support gutter warmers argue that these heating wires provide meltwater with a clear, unblocked path from the roof to the ground before it freezes up again. Not installing gutter warmers is sure to lead to backed-up gutters and downspouts, which in turn can cause ice dams and icicles.
For homes that are well insulated and have sufficient ventilation, it is advisable to install self-regulated heat trace cables into gutters and downspouts. These cables regulate the ambient temperature of the gutters, tuning on when necessary to melt ice and snow, and switching off when it is not needed. Heat trace cables are touted as being safe for gutters and downspouts made of plastic, metal, or wood.
The power output of these trace heating cables can be either 120 volts or 240 volts. Pre-assembled cables are available for domestic use in lengths varying from six feet to 100 feet, while for larger homes and commercial applications, in rolls from 50 feet to 1,000 feet.
The approximate cost of a self-regulating gutter warmer is around $20 per foot. Keep in mind though that you will also need to buy components to clip these onto the insides of the gutter and downspouts. If you need to cut-to-measure the cable, you will also need to buy tape to insulate the ends.
Read more: Types of roof vents
The argument against gutter heaters
There is another school of thought that argues that heated gutters are ineffective in preventing the build of snow and ice on residential roofs and gutters, especially in areas that experience extreme winters with heavy snowfall.
They insist that ice dams are intrinsically an internal heat retention issue, not one that can be solved with zig-zag cables on the roofs and gutter heaters. Gutter heaters may melt a small tunnel around an immediate area for a period of time. This, however, is not likely to have any effect on large amounts of snow and ice. On the other hand, the constant heating and freezing of melted snow may further accelerate the forming of icicles and ice dams in the areas surrounding the heat cables.
Read more: Leaf guard vs leaf filter gutter protection
Alternatives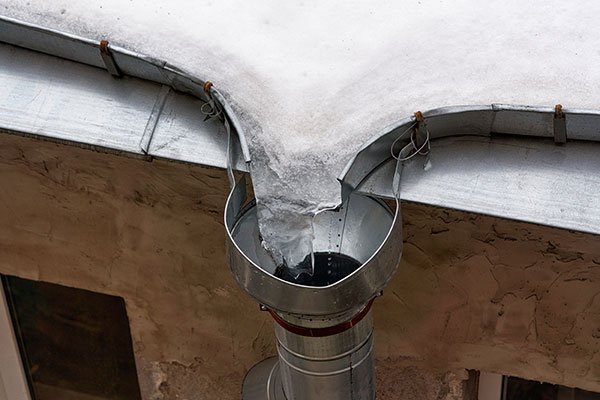 If gutter heaters are not the solution to keeping your home safe from the perils caused by ice dams, then what are other solutions that exist?
Ice dams are primarily formed due to the loss of heat from the inside of your home. This indicates that in all likelihood, there is a crevice or gap from where heat is leaking out.
The first thing you will need to do is thoroughly examine your attic and roof. Add additional ventilation or insulation to address the leak in question.
Another preventive measure is to regularly use a shovel to remove snow from accumulating on your gutters, especially if you have a modern gutter and downspout system. Make sure that no more than 4 inches of snow are in the gutter at any point in time. Preventing snow from building up is sure to prevent ice dams from forming.
Read more: Signs of roof leak in attic
Essential winter care: Gutter heaters
was last modified:
October 14th, 2022
by
Recommended