A porch is a cozy place to spend time with family or receive visitors, but during the winter, it is necessary to take some actions. Having a heat-screened porch and maintaining an outdoor sharing space are some of them.
There are multiple porches or outdoor heating options available. However not all are recommended, it is important to understand the needs and limitations of each type of heating.
What kind of heater do I need for a screened porch?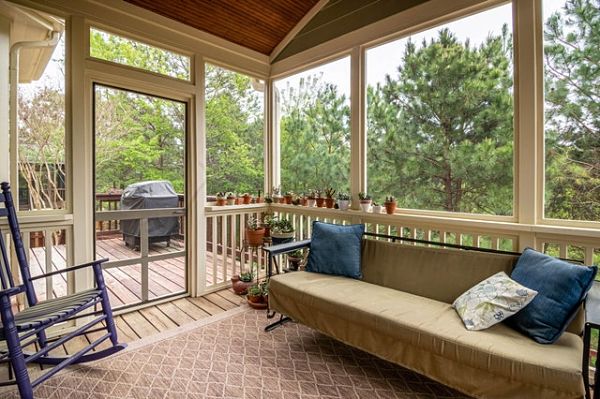 There are several models of porch heaters, some of which are listed below:
Conventional electric heaters
They are efficient for small areas, radiating heat in a small space. If the porch is very large, it may not be able to provide heat to all the people in your space.
Infrared heating systems
It works by using infrared technology to heat the surrounding area rather than simply blowing warm air into the space. Infrared heaters are one of the most energy-efficient electric heating options.
Natural gas heaters
If your porch is large, gas may be the best fuel energy source for generating heat throughout the outdoor area. You just need to make sure your porch is ventilated and that the heater is appropriate for the surface area of your space. Most gas heaters use propane canisters and have recommendations for ceiling height, location within the space, and ventilation that you should follow to avoid a fire or carbon monoxide poisoning.
Read more: Cost to install a propane tank
Tabletop heaters
If the space to be heated is small, consider a tabletop heater. They are small and effective for a short period or for an emergency. However, they are not much more effective than a regular heater, so use them only if you want to heat a smaller porch.
Fireplace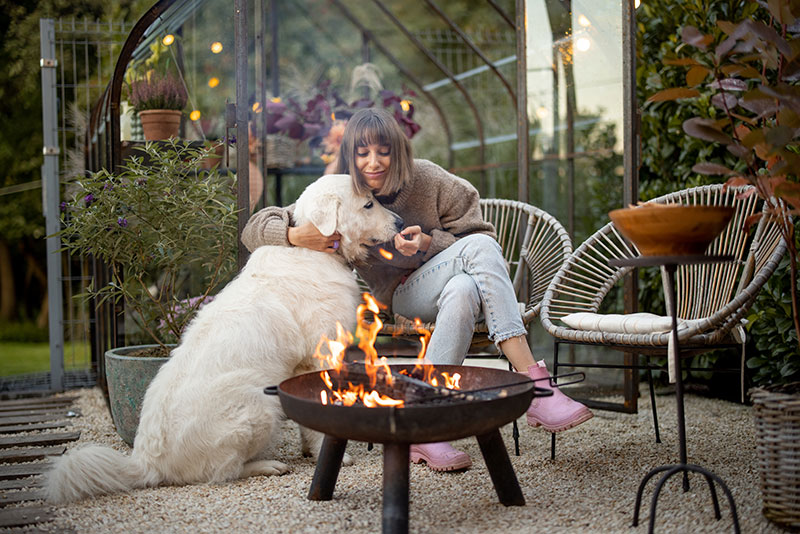 An outdoor fireplace helps control smoke and keeps the fire safely contained. Visitors to the porch can enjoy the sight and smell of real flames, and you can feed the fire until the party is over and roast marshmallows with cookies and chocolate.
Underfloor heating systems
The most expensive option as it requires professional installation but is well worth it, radiant floor heaters warm the area, and the heat from the floor rises providing an even temperature throughout the porch.
Passive heating solutions
You can install clear vinyl panels that roll up like shutters. They protect from rain and block the wind, so that cold air does not reduce the temperature of the porch. A cheaper option would be to buy outdoor curtains, but they are not as effective as vinyl ones.
What is the best outdoor heater for a covered porch?
The best you can install is an infrared heater for its economy and easy installation, they consume little energy and are safe in small spaces, and do not emit carbon dioxide like other systems. Here is a list of the most used infrared heaters according to Amazon.
Infrared heater Blumfeldt Gold Bar 1500
Bromic Smart-Heat tungsten radiant infrared heater
TRUSTECH 1500 Infrared Heater
Infrared heater Heat Storm HS-1500-OTR
Dr. Infrared Heater DR-238 Infrared Heater Outdoor Carbon Infrared Heater
What are the disadvantages of a screened-in porch?
Porches are a place to share, usually becoming an extension of the house. When it is under construction or renovation it is normal to wonder whether to leave, it covered or outdoors and here we bring you some disadvantages that can have if it is covered.
Cost
The installation process requires materials, labor, and time.
Maintenance
Replacement and cleaning should be included in the costs.
Panoramic view
Although it will not completely obstruct your view, it is not completely open and unfiltered. Consider your visual experience.
Other aspects to consider
Budget and preferences
Heat-screened porches will add value to your home; however, it all depends on the preferences and style of the home. Front-covered porches can be more difficult to achieve aesthetically.
Frequency and time
If you are going to spend time like to sit or talk year-round. A heat-screened porch may be a good choice. Some often include surround sound. In general, these amenities make an outdoor space more comfortable.
How do I heat my outdoor patio in the winter?
The patio can also be heated in winter with the following tips:
Outdoor heater
They can be electric or propane, the latter being the most popular. If you decide to use electric heaters, make sure you have an outdoor electrical connection. You can purchase hanging, free-standing, or tabletop heaters to suit your design preferences and budget.
Put windscreens
You can install windbreaks on the porch to protect the space from snow, rain, and wind. These windbreaks are available in a variety of colors and materials to complement the style of your outdoor space. Because they don't block the view from the outside, you can enjoy the snow or natural beauty around you without getting cold.
Windbreaks also help maintain the privacy of your space. If you are close to your neighbors, windbreaks can help you enjoy your gatherings, giving you peace of mind that no one is watching you.
Another great advantage is that they can be put away when the weather isn't nice.
Install a fire pit
You can install a permanent or portable fire pit, regardless of which fire pit you choose, both add to the warmth of the patio and create a cozy atmosphere.
Install a fireplace
If you plan to renovate your patio soon, consider including an outdoor fireplace in the design to create a focal point in your backyard and a gathering point around it. An outdoor fireplace is an excellent source of heat to enjoy on your patio in winter. You can find various fireplace designs to complement the aesthetics of your property and stay within your budget.
Jacuzzi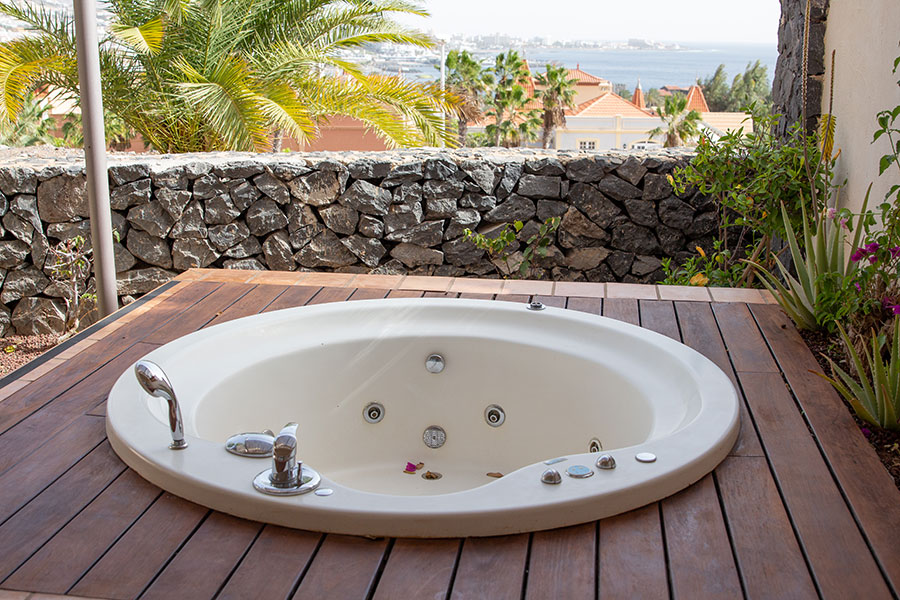 An excellent option if you want to have a retreat in your garden surrounded by plants, creating a spa. Plus the warm water can soothe your cold body after trudging through the winter snow and wind. You can put on a bathing suit in the middle of winter and keep warm in a relaxing hot tub. It's not an inexpensive option but it will be absolutely worth it.
Read more: Jacuzzi bath remodel costs
Underfloor heating
As with the porch, installing radiant heating under the porch is not an economical solution but it is efficient and safe, makes the outside floor pleasant, and even allows you to melt the snow.
Blankets
Simple, romantic, and effective. You can get a set of outdoor blankets that won't get dirty or wet. Blankets are available in various colors and materials to add a touch of warmth to your outdoor space. Keep plenty of blankets on hand for snuggling with loved ones. Store them on top of your furniture or place them on an outdoor ottoman to better protect them from the elements. Before using the blankets, toss them in the dryer for a few minutes to warm them up before taking them outside.
Enclose your patio
This is the best way to heat your patio and keep the hot air from escaping. By enclosing it, you can turn it into a picnic shelter or a glassed-in deck. It can protect your property from wind, rain, and snow. It all depends on your style and budget, you can also purchase glass screens to enjoy an unobstructed view of your backyard while staying warm inside.
A heat-screened porch is a nice option if you like to share and spend time on the porch throughout the year. Keep in mind that you should be mindful of the maintenance of it, just as with the patio. Make an honest decision when selecting the type of heating that fits your budget.
Read more: Emergency heat thermostat
Heat-screened porch advantages
was last modified:
July 18th, 2023
by
Recommended