Want to turn your deck or patio into an additional living space? Well, there are two ways to go about it. You can either install a screened-in porch or a sunroom (three- or four-season sunroom). But, what's the difference between a sunroom vs screened porch?
Well, to understand exactly what you need for your family, it's important to know the purpose of a sunroom vs screened porch. Both screened porches and sunrooms allow you to enjoy the outdoors sitting indoors — providing you with an additional living space. However, there are differences in the way both are constructed and their space utilized. Let's help you decide which style best suits your family's needs by looking at their dissimilarities.
Read more: How to turn a deck into a sunroom
Understanding sunroom vs screened porch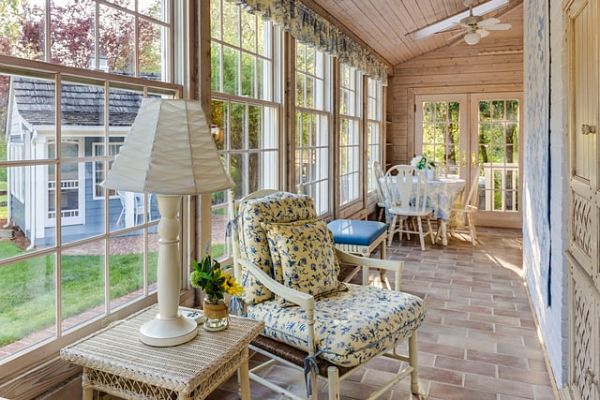 If you live in a region that witnesses all four climates, you need to make the most of your outdoor space whenever the weather permits. And of course, those pesky insects permit. That's when a sunroom or a screened porch helps you make better use of your porch, deck, or patio.
The enclosed space allows you to enjoy the outside weather without worrying about the elements of nature, insects, mosquitoes, the harsh cold winds, or the heat.
Both a sunroom and an enclosed porch let you feel like you're out and connected to nature — blurring the line between outdoor and indoor living.
A screened porch is the simplest type of patio enclosure. You add screening around the perimeter of an existing porch and you're set. With the right type of screening, you will hardly notice the barrier between yourself and the great outdoors. And, such a home extension updates the look and feel of your property in an inexpensive way.
However, there's a problem with a screened porch vis-à-vis a sunroom. It's only comfortable when the weather is neither too cold nor too hot. That's probably from early March to late October. Of course, you can use outdoor heaters and ceiling fans for your heating and cooling needs but it's not as insulated as a sunroom.
A sunroom, on the other hand, is typically enclosed with double-pane glass and fully functioning climate control. You can therefore use the recreational space in all seasons — whether to entertain your guests or lounge around enjoying idyllic outdoor views.
While both are exciting ideas for an indoor-outdoor space, there are advantages and disadvantages to building a screened porch or a sunroom. The pros and cons depend on where you live and how much you are willing to spend on the home improvement project.
Read more: Heat screened porch advantages
Screened porch vs sunroom: How different are they?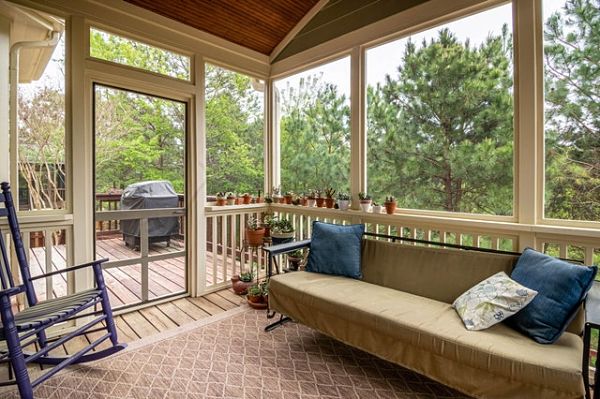 Both types of rooms provide you with additional living space. One major difference between the two is how the walls are finished. A screened porch is a roofed structure — with mesh screens, roll-up curtains, or any other window treatment — that easily lets fresh air pass through the room.
A sunroom, on the other hand, is a roofed structure that's enclosed using glass. You can think of a sunroom as a spare living room, but with a better view. You can add air conditioning for the summers and heating for the winter months.
Interestingly, you can even customize your sunroom by making the glass interchangeable with screens and use them accordingly at different times of the year. That way, you get to enjoy the best of both worlds. Of course, the special feature comes with a price.
When it comes to the difference in the cost of a sunroom vs screened porch, a sunroom is more expensive — by virtue of labor and materials alone. Moreover, the finished room typically requires you to tile the floors, add insulation and install other paraphernalia, including investing in good sunroom furniture. Keep in mind that a sunroom is considered an addition to the square footage of your house, thereby increasing your taxes.
Read more: Best sunroom flooring ideas
Sunroom pros and cons
As the name suggests, a sunroom, complete with floor-to-ceiling glass windows, is the sunniest part of your house. Most homeowners prefer this room addition to having insulated walls and UV-protected glass windows in order to create an all-season room.

| Pros | Cons |
| --- | --- |
| Provides additional living space | Expensive installation |
| Extra space for entertaining and pursuing hobbies | Requires necessary building permits |
| A well-designed sunroom adds considerable value to your home | More indoor than outdoor with no sounds of nature or breeze |
| Can be used all-year-round | |
Read more: Adding a sunroom? Here's a complete guide for types, costs and benefits
Screened porch pros and cons
A screened room is perfect when all you want is to spend time outdoors and protect yourself from rain, wind, or bugs, and your patio furniture from fading under the sun.
| Pros | Cons |
| --- | --- |
| Less expensive than a sunroom installation | The roll-up curtains, screen, and framework are exposed to the elements |
| Easy to install | Cannot be typically used year-round |
| A temporary structure that can be easily changed in the future | Doesn't add much additional value to your home |
| Makes your porch low maintenance | Absence of insulation |
| Connects you to the outside world | |
Read more: Enclosed patio ideas on a budget
Is adding a screened-in porch or sunroom worth the cost?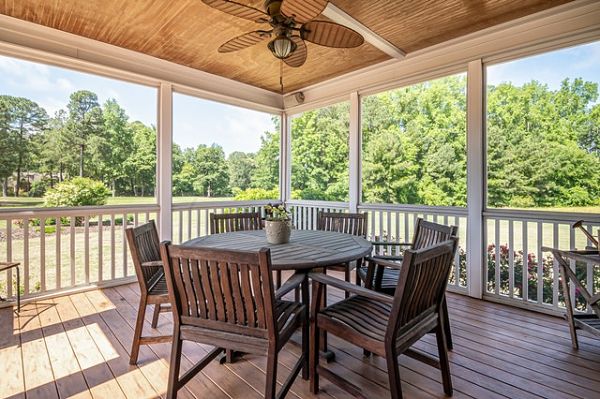 A porch adds livable square footage to your property. Although screened porches are generally not included in the appraised square footage of your home, they do add some value. More aesthetic and functional than monetary!
On the other hand, a sunroom can recoup almost half its installation cost in terms of return on investment. In addition to potentially adding value to your home, a well-installed sunroom can improve the quality of your life.
Read more: Lanai porch
Screened porch or sunroom: The right choice for you
While a screened porch is more outside than inside, the opposite is true with a sunroom. It's almost like a second living or family room. You can entertain your friends and family without worrying about the weather. It could be freezing outside or searing at 98 degrees.
But, if you're only looking for an additional living space where you can enjoy nature's beauty without the inconvenience of bugs and elements, a cost-effective screen porch is more your style. Whether you choose a sunroom or a screen porch, it simply boils down to your preference and family needs.
Read more: Porch support posts
Sunroom vs screened porch: Which is the right choice for you
was last modified:
June 28th, 2023
by
Recommended