Outdoor decks are a blessing for any home. They connect your living room to the outdoors and are great spaces for cookouts, barbeques, and for entertaining friends. Of course, enjoying the outdoors means having to brave bugs flying into your beverage occasionally. And you can't really use your decks when it rains or during the winter months. Or can you? Well, sunrooms allow you to enjoy the outdoors all year round, and decks make the perfect extensions to build them on. Here's all you need to know about turning a deck into a sunroom.
Assess your deck
One of the main reasons why an existing deck is an ideal space to convert into a sunroom is because if the deck meets the current building code, you can save as much as 35% in costs, and have your sunroom up much faster. This means your first step in converting your deck to a sunroom will have to be assessing your deck.
If your deck is a wooden deck that has piers and footers, it will not be able to support the weight of a sunroom. You will need to install additional joists for extra strength, and a new carrier beam so it can bear the weight of the sunroom and be up to code. Ideally, have a licensed contractor inspect the structural integrity of your deck, or at least share your plans with one to get a second opinion.
Check if your deck needs some sanding and leveling as well. Now is the ideal time to make sure your sunroom will sit on a level surface.
Read more: How long does mudjacking last
Buy or build
The next step for you to decide is if you want to buy a sunroom kit, or you want to customize and build a sunroom. We'll walk you through both options.
Instantly estimate the cost of your remodel...
...or take your time to personalize dozens of choices to transform your house into your dream home.
Buying a kit
Sunroom kits are available in a variety of sizes and designs and aren't too expensive either. You even have kits for four-season sunrooms. A kit can cost between $150 to $300 per square foot. The advantages of these kits are many. For one, you do not need to make any permanent structural changes to your home. These kits are not considered permanent home modifications, but will still offer you the luxuries of an extended outdoor living space that you can use all year round and offers you protection from inclement weather. You may, however, need to acquire a permit for code requirements from your local building permit office.
Sunroom kits consist of lightweight commercial-grade aluminum frames. All the hardware needed to assemble the sunroom comes with the kit. You may want to add a solid share roof to your kit if you live in an area that experiences extremely warm summers.
Building a sunroom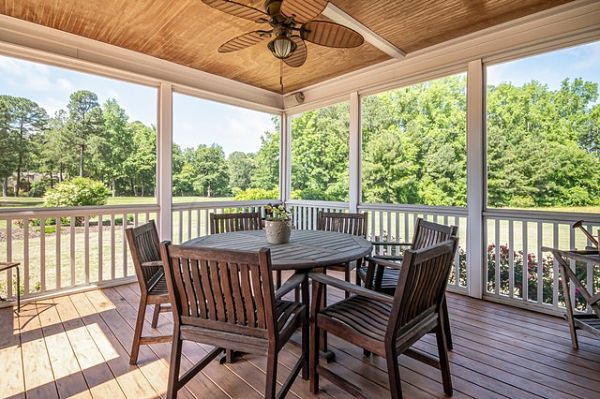 A well-designed sunroom built the right way, can become a great addition to any home, while adding value to it. However, while designing the sunroom of your dreams, make sure the design elements blend in with the existing theme of your home's exterior windows and walls.
Once you have a design in place, begin by adding the frames and the walls.
Next, pay attention to the roofing. You will need a roof that's strong enough to hold the weight of snow in the winters, especially if you live in an area that experiences heavy snowfall in the winters. An A-frame roof is ideal in those conditions. A more sheltered home can have a flat studio roof with multiple skylights to allow maximum natural light.
Next, install your sunroom windows. Remember, you intend to use this room to enjoy the outdoors all year round, so make sure you choose energy-efficient windows. If you do not want the prying eyes of your neighbors or passerby's to disturb you, you can even choose windows that allow you to look out with complete clarity, but hamper what those looking in can see.
Finally, decorate the inside of your sunroom. Whether you want to add indoor plants to give it a more outdoor feel or add a dramatic cathedral ceiling, the choice is all yours.
Get the right flooring
Whether you buy a kit or build a sunroom, choosing the right floor is important. Carpeted floors, hardwood floors, and tiles are just some of the flooring options for you to choose from. Keep in mind that you want a floor that doesn't get too hot in the summers, nor too cold in the winters, and is comfortable underfoot.
The great outdoors awaits you
Sunrooms, whether they're four-season rooms or not, are a great way to enjoy the outdoors without having to deal with the bugs and weather hassles that come with it. Considering they also increase the value of your home, maybe it's time you added a sunroom to your home, especially if you have a home improvement project you're planning on in the near future.
Renovating your home? Use our remodel cost estimator for accurate budgeting, and click here to hire the best contractors in your area to work on the project.
Read more: How much does it cost to cover a patio
All you need to know about turning a deck into a sunroom
was last modified:
September 21st, 2022
by
Recommended