A lot of us love to enjoy the outdoors, even if it just means sitting on our patios and shooting the breeze. Fortunately, a lot of us have patios that allow us to do just that without leaving our homes.
However, patios are of limited use during extreme weather. You can't really sit on an uncovered patio during the summer afternoons, because there won't be any shade to prevent you from being sunburnt.
Similarly, you cannot enjoy your patio if it's snowing or if it's raining. Of course, the solution is simple: invest in a pergola or a patio cover.
This brings us to another predicament. What kind of a patio do you want? Some of us just want some shade. Others want a covered patio that would allow us to use it all four seasons. Some of us want to convert our patio into outdoor living spaces, replete with an outdoor kitchen, an entertainment system, a flat-screen TV, and maybe even a bar. And keep in mind, a good-looking patio adds to your curb appeal and increases your property value.
So how much does it cost to cover a patio? In this detailed read, we will take you what it costs to cover a patio, the factors that affect that cost, the types of patio covers available for you to choose from, and more.
Average costs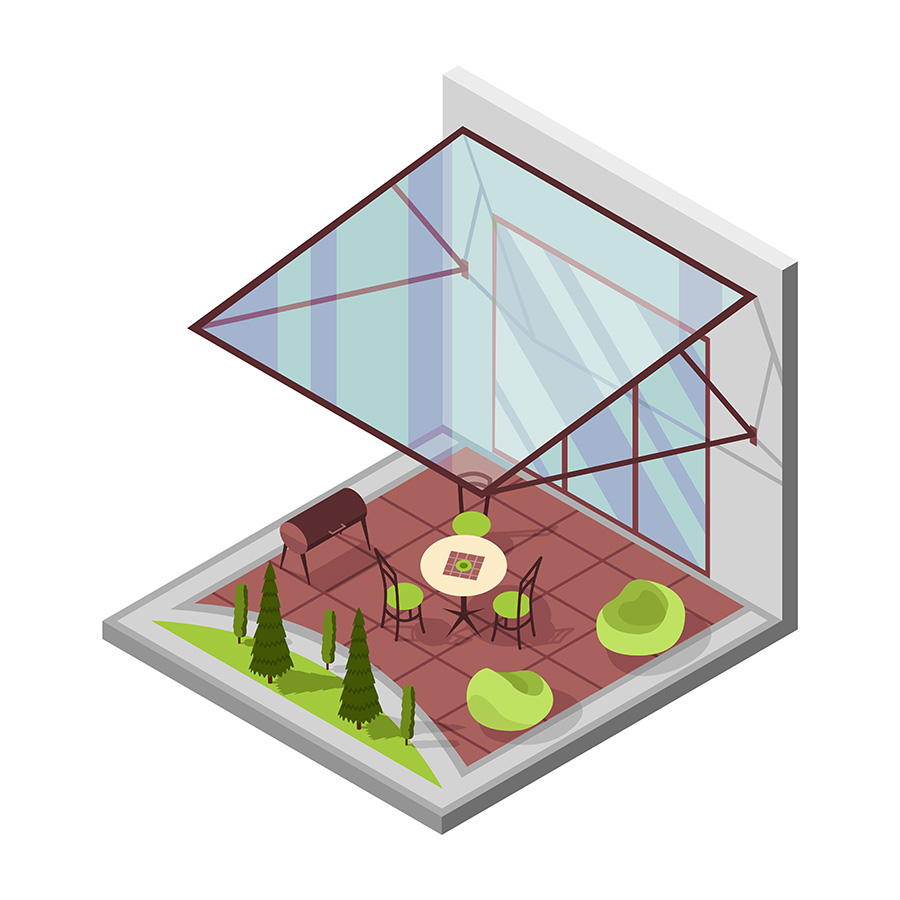 The cost range for patio covers is quite staggering, with the per square foot cost varying from between $22 and $75. Overall costs vary depending on the type of patio cover, sizes, and materials you choose. You will also need to consider labor costs for a professional patio cover installation.
As of 2021, the cost of patio cover varied from between $2,900 to $40,000, with the average national cost hovering at $16,567.
Breaking down costs
Now, obviously, you'd want to know why there is so much disparity in the costs of these patio covers. Let's break down those costs.
Materials cost
To begin with, the type of materials you choose makes a difference: whether you choose wood, vinyl, aluminum, steel, or fiberglass.
The prices of metals and wood keep fluctuating on a monthly, sometimes even daily basis. This means if you get an estimate for a wood pergola from a manufacturer today, the cost may have changed within a week.
Then, there is the comparative cost of the materials themselves. Steel is the most expensive material you can choose. Wood is next, being more expensive than aluminum, which is the most affordable patio roofing material.
Sometimes, though, you may not even have a choice. Some HOA (Homeowners associations) actually dictate what material your pergola needs to be.
Type of patio cover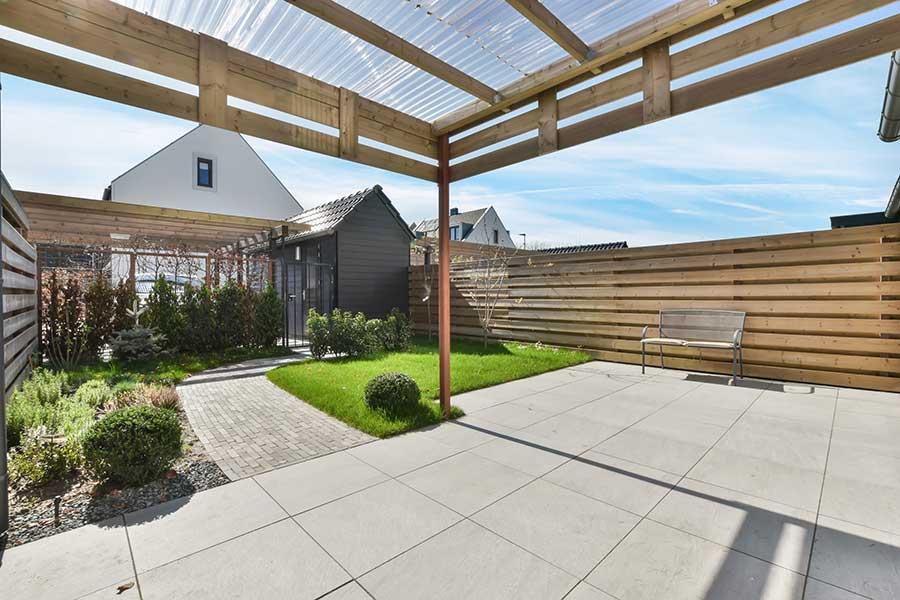 The type of patio cover you choose has a huge role to play in the total cost of the project. Do you want a lattice patio cover or do you want a fully covered patio?
There are two factors that are important to answering that question: weather and purpose. Now if you live in a place like Los Angeles, which has mild weather almost all year round, you may be able to make do with a lattice patio cover.
However, if you live anywhere that experiences heavy rainfall, snowfall, or any kind of extreme weather, you will need a fully covered patio.
Then, there is why you want the patio cover. Do you just want some shade so you can curl up on a lounge chair with your favorite book in the afternoon? In that case, a lattice cover should do splendidly.
However, if you want to use your outdoor spaces for entertaining guests, you will probably want to add a wet bar, an outdoor kitchen, an entertainment system, and maybe even a fire pit to your landscaping. This will definitely need a fully covered patio.
Some people prefer retractable patio roofs that they can open up only when they want to. This, obviously, comes at an extra cost.
Read more: Front yard patio designs
Labor costs
Labor costs to install a patio roof depends on a couple of factors as well. One of those factors is where you live. The more the contractor needs to travel, the more you will be charged.
In addition to that, your labor cost will also depend on whether the contractor has insurance coverage, whether the contractor has sent his full-time employees to do the job or whether he's doing it himself (1099 labor).
Labor costs will also go up depending on the size of the patio and the complexity of the patio roof design.
Now, you do get knocked down DIY patio kits with roofs from large stores. Some manufacturers will even directly home deliver one of these for you. However, unless you really know your way around tools, doing a quality job yourself with the installation may not be as easy as it sounds.
Of course, those of you who do have experience with carpentry and with tools could just build your own pergola.
Indicative pricing list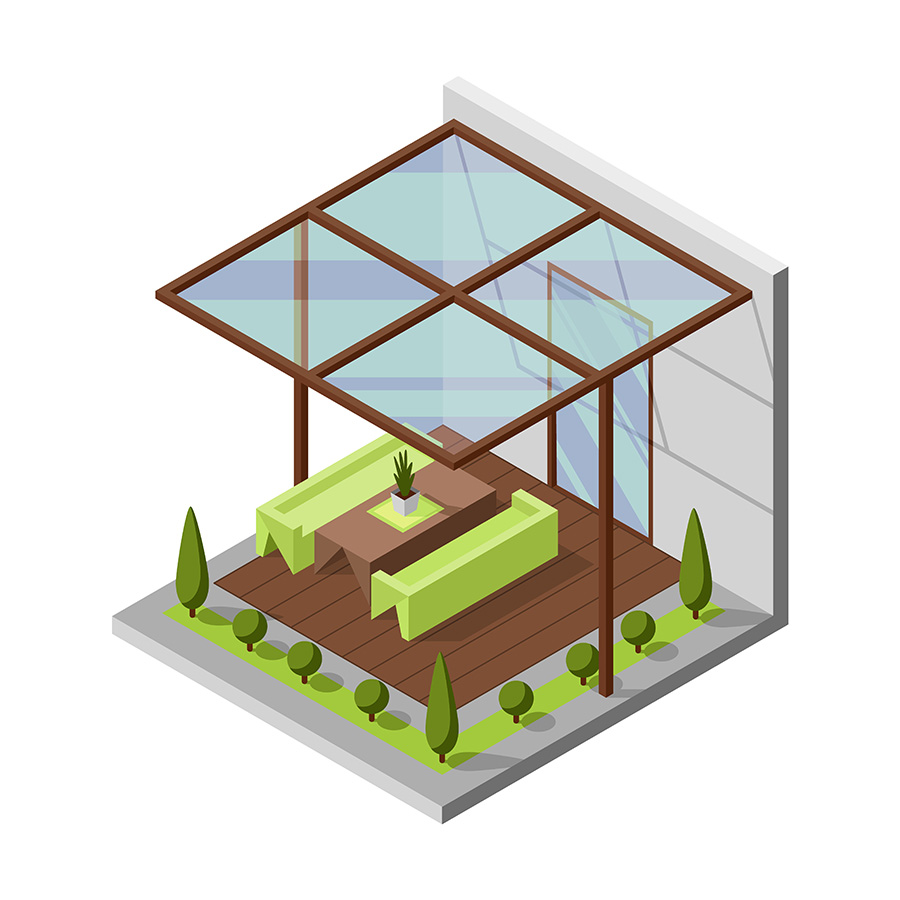 Here's an indicative pricing list of different styles of pergolas and patio covers. These are in standard sizes as sold by manufacturers.
A canvas retractable patio cover measuring 11' 4" x 10' could cost you between $1,346 and $2,796, with an average cost of around $2,071.
You have three choices when it comes to aluminum patio covers. A standard 10' x 10' aluminum lattice patio cover could cost between $2,200 to $3,389. The national average is around $2,000.
An insulated aluminum patio cover costs between $4,608 and $5,907, while the uninsulated version could put you down between $3,609 and $5,020.
The wooden patio cover range is more expensive, with price ranges between $5,507 and $8,868 for 10' x 10' lattice pergolas, while fully covered roofs cost between $7,500 and $13,500. The average person spends around $10,500 for a fully covered wooden patio roof.
Vinyl patio covers are more affordable in comparison to wood. A 10' x 10' solid roofed vinyl-clad patio roof will cost between $1,800 and $4,300. Vinyl-clad lattice patio roofs average between $2,200 and $4,300. A DIY vinyl patio cover kit costs between $980 and $3,200.
Which one is best for you?
Well, there are no wrong answers for this one. It all boils down to how large your patio is, what you want to use the space for, and eventually, how much you are willing to spend. Now that you know what your choices are and how much it costs to build a patio roof, it should be easier for you to choose exactly how you want to cover your patio.
Read more: Building an outdoor kitchen
Outdoor extensions: How much does it cost to cover a patio?
was last modified:
June 19th, 2023
by
Recommended