If you're looking to create a relaxing and enjoyable space to use in your house, you must think about patio design plans. The extra living space will not only add aesthetic value to your property but also provide you with a chance to enjoy the outdoors with your loved ones.
While there are plenty of choices when it comes to choosing the perfect patio design plans, you may get a tad overwhelmed by which one will be the most practical and functional for you.
And, that's why we've done most of the legwork for you. Our expert architect puts forth a collection of patio plans to help you create an outdoor living area that is beautiful, colorful, and comfortable. You can get inspired by the patio design plans and add your personal touch with maybe an outdoor fire pit or fireplace, grill station, or an outdoor kitchen and shady pergolas. Each patio plan includes fully dimensioned layouts and easy-to-follow designs. The goal is that you'll know exactly how your outdoor living space will look, using the best patio materials, before you start your home improvement project.
Want to create a budget for your home renovation project? Try our free home remodel cost estimator; it's easy and convenient to use!
To keep things on an even footing, the architect has chosen to keep the house, the plants, and the paver patio almost the same size across all the landscape design ideas. That way, you'll get a good sense of colors, styles, and decorations in the different patio ideas in this article. These designs can work in many styles and color schemes on different architectural styles of homes. So, go ahead and choose a patio that fits your lifestyle and of course your home renovation budget.
Read more: Patio financing: Great ways to finance concrete patios & more
Patio design plan 1: Patio with central access to the back of the house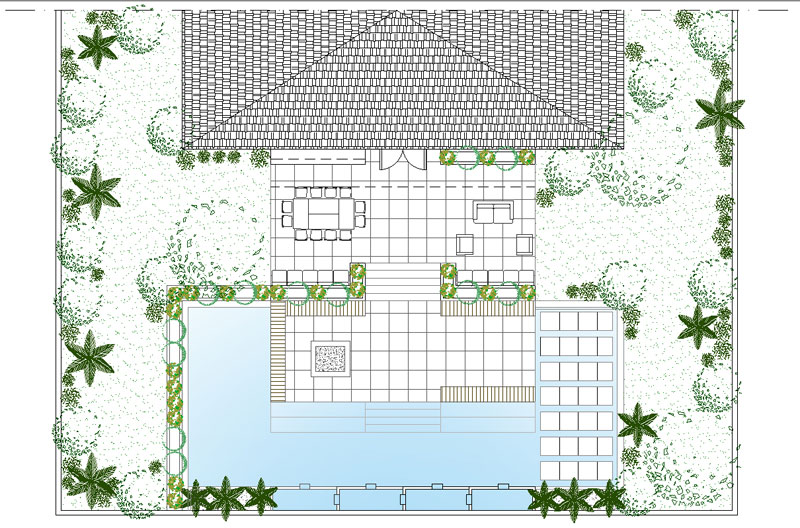 Dimensions: 87.27ft x 46.92ft
Sides: 14.11ft x 18.04ft
Total area: 4633.11 ft²

This patio has been designed along a central axis, almost symmetrically. There are two terraces — projected at a drop of 3.94ft and with a width of 34.45ft. To add to the outdoor beauty, there's a swimming pool and a cascading wall of water — staggered to 1.64ft in height each step — through which water descends in two directions, laterally and frontally.
The first terrace, with an area of ​​206.69 ft², is where a kitchen with an external grill and a 12-seater dining room is located on the left. There are two sofas built into a perimeter wall on the sides of the stairs between the terraces. The right side features some more outdoor sofas for an entertainment area for around 14 people.
The second terrace, with an area of ​​1642.47 ft², is next to the pool area, and has a depth of 3.94ft with the height of each step being around 1.31ft. There's a walk-in mirror on the right (10.66ft), a fire pit area (5.09ft x 4.59ft), and an L-shaped bench. This area has the capacity to house 20 people. At the end of the patio wall, there's a beautiful waterfall with a width of around 3.08ft.
The perimeter wall has some planters — ideally with a height of 3.94ft and a width of 1.97ft. Keep in mind that the bushes will require regular pruning so they do not obstruct the view of the patio.
The total green area is around 2311.44ft² with trees, shrubs and native herbaceous plants. It's a good idea to grow native plants as they adapt well and require less maintenance. Moreover, such species last longer and do not change with a change of season or climate.
Read more: Useful tips on how to create a four-seasons garden
Patio design plan 2: Patio with a central and a lateral access
Dimensions: 87.27ft x 51.84ft
Sides: 22.31ft x 16.40ft and 15.75ft x 16.40ft
Total area: 5148.16 ft²

The second patio design accommodates four different levels and is accessed through two points — from the back of the house and the left side. It consists of three green areas, two terraces, a service area, and a vegetable garden. There's a perimeter wall with planters of 1.97ft wide and 3.28ft height around both terraces. The shrubs have been kept at a low height of up to 1.97ft.
On the left side, a linear circulation connects with the lateral access to the house on the first level, the garden and the first terrace with access to the back facade of the house on the second level, the third level with the services and the pool and the fourth level with the patio in the small backyard.
The vegetable garden is surrounded by a shrub enclosure on its perimeter of 15.75ft x 17.84ft. Its total area is about 280.94 ft².
The first deck on the left has a fire pit area (10.83ft x 4.11ft) with 15 seats — including in-built seating, outdoor furniture, and couches. The kitchen and the external barbecue with a dining room can easily house 15 people. The dining table is about 10.01ft x 4.92ft and the total area is approximately 799.22 ft².
The second terrace has a pool area that's 3.94ft deep with staggered seats in the shape of a "C". There are planters and palms around the pool — adding beauty to the property. In addition, there's a rest area with comfortable armchairs. You can use the space for tanning or general relaxation.
The service area or the maintenance area has a bathroom with a double wash, two urinals, one W.C., and three showers with dressing rooms. The total area is about 252.95ft².
The architect recommends a lovely garden backyard of about 1481.11 sq. ft. for recreation purposes. Outdoor landscaping can utilize about 775.65 sq. ft. of land.
Read more: How to get a landscaping estimate, and why is it important?
Patio design plan 3: Patio with three accesses on three levels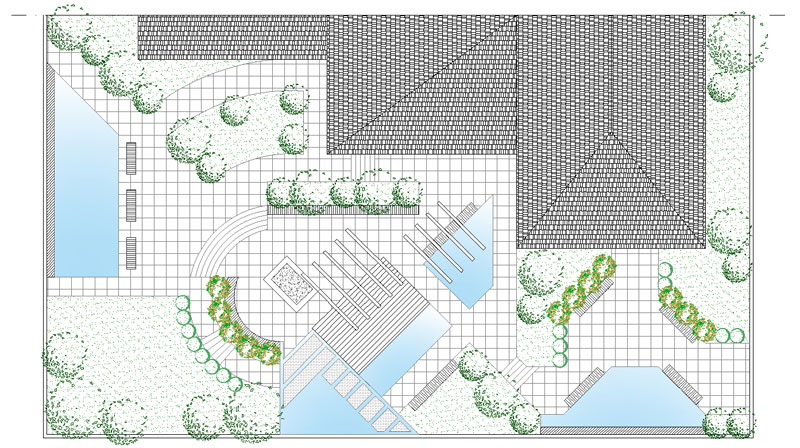 Dimensions: 39.37ft x 146.52ft; 58.39ft x 19.69ft; 97.77ft x 19.69ft; 48.56ft x 9.84ft
Total area: 9359.01ft²
This backyard patio design is perfect for a house that has an uneven patio length. The architect has used two diagonals between the three levels with a height of 3.94ft between them. The structure is accentuated with the arrangement of pergolas and trees as well as shrubs. The architect has developed a lovely central space to accommodate fun family activities. Interestingly, there's access to the house through each terrace. In addition, there's a kitchen and a covered outdoor barbecue. What's more, there's a campfire area and seating area on each slope.
The first terrace has three green areas in a radial shape, a water feature, and long outdoor seats. The second terrace has a covered area, complete with pergolas, where the kitchen and external barbecue are located (20.93ft x 13.65ft).
The central space houses a fire pit (6.961ft x 9.84ft), four long seats, and a walkable area of ​​concrete panels. The third terrace is of the same height as the basement and has a delightful waterfall and a lovely seating area with stylish patio furniture. The total green area is approximately 3458.35 ft².
Read more: How to clean outdoor patio cushions?
Patio design plan 4: Patio with two accesses at different levels at the back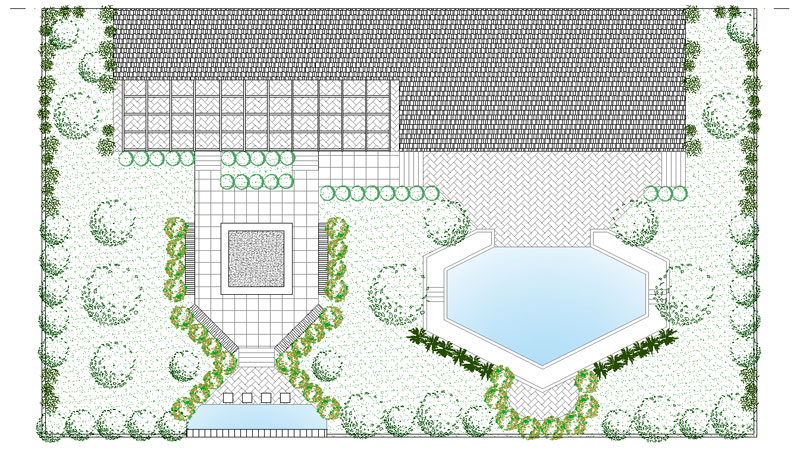 Dimensions: 146.33ft x 59.06ft; 59.06ft x 14.76ft
Sides: 29.53ft x 14.11ft and 36.91ft x 13.94ft
Total area: 10252.88 ft²
Through the two entrances, there are two linear axes emerging up to the perimeter wall at the back. The architect makes use of diagonals to accentuate the shape of the terraces. The first axis on the left accommodates a terrace with a social area. The other axis is used as a recreational area with a pool.
The first terrace is semi-roofed in an orthogonal shape, with pergolas directly connected to the house. There's an area for an outdoor kitchen and barbecue, complete with a dining room. The total terrace area is about 871.88 ft².
The second terrace is hexagonal. It accommodates a large central fire pit area with built-in seating (14.76ft x 14.76ft). The total terrace area is 1074.55 ft².
The third terrace finishes off the axis with a waterfall and some square patio seating. The total terrace area is about ​​333.37 ft².
There's a fourth terrace that's like an anteroom to a hexagonal-shaped pool. Serving as a recreational area, the terrace has cozy armchairs and pool furniture. The total area is approximately ​​816.039 ft².
The entire patio is accentuated further by palms and large trees on the sides. The total green area is about 6018.06 ft².
Patio design plan 5: Patio with two central and side accesses and seven terraces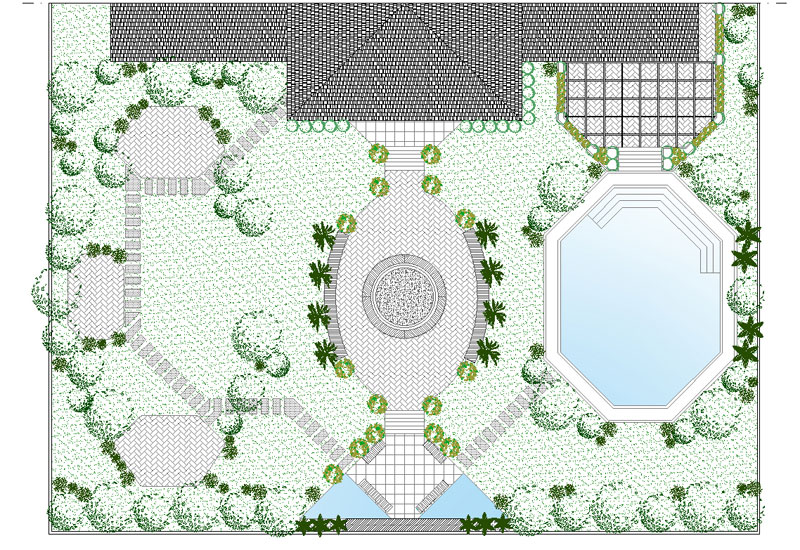 Dimensions: 177.17ft x 103.3465ft; 59.06ft x 14.76ft
Sides: 14.76ft x 14.76ft
Total area: 20489.10 ft²
The large patio area has two accesses — one to the center and the other to the right side of the house. Apart from the terraces and the pool, the area on the left side has the largest green area, with more freedom for recreational use.
In addition, there are three smaller terraces in the shape of hexagons for flexible use, which are connected by a natural stone garden path with segmented stepping stones.
The first terrace descends from the central access to the house at 4.59 ft high. The oval-shaped terrace has an area of ​​1251.13 ft². You can sit in front of a large round fire pit that's 17.06ft in diameter. Tall palms and shrubs line the area, further accentuating its shape.
The second terrace is almost square-shaped, turned diagonally at 45 degrees that ends with a double waterfall cascading over the back wall. The total terrace area is about 836.77 ft².
The third terrace develops from the right side access to the house and is semi-roofed with a pergola. It's in the shape of a half-hexagon and houses a kitchen area and an external barbecue with a dining area. The total area is 1078.80 ft².
The hexagonal pool, with staggered seating, has a depth of 5.25ft. The total area is 2559.60 ft². And, the green area is approximately13724.14 ft².
Last words
If you're looking for a cool entertaining space or an alfresco dining or cooking station, a beautiful patio is what you need. These patio design plans will add value and comfort to your home. We hope you too get inspired by our in-house architect's expertise and create the most stunning and convenient outdoor patio space. You can use the designs as a springboard for planning your very own outdoor getaway.
Read more: How much does it cost to cover a patio
Best patio design plans according to an expert architect
was last modified:
May 26th, 2023
by
Recommended