Having a space like a patio where you can enjoy both the joy of the outdoor space and the privacy of your home is a luxury. So it is only obvious that you would want to furnish that space tastefully and in keeping with current trends.
However, what may surprise a lot of you is that patio furniture is a lot more expensive than regular indoor furniture. Why is it more expensive and what factors affect that cost? Well, we'll explain all that and more in this short article.
How expensive is patio furniture?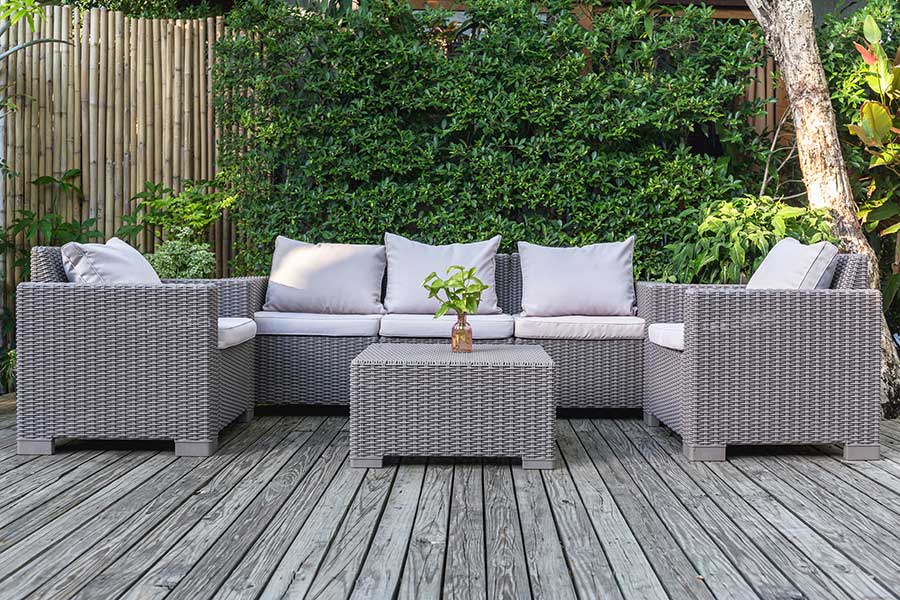 Okay, so patio furniture is more expensive than indoor furniture. But how much is "expensive" patio furniture going to put you down?
First off, what do you want to buy? A patio dining set could cost between $200 and $2,500, depending on the size of the table, the number of chairs, and additional features like a large umbrella, while a couple of lounge chairs capable of rocking and reclining would cost between $160 and $300.
A patio furniture set, per se, comes with side tables, a couch, and a chair, pretty much like a living room set up. This would cost you anywhere between $400 and $2,000, depending on the manufacturer and the quality. Here's a list of popular brands and how much you can expect to pay for patio furniture if you choose them.
| Brand Name | Price Range |
| --- | --- |
| IKEA outdoor furniture | $250 to $900 |
| JCPenney Patio Furniture | $500 to $1,100 |
| Big Lots Patio Furniture | $200 to $600 |
| KMart Patio Furniture | $375 to $5,000 |
| Sears Patio Furniture | $350 to $900 |
| Target Patio Furniture | $250 to $4,000 |
| World Market Furniture | $250 to $1,100 |
| Costco Patio Furniture | $250 to $4,000 |
| Walmart Patio Furniture | $150 to $2,200 |
Why is patio furniture so expensive?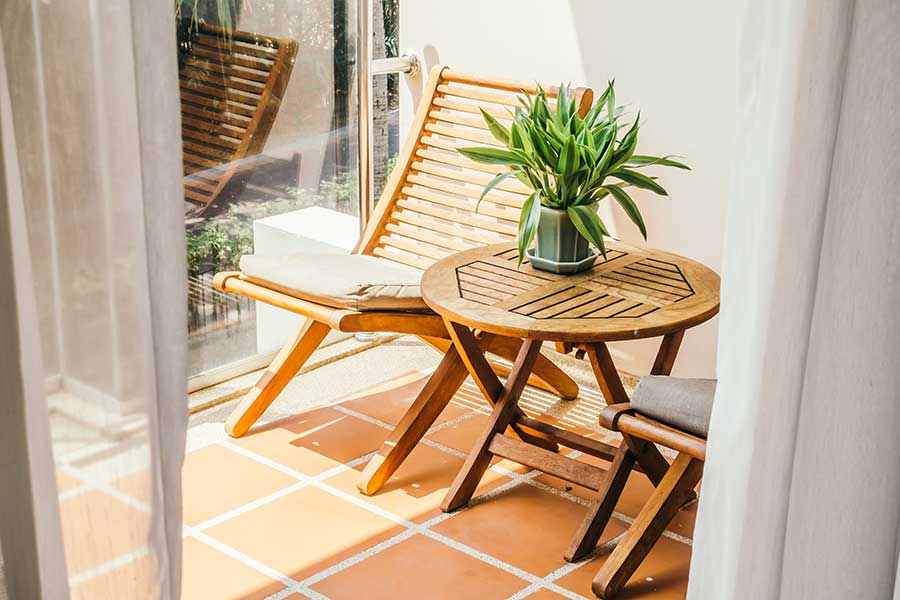 Patio furniture materials
There are a few reasons why patio furniture is more expensive. For one, consider that it is outdoor furniture that needs to be able to survive exposure to the elements all year round as well as pests.
In order for that to happen, the type of materials used to manufacture the furniture needs to be robust, sustainable, and high quality and the production method itself needs to be efficient.
Let's take a look at some popular materials used to manufacture patio furniture.
Wood
When it comes to outdoor wooden furniture, teak wood is most often the wood of choice. This tropical wood is sturdy, weather-resistant, and can last more than 75 years. The natural oils present in teakwood make it capable of withstanding the sun and the rain much better than other woods, and also make maintenance very easy.
While teak wood as a material may be more expensive than other options, the fact that this will probably outlast you makes the furniture worth its price.
Metal
Wrought iron and wrought aluminum are your choices when it comes to metallic patio furniture. These metals can soak up all the sun in the words, and with proper maintenance and timely powder coating, can last a long time even in wet places without rusting.
Plastic
If cheap plastic furniture is what comes to mind when we say plastic patio furniture, then rest easy. Manufacturers nowadays use HDPE, or high-density polyethylene instead of PVC to manufacture these pieces of furniture.
HDPE patio furniture is more weather resistant than either wood or metal variants are. The material also does not become brittle with time, unlike regular plastic. Manufacturers often UV coat them for extra protection.
Build Quality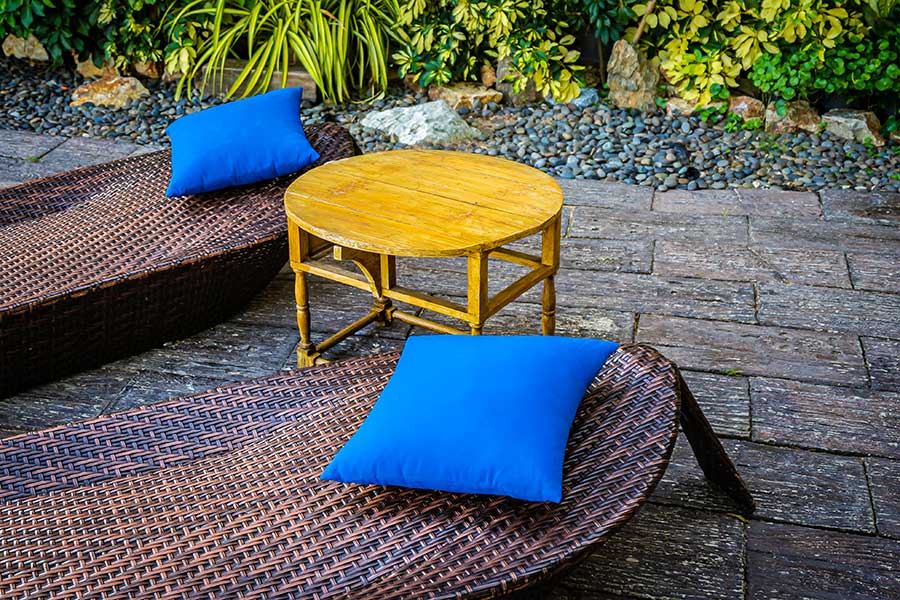 Manufacturers of patio furniture also pay a lot of importance to the build quality of their products, and this is another factor that affects the cost.
A great example of build quality can be seen in wood patio furniture. Cheaper wood furniture is most often simply glued together and starts to fall apart after a while, especially when it has been exposed to sunshine and rain.
However, high-quality wood patio furniture is built to last even when mishandled and exposed to the elements all year round.
Another trait of great build quality is the way products are finished. Premium outdoor furniture will never have improper joints or faulty finishes. Instead, you will always find them looking and feeling luxurious.
Durability
Let's put things into perspective by considering this situation. Let's suppose you take your living room couch and put it out onto the patio. It's blazing hot throughout the day, and then at the night, it unexpectedly rains. What condition do you think your couch would be in the next morning?
Another reason for the high price tag on patio furniture is because they are built to withstand multiple years of the summer sun, heavy rainfall, and even snowfall. That being said, it is always in your best interest to get in cushions during rain or snowfall and to cover the furniture with a tarp to add to the longevity of the furniture.
Design and aesthetics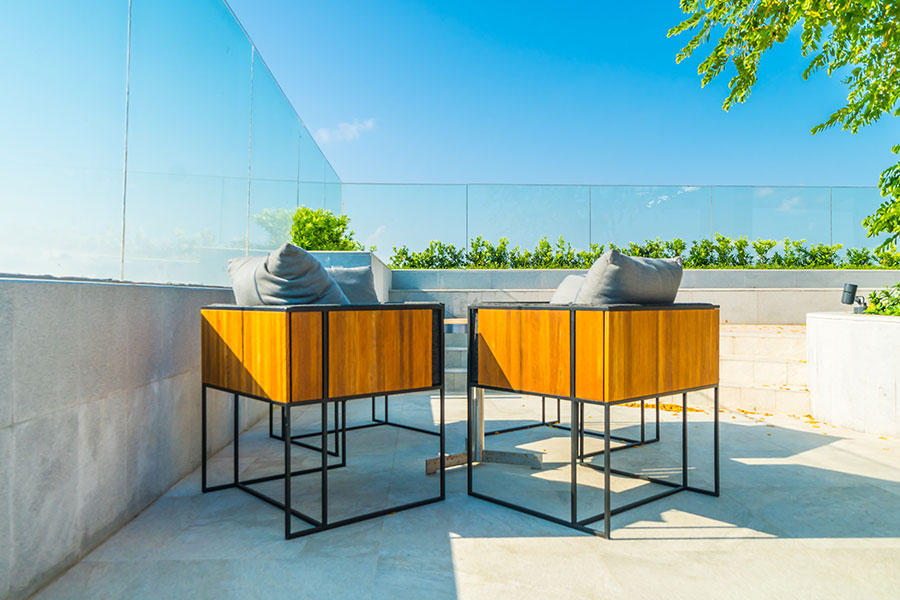 High-end patio furniture manufacturers spend a lot of time and money working with designers to work on the design aspects of their furniture. This is why you have a wide range of patio furniture options when it comes to designs, sizes, and finishes to choose from, all manufactured to fit aesthetically with the architecture of your home and landscaping theme.
Read more: Front yard patio designs
The pandemic
The cost of patio furniture has gone up considerably in the last year or so, and the reason for this hike in prices is the pandemic.
Thanks to lockdowns, the world has seen a change in workplace dynamics. A lot more people have been working from home. This obviously meant people wanted to make their homes more comfortable, which led to a surge in demand for patio furniture.
However, the pandemic also meant a lot of suppliers of raw materials could not keep up with the demand for their products, simply because there was no way they could operate their businesses. This in turn reduced production and made the prices of available outdoor furniture soar.
Money-saving tips
While patio furniture is never going to be cheap, and a lot of economists say it will be a while before the pandemic-induced inflation drops, here are some tips on how you can save while buying patio furniture.
A lot of stores have summer clearance sales between August and October. You get some great discounts during these sales. The rule of thumb is that the further away from summer you are, the less outdoor living accessories will cost you.
Look for great deals on well-maintained second-hand patio furniture in places like Facebook Marketplace and Craigslist. You'd be amazed at some of the stuff you can find there.
There is no need for you to buy everything in one shot. Build up your outdoor entertainment area piece by piece as and when you have a little extra money.
A lot of the stuff, such as the cushions for the patio seating, can be made at home. Research and take on as many DIY projects as you can to save some money.
Read more: 3d patio design ideas
Outdoor costs: Why is patio furniture so expensive?
was last modified:
June 5th, 2023
by
Recommended