Have you been thinking about installing a sunroom on your property lately? Superb decision. The benefits of adding a sunroom are many. You can rest assured that this home improvement project is going to be well worth your time, effort, and money. So, what should be the sunroom price estimate for your house? Well, that's exactly what we'll try to figure out in this blog. Stay tuned.
Sunrooms are a wonderful addition — offering you a great outdoor living space that you and your family can enjoy. A sunroom is generally added onto the side of a house and has walls almost entirely made of glass or screens. That way, the homeowner gets to enjoy natural light and nature — getting a feel of the outdoors while staying indoors.
It's a unique indoor-outdoor addition that doesn't just add value to your home, it also creates a functional space that you can turn into a home office, an entertaining area, a garden, or just a place to rejuvenate yourself with a hot cup of tea.
There are various types of sunrooms — depending on their structure and features. A two-season sunroom or a screen room is usually just a deck or porch with a roof and screens. A three-season sunroom is more elaborate — it's usually windproof and waterproof. And finally, the four-season sunroom is typically built on a foundation, heated and fully insulated. As the name suggests, such a structure is perfect for a region that experiences all four seasons. And, is suitable to be used throughout the year.
Why is it important to estimate the cost of your sunroom addition?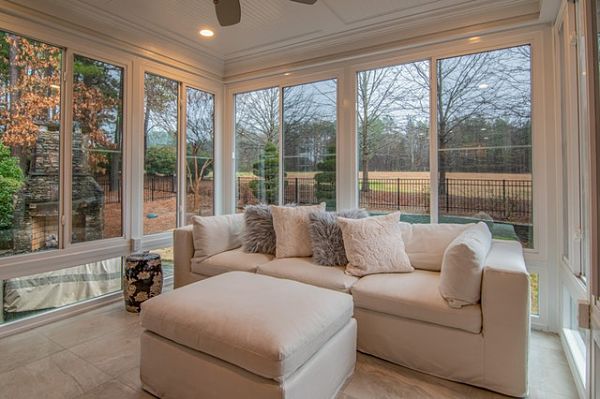 It's only through good research and price estimation that you'll know what to expect and how much to expect. Wouldn't you like to know the approximate expenditure on the labor cost, material cost, etc., before planning your home renovation budget?
Once you decide to build a new sunroom or remodel your existing one, it's a smart idea to use a reliable estimator tool. It will help you know how much of an investment you require for this home improvement, and whether you can actually afford to spend that much.
It's also the best way to ensure that you don't come across any unplanned expense during the execution of your sunroom project that might derail your finances.
Planning a sunroom addition? Use our free sunroom cost estimator to have a fair idea of the total expenditure of your project.
Is a sunroom worth the money?
Yes. A sunroom helps to increase the square footage of your home in addition to making your property look more appealing to prospective home buyers. A well-constructed sunroom or patio enclosure enhances your property's value manyfold.
On average, a sunroom helps to get you a return on investment of 49%. That is to say that it will boost the real estate value of your home by approximately half the cost of the addition.
Benefits of having a sunroom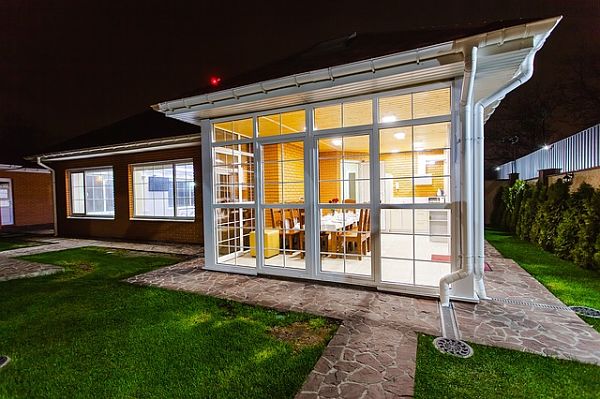 If good ROI is not the only factor to consider for you, you can evaluate its many benefits. A sunroom addition or upgrade can vastly improve the quality of your life all-year-round. Let's look at some of the advantages of having a sunroom.
A sunroom:
Adds an element of luxury to your property.
Creates a bright and sunny space to bask in the natural light.
Can double as a productive home office.
Potentially reduces your energy bills as the room is flooded with sunlight for hours on end.
Provides you a host of health benefits by increasing your regular exposure to sunlight. You will improve your cardiovascular health and get a stronger immune system, among other benefits.
Gives you a safe indoor-outdoor entertaining space for your get-togethers.
Provides you with extra space to pursue your creativity and hobbies such as maintaining a herbal garden or an art workshop, or a playroom for your kids.
Home Renovation Cost Estimator
Sorry, we currently don't have that project at our disposal.
---
You can take a look at our most popular ones:
Water Heater Installation
Exterior Door Replacement
Install Recessed Lighting
Exterior Door Installation
Interior Door Installation
Interior Door Replacement
Is a sunroom cheaper than a room addition?
Although a sunroom may be called a supplemental space and is not the kind of living space that a room addition offers — a sunroom is a perfect choice for those who already have sufficient rooms in their home.
If you're not looking for a conventional, full-sized room addition, having a sunroom is a fantastic alternative.
A sunroom installation is typically much cheaper than stick-built additions. The reason is that it involves fewer subcontractors and takes much less time to get installed.
Read more: Understanding the role of subcontractors in home renovations
Does adding a sunroom increase taxes?
Yes. Actually, since you're adding square footage onto your home, a sunroom will increase your property taxes. Generally speaking, anything that increases your home's market value — including adding a bathroom, a bedroom, a garage, or a sunroom — will increase your property's assessed value for taxation purposes.
The bright side is that it will also increase your home's resale value, so the installation ends up being a wise decision after all.
At the completion of the sunroom project, a tax assessor usually comes to determine the additional value of your home.
Do I need permission to build a sunroom?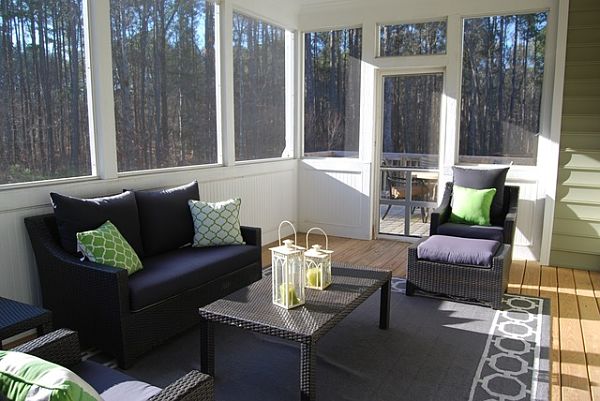 Constructing a sunroom does require a building permit. Sometimes, even for the smallest sunroom kit or custom-built room in most states. A full-fledged site-built sunroom will need a proper building foundation.
A prefabricated sunroom kit can sometimes be assembled onto your existing patio's concrete slabs or deck though. But do find out the foundation requirements and building codes for your specific locality.
You can expect to pay between $400 and $1,800 for a building permit. Of course, the price ranges according to your state. Permission to build a new sunroom typically takes 4 to 8 weeks from the day you apply.
If you build a sunroom without a permit, it could result in your homeowner's insurance provider denying a claim in case something happens to your home. You might even face problems trying to sell your house in the future.
Need help with sunroom financing? Kukun will help you through the process.
Using Kukun sunroom estimator for calculating sunroom addition or remodel costs
Kukun's sunroom estimator is a useful tool that gives you a good idea of the average sunroom addition costs in your area. It predicts the cost to build a sunroom, including the cost of the resources required to complete the project. The cost calculator ensures that you do not let your sunroom remodeling budget go overboard due to unexpected expenditures.
Regardless of the project type — whether you're installing a new sunroom or renovating an existing structure — the construction cost estimation will provide you with a good picture of your expected expenditure.
And, all this at the click of a button! And, yes, the tool is absolutely free — giving you the cost estimate instantly! So, go ahead and plan your budget — making your sunroom project easier, better, and stress-free!
Why getting a sunroom price estimate is crucial
was last modified:
July 10th, 2023
by
Recommended