A handy step-by-step guide for hiring sod installers
Installing sod is usually a pretty big deal. Not only does it take a fair amount of prep work, but it also comes with a pretty large price tag. That's why you should take the right steps when hiring sod installers. After all, what's the use of all that planning and expense if the sod will just get loosely thrown onto the dirt by a team who doesn't actually know what they're doing? By using the following guide, you can have confidence that the fate of your yard is in good hands.
If you haven't already decided where to buy the sod from, you may want to consider a company that will both sell you the grass and installs it upon delivery. Companies like The Grass Store sell and install grass around Houston, and provide several other products and services as well.
For some people, though, it works out better to buy the sod separately and then hire a team to install it. Regardless of which route you're taking, these tips will help you make the right choice.
Explore the options
A quick Google search should turn up plenty of options, but don't forget to ask friends or family for their recommendations. A recommendation from someone you trust carries more weight than a few online reviews saying that everything turned out fine. You'll be able to get a more accurate impression of their work ethic and skill levels – and hopefully be able to confirm this with online reviews as well!
Even if you get a glowing recommendation, though, it wouldn't hurt to line up a couple of options from an online search. Yelp and Google My Business are online registries that can help you with this since they include both reviews and user-submitted pictures. You'll be able to check out the quality of each company's work for yourself and figure out whether they have experience with installing sod. Landscapers have many different specialties, and not all of them necessarily have the experience you need.
Ask plenty of questions
Once you've picked a few candidates (three is a good number), it's time to get in touch with them directly. This will help you narrow down the list, and give you an idea of what the best local options are.
When you're talking with each company's representative, don't be shy about asking questions. You're about to spend a lot of money, and you deserve to have your concerns addressed. Also, pay attention to the way you're treated. Did it feel like you were just another task to cross off the list, or were your questions answered thoroughly? Did they seem sincere, or were they acting over the top just to get the contract in the bag? This won't always be apparent with a single phone conversation, but you'd be surprised at how much you could learn all the same.
Here are some recommended questions to get you started:
Are you properly bonded, and are all your workers insured?
How much experience does your team have with installing sod?
Do you use sub-contractors? If yes, would they work on this project?
Do you guarantee your work? If yes, what does the guarantee include?
Could you provide some references from recent projects?
While you're learning about the company, a background check might be a good idea too. Because you'll likely be handing over a few thousand dollars at least, it's smart to make sure you're talking to a legitimate business. Landscapers are sometimes nothing more than temporary operations that set up a few contracts, collect down payments, and then skip town. These cases aren't that common, but they're common enough to warrant some digging into their background and references.
See if there are any red flags
While you're in the information-gathering stage, pay attention to the following:
Don't have an online presence (this could indicate a scam).
They don't meet deadlines.
A suspiciously low rate.
They ask to skip the contract or have a weak contract.
Have bad online reviews.
They don't communicate well.
Ask for a large upfront payment.
They aren't licensed or insured.
Follow up on their qualifications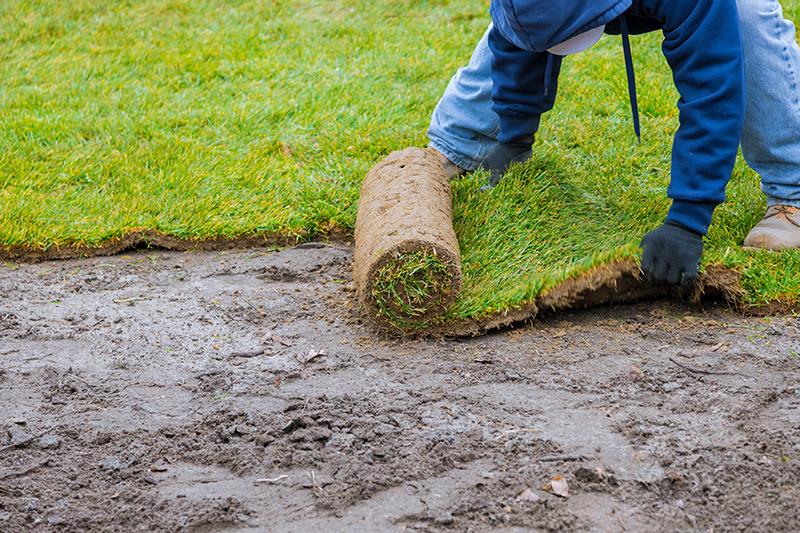 On the surface, insisting on having the right licenses, insurance, etc. might seem like a bit too much. After all, how risky can it be to lay out sod on your lawn? Well, it isn't so much an issue of mitigating risk as it is an issue of finding a legitimate team for the job. If they're serious about what they do, they will have taken the steps that are required of actual landscapers. Plus, some fertilizers can only be used by licensed individuals, which is an instance in which the proper qualifications do actually matter.
Decide on your budget
Let's say you've gotten quotes from a few different sod installers. Have they given you prices that you're happy with? Do you still have room in the budget, or are you at the upper limit of what you want to spend? The reason why this is important to determine is because many landscapers will offer you additional services, and maybe even make them sound essential. It's a classic upselling method, and it often works on people who haven't already decided on a firm budget. If you're open to the idea of having more improvements done on your lawn, great – they're already there. If not, having a firm budget in place will make it easier not to say yes just because you feel pressured to.
Read more: Contractor quotes importance
Make it official
Signing the contract means that neither of you can back out. This is an important step for any landscaping job, but especially one as extensive as getting sod installed. Take your time to look over the contract, and make sure it's both solid and fair before signing.
The takeaway
The process of finding a top-notch sod installer isn't rocket science. As long as you ask the right questions, you'll be able to pick the best team for the job in no time.
A handy step-by-step guide for hiring sod installers
was last modified:
September 7th, 2023
by
Recommended