Converting a simple room to a perfect environment that provides the best cinematic experience can be achieved via a simple project — home theater installation. A stunning HD visual quality, crystal clear audio, and smart home integration — these are the major elements that you must consider while installing a home theater. Below, we have outlined some simple tips that you can follow when installing this unit in your home.
How much does it cost to install a home theater?
If you own a small or medium room and are planning to install a 50-inch or 55-inch television, alongside a DVD or Blu-ray Disc player, separate home theater receiver, mid-range speaker system, and other accessories, you can expect your home theater installation cost to range between $1,500 to $2,000.
However, the above figures may vary a lot, depending on the size of your room, finish levels, zip code, and scope of the project. For a more accurate estimate, you can take the help of a home theater addition cost calculator.
10 Tips for the perfect home theater installation project
1. Arrange your seating arrangement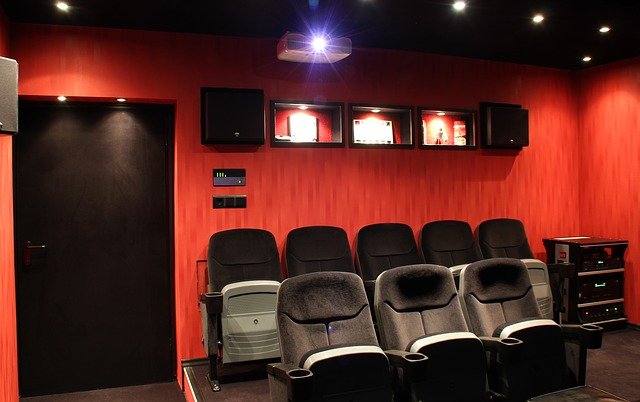 The seating arrangement for a home theater should be designed so that it ensures maximum viewing pleasure and comfort. The optimal distance from your seat to the HDTV should follow the following thumb rule. Measure the display's screen size diagonally and multiply it by 1.5 to 2.5. This is the distance where the couch, chairs, or sofa should be placed from the television screen.
2. Have you considered a soundbar?
We know that the modern versions of HDTV, with the latest technology, offer some of the best sounds possible. However, if you install a dedicated soundbar, especially in a small room, your experience will be multiplied. A soundbar comprises a number of speakers that arrive in a single low-profile, horizontal package. You can also find them in sleek designs that you can fit just beneath the wall-mounted screen. Or you can place a soundbar as a base and keep the TV above it.
Home Renovation Cost Estimator
Sorry, we currently don't have that project at our disposal.
---
You can take a look at our most popular ones:
Water Heater Installation
Exterior Door Replacement
Install Recessed Lighting
Exterior Door Installation
Interior Door Installation
Interior Door Replacement
3. Install a booming bass system
You can also update your audio system by adding a subwoofer. It is a type of bass-only speaker that creates vibrations across the room. The best idea is to place it on the floor so that the sound waves get ample space to reflect from the walls. Never place it inside a cabinet, where the immense vibrations will threaten to tear your unit apart.
4. Place a few speakers
Keep your speakers at an optimal distance from one another. Do not place them too close or too far apart from each other. The idea here is to arrange them in such a manner that they create the perfect amalgamation of sound effects, dialogue, and other types of audio — which come from different directions. Buy a set of small speakers and keep them on bookshelves, at either side of the TV.
5. Consider surround sound speakers
A full surround sound system usually comprises a set of six speakers. You may keep one in the middle, two on the right and left, two at the rear, and a subwoofer below the screen. One of the biggest challenges in assembling this arrangement is while placing the rear speakers. The ideal option is to mount them on the wall at the back corners of the room.
Read more: The Ultimate Guide to Home Theater Design
6. Think about 3D
For the perfect home theater experience, investing on a 3D set-up is a must. However, if you do get one, remember to get seats with stiff backs. This is because if you constantly keep on tilting your head to one side, you might get a distorted 3D effect. You need to sit straight and view 3D content rather than lying down and viewing from the couch.
7. Consider the right angles
Another important factor to consider during a home theater installation is to get the angles right. You should not be located at an awkward angle that makes viewing the screen difficult. Therefore, before setting up any furniture, install the television, and then arrange the rest of the seating arrangements — avoiding extreme and steep angles.
8. Avoid too much of glare
If your room has a couple of windows, you might face difficulty from the bright glare that hits your screen, especially during the daytime. You should also consider this effect from artificial lights, such as lamps, pendants, or accent lighting. Hence, try to place the TV at a location which is sufficiently shadowed than the rest of the room.
9. What about a curved HDTV?
Both the issues of awkward angles and glare can be avoided if you get a curved HDTV. Since it is slightly bent at both the edges, it enhances the viewing angle and limits extra glare. The curved sides also solve the angling problem. Hence, if you have the budget, you can consider getting a curved HDTV rather than the conventional models.
10. Get a pair of headphones
Currently, the market for headphones has come up with products that enable you to plug these devices directly into a remote control. If you wish to enjoy a private viewing experience or simply do not wish to disturb those around you, this is the perfect option. Using headphones also means that you can view the TV from any seat in the room.
Read more: Amplifier for home theater system
Conclusion
You can achieve the perfect home theater room if you follow at least a couple or all of the above tips. However, when you execute the project, make sure to enlist the help of expert home theater renovation professionals. Only then you can be sure of a seamless, fault-free installation process.
Read more: Building a Home Theater From Scratch: 10 Tips & 5 No-Nos
Home Theater Installation: Simple Tips For A Perfect Project
was last modified:
June 9th, 2023
by
Recommended