Designing the perfect home yoga room
A home yoga room can be the perfect retreat for some relaxation, and a medium to get in touch with your spiritual side. You can create a yoga studio in a spare bedroom, an attic space, a basement, or any nook that's quiet and bright. Add a soothing décor, some indoor plants, calming wall colors, relaxing elements — and you're ready to create a feeling of Zen.
Undoubtedly, yoga and meditation create a sense of calm — exactly what you need after a hard day of work, especially during stressful times. Yoga practices aren't just relaxing, they also help you gain a sense of inner peace.
So, what sort of ambiance do you feel in most yoga studios? Why does it have a calming effect on your senses? Well, it's the soothing light, the aesthetics, and that scent that seems to transport you to a land where there's no worry, no stress.
What if we told you that you can create that same feeling, within your home while practicing yoga? It's highly doable — with a well-designed home yoga room.
We have some really useful tips and ideas for you to have your own yoga or meditation room. You can achieve a sense of peace and tranquility right from the comforts of your own home. So, let's begin with these incredible home yoga studio ideas. Go ahead and incorporate elements that really resonate with you.
Designate your yoga space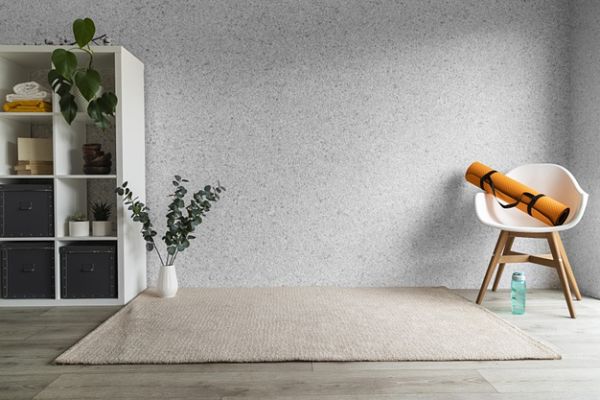 The best thing about an at-home yoga studio is that it can be anywhere, whether it's a spare bedroom, a garage, a basement, or a storage room. You can take help of a good interior designer to turn any underutilized space into the quintessential home yoga room.
Regardless of the square footage you've got for the meditation space, you can add a Zen vibe to it. And, there's no denying that space is defined by its vibe.
Allocate the space
If you think of your favorite yoga studios, you'll notice that they follow a rule of thumb of allocating 21 square feet per yoga practitioner. A dedicated yoga room at home should be a minimum of 10×10 feet. This size comfortably allows two people to practice yoga, as well as gives them good storage space along one wall. Keep in mind that you should have enough room to stretch out easily on your yoga mats.
Do not go for an area smaller than this. Otherwise, it would feel like being stuck in a closet. If you're really pressed for square footage, it's better to incorporate the yoga area into your living room or the master bedroom.
De-clutter space
If you really want your home yoga studio to be your personal sanctuary, keep it as clean as you can. Keep in mind that a cluttered area can be a reason for unnecessary stress and anxiety.
Try to include only those items that are absolutely essential for a yoga room. These could be your yoga mats, yoga blocks, some positive wall art, or an audio system that plays soothing meditation music.
Remove anything that doesn't serve a purpose or clashes with your home yoga room design. The idea is to remove any kind of distractions — and turning your mind into a blank canvas before practicing yoga.
And, decluttering also means putting away your yoga props after use or cleaning your yoga mat before rolling it away. That way, your yoga room will always feel and smell fresh.
Read more: Small bedroom design ideas
Choose calm wall colors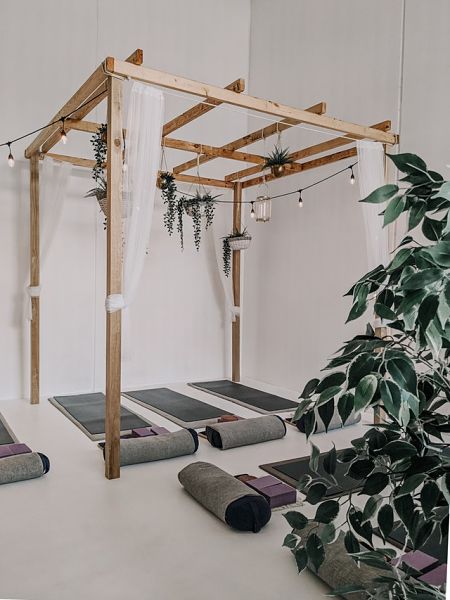 The best colors for a yoga room are muted, cooler tones, or warm whites. The reason is that such hues recede rather than demand attention. And, while you're thinking of painting the yoga room walls, make sure you use non-toxic paint. Since both yoga and meditation cultivate mental as well as physical health, choosing eco-friendly products will take you a step closer to that aim. Trust us, you'll feel good about not harming the environment.
Read more: How room paint colors can affect your mood
Create a positive vibe
Your yoga room should have a welcoming feel. For this, you can make use of scented candles, incense, flowers, or aromatherapy spray. These will help to sanctify your home yoga space before and after every yoga workout.
Moreover, lighting a candle, burning some sage, or just spraying a soothing scent will add a warm vibe that will aid you in your meditation. Make the sweet-smelling ambiance an important part of your yoga practice routine. It's believed that focusing on the candle will help to clear your mind and ease all your tensions and worries.
Set the mood with lighting
Give good lighting the importance it deserves in creating the most perfect yoga room. Proper lighting will not only give the place its ethereal vibe, but it will also have a huge impact on your mood and well-being. It's a good idea to install dimmer switches on overhead lights and buy lamps that have a 3-way switch.
Use the right materials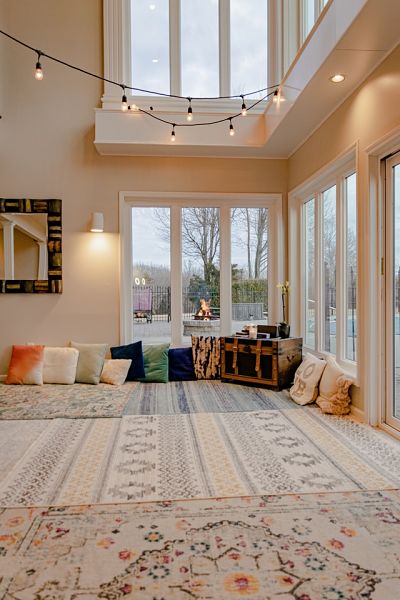 As we said earlier, each and everything should contribute to the positive vibe of a meditation room. Be it the lightweight cotton drapes that help with light filtering and privacy or the air-purifying plants. Do a little research and include materials that help create an earthy, stress-free environment. For example, the best flooring materials for a yoga room are rubber, vinyl, cork, foam, and hardwood flooring. Try to incorporate any of these.
Decorate the home yoga room for meditation
Decorating a meditation room has to be done with subtlety. You mustn't go over the top. This space has to be functional and convenient for your practice sessions. The idea is to keep it simple and intentional by including décor items that encourage calming energy. Keep an eye out for interesting sculptures or wall art. These could serve as a focal point for your yoga room.
Get sensible storage
Look for unique storage solutions, such as an antique trunk or chest to store your yoga essentials, including mats, blocks, straps, props, and blankets. While these props are a great way to aid your practice, they can make your meditation room look a bit congested if not concealed properly.
In case you're opting for cabinets, make sure they take up a single wall. Keep in mind that yoga is not about having the latest accessories and showing them off. Instead, it's about conditioning your mind to move toward inner peace and spiritual awakening.
Last thoughts
Yoga provides you with an overwhelming sense of calm. The moment you begin practicing the poses or asanas and meditation, your mind begins to drift toward a place that is relaxing and stress-free. Maybe it's the whiff of the scented candles or the smiling Buddha statue. Whatever it is, you can achieve a sense of bliss. And that too, right in your own house.
Read more: Small home gym ideas to create an effective fitness room
Designing the perfect home yoga room
was last modified:
October 11th, 2022
by
Recommended