How to Choose Dining Room Colors
Whether your dining room is part of an open living space, or it's set apart as a separate room, selecting dining room colors is crucial to your enjoyment of the space. The wrong colors can ruin an appetite, so learn how to to choose dining room paint colors you'll love.
Find Your Inspiration
Color really does affect how we feel, so go with your feelings here. What color do you love? Look to artwork, your dishes, a furniture piece, or an accessory you love to help you figure out which colors speak to you.
Determine Your Mood
We're not talking about your current mood at the moment. Rather, what type of mood do you want to be in when you sit down to dinner in your dining room? Do you like to host sophisticated late dinner parties? Or is your dining room your family's space for every meal? These uses for the dining room determine the mood that's set in that space, and can help you decide if you want to go with deep-tone walls, like chocolate or navy, or if you want to keep things light and airy with beige or sky blue.
In general, a sociable atmosphere can be created in a dining room with warm, contrasting, and somewhat bright colors. If you want formal, deeper colors and neutrals will create a formal atmosphere.
What Is the Lighting Like?
It's important to consider the light in your dining room because the amount and type of light will alter the way the paint colors look. Natural daylight will show the most accurate color of your paint, while incandescent lighting will pull out the yellow tones of your paint. Fluorescent lighting, on the other hand, will add a sharp blue tone to your paint. Knowing about the lighting in your dining room will help you decide if you should use the same color on all walls, or if you should steer clear of a certain shade.
TIP: Use Our Real-Time Remodeling Calculator and Find Out in Minutes How Much Your Dining Room Remodel Will Cost.
What's Your Style?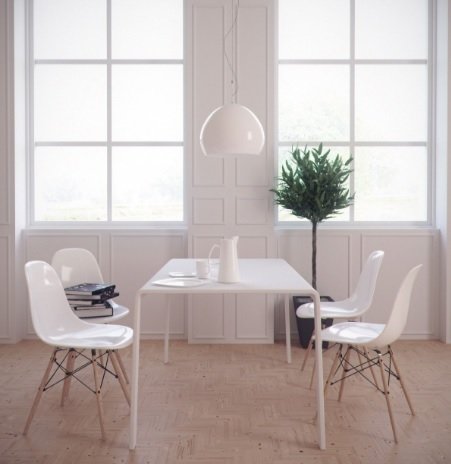 Next, take a look at your style. Do you like modern, country, whimsical, French, Bohemian or a traditional dining room? Each style tends to do better with certain colors.
For example, a beautiful palette for a French dining room is blue, golden yellow, burnished orange, and cherry red. A more Bohemian look will feature colors like chocolate brown, turquoise, orange, yellow, and cardamom green.
Trendy or Traditional?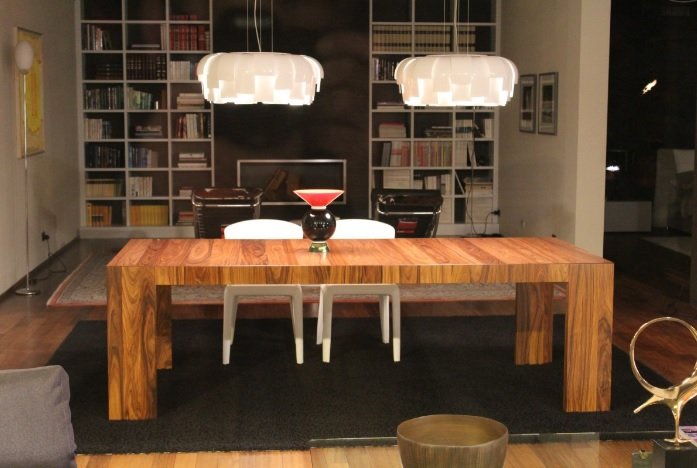 Are you trendy or traditional? Or somewhere in between? Trendy paint colors for dining rooms right now include sky blue, teal, coral, and goldfish orange. Traditional paint colors include beiges, browns, and eggshell tones. You can make a traditional dining room more intimate by adding a deep rich tone to one wall. And if you want to be trendy, but aren't willing to go all in with your paint? Paint your walls with traditional colors, and add in trendy accents throughout the room.
How Does it Flow?
Consider how the color you're considering will flow into the adjacent rooms, especially if it will share a wall with the next room over. Is the change abrupt and noticeable, or can the two colors seamlessly blend into each other?
Test it Out
Once you've determined the color scheme you want, paint a section of your wall to test it. Don't just trust the tiny paint swatch, as it can't give you a real idea of what to expect. Paint it on the wall (or a poster board that you set against the wall), and look at it in all lights so you can see if it changes. Eat in the room with the painted section in view so you can see if it causes any negative reactions to how you enjoy your meal.
No matter your stage in the decision process, a professional color consultant can help you choose the best colors for your dining room.
Author : Noah Winkles is the vice president of New Life Painting. For over 35 years, New Life Painting has provided quality commercial and residential painting to residents and business owners in California's Central Coast.
Read more: Dining room chandeliers
How to Choose Dining Room Colors
was last modified:
April 21st, 2022
by
Recommended