How to clean kitchen cabinets in an effective way
Kitchen cabinets give your cooking area a lovely look. Besides, the storage units add functionality that is essential to keep your kitchen organized and clutter-free. But, how to clean kitchen cabinets if they get dirty?
And dirty they do get. Kitchen cabinets withstand a lot of heavy-duty abuse such as accidental spills, fingerprint smudges, and cooking splatters.
You simply cannot afford to neglect your cabinets. If you do not keep up with your regular weekly cleaning, your cabinets will collect grease, grime, dirt, and smears over time and spoil your kitchen's aesthetics.
Moreover, dirty cabinets harbor germs. The food crumbs and dirt may invite bugs and vermin.
The easiest way to deal with all this is to learn how to clean kitchen cabinets. We have some useful tips to help you keep your kitchen clean and your cabinets squeaky clean.
Empty the kitchen cabinets out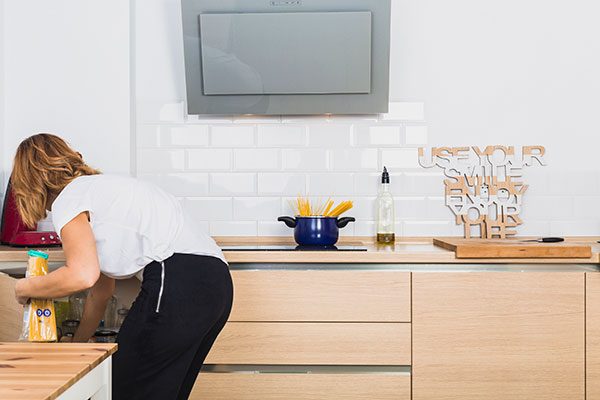 Cleaning your cabinets cannot be done properly if you still have stuff inside. Since there's considerable effort involved, you may stagger the task over a few days rather than do it all in one day.
Remove the cabinet contents and temporarily store them on the kitchen countertop.
Peel off the old shelf paper and replace or wash it.
Use a vacuum cleaner to wipe away food particles, food crumbs, and dust from shelves, doors, and drawers.
Tackle the top area of the cabinets
Unless you have floor-to-ceiling kitchen cabinets, you'll have a few inches atop the uppers. This area is more often than not a dirt magnet. You'll need to clean it by climbing a sturdy step stool or ladder. You can remove the dirt using a long-handled duster or the brush attachment of a vacuum.
If you find grease here, you'll have to follow a few steps.
Spray the surface with some white vinegar and sprinkle on some baking soda.
Wait for several minutes.
Scrub the area with a sponge.
Scrape the surface with an old credit card, a rag, or paper towels.
Spray the mix again and wipe it dry with a clean cloth.
Planning to replace your cabinets? Try our estimator tool to get the right price!
Prepare a gentle cabinet cleaner
It's important that you know how to clean kitchen cabinets according to the type of material used. For example, if you want to clean wood cabinets, you'll have to use a gentler cleaner than what you might use on metal cabinets or laminate cabinets. The idea is to clean without damaging the surface.
Prepare a cleaning solution of mild dish soap in hot water. Mix it in a spray bottle and apply it onto a microfiber cloth or sponge. Clean the cabinet surface with it. It's a safe and effective way to clean painted wood or finished wooden kitchen cabinets. The solution will help purge dirt, smudges, and moderate grease buildup.
Add some white vinegar for its antibacterial properties.
Start cleaning from high to low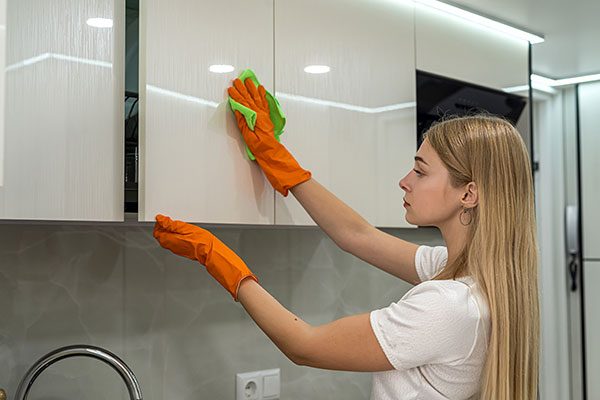 You need to begin cleaning from the top and work your way down.
Do the cabinet interiors first, including the back wall, corners, sides, shelves, and drawers. Move from inside to the outside.
For corners, you can use the cleaning solution on a toothbrush. Scrub the area gently.
Use a cloth or sponge to remove any soap residue. You can lightly moisten it with plain water. Make sure to wipe the area thoroughly. Close the cabinetry and let it dry completely.
Aim at the stubborn grease
For those stubborn marks and sticky grease, you can prepare a mildly abrasive paste. Mix one-part baking soda to two parts of water to get a natural, cost-effective solution to remove gooey, yellowish grease buildup.
Apply the mixture to stuck-on grease and let it sit for a few minutes. Gently scrub away the grease with a soft-bristled brush. Do not try to scrap it off.
Once this is done, you can rinse the area with a moist rag, sponge, or microfiber cloth. Let the cabinet surface dry completely.
If you want to use a commercial store-bought product instead, always spot-test it on an inconspicuous area before applying it to the cabinet surface. Also, avoid using magic erasers that have melamine foam with the texture of super-fine sandpaper. These may damage cabinets with varnished wood or glossy paint finishes.
Don't forget the corners
Make sure the cabinet trim and crevices do not collect grease and dirt. You need to use the cleaning solution on a soft toothbrush or damp cloth wrapped around your index finger. Clean the area gently to remove all the dirt. Finally, rinse the area with a clean cloth moistened with plain water.
Clean the cabinet hardware and hinges
The metal or ceramic hardware of your cabinets needs to be cleaned too. You can wrap a dry cloth on your index finger and start cleaning with it. If that doesn't work, you can spray a 50/50 water-white vinegar mixture to scrub off the grime. Let the handles, knobs, and pulls dry.
Make the glass gleam
For glass-fronted cabinet doors, you may use commercial glass cleaners or prepare a homemade spray solution. To do the latter, mix a cup of rubbing alcohol, a cup of warm water, and one tablespoon of white vinegar. Spray the solution on the inner and outer panes. Wipe the area with a clean, soft cloth.
Clean the contents
When it's time to refill the shelves and drawers, thoroughly clean the cookware, dishes, plates, bowls, drinking glasses, or food items with a microfiber cloth. Make sure that the cans and bottles aren't dusty or dirty. Sparkling clean, well-maintained cabinets should have sparkling clean things inside.
How often should you clean kitchen cabinets?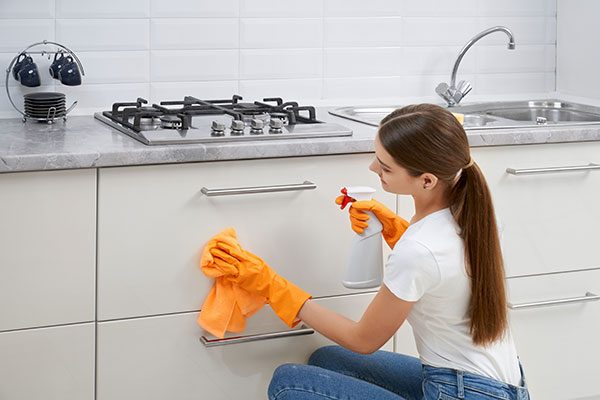 Ideally, you should clean the cabinet exteriors every week. Deep cleaning of the interiors should be done every few months. Although the thought of emptying out your entire kitchen may overwhelm you a bit, it's quite doable.
Take one cabinet at a time to make the task easier. Make note of what you've cleaned and what is pending.
Last thoughts
You clean your kitchen floor and counters every day. Or, at least frequently. On the other hand, your kitchen cabinets might not receive the same care. But, they ought to.
The storage units gather grease, oil splatters, dirt, and other kitchen residues over time – leading to grime and goop that can be challenging to remove.
Dirty cabinets are not just unsightly but also dangerous to your health. Cabinets and their handles and knobs may accumulate bacteria such as Salmonella due to remnants of stale food or dirt. And if that happens, it may lead to dangerous diseases at home. You wouldn't want the place where you keep your food items to be dirty, right?
That's why routine cabinet maintenance is absolutely important. For your health as well as that of the storage units.
How to clean kitchen cabinets in an effective way
was last modified:
March 1st, 2023
by
Recommended