Are you looking to install new countertops or replace the existing ones in your kitchen? Good decision. A kitchen renovation is almost always incomplete without remodeling the kitchen countertops. The goal is to choose a great kitchen countertop material that's easy on the wallet too. Therefore, you need to do a thorough research on the cost of kitchen countertops that's available in your zip code.
After all, the kitchen is indeed one of the busiest areas in your house — this is where you whip up sumptuous meals and catch up with your family members. Your kitchen has to be just perfect — both in terms of looks and functionality.
And, this is where we help you. If you're contemplating countertop installation, our buyer's guide will explain the costs of kitchen countertops in detail — the types of materials and their associated prices. You can then easily identify the types of countertops that fit into your renovation budget.
Planning a renovation for your kitchen? Try our free kitchen remodel cost estimator; it's easy and convenient to use!
Knowing how much the different types of countertops cost — will help you decide on your budget, the total countertop space you require, and if you need to rework your kitchen layout plans before you begin with the project.
Cost of kitchen countertops at a glance
Look at the table below for an idea about the average cost of kitchen countertops of different kinds.
| Popular type of kitchen countertops | Price range per square foot (excluding installation) |
| --- | --- |
| Granite countertop | $50 to $200 |
| Quartz countertop | $100 to $150 |
| Marble countertop | $125 to $250 |
| Cultured marble countertop | $40 to $140 |
| Carrara marble countertop | $50 to $150 |
| Plastic laminate countertop | $20 to $50 |
| Corian countertop | $45 to $65 |
| Concrete countertop | $70 to $150 |
| Solid surface countertop | $80 to $120 |
| Stainless steel countertop | $75 to $150 |
| Silestone countertop | $50 to $100 |
| Formica countertop | $20 to $30 |
| Travertine countertop | $50 to $100 |
| Soapstone countertop | $70 to $120 |
| Butcher block countertop | $35 to $200 |
| Recycled glass countertop | $50 to $125 |

Cost of kitchen countertops in detail
Now that you have an idea of the average cost of kitchen countertops available, you can budget your home improvement in a better way. Keep in mind that the total installation cost of each countertop material may vary depending on the type of design, size of your kitchen, the complexity of your layout, and labor charges. Therefore, it's important that you know what you're getting into when you consider a particular option. Let's explore all the choices in detail.
Do you want to have all your facts straight for your upcoming renovation process? Take a look at our ultimate guide on kitchen remodel.
Popular types of countertops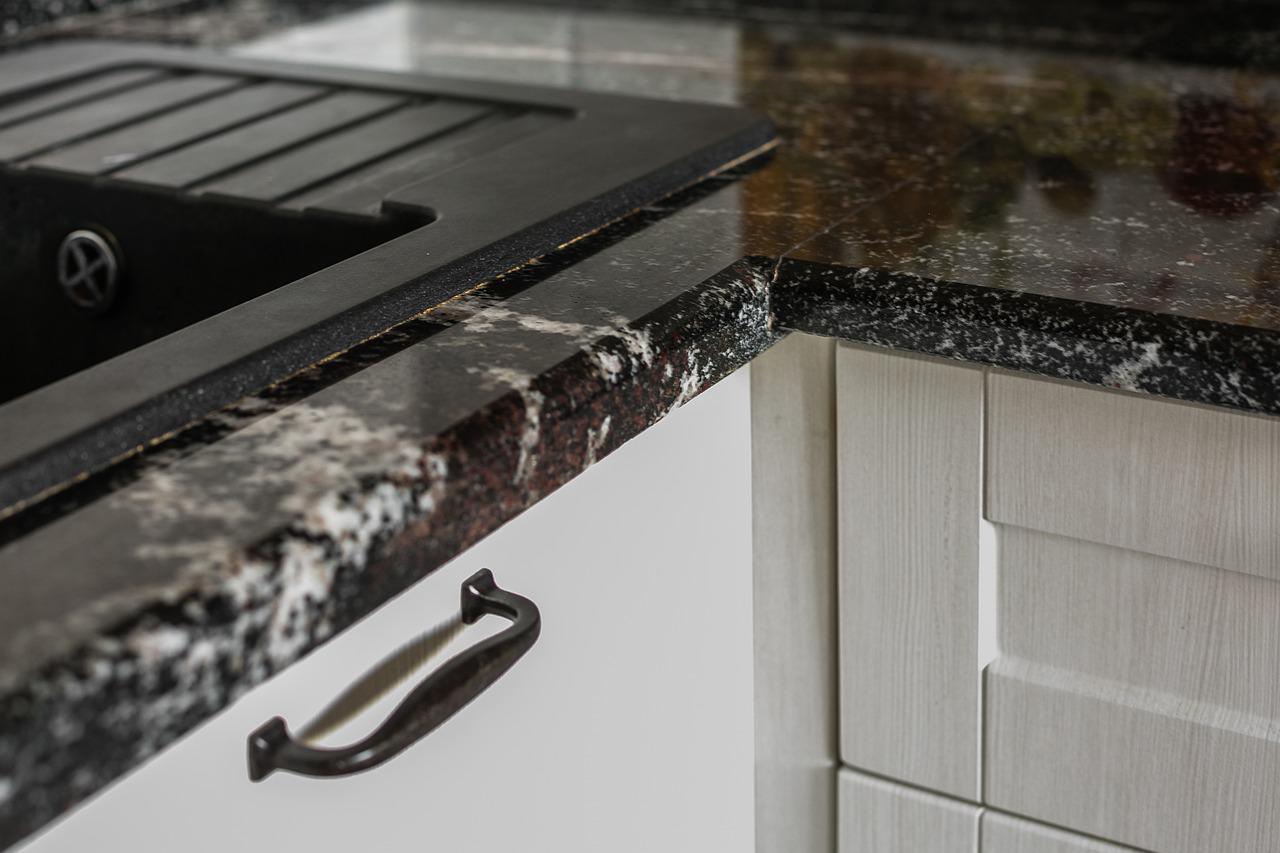 Granite is one of the most popular choices for countertops. And, there's a good reason — such a countertop is heat resistant, scratch-resistant, and looks beautiful. The sturdy material, when installed properly, can add immense value to your home.
However, since it's a natural stone, the material is slightly expensive. But once you properly seal and maintain your granite countertop, the durable option will last you for many years to come.
Let's see some Quartz Countertop Colors For Your Kitchen And Bath Remodel
Cost: $50 to $200 per square feet.
Interestingly, a solid surface counter has no seams and appears to be one long, continuous piece. The reason is that special binders are used in the sealant. Needless to say, such a countertop looks neat and attractive. Not to forget, functional too.
Another advantage is that a solid surface counter requires less maintenance than some other materials — making it even more cost-effective in the long term.
Cost: $80 to $120 per square feet.
The iconic Corian countertop, the original solid surface material, was manufactured by DuPont and was considered quite superior in its day. Thankfully, it still remains a favorite with most homeowners. It's gorgeous and practical for your kitchens.
The flexible material is less likely to crack than a natural stone surface. And, it doesn't require any sealing.
However, the resin and mineral blend in the material may be prone to scratches and not resistant to high temperatures. But rest assured that any minor scuffs and scratches can be buffed out easily.
Read more: Add More Elegance To Your Kitchen With Marble Benchtops
Cost: $45 to $65 per square foot.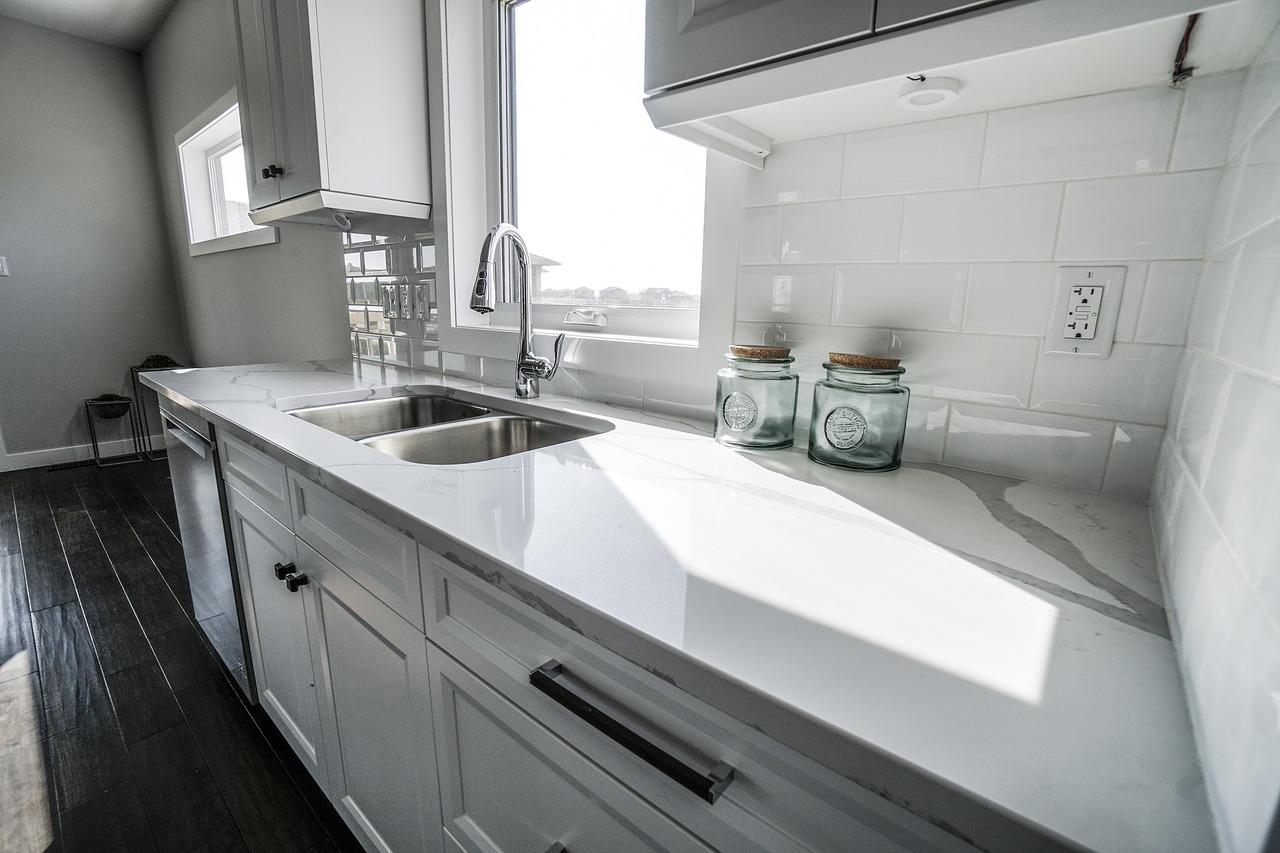 This engineered stone is made of a resin and quartz blend. Since it's manmade, it allows you to choose from a wide variety of colors — more, much more than in the case of natural stones. Moreover, a quartz countertop material is more flexible and less likely to crack during installation.
In the looks department, it's almost perfect! No wonder this hard-working material is a popular choice in many kitchens.
Cost: $100 to $150 per square foot.
Take a look at our guide on Most Durable Countertops That Will Look Beautiful Too
Everyone knows that a marble countertop is an epitome of luxury. It's perhaps the costliest countertop material that you'll lay your eyes on. It's softer than other stones and yet is heat resistant and cool to the touch. Most importantly, this naturally stunning material comes in a wide array of patterns and colors — each one unique in terms of veins and patterns.
However, keep in mind that the stone can chip and scratch easier due to its soft nature. And since it's porous, it can stain unless sealed properly.
Cost: $125 to $250 a square foot.
Take a look at these Different Materials for Your B&Q or Homebase Kitchen
Cultured marble countertop
Don't want to shell out a huge amount of money on countertops, and yet own a piece that looks and feels great? Go for cultured stone. It's got the best of both worlds – the beauty, color, and texture of natural stone and an inexpensive cost, thanks to the blend of resins and pigments. In short, the beauty of marble and the durability of engineered stone.
Cost: $40 to $140 per square foot.
Take a look at our guide on further info about Marble Benchtops
If you're looking for a cheaper type of a marble counter, this kind is less expensive. The reason is that it's generally not as pure-white as the expensive marble variety. Its grey veins give a shadowy look that's slightly muted but beautiful nonetheless.
Cost: Starts at $50 per square foot.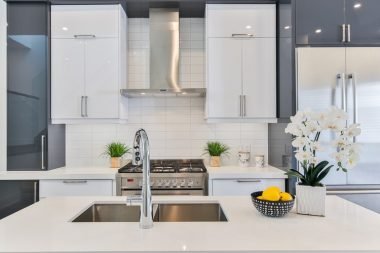 Do not underestimate a plastic laminate countertop. Though it's one of the most inexpensive options, it's no way cheap-looking. Such a countertop material is made from layers of paper or plastic and resin. Although manmade, a good-quality laminate is durable, waterproof, and lovely to look at.
If you're on a tight budget, this material is ideal for you. It does have its limitations, but as long as you know them beforehand, you'll probably be one happy homeowner.
Are Laminate Countertops a Good Idea? Let's find out!
Cost: $20 to $50 per square foot.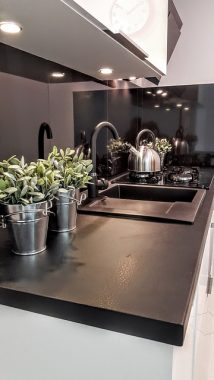 Don't think that a concrete countertop will be as boring as your neighborhood sidewalk and block. A kitchen concrete countertop can be quite beautiful and artistic. And, it can be made to match any kitchen with added dyes and pigments.
In fact, a concrete countertop is a popular choice for large indoor and outdoor kitchens. Keep in mind that the sturdy and durable material is porous, and needs to be properly sealed to prevent any stains.
Cost: Starts at $70 per square foot.
Formica is similar to a laminate countertop in that it uses layers of plastic bonded to particleboard to create sturdy worktop. It's durable as well as attractive. Again a good choice for small budget renovations.
Cost: Between $20 and $30 per square foot.
Stainless steel countertop
More and more homeowners are now opting for steel countertops. The benefits are many. Such a countertop is durable, easy to clean, and has a chic look that suits most modern kitchens. Moreover, it's easy to install and there's hardly any maintenance required. All these factors keep the overall price down and make a steel countertop an attractive proportion.
Cost: Between $75 and $150.
Silestone is a quartz brand name — one of the most popular ones on the market. It is sturdy and stain-resistant. Furthermore, such a countertop can be customized to match your kitchen decor perfectly.
And, there's more good news. The material comes in a variety of colors as well as finishes.
Cost: $50 to $100 per square foot depending on the thickness.
Recycled glass countertop
The best part about a recycled glass countertop is that it's eco-friendly. And, looks fashionable too. If you have a retro-styled kitchen, you can use this quirky and cool countertop as a fun statement.
As the name suggests, this material is made from recycled glass, pigment, and resin. Often, cement is mixed to form a kitchen work surface. Interestingly, a glass countertop can be colored any way you want to match your kitchen cabinetry or decor. A great decision for those who're looking to reduce their carbon footprint!
Cost: Between $50 and $125 per square foot
Travertine is actually a kind of limestone that's formed under extreme heat and pressure. Often called the 'black marble', it looks really stunning.
However, know that it's high maintenance since it may scratch easily because of the softness. Also, the porous material must be sealed properly and that too regularly.
Cost: Between $50 and $100 per square feet.
The best feature of soapstone is that it resists bacterial growth, is heat resistant, and doesn't require sealing at all! And, it has a lovely talc-like appearance. What more can you ask for, in a kitchen counter? The beautiful surface is so practical that you can keep a hot pan on it or knead dough on it without a worry.
Cost: Between $70 and $120 per square foot.
Are Soapstone Countertops the Right Choice for Your Kitchen? Let's find out!
Last but definitely not the least important is a wooden countertop. Wood, as we all know, is warm and inviting. An all-natural material that looks rich and yet can take a lot of abuse. Cut food on it, use it as a counter for food prep, or simply as a dining space — just keep it well oiled and sealed. And, it will last you several years.
Costs: Between $35 to $200 per square foot — depending on the thickness and tree species.
Last words
Whether you're upgrading your kitchen countertop for your own comfort or making improvements in order to get a better return on your investment or ROI, you will need to plan your kitchen remodeling so as to save money and its related hassles.
We hope this guide helps you to consider the range of kitchen countertops and choose the type that fits your budget and style.
Once you zero in on the most suitable countertop, be sure to hire licensed professionals for a seamless installation. Happy renovating!
What's the Average Cost of Kitchen Countertops?
was last modified:
September 28th, 2022
by
Recommended