Quartz Countertop Colors for Your Kitchen and Bath Remodel
Choosing a color scheme is one of the trickiest parts of a bathroom or kitchen remodel. There are so many hues to choose from, after all. In this post, we'll take a pragmatic approach to help you narrow down your color choices.
Specifically, we'll focus on the best quartz countertop colors. Once you get the countertops (by far the most important element of any bathroom or kitchen) out of the way, selecting hues for other elements will become much easier.
Planning a full renovation for your kitchen? Try our free Kitchen remodel calculator, easy and convenient to use!
Best Quartz Countertop Colors
We've chosen the following colors based on a variety of factors, including trends and desired effect.
White
It's well-known among interior designers that white makes a room feel larger. For this reason, it's one of the most popular kitchen bathroom remodel color schemes among owners of modestly-sized homes. Of course, it doesn't hurt that white is classic and comes in a variety of shades and patterns.
Even if you don't have a particularly small bathroom or kitchen, it's hard to go wrong with white. The following bathroom countertop colors are a bit more adventurous if the safety that comes with a white color scheme isn't your thing.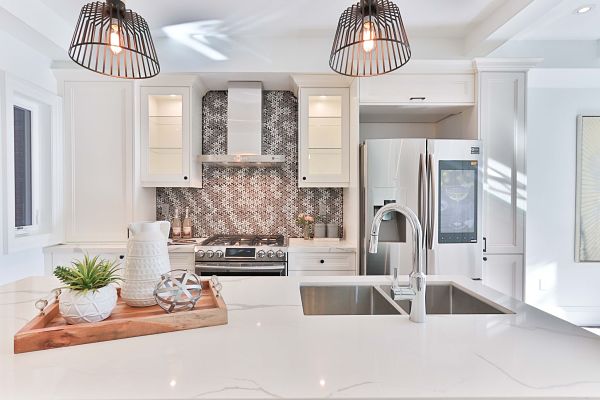 Photo by Sidekix Media on Unsplash CC0
Jet Black
A dark, jet black is one of the best quartz countertop colors for white cabinets. It creates a great high-contrast look; the tuxedo of bathroom remodel color schemes, if you will.
Even if you don't have white cabinets, dark black countertops will enhance other dark surfaces in your bathroom or kitchen. It can also enhance bolder colors, although this is a bit trickier to achieve.
For the most consistent effect, choose jet black countertops. If you're willing to spend a bit more time selecting the other hues in your bathroom or kitchen, a dark brown or blue will work too.
Do you want to have all your facts straight for your upcoming renovation process? Take a look at our ultimate guide on kitchen remodel.
Mid Tone
In the world of interior design, the term "mid-tone" refers to hues that are neither light nor dark. In other words, they're neutral. This can include colors like beige, light grey, and dull grey with a bluish tint.
As far as kitchen and bathroom countertop colors go, these natural hues are great for creating a friendly environment. Their effect is so strong that they can even tame the effect of bolder accent colors.
As with white, you can also find mid-tone with a variety of veining and textures.
Quartz vs Marble Countertops? Take a look at our guide on pros and cons.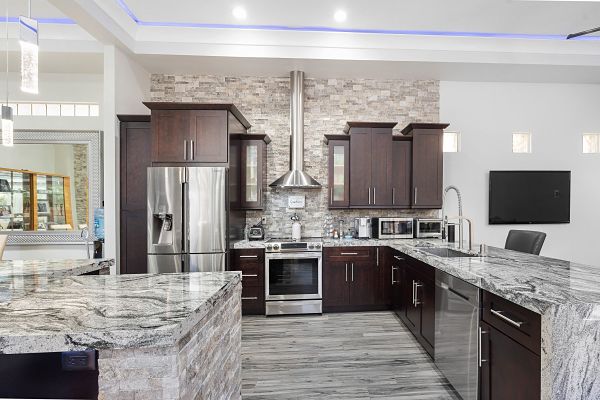 Photo by Carl GARTMAN on Unsplash CC0
Bolder Hues
Here's where we deviate from the previously-mentioned kitchen and bathroom remodel colors. While the previous categories all consist of hues in roughly the same ballpark, the category of 'bolder hues' is potentially endless.
Let's take a more detailed look at the colors that are currently popular.
Take a look at these Different Materials for Your B&Q or Homebase Kitchen
Pantone Color of the Year
The Pantone Color of the Year is chosen based on a variety of factors, including trends such as the state of the world. While it's unlikely you'll find a countertop matching the exact hue, if your goal is to create a trendy space you'd be wise to choose kitchen and bathroom remodel colors that at least compliment it.
Luckily, Pantone makes this fairly easy to do via their website.
Violet (Amethyst)
As far as bold bathroom countertop colors go, violet has a huge advantage; you can find it in nature. Amethyst is a type of quartz characterized by a stunning purple hue. It's one of the more eccentric bold hues you can find and due to its presence in nature, will never look dated.
Still Can't Decide?
If you're still having a hard time deciding what color quartz countertops to use in your bathroom or kitchen, don't despair. Sticking to the basics (as in, white, black, or mid-tone) will be your safest bet.
These are the best quartz countertop colors for white cabinets, black cabinets, and everything in between. With bolder colors, you run the risk of choosing a hue that clashes with other interior design choices — something very easily done if you're not an experienced interior designer.
White, black, and mid-tone have something else going for them; they're all desirable and will appeal to the widest range of potential future buyers of your home.
To ensure you choose the right hue within those categories, source your quartz countertop from a reputable and popular manufacturer like Caesarstone.
What's the Average Cost of Kitchen Countertops? Take a look at our guide!
Quartz Countertop Colors for Your Kitchen and Bath Remodel
was last modified:
May 30th, 2022
by
Recommended